NBA Playoffs 2011: Power Ranking Each Team's Most Important Player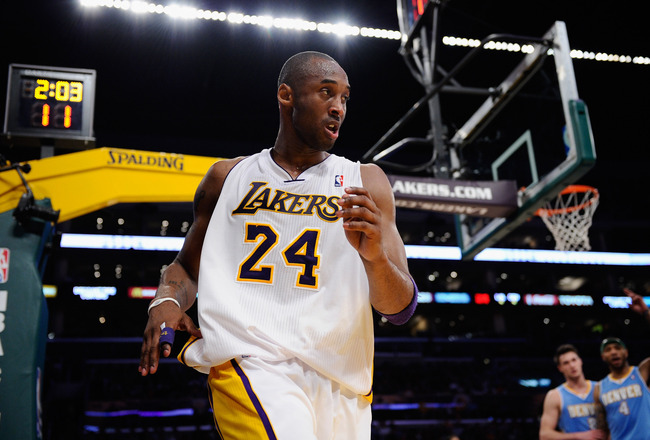 Kevork Djansezian/Getty Images
Superteams. All-Star-studded squads. "I'm taking my talents to South Beach."
Of all the annoying chatter in the NBA this season, the most indefatigable topic has been the idea that certain teams are loading up with two or, in some cases, three elite players.
In the NBA postseason, however, it sometimes takes one man to dominate a series and send the other team home early.
This slideshow takes a look at the single most important player on each team and power ranks them. Where does Derrick Rose fit in with names like LeBron and Kobe? Click to find out.
16. Nene, Denver Nuggets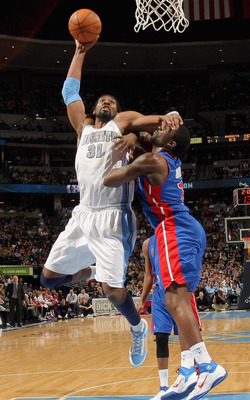 Doug Pensinger/Getty Images
The departure of Carmelo Anthony to the Knicks left the Nuggets with a lot of questions, and some even wondered if they would drop completely out of playoff contention.
Thanks to Nene and newcomers Danilo Gallinari and Wilson Chandler, Denver has actually surged in the last couple months before the big dance. Nene has stepped up to lead the Nuggets, and while the team lacks a pure scorer, he is the guy they will turn to when the going gets tough.
2010-11 Stats
61.5% FG, 14.5 PPG, 7.6 RPG
15. Danny Granger, Indiana Pacers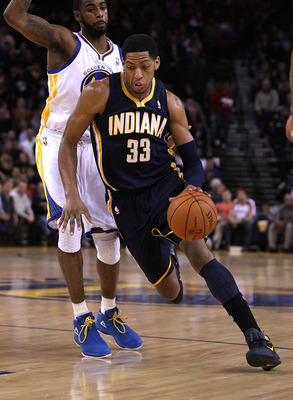 Ezra Shaw/Getty Images
The Pacers are a young, upstart team, spearheaded by the shooting and defense of their star, Danny Granger. Although his 42.5 percent shooting clip is unimpressive, he averages more than five boards and one steal a game, making him a superb all-around player.
There is no question Granger is the guy in Indiana, and if they want to upset the top-seeded Bulls, he is going to have to have the series of his life.
2010-11 Stats
20.5 PPG, 5.4 RPG, 2.6 APG
14. Elton Brand, Philadelphia 76ers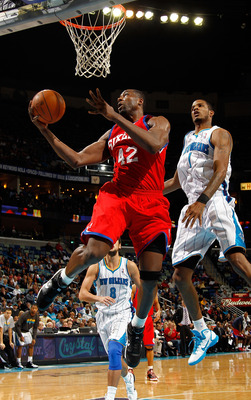 Chris Graythen/Getty Images
One of the most underrated players of the last 10 years, Elton Brand has been a little unlucky with injuries but has posted consistent numbers. He has only won one playoff series in his career (with the Clippers) and he is looking to expound on that number.
Brand is perhaps the hungriest player in the playoffs, and he will do anything to advance Philadelphia past the first round. His veteran presence helps calm the younger players on the Sixers, and allows him to take control in crunch-time situations.
2010-11 Stats
15.0 PPG, 8.3 RPG, 51.2% FG
13. Zach Randolph, Memphis Grizzlies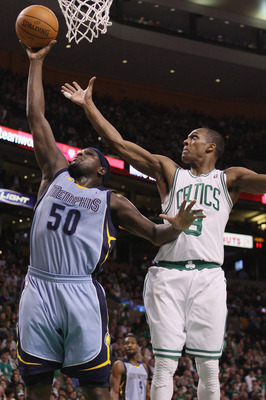 Elsa/Getty Images
Holding together this feisty Grizzlies team in the middle is big man Zach Randolph. He is a monster on the boards and pours in over 20 points a game.
Randolph has been a steadying force all season, keeping his team playoff bound even with star guard Rudy Gay missing 28 games. If he can have his way in the paint, Memphis will be tough to bounce out of the playoffs.
2010-11 Stats
20.1 PPG, 12.2 RPG, 50.3% FG
12. LaMarcus Aldridge, Portland Trail Blazers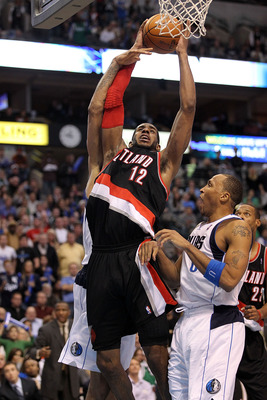 Ronald Martinez/Getty Images
If you want a workhorse, then LaMarcus Aldridge is your man. He started 81 games this season and led the Trail Blazers with 39.6 minutes per game. He also pulls down the second-most boards out of anybody on the squad (Marcus Camby is first) and leads the team with 21.8 points a game.
Aldridge's endurance and all-around skill could be enough for the Blazers to make a surprise run in the Western Conference.
2010-11 Stats
21.8 PPG, 8.8 RPG, 50.0% FG
11. Al Horford, Atlanta Hawks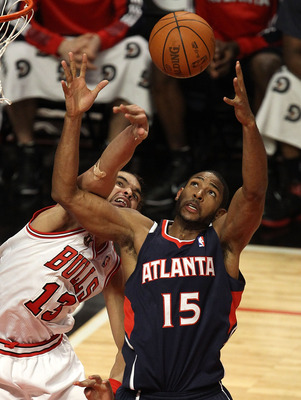 Jonathan Daniel/Getty Images
Atlanta was the hardest team to choose one star from, but Horford shows the hustle and grit that Josh Smith and Joe Johnson sometimes lack. Horford is an all-out player who still puts up numbers comparable to his two well-known teammates.
He leads the Hawks in rebounding and field-goal percentage, and is second on the team in minutes. During the most important minutes of the fourth quarter, you can count on the 24-year-old to make some big plays in the paint and in transition.
2010-11 Stats
15.3 PPG, 9.3 RPG, 55.7% FG
10. Chris Paul, New Orleans Hornets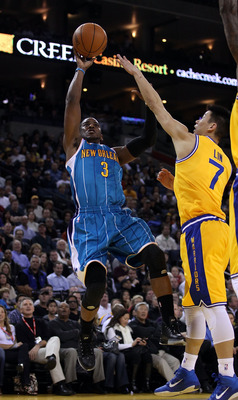 Ezra Shaw/Getty Images
Besides that kid in Chicago, Chris Paul is the most dangerous point guard in the league. He strikes from all angles, posting nearly 16 points a game while leading the team in assists and steals. Truly a jack of all trades, he might be the master of each as well.
Paul is also on the floor more than any other Hornet, and missed just two contests this season. He is a gamer who can create as well as anybody, especially when it seems like there is nothing there. This is a very valuable asset in crunch time.
2010-11 Stats
15.9 PPG, 9.8 APG, 2.4 SPG
9. Carmelo Anthony, New York Knicks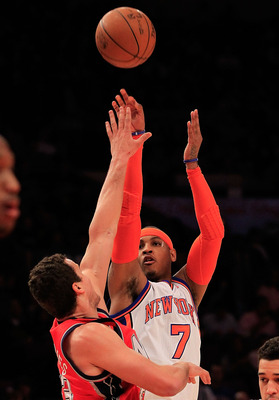 Chris Trotman/Getty Images
Much was made about Carmelo's move from Denver to New York. His old team got better without him. His new team got worse when he joined. The Knicks, however, are starting to come around to the idea of Anthony leading them to victory.
Carmelo is still one of the top scorers in the NBA, and sometimes it seems as if he can put the ball in the basket at will. This is bad news for opposing teams if Anthony is on his game.
2010-11 Stats (with Knicks)
26.3 PPG, 6.7 RPG, 3.0 APG
8. Dirk Nowitzki, Dallas Mavericks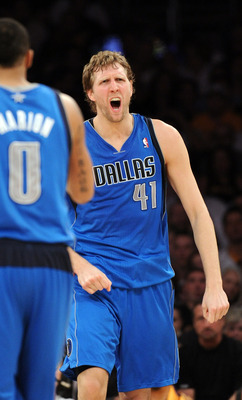 Harry How/Getty Images
This season has been business as usual for Dirk Nowitzki. Still pouring in bucket-loads of points, still leading the Mavericks to a high seed in the Western Conference playoffs. This year, though, he wants his postseason luck to change.
After leading a valiant (but eventually fruitless) charge to the NBA Finals in 2006, he has failed to return, and he wants a ring more than anything. With his height and shooting ability, it's tough to get a hand in his face, and he usually has his way when he is inside the three-point line with the ball.
2010-11 Stats
23.0 PPG, 7.0 RPG, 2.6 APG
7. Dwight Howard, Orlando Magic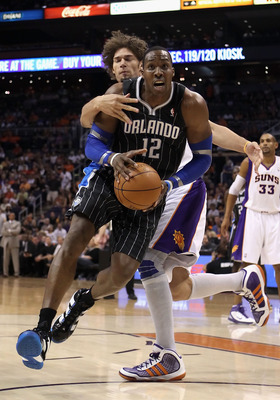 Christian Petersen/Getty Images
The most physical player in the league returns to the playoffs with redemption on his mind. Standing seven-feet tall and still brooding over an earlier-than-desired exit from the playoffs in 2010, Howard wants to get back to the NBA Finals and show the world he can lead the Magic to a ring.
The brute force he exerts in the paint is almost painful to watch sometimes, and Howard puts his incredibly broad shoulders to work, schooling opponents with power moves mixed with shimmies and spins. He must be contained in the key in order to stop the Magic.
2010-11 Stats
22.9 PPG, 14.1 RPG, 59.3% FG
6. Tony Parker, San Antonio Spurs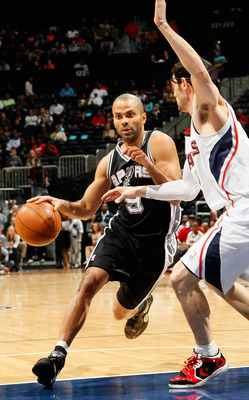 Kevin C. Cox/Getty Images
Tony Parker has done an excellent job of rendering his off-court troubles irrelevant, as he is playing as well as ever while leading the Spurs to the best record in the West. Although his team faded a little bit down the stretch compared to their hot start, Parker is bad news for any opposing team in the playoffs.
One of Parker's greatest strengths is his large amount of postseason experience, which keeps him cool under pressure and gives him the ability to focus on making the dazzling passes and lay-ins that lead the Spurs to victory in big games.
2010-11 Stats
17.5 PPG, 6.6 APG, 3.1 RPG
5. Paul Pierce, Boston Celtics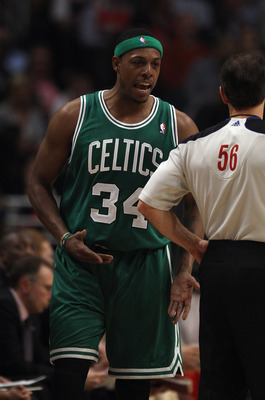 Jonathan Daniel/Getty Images
The Big Three in Boston are still playing great basketball, and Pierce is a big part of that. Ray Allen can hit the long ball and Kevin Garnett can rebound and hit the 15-footer as well as anybody, but Pierce is the one cog in the machine the Celtics could not survive without.
One of the most clutch players in the game, Pierce can play relatively quietly for three quarters and then explode when it matters most. Protecting a small lead against Pierce late in a game is a nightmare for opposing teams. He just knows how to score when his team needs him to, and he realizes this could be his last serious run for a championship.
2010-11 Stats
18.9 PPG, 5.4 RPG, 3.3 APG
4. Kevin Durant, Oklahoma City Thunder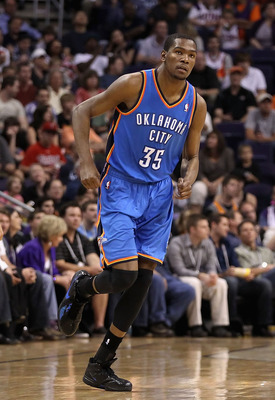 Christian Petersen/Getty Images
The league-leader with 27.7 points per game, Durant has my vote as the most athletic player in the league. His high-flying dunks combined with stellar three-point shooting are a sight to see every single night.
Last year, Durant's Thunder nearly upset top-seeded Los Angeles, and they can certainly do much more damage than that with the No. 4 seed this year. With Durant running the floor, the Thunder will be an extremely tough out in the playoffs.
2010-11 Stats
27.7 PPG, 6.8 RPG, 2.7 APG
3. Derrick Rose, Chicago Bulls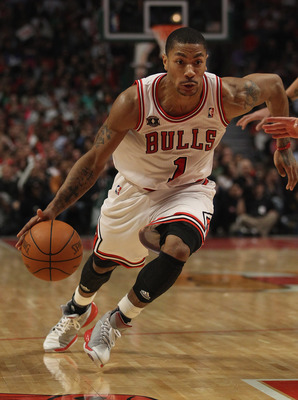 Jonathan Daniel/Getty Images
The easy choice for 2010-11 league MVP, Derrick Rose has certainly taken his game to a new level this season. His ability to score in the lane, perform acrobatic dunks, play stingy defense and dish the ball to open teammates has been nothing short of spectacular.
Rose is the primary reason the Bulls shocked the Eastern Conference and possess the No. 1 seed going into the playoffs. They look full of life and energy at the right time of the year, and no one's play exemplifies those things more than Rose's.
2010-11 Stats
25.0 PPG, 7.7 APG, 4.1 RPG
2. LeBron James, Miami Heat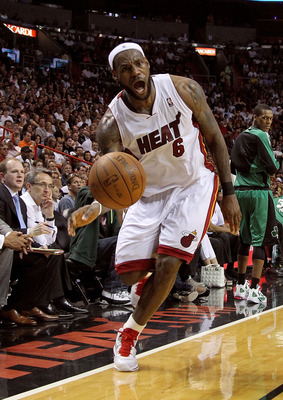 Mike Ehrmann/Getty Images
After taking heat (no pun intended) for joining Miami in the offseason, LeBron has been, well, his old self. His freakishly superb combination of size, speed and hops makes him nearly impossible to guard. James can create whatever shot he wants, and runs the transition break with teammate Dwyane Wade better than anyone in the league.
The Heat's hopes don't all lie on James' performance in the first couple rounds, but if they want to succeed in the conference finals, they'll need him to step up and score at least 25 a game. Miami hasn't really looked very cohesive this season, but they haven't really needed to with James on their squad.
2010-11 Stats
26.7 PPG, 7.5 RPG, 7.0 APG
1. Kobe Bryant, Los Angeles Lakers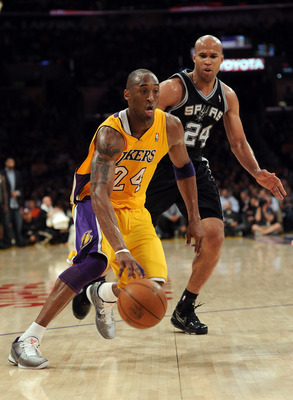 Harry How/Getty Images
Well, look who we have here...Remember this guy?
Bryant has been a mainstay in the playoffs since the late-90s, and he is looking for his third-straight championship. Although it is cliche to say so, Bryant just knows how to win.
Sure, he is past his prime, but Bryant is still the guy I want with the ball in his hands and the clock ticking down in the fourth quarter of Game 7. Kobe possesses an unstoppable jumper when he gets on a roll, and you can simply never count him out. For now, he is the king, and it will take a monster effort by a younger player this postseason to take that No. 1 spot.
2010-11 Stats
25.3 PPG, 5.1 RPG, 4.7 APG
Keep Reading