15 Most Popular NBA Jerseys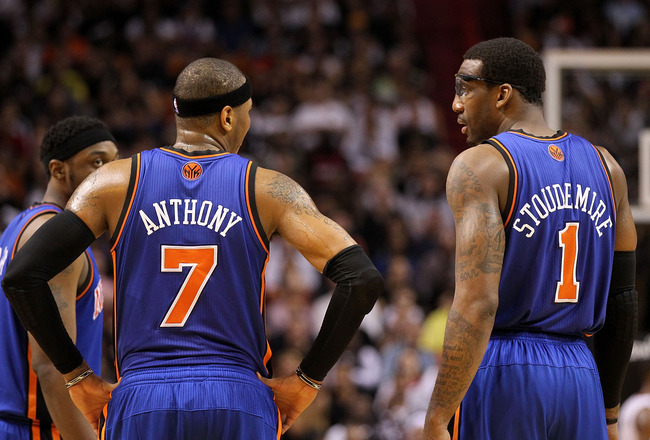 Mike Ehrmann/Getty Images
CBS Sports has reported the 15 most popular jerseys based on jersey sales at NBAstore.com.
While many of you can probably predict the top two, there were a number of surprises on the list, which I will rate on a scale of one to 10.
Feel free to comment on what surprised you and if you own any of the jerseys.
15. Kevin Garnett, Boston Celtics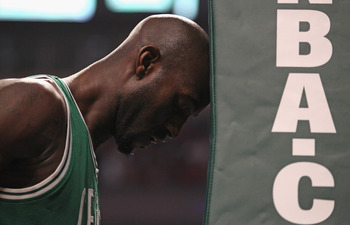 Jonathan Daniel/Getty Images
It's never a surprise to see a member of the Boston Celtics on the list (as will be seen throughout) since they have one of the largest and most loyal fanbases in the league.
What is surprising though is that Kevin Garnett is at the tail end of his career, and some have speculated that Garnett could walk away at the end of the season.
I would then question why so many people bought Garnett's jersey with the prospect of him retiring.
Maybe it is to pay homage to him for his great career, or maybe people don't realize he is as close to retiring as others think.
Surprise Factor: Five out of 10
14. Paul Pierce, Boston Celtics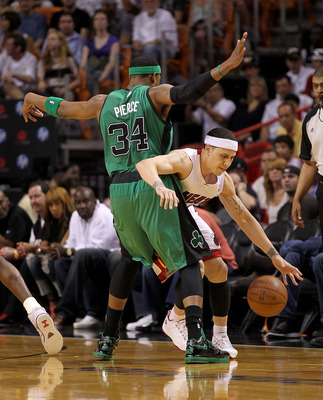 Mike Ehrmann/Getty Images
Very similar situation to Garnett.
Paul Pierce's career is winding down, as he has said that he wants to retire within the next few years.
This is more understandable than Garnett though because Pierce is one of the greatest Celtics ever and has played his entire career with the team.
A Paul Pierce Celtics jersey will never go out of style.
Surprise Factor: Three out of 10
13. Ray Allen, Boston Celtics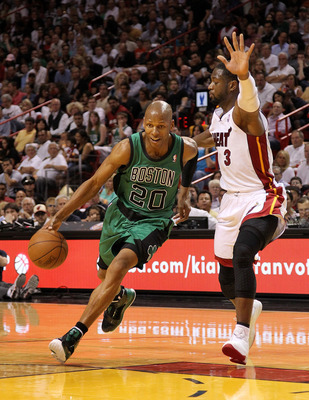 Mike Ehrmann/Getty Images
The run on Celtics jerseys continues with Ray Allen.
Now, it isn't necessarily surprising that Allen is on the list, but higher than Pierce and Garnett? That certainly is.
Allen's jersey sales may have benefited from him becoming the all-time leader in three pointers.
Nonetheless, to be this high on the list, while possibly being the fourth-best player on his own team, is shocking.
Surprise Factor: Seven out of 10
12. Shaquille O'Neal, Boston Celtics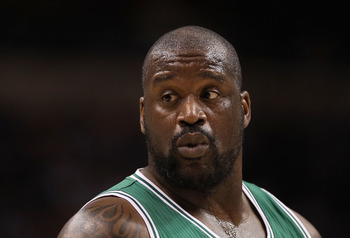 Christian Petersen/Getty Images
Shaq has been near the top of the list for his entire career because he is one of the most beloved figures in NBA history.
But why would you buy his jersey if he is most likely one-and-done with the Celtics?
Look at all the teams Shaq has played for in the last few years: the Celtics, the Cavs, the Suns and the Heat. That's four different teams since 2008.
At this point, Shaq has played for 20 percent of the league, which could lead to quite the collection of jerseys.
This seems like a jersey that will be appearing on sites five years from now with headlines like, "Remember when Shaq played for the Celtics?"
Still, it is Shaq Daddy and fans love him, which means people will buy his jersey regardless of what team he plays for.
Surprise Factor: Seven out of 10
11. Blake Griffin, Los Angeles Clippers
Stephen Dunn/Getty Images
Blake Griffin is widely believed to be the NBA's Rookie of the Year.
He took the nation by storm with his electrifying dunks and his consummate work ethic.
Why isn't his jersey higher on the list?
You would think that with all the talk about Griffin—and this being his second year in the league—fans would flock to buy his jersey.
Granted he does play for the lowly Clippers, but he plays in the second-largest market in the United States.
I would have expected Griffin's jersey sales to be in at least the top five.
Surprise Factor: 10 out of 10
10. John Wall, Washington Wizards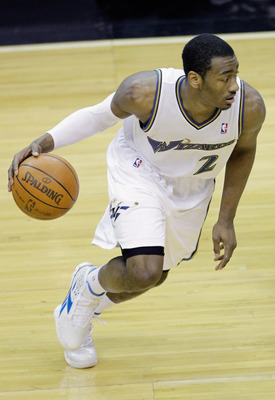 Rob Carr/Getty Images
The No. 1 pick of the 2010 NBA draft comes in at No. 10 on the list.
It is not surprising to see Wall on the list, given that one would expect him to be on the Wizards for years to come and become the face of the franchise.
The Wizards may be a constant cellar-dweller in the NBA these days since the Gilbert Arenas debacle, but that did not hurt Wall's jersey sales.
Surprise Factor: One out of 10
9. Dwight Howard, Orlando Magic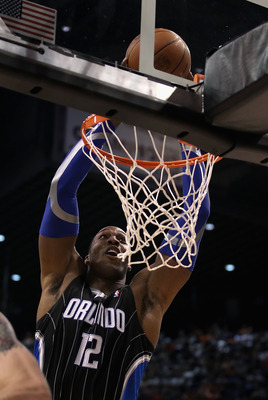 Christian Petersen/Getty Images
Year in and year out, Dwight Howard is in the conversation for NBA MVP, so it is not surprising at all to see him on this list.
What is most likely hurting Howard from being higher on this list is that he has played for the Magic since 2004 and plays in a smaller market.
Nonetheless, Howard is a larger-than-life figure in the NBA, and his jersey sales keep coming.
One quick thought: Consider where Howard's jersey sales will be if he leaves for a team like the Los Angeles Lakers, as some experts have speculated. His jersey sales would go through the roof.
Surprise Factor: Four out of 10
8. Carmelo Anthony, Denver Nuggets/New York Knicks
Chris Trotman/Getty Images
You could not go anywhere, turn on any TV or radio without hearing Carmelo Anthony's name this season.
While the constant trade rumors hurt his jersey sales early in the season—fans didn't know what team he would be playing for and when—Anthony shot up the charts after he was traded to the Knicks.
I am slightly surprised that Carmelo isn't higher on the list though because I figured that every Knicks fan in the world would have went out and bought his jersey at the excitement over him coming back to NYC.
Surprise Factor: Six out of 10
7. Kevin Durant, Oklahoma City Thunder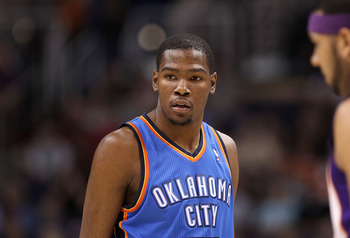 Christian Petersen/Getty Images
The NBA's scoring champion comes in at No. 7 on the list.
Even though Durant plays in a small market, he is still one of the most popular players in the league, especially after the way he handled his contract situation relative to LeBron.
Durant may have slightly cooled off this season, partially due to the emergence of Russell Westbrook joining him as one of the top players in the league.
The fact of the matter is that Oklahoma City is one of the most exciting teams to watch in the league, and that generates jersey sales.
Probably more surprising is that Russell Westbrook isn't on the list.
Surprise Factor: Two out of 10
6. Dwyane Wade, Miami Heat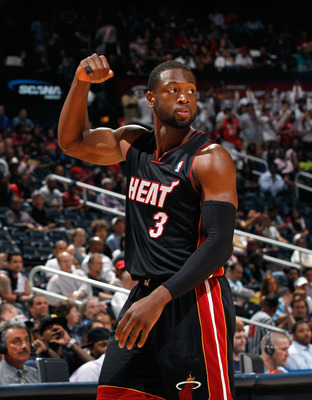 Kevin C. Cox/Getty Images
With all the coverage the Heat have gotten this season, it isn't surprising to see one of their two best players on the list (another will be coming later as I'm sure most of you expected).
What is surprising is that Wade continues to be near the top in jersey sales, because you would have figured that nearly everyone by now has bought his jersey that would consider buying it.
It's not like he changed teams, his number or is even a newer player in the league.
When you consider that the Heat basically built an entirely new team around Wade, you would think that other players on his team would be higher.
This goes to show that the NBA is a much more of a individual-driven league than other major sports.
Surprise Factor: Seven out of 10
5. Derrick Rose, Chicago Bulls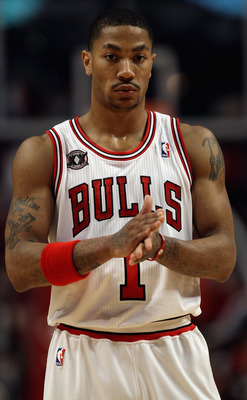 Jonathan Daniel/Getty Images
Derrick Rose will most likely be named the NBA MVP for the 2010-11 season.
Why is he not higher on the list then?
One reason could be that he was the No. 1 pick in the draft just a few years ago, so many people may have already bought his jersey (much like John Wall this year).
But he was the breakout star of this NBA season and plays in the third-largest market in the United States. You would think that he would be higher on the list given all of the hype he has had this season.
I guess that speaks to the players and markets that follow him on this list.
Surprise Factor: Nine out of 10
4. Amar'e Stoudemire, New York Knicks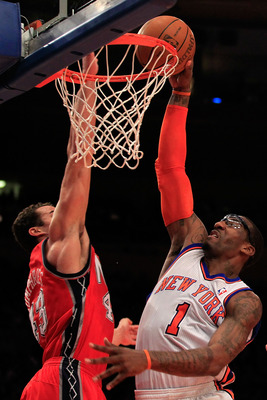 Chris Trotman/Getty Images
Amar'e Stoudemire signed with the New York Knicks because he wanted to become a worldwide star and return the Knicks to prominence.
Well, if jersey sales and a playoff appearance are any indication, he is on the way to achieving his goal.
Amar'e was arguably the MVP for the first two months of the season before cooling off.
Still, he plays in the largest market in the United States and switched teams in the offseason.
This leads to a huge boost in jersey sales, especially since the Knicks have become one of the most exciting teams in the league with the additions of Amar'e and Carmelo.
Surprise Factor: One out of 10
3. Rajon Rondo, Boston Celtics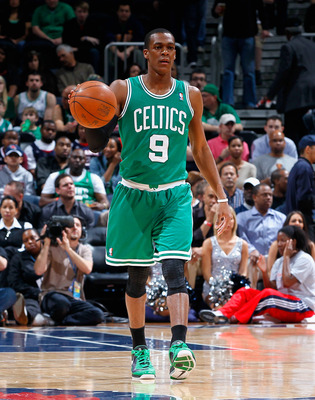 Kevin C. Cox/Getty Images
When the report first came out, one name jumped out at me—Rajon Rondo.
Don't get me wrong, Rondo plays for one of the most storied franchises in the league, is a fantastic player and is one of the young stars in the league.
But higher than Amar'e, Rose and Durant?
I never saw this coming.
Maybe it is a testament to the Celtics fanbase, but I found it shocking that Rondo sold more jerseys this year than all but two players in the league.
I definitely would have thought he would be in the top 15, but not in the top three.
Surprise Factor: 10 out 10
2. Kobe Bryant, Los Angeles Lakers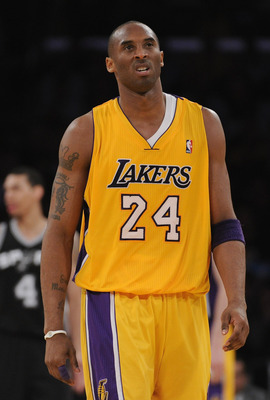 Harry How/Getty Images
The only thing semi-surprising about Kobe being here is that he is not No. 1.
Kobe is arguably the most popular player in the NBA.
His is one of the biggest stars in China, where—needless to say—a billion people live and basketball is the most popular sport.
It is amazing that Kobe was able to go from one of the most vilified superstars in the league to beloved by nearly all fans for his greatness.
Surprise Factor: One out of 10
1. LeBron James, Miami Heat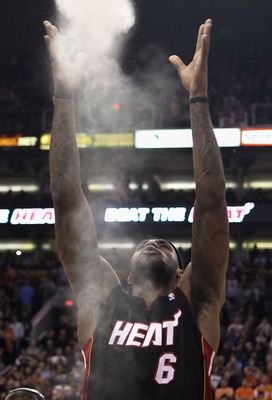 Christian Petersen/Getty Images
He may have become the most hated player in the NBA after "The Decision," but by joining the Heat (and changing his number) he comes in at No, 1 on the list.
LeBron is becoming the global icon that he stated he wanted to become years ago, and appears to be the heir apparent to Michael Jordan from a business aspect in the NBA.
Love him or hate him, LeBron is the biggest star in the NBA today and you can see his No. 6 Heat jersey anywhere in the world today.
Surprise Factor: One out of 10
I hope you enjoyed the list, and again, feel free to comment below on what surprised you about the 15 most popular jerseys in the league.
Let me know who you think should have been on the list, and who you think they should replace.
Follow me on Twitter @BFlow82 for all tweets sports related, and if you are interested in hilarious stories from my life, check out TheBoomSpot.com.
Keep Reading