Washington Wizards: What John Wall, JaVale McGee and Co. Need to Improve on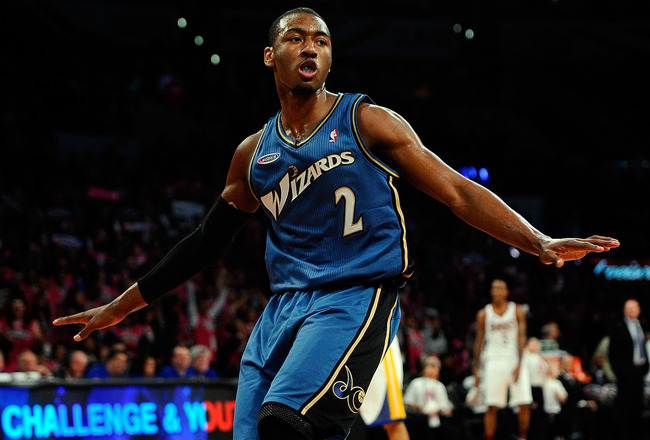 What do the Wizards have to do so that we can see more victory celebrations like this?
Kevork Djansezian/Getty Images
Few NBA fans deny that there is a lot of potential on the Washington Wizards. John Wall is lightning quick, Nick Young and Jordan Crawford have great scoring instincts, and McGee is a natural shot-blocker.
At what point, however, will all of this raw potential be reflected in the win column?
Ever since the Wizards made the mistake of signing Arenas to a six year $111 million dollar contract they have been in rebuilding mode. Don't despair Wizard fans, the worst of it is over.
During the offseason each member of the team needs to do a few things to improve their game. If these nine players can improve in the following areas, then Washington will become a staple in the Eastern Conference playoffs for years to come.
Jordan Crawford's Killer Instinct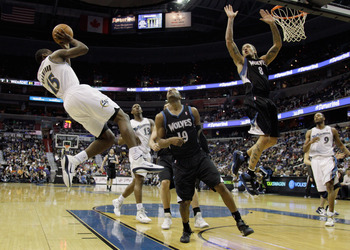 Crawford has a killer instinct. Is it infectious?
Rob Carr/Getty Images
Remember the guy who dunked on LeBron James at his own summer camp?
Jordan Crawford has been a pleasant surprise this season. Along with Mike Bibby (who immediately negotiated a buyout) and a first round pick, Crawford was acquired in a savvy midseason trade with the Hawks in exchange for backup PG Kirk Hinrich.
When Wall was suspended for throwing an elbow at Zydrunas Ilgauskas, Crawford admirably stepped in posting a 21-11-10 triple double.
Without sacrificing aggressiveness, Crawford needs to look for the pass a little more. There are several situations every game where his penetration will draw several defenders leaving someone wide open underneath the basket or on the perimeter.
As he develops and studies film, Crawford will begin to find wide open shooters more consistently.
Yi Jianlian, Hit the Gym or Hit the Road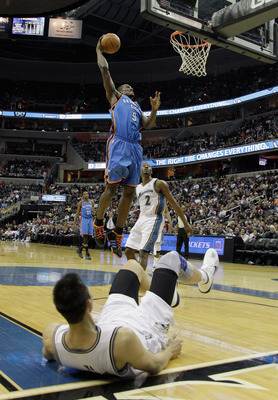 Wizard fans have seen this one too many times.
Rob Carr/Getty Images
Standing at seven feet tall and with the wing span of an albatross, Yi JianLian should be a rebounding and shot-blocking machine. Sadly, this is not the case.
Yi is constantly out-rebounded by smaller players, rejected at the rim, pushed around in the paint, and exploited for his defense. Simply put, there are several times a game where Yi is plainly out-hustled.
Although he has a nice mid range jump shot and shows flashes of potential, these moments are overshadowed by his marshmallow demeanor. Yi needs to spend the offseason in the gym. He needs to improve his upper body strength so that he can keep opposing big men out of the paint. Furthermore, he requires extensive drills aimed at his hand strength and coordination.
If Yi is unable improve in these areas, then he should not be a part of the Washington rebuilding process.
Will Andray Blatche Buy in to the New Culture?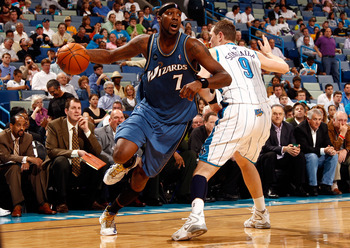 Does he have that fifth gear?
Chris Graythen/Getty Images
Although he gets a lot of attention for his various off-the-court activities, Andray Blatche has really improved on the court this year.
He has a reliable jump shot, a great bulldozer-style move to the basket, and fantastic rebounding instincts. Critics, however, claim that he is incapable of taking that next step.
Andray Blatche is the only leftover from the irresponsible and embarrassing Gilbert Arenas era. If he is able to align his work ethic with that of John Wall and the young guys, then Andray is capable of becoming something special.
If he is able to avoid injury, then it appears he is already on the right path.
"I'm going to work on my body so I can avoid the injuries that I had this year. This year the main thing was injuries: the hip to the knee to the shoulder, my foot. This year I'm going to really focus on my body, get strength and flexibility."
Like Zach Randolph in 2010-2011, if Andray Blatche can completely dedicate himself to the gym and practice then he is ready to become powerful force for the Wizards.
JaVale McGee Tours the Degobah System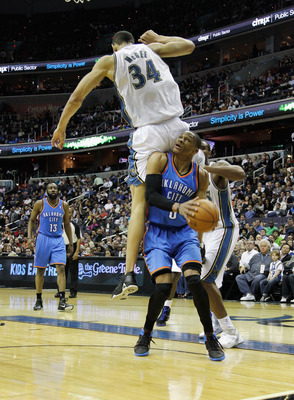 With great power comes great responsibility.
Rob Carr/Getty Images
Twice a game, JaVale McGee is the most exciting player on the court.
He is known for high-flying, awe-inspiring dunks, is one of the best shot blockers in the league, and even has a rare 11-12-12 triple-double with blocks.
Although he is sometimes exploited by larger, heavier centers like Andrew Bogut and Dwight Howard, he is unparalleled as a weak-side defender.
The trouble is that twice a game JaVale will embarrass himself by playing outside of his skill set. He will try to catch a rebound and take the ball coast-to-coast by himself. He will air-ball an outside shot. He will be fooled by a defender pulling-out-the-chair or he will take an awkward off-balance shot and miss badly.
JaVale needs to work purely on discipline. When he is posting up opponents and crashing the offensive glass, he is virtually unstoppable. Much like the Rockets brought in Ewing as a consultant for Yao, the Wizards would be wise to bring in an experienced and retired center to personally coach McGee. He has all of the tools to be a great PF/C and is worth the investment.
Trevor Booker Leaves It All on the Floor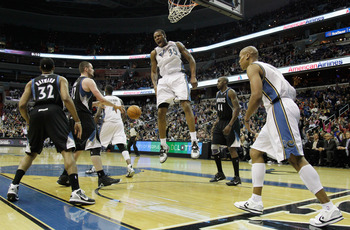 If a spark plug required a spark plug it would call upon Trevor Booker.
Rob Carr/Getty Images
No one expected Trevor Booker's rookie campaign to be as successful as it was. Proving himself to be capable of rim-shattering dunks and monster rebounds, Booker plays a bigger game than his undersized 6'7" frame might suggest.
He also adds much needed toughness in the paint.
Unfortunately, his season was ended early by a foot injury.
Although Booker thrives as player who does not need the ball in his hands to succeed, he should look to extend his shooting range. He is capable of hitting short-range jumpers, but if he is able to extend his range then he will space the floor and improve the team's efficiency and chemistry.
Five-Star Floor General John Wall
Is he a leader in the locker room as well?
Rob Carr/Getty Images
Triple-doubles? Check.
Double-doubles in points and rebounds? Check.
Double-doubles in points and assists? Check.
John Wall is the undisputed leader of the Wizards. He gives 100% on every possession, goes for every block, does not back down from anyone, and takes every loss personally. He is the foundation upon which the rebuilding process needs to take place.
Wall has every tool that an NBA player requires to be successful in this league.
In terms of development, Wall needs to improve his outside shooting. Although his mid-range game improved significantly during the season, his still cannot be relied upon as a spot-up shooter.
If Wall is able to become a mid-range and three-point threat, then he will be absolutely unstoppable.
Kevin Seraphin, Human Paint Can Lid
Seraphin has lockdown potential, but can he stay on the court?
Mike Ehrmann/Getty Images
As strange as this sounds, Seraphin is exactly the kind of player that the Wizards need. He supplies a toughness and paint presence that reminds one of a rookie Kendrick Perkins.
Seraphin needs to work on staying out of foul trouble. His strong defense and ultra-aggressive pick sets often send him back on the bench.
He has great instincts around the rim and will not think twice before battling with the best in the league for a rebound.
Nick Young Sniper Extraordinaire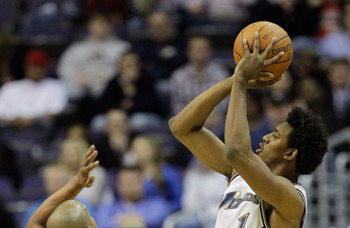 Nick young is an believably confident shooter, but can he play at that level on both ends of the court?
Rob Carr/Getty Images
The man is an assassin. There is no doubt about it. As soon as he steps out of the locker room he is already in range.
Before his season ending knee injury, Young was showed leaps of improvement in his confidence and understanding of the game. He even had flashes of brilliance that reminded one of Gilbert Arenas before his crippling knee injury.
If Nick Young expects to be a starter for this team he needs to focus on his defense. Opposing players like Paul Pierce and Dwayne Wade regularly exploit his sluggish defense. Instead of cheating for steals, Young needs to focus on staying in front of his assignment.
In addition, strength development would allow him to fight back with opposing players who look to isolate him and take advantage of his soft defense.
Sam Cassell Knows More About Winning Than Anyone in the Organization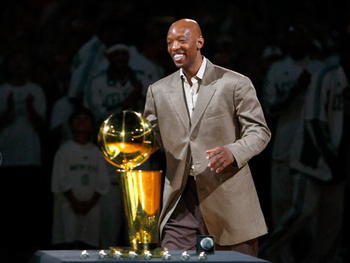 A little more Sam Cassell for the win.
Jim Rogash/Getty Images
Sam Cassell won two championships with the Houston Rockets. At the end of his career, he won one more with the Boston Celtics.
He has been there and has the hardware to prove it. Despite this, he is rarely mentioned or seen during games or in the media. Since he is the only player familiar with a winning culture, the Wizards need him to be a louder voice both on the sideline and in the locker room.
Keep Reading

Washington Wizards: Like this team?