Houston Rockets: 10 Reasons to Have Hope for the Next NBA Season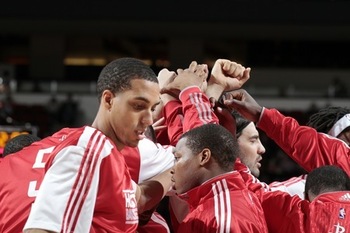 With the Houston Rockets' season down to its final 48 minutes, fans can start recycling the highs and lows of the 2010-11 campaign and begin looking ahead to next year.
The lows were a 5-12 start, a number of missed opportunities down the stretch in close games, and another failed comeback attempt by Yao Ming.
But a series of recent highs should have Red Nation counting down the days to next year's tipoff. Like a 16-8 record since the All-Star break, a stretch that saw wins over title contenders such as the Boston Celtics and San Antonio Spurs, and road victories over the Portland Trail Blazers and New Orleans Hornets.
Nearly all of its roster is under contract for next season, so the goal should be to rejoin the playoff pack. However, if the Rockets can carry the momentum of this finishing kick into the start of 2011-12, they would be on pace to win around 55 games.
Do they have the look of a 55-win team? Probably not, but a free-agent signing here and a minor tweak there, and suddenly the possibilities are endless.
For now, let's look at 10 reasons why Rockets fans can be optimistic about next season.
10. The Return of Yao Ming (Again)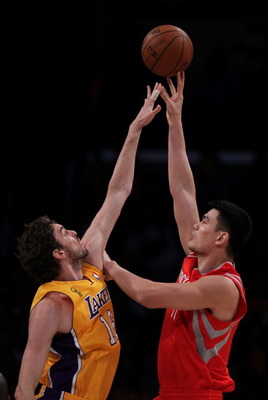 Jeff Gross/Getty Images
I know you're tired of reading about it, and I'm just as tired of writing about it, but word is Yao Ming will be healthy by the start of training camp and it appears both he and the Rockets are interested in continuing their relationship.
Funny what difference a year makes. At this time last year, this was the No. 1 reason for Rockets fans to have hope for the future, whereas today, it barely makes the list.
Expectations have changed for Yao and how his presence impacts their chances. With his contract expiring in a few weeks, many fans just assume Yao retires or the Rockets let him walk and continue what's left of his career elsewhere.
For those of you on the fence, consider that the NBA isn't exactly overflowing with quality centers. Tyson Chandler will be the best one on the market this summer, which tells you all you need to know.
The Rockets' style has changed and Yao is no longer the focal point, nor would he be considered a lock to start. But if he's really healthy and able to provide 15-20 solid minutes, are you telling me you wouldn't want the big fella back in red?
Take out Jordan Hill or Brad Miller and throw in Yao with that second unit. Don't you feel better already?
9. Multiple Picks in 2011 Draft
Al Bello/Getty Images
Thanks to previous trades made with the New York Knicks and Phoenix Suns, Houston will have three selections in the top-40 of the 2011 NBA Draft.
The highest of the three will be theirs, which is likely to come at the back end of the lottery since they will finish with the best record of the 14 teams that missed the playoffs. While it's unlikely that General Manager Daryl Morey will be able to find someone who can help right away, it isn't impossible.
Morey drafted Patrick Patterson with the 14th overall selection last year, Aaron Brooks with the 27th pick in 2007 and Chase Budinger at 44th in 2009, so clearly an impact player can be had in the top-40 range.
But maybe he finds a team interested in a three-for-one deal, allowing him to move into the top-10 to get his hands on a Perry Jones, Jan Vesely or Kemba Walker.
Or maybe he can use the picks in a package deal to acquire a veteran starter or even a superstar. Morey's search for Houston's next star is never-ending, and these draft picks can help him get who he's looking for.
8. Plethora of Young Talent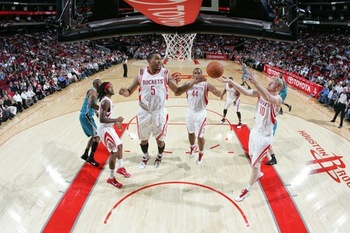 Houston has just two players on its active roster that are 30 or older- Luis Scola and Brad Miller. What that says is this team is full of players either in the midst of their prime or have yet to reach it.
If this group stays together, it has a very high ceiling, but in a strange way, the prospect of a few departing is what makes the team so intriguing.
The Rockets don't have a superstar talent unless you are a part of the minority that believes Kevin Martin is indeed a superstar. Does Morey and Owner Les Alexander love guys like Martin, Kyle Lowry, Chase Budinger, Courtney Lee and Patrick Patterson? Of course they do. Would they gladly agree to trade a few of them to get a Chris Paul-type player? In the blink of an eye.
Each of these players not only has talent and upside, but more importantly, they take up little cap space, making them easy to include in a possible blockbuster.
Yao aside, 11 of Houston's 14 players make less than five million dollars. Martin makes $10.6 million a year, and both Scola ($7.8M) and Lowry ($5.8M) have moveable contracts.
Morey has done a great job of managing the Rockets' salary cap situation by not giving out or taking on ridiculous contracts. Thus their abundance of young and improving talent can either continue to help the franchise on the court or on the market.
7. Full Season with Post-Deadline Core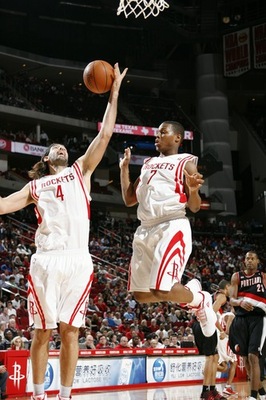 This is listed with the assumption that Houston re-signs Chuck Hayes and Coach Rick Adelman (they better, but that's for another time), and gets through the summer without blowing up the roster via trade.
Again, since returning from the All-Star break, the Rockets have been one of the league's best at 16-8.
The offense, which ranks third in the NBA in scoring, has continued to be a well-oiled machine, and even the defense, which was borderline pathetic for most of the season, has improved.
Trading Aaron Brooks and Shane Battier helped define roles and cement a rotation, something Adelman couldn't do in the first three months due to an overcrowded perimeter.
Martin is the scorer. Lowry is the orchestrator. Budinger is the shooter. Hayes is the glass-eater and shutdown defender. Scola is the post presence and spot-up shooter.
Patterson, Lee, Miller, Hill, and Goran Dragic fill in as needed.
It took Houston forever to carve that out, and that's the main reason it will be watching the playoffs instead of participating. Knowing this heading into game one of 82 next fall, there should be no delaying the Rockets' blastoff.
6. Chuck Hayes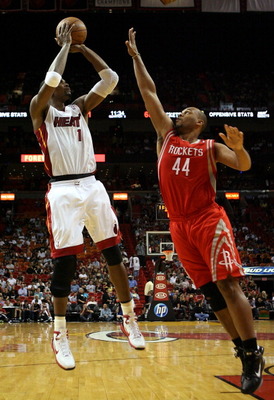 Marc Serota/Getty Images
If the NBA handed out a Most Underappreciated Player Award, it would be named after Hayes.
The Chuckwagon went undrafted after four great years at the University of Kentucky and was cut from the Rockets as a rookie in 2005. It wasn't long after that Hayes resurfaced and became a starter on a few playoff teams.
Playing the center position at 6'6', which still looks like a generous listing, Hayes is always the underdog and that seems to drive him on a nightly basis.
All season long he has made life miserable for the NBA's biggest stars in the post- Tim Duncan, Pau Gasol, and Blake Griffin, just to name a few.
In his last two games against the Rockets, Griffin had the misfortune of being guarded by Hayes. In the two games combined, Griffin scored 27 points on 11-for-34 shooting. He is one of the league's brightest young stars, averaging over 22 points per game and tripling Hayes in athleticism.
While his defense earned him a ticket into the league, Hayes continues to improve offensively. He's averaging 11 points and 11 rebounds over his last five games and he even recorded the rarest of triple-doubles (13 points, 14 rebounds, 11 assists) in a March 23 victory over Golden State.
Hayes has become the heart and soul of the franchise and he symbolizes everything the team is about. A unit usually takes on the personality of its leader, and the Rockets have embraced Hayes' "doubt me and you'll get punched in the mouth" mentality.
5. Patrick Patterson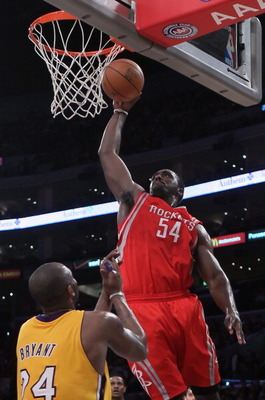 Jeff Gross/Getty Images
This spot probably should have been reserved for Mr. Consistency, Luis Scola, but it's time to give the rookie some well-deserved ink.
After drafting Patterson in the No. 14 slot of last year's draft, Morey told the Houston media that Patterson was rated sixth on his draft board.
Most fans scoffed at that remark, but have been silent ever since. Patterson has been a gem for the Rockets, particularly in the second half of the season. Like his mentors Hayes and Brad Miller, Patterson is the consummate teammate who has come off the bench to provide whatever the team needs on a given night, whether it be shooting, rebounding, post defense, or all of the above.
Patterson didn't make his NBA debut until Dec. 15 and heading into Houston's New Year's Eve date with the Toronto Raptors, he had logged a total of 15 minutes.
Thanks to Patterson, the Rockets were able to end 2010 in style, as he scored 15 points and grabbed 10 boards in 25 minutes during a 114-105 victory over the Raptors.
Naturally, his playing time increased and he played a huge role in March when Scola missed five games and was held back in a handful of others due to injury. Patterson averaged nine points, six rebounds, one block and shot 56 percent from the field during the month, helping the Rockets to a 9-5 record.
That production came in about 22 minutes of action, so do the math and you'll see that his 48 minute averages are very strong for a rookie.
The former Kentucky Wildcat has played so well that there are whispers the organization may dangle Scola in an effort to hand the starting power forward spot to No. 54. While that is an unlikely scenario, there's no doubt Patterson is a big part of Houston's future plans.
4. Kyle Lowry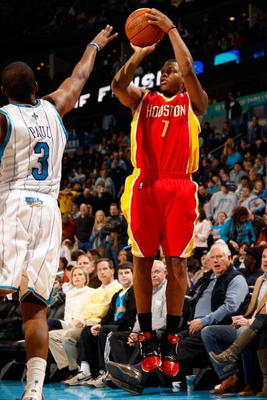 Chris Graythen/Getty Images
Aaron Brooks entered the season as a Houston fan favorite thanks to an outstanding 2009-10 season that culminated with him earning the league's Most Improved Player Award.
An ankle injury in the season's fifth game forced him to the sideline for 18 games, and by the time he returned, Brooks had worn out his welcome. That's because Kyle Lowry stepped in, took over the reigns of the Rockets' offense, and began showing his grit, toughness and ability to come through in the clutch.
Sure enough, Brooks was dealt to the Phoenix Suns in February, and Lowry assumed the starting point guard position in a full-time capacity.
Lowry has since thrived, averaging a career-high in points (13.5), assists (6.7), rebounds (4.1), steals (1.4), and three-point percentage (37.6). Most important, however, is how he has taken over as one of the team's leaders and always has everyone where they're supposed to be in the offensive scheme.
What should get Rockets fans really excited is his play throughout the month of March. Lowry averaged 19.8 points, 8.1 assists, 5.3 rebounds, 1.3 steals, shot 47.5 percent from the field and 43 percent from three.
That came just after the Brooks trade when his minutes per game jumped to just under 37 a night.
Those minutes are sure to be available moving forward, and if Lowry uses them as well as he did last month, he'll be entrenched as Houston's starting point for years to come.
3. Kevin Martin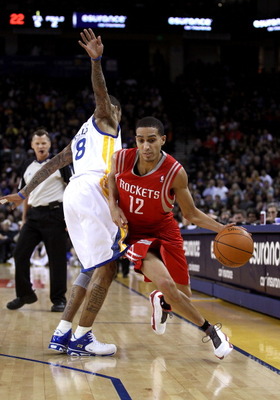 Ezra Shaw/Getty Images
Martin is the closest thing the Rockets have to a superstar. You could do worse.
He may not be one of the top 10 or 15 best players in the NBA, but he is one of the league's best scorers, and for those that don't know basketball, that's kind of a big deal. Martin is ninth in the league in scoring at 23.4 points per game and he can get them in a variety of ways.
Despite his slight frame, Martin is a great finisher in traffic and when he doesn't finish, he usually draws a foul. He's second in the league in free-throws made and third in three-pointers made, shooting 89 and 39 percent from the respective lines.
It's very important that each player is aware of his role on the team and Martin and his teammates fully understand his. He is the scorer. Need a bucket? Get the ball the K-Mart.
His defense is questionable and his playmaking ability is substandard for someone with his scoring prowess, but the same can be said for Carmelo Anthony and Kevin Durant, and aren't they considered superstars?
Martin has never received the credit he deserves, but the Rockets are happy to have him, as few players fit their offensive philosophy as well as the Western Carolina product.
His star status may be questioned amongst league scouts and analysts, but no one within the Rockets' organization questions his importance to their success.
2. Ample Salary Cap Space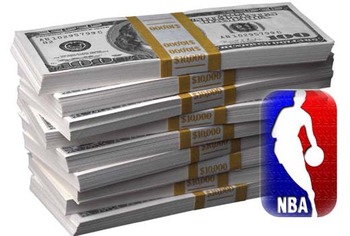 It came one year late, but the Rockets will be among the league leaders in salary cap space this summer.
Just how much they will have is to be determined by the terms of the new collective bargaining agreement, but regardless, Morey will have more than enough to make some significant additions.
Yao's $18 million salary comes off the books at year's end, and Chuck Hayes is the only player due for a payday, one that won't be anything outrageous. From the looks of it, Houston will be committed to only about $48 million in player salaries, so if the new cap figures are in the same ballpark as this season, the Rockets should have around $12 million to work with.
As far as unrestricted free agents go, there isn't a LeBron James, Dwayne Wade or Amar'e Stoudemire to be had this summer, but Zach Randolph, David West and players of that caliber can be.
For the first time in years, the Rockets are in position to be serious players on the free-agent market.
1. Daryl Morey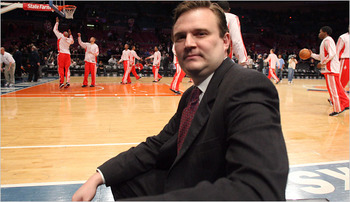 Yes Rockets fans, you're No. 1 reason for future hope frequently wears a suit and tie while working the phones.
I'm not talking about Yao on the sidelines. I'm referring to General Manager Daryl Morey.
In most cases this would be a bad thing, but here is one spot where Houston is head and shoulders above its competition. Morey is great at everything from evaluating talent to managing the salary cap.
He has found diamonds in the rough in the draft with the aforementioned selections of Brooks, Budinger and Patterson. He's turned water into wine in trades, like dealing a severely damaged Tracy McGrady for Kevin Martin and two first-round picks, and in the Ron Artest heist that cost him only Donte Greene.
Whatever you think the Rockets need, whatever star player you believe they should acquire, Morey gives them the best chance at making it happen. And if I'm Les Alexander, I wouldn't want anyone but him handling my hard-earned money.
Morey inherited the McGrady-Yao Rockets and a less than stellar salary cap situation. After four years at the helm, he has stabilized the cap and built a solid team without ever compromising the future.
With Yao's previous contract coming to a close, this is officially Morey's roster. As one previous star comes off the books, this Moneyballer is on the hunt for next generation's Hakeem Olajuwon or Calvin Murphy.
He has set himself up accordingly to make a big splash, and you get the feeling that hook, line and sinker is just around the bend.
Keep Reading

Houston Rockets: Like this team?