Come playoff time, no Western Conference club will be safe in the first round—not even the Golden State Warriors, San Antonio Spurs and Oklahoma City Thunder.
Not if Damian Lillard and the Portland Trail Blazers have something to say about it, anyway.
Rip City's rampage took another step forward on Tuesday with a 112-104 win over the Brooklyn Nets at the Moda Center.
The Blazers squandered what had been a 19-point lead amid a furious flurry from Brooklyn's Brook Lopez (a game-high 36 points, 10 rebounds, four steals), Joe Johnson (19 points, eight rebounds, four assists) and Donald Sloan (14 points, five rebounds, four assists).
Once the Nets caught up, Lillard and C.J. McCollum took control. Portland's promising backcourt combined for 24 of the team's final 25 points on the way to scoring 34 apiece. Lillard would've had more than that had the referees not waived off his three-quarter-court heave in the waning moments.
No guard duo had done anything like that in more than three decades, according to ESPN Stats & Info:
Damian Lillard/C.J. McCollum: 1st starting guard teammates to each score 30 in B2B gms since George Gervin/James Silas in 1980 @EliasSports

— ESPN Stats & Info (@ESPNStatsInfo) February 24, 2016
For McCollum, it marked the first time in his three-year pro career that he'd dropped 30 in back-to-back games. For Lillard, his latest explosion extended a streak the likes of the Rose City hasn't seen in over four decades…
Damian Lillard is the first Trail Blazer with five straight games of 30+ points since Geoff Petrie during Portland's first season (1970-71).

— Trail Blazers PR (@TrailBlazersPR) February 24, 2016
...and which the NBA hasn't witnessed this season, even with Stephen Curry and James Harden lighting up the league from night to night, according to Trail Blazers PR:
Damian Lillard is the only player in the NBA this season to score 30+ points in five consecutive games.

— Trail Blazers PR (@TrailBlazersPR) February 24, 2016
More importantly, Lillard's Blazers have won all five of those games and 15 of 18 dating back to early January. Portland's post-New Year's push has this squad, at 30-27, in a dead heat with the Dallas Mavericks for sixth place out West.
That's a far cry from where the Blazers figured to be. After parting ways with four starters, including All-Star LaMarcus Aldridge, Portland had the look of a likely lottery team when the season started. As good as Lillard was and as much as McCollum had produced after Wesley Matthews and Arron Afflalo went down last season, how could those two carry a crew of castoffs and misfits through a cutthroat conference?
To paraphrase Dory from Finding Nemo, just keep shooting. They'll have to if the Blazers are going to outlast some stiff competition out West.
If the scene in Salt Lake City was any indication, the Utah Jazz and Houston Rockets won't go quietly into the offseason.
The Rockets forced overtime on Jason Terry's three-pointer but came up just shy in the extra period, as the Jazz held on for a 117-114 win.
Both teams are replete with impact players who could put a dent in the postseason picture before (and after) the field is set.
The Rockets' contingent is well-known to most NBA fans by now.
James Harden, the game's second-leading scorer this season, poured in 42 points to tie Curry for the league lead in 30-plus-point games in 2015-16 (25). Dwight Howard, third in the Association in rebounding, grabbed another 16 boards to go along with 13 points (and three blocks) for his 25th double-double.
Trevor Ariza, Mr. Three-and-D himself, finished with as many triples as steals (four). Patrick Beverley, known best for pestering opposing point guards, got in Gordon Hayward's head late in regulation, which led to a key missed free throw.
"Just some gamesmanship," Hayward said afterward, per KSL's Andy Larsen. "I should have knocked it down."
Hayward drained just about every other shot he took. The slick-haired forward finished with 28 points on 6-of-7 shooting (13-of-15 from the free-throw line) to go along with seven rebounds and five assists.
Hayward had plenty of help from Utah's young, gifted group. Derrick Favors (19 points, 12 rebounds, two assists, two steals, three blocks) tied Rudy Gobert for the team lead in double-doubles at 13 with a little help from the Stifle Tower himself.
Rodney Hood, another emerging star on the wing, hit a three in Howard's eye not once...
...but twice.
Shelvin Mack, the newest member of the Jazz, wasn't too shabby either. After accounting for 16 points in his Utah debut, the former Butler Bulldog scored a season-high 17 during his first start in almost two years.
"Although we're very young, we're starting to get older with each and every game," Hayward said in praise of this growing group, per Larsen.
That improvement has pushed Utah into eighth place out West—a half-game ahead of Houston. Either one of those teams could make things interesting for Golden State come April, be it the Jazz with their size and spread-out playmaking or the Rockets with their veteran talent and conference finals experience.
Neither seems quite the threat Portland has turned out to be. With Lillard's swagger and McCollum's complementary scoring, the Blazers have the makings of a formidable foe for whichever power they face.
As Lillard warned in his latest track, "They Sleep," "I ain't make the All-Stars, but I'm flu-game sick/Last time they count me out, what I do Game 6?"
At this rate, though, Portland won't be the only team in the field with serious upset potential.
Wizards Refuse to Brow Down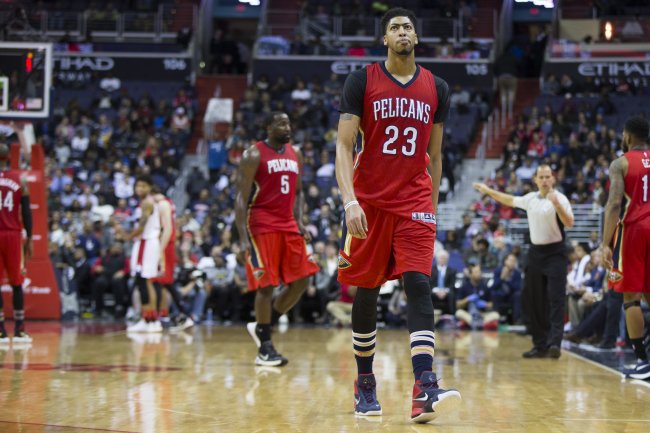 Evan Vucci/Associated Press
What did Anthony Davis do to follow up his historic 59-point, 20-rebound pounding of the Detroit Pistons on Sunday?
Not a whole lot, at least as far as scoring is concerned.
The All-Star forward grabbed another 20 boards against the Washington Wizards but managed a mere nine points on 3-of-9 shooting during the New Orleans Pelicans' 109-89 no-show in D.C.
"They [Wizards] did a great job on him," Pelicans coach Alvin Gentry said afterward, per the New Orleans Times-Picayune's John Reid. "If a guy gets 59, I guarantee you game-plan for him the next game. They fronted him in the post, and they brought a guy from the weak side to play behind him. We had to have other guys step up and make shots, and we just didn't shoot the ball very good."
Those defenders who battered the Brow on one end had an offensive field day on the other. Jared Dudley, savvy enough to hold his own defensively against Davis, drained six threes. Marcin Gortat (21 points, 11 rebounds) muscled his way to his 30th double-double of the season. Even Nene (eight points, nine boards) got in on the act.
All the while, another Kentucky Wildcat stole center stage from Davis. John Wall (16 points, 12 rebounds, 11 assists) came through with his 15th triple-double as a pro.
As for the Brow, he's not alone when it comes to poor encores this season, according to Pelicans reporter Jim Eichenhofer:
Second-highest pts game in @NBA this season was Cousins' 56. He had 17 next game. Steph Curry had 53, then 30 next game. Butler 53, then 4

— Jim Eichenhofer (@Jim_Eichenhofer) February 24, 2016
New Orleans, though, can ill afford more games like this from Davis, not with six games and three teams standing between the Pellies and a playoff spot.
Air Gordon Flies in Philly
Jesse D. Garrabrant/Getty Images
Statistically speaking, Aaron Gordon wasn't the most impactful player involved in the Orlando Magic's 124-115 win over the Philadelphia 76ers. Heck, his 11 points, 11 rebounds, three assists, three steals and one block, while impressively diverse, might not have even put him in the top five.
Nikola Vucevic (35 points, nine rebounds, four assists), Victor Oladipo (22 points, four rebounds, four assists, three steals) and Evan Fournier (21 points, three rebounds, four assists, two steals) all made bigger dents in Orlando's box score. Ditto for Ish Smith (22 points, five assists), Nerlens Noel (16 points, 11 rebounds, four assists, two steals, one block) and, arguably, Jahlil Okafor (17 points, two blocks) on the Sixers' side.
Could any of those guys have finished a lob in the face of a defender like Gordon did off this pass from Elfrid Payton?
Maybe.
But could anyone other than Gordon have jumped high enough, as John Brenkus of ESPN's Sport Science revealed, to win an Olympic bronze medal? Probably not.
Either way, the Magic must be pleased their 2014 lottery pick achieved his fourth double-double in his last six games. With Tobias Harris off to the Motor City, the starting power forward spot is Gordon's to lose.
Boogie Puts Sac on His Back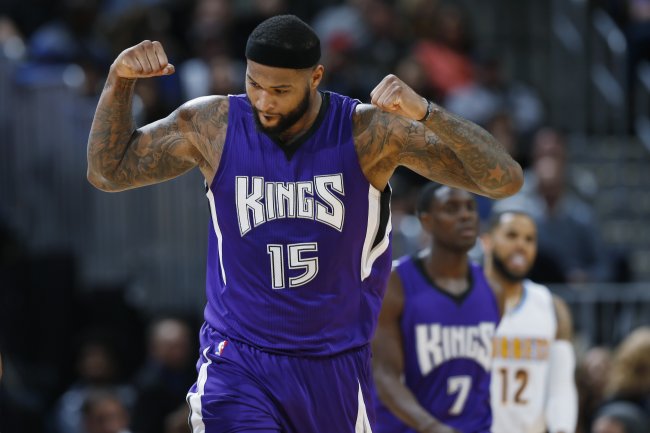 David Zalubowski/Associated Press
Say what you will about the state of the Sacramento Kings, but there's no denying DeMarcus Cousins' sheer talent and singular dominance.
Four days after forcing his way to 37 points, 20 rebounds and four blocks in a 116-110 win over the Denver Nuggets, Boogie did everything but bring home the kitchen sink to carry the Kings to a 114-110 victory in the Mile High City.
The two-time All-Star was brilliant throughout, piling up 39 points on 14-of-24 shooting (9-of-12 from the free-throw line) to go along with nine rebounds. But Boogie did his best work when it mattered most.
With less than a minute to go and the score tied at 107, Cousins poked the ball loose from newest Nugget D.J. Augustin, drew a foul at the hoop going the other way and knocked down both freebies. After Augustin's missed three, Cousins scored another pair after collecting his own carom.
Still, the Nuggets had a chance to send the game to overtime. Rookie big man Nikola Jokic nailed a three to narrow the score to 111-110 following a defensive mix-up between Cousins and Darren Collison. Collison's free throw thereafter gave Sacramento a two-point edge.
But when Denver's Darrell Arthur came back to even the score, Boogie was there to to block his shot and seal the deal for Sacramento. Thanks to Cousins, the Kings still have a puncher's chance to make the playoffs out West, with 3.5 games separating them from the eighth-placed Jazz.
Josh Martin covers the NBA for Bleacher Report. Follow him on Twitter (@JoshMartinNBA), Instagram and Facebook.