Save for the occasional update from Bleacher Report's Dan Favale, you probably haven't heard much about the NBA's MVP race so far this season.
That's no mistake or mere oversight; Stephen Curry has put the Maurice Podoloff Trophy out of everyone else's reach.
The league's reigning King of the Mountain took another step toward his second straight individual triumph during the Golden State Warriors' 123-110 win over the Houston Rockets on Tuesday. With James Harden, last season's MVP runner-up, in the building, Curry scorched his way to 35 points, nine assists, five rebounds and seven threes in 38 minutes.
The Dubs' baby-faced assassin came to the crib with flames on his fingers. He hit his first seven shots of the game, including five threes, to give him 19 points in the first quarter, before Harden had so much as scratched from the field.
Not that the bearded one was at all outdone. Harden piled up 37 points, five rebounds, five assists and three steals while guiding the Rockets back from a 16-point hole in the second quarter and into a lead by the early third. When it comes to 30-point outings, Harden has been Curry's equal in 2015-16.
James Harden and Steph Curry remain tied for the most 30-point games this season, both with their 23rd such game tonight.

— ESPN Stats & Info (@ESPNStatsInfo) February 10, 2016
Granted, Harden's not the first or only MVP-caliber talent to come correct against Curry through this campaign.
This past Saturday, Kevin Durant (40 points, 14 rebounds, five assists) and Russell Westbrook (27 points, 12 assists) both played brilliantly at Oracle Arena. But even the NBA's most dynamic duo could only do so much to keep Curry (26 points, six rebounds, 10 assists) and company from extending a home winning streak that now stands at 42.
Before that, it was John Wall whose 41 points and 10 assists were swallowed by Curry's 51 points and 11 threes in D.C. Before that, Kawhi Leonard's ankles met their match in Curry's crossover—not to mention the latter's 37-16 scoring edge over the San Antonio Spurs' rising star.
Further back this season, there were the 54 points that Curry scored to LeBron James' 41 in Golden State's two victories in NBA Finals rematches with the Cleveland Cavaliers. And even further back, there were the 93 points he poured all over the New Orleans Pelicans across Golden State's two early-season wins while Anthony Davis, their presumptive MVP contender, tallied 44.
But Curry's big performances against the game's best under the brightest lights only go so far to explain the silence swirling around awards speculation. As Favale laid out in late January, Steph has all of the stats to make his case nigh on unshakable:
He leads the league in PER, box plus-minus and win shares while playing through the most absurd offensive season ever.

His OBPM and PER are the highest in league history, he has the best true shooting percentage of anyone to average 30 points per game, and he's the only player other than Jordan to clear 30 points and five assists per 36 minutes.

...

Golden State is 29 points per 100 possessions better with Curry on the hardwood—the combined net rating of the Spurs (14.3), Thunder (8.5), Boston Celtics (3.7) and Indiana Pacers (2.5).
This all doesn't mean the league should hand its most coveted singular statuette to Curry during All-Star Weekend in Toronto. There's still too much time for James, Durant, Westbrook, Leonard and the like to close the gap, just as Harden's Rockets did on Curry's home floor. The basketball gods could always intervene, be it by knocking out the game's preeminent player with an injury or somehow, someway tossing water onto his historically hot shooting stroke.
Stuff can happen, and in the NBA, it often does.
But Curry's just as capable of that stuff as any human who wears a jersey. His spectacular pass to spark the Warriors on the fast break in the third quarter was nothing if not divine.
Plays like that put Curry on a plane of existence that his top competitors can't so much as sniff. So, too, does Golden State's pursuit of hoops history. At 47-4, the Warriors own the best 51-game start the NBA has ever seen. They're also on track to challenge the 72-10 mark put forth by Michael Jordan and the 1995-96 Chicago Bulls.
So while the rest of the basketball world clamors desperately to catch up to Curry and the Warriors, he and his team will be busy in hot pursuit of immortality.
LMA Goes HAM in MIA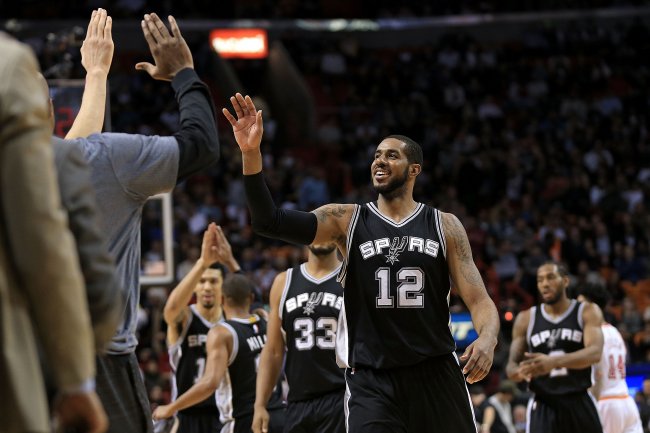 Mike Ehrmann/Getty Images
Any lingering concerns about LaMarcus Aldridge's fit with the San Antonio Spurs are so last month.
The five-time All-Star was brilliantly efficient yet again to spur San Antonio to a 119-101 win over the Miami Heat. Aldridge set the South Beach sands ablaze with 28 points on 10-of-16 shooting (8-of-8 from the free-throw line) in 32 minutes.
As much as the Spurs have missed Tim Duncan, who's spent the team's last eight games sidelined by a sore knee, they've gotten plenty out of Aldridge in the interim. Over San Antonio's last seven outings, the former Portland Trail Blazer has averaged 24.6 points on a blistering 61.8 percent shooting with 7.1 free throws (92 percent).
For all that Aldridge has done to boost the Spurs' five-game winning streak—and franchise-best-tying 44-8 start—his success, along with that of San Antonio as a whole, is the byproduct of his ever-improving partnership with Kawhi Leonard, who poured in 23 points against the Heat. As Aldridge explained, per ESPN's Michael C. Wright:
I think we've come a long way as far as understanding my game, and understanding how to mesh it. I think we've got a good balance of how to use me, and I think I've understood how to play in the system better. I know it's tough to beat us when we both play well. I think lately, we've both kind of found that balance and kind of learned how to play off each other, which is a process in itself. But I think we both have gotten better at taking turns out there and kind of getting going.
If the Spurs are already this good, just imagine how much better they could become once Duncan and Manu Ginobili rejoin this dynamic duo in Gregg Popovich's lineup.
New Coach, Same Result in New York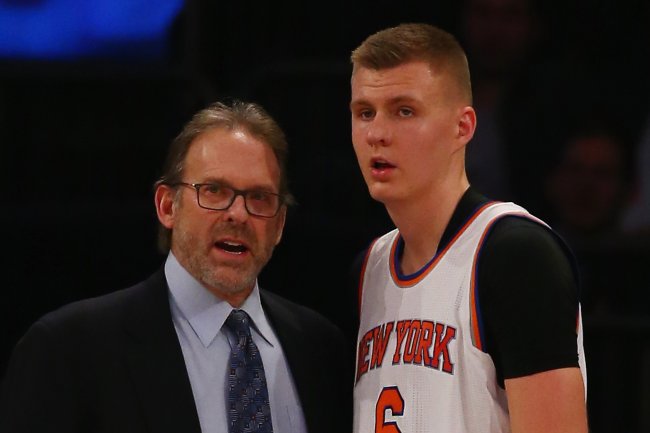 Al Bello/Getty Images
Kurt Rambis' tenure as head coach of the New York Knicks began the same way Derek Fisher's ended: with a blown opportunity to win a close game down the stretch.
This time, it was John Wall and the Washington Wizards playing the part of spoiler that Emmanuel Mudiay and the Denver Nuggets did in a 101-96 result on Sunday. Wall accounted for all but two of Washington's 28 fourth-quarter points, be it by score or assist, on the way to the Wizards' 111-108 win.
The All-Star's big night laid bare the Knicks' now-chronic weakness at point guard. While Wall (28 points, 17 assists) was having a ball, Jose Calderon went scoreless with six assists in 28 minutes, and Langston Galloway chipped in 14 points and five helpers off the bench.
John Wall finished with 17 assists tonight, 10 of which were on 3-pointers. 1st time this season a player has assisted on 10 3-pointers.

— ESPN Stats & Info (@ESPNStatsInfo) February 10, 2016
Where New York can take comfort is in its frontcourt. Robin Lopez, in the first season of a four-year deal, fell two rebounds shy of his seventh double-double (14 points, eight rebounds). Carmelo Anthony returned from discomfort in his surgically repaired knee with 33 points and 13 boards. Kristaps Porzingis (20 points, five rebounds, three assists) did his part to show why Phil Jackson said "everybody likes Kris," per CBS Sports' Ken Berger.
The Knicks' cupboard is far from bare for whomever the Zen Master picks to take Fisher's spot full time. Kudos to you if you can figure out who that will be after Jackson's Tweetsplanation:
I am sad about D-Fish. However, I'm not discouraged. Here is some things pundits should know before assuming 'next'. pic.twitter.com/cFnA8TQAhx

— Phil Jackson (@PhilJackson11) February 9, 2016
The smart money is on Jackson trying to pluck one of the few remaining fruits from his sparse, triangle-centric coaching tree. For The Cauldron's Jim Cavan, that approach would raise a critical question for the Knicks' future:
Does Jackson believe so fervently in his precious system — despite the lagging wins, despite the league-wide trends — that he's willing to die on a hill (or the third rung of a fast-rusting ladder) in spite of the greater climb?
And, in the bigger picture, are the Knicks and their fans prepared for what could be a long slog through yet another cult of personality?
Boston Blows Big Comeback
The Boston Celtics had a chance to score their second late-game miracle in as many outings. Instead, they wound up on the slightly more embarrassing end of a 112-111 loss to the Milwaukee Bucks.
The C's were on the cusp of another double-digit fourth-quarter comeback, just three nights after erasing a 10-point deficit to stun the Cleveland Cavaliers. After giving up 40 to Milwaukee in the third quarter, Boston stormed back from a 19-point hole to pull within two. Jerryd Bayless helped the C's the rest of the way, fouling Kelly Olynyk on an out-of-bounds play with one second left that gave the visitors two key free throws.
But one brain fart deserves another, and Boston was all too quick to oblige. With the score tied at 111, Avery Bradley, the hero in Cleveland, turned to goat after fouling Milwaukee's Khris Middleton on the inbounds. Middleton drained one of two freebies, and the Bucks escaped their own building with a big victory.
Despite that mistake, the Celtics can't sweat too much. At 31-23, they're still a solid No. 3 in the East, five-and-a-half back of the Toronto Raptors in second place and a game ahead of the (soon-to-be-dismantled?) Atlanta Hawks. They'll have a chance to strengthen that position at home against the Los Angeles Clippers on Wednesday before winding down for the All-Star break.
Utah's Youth Takes Control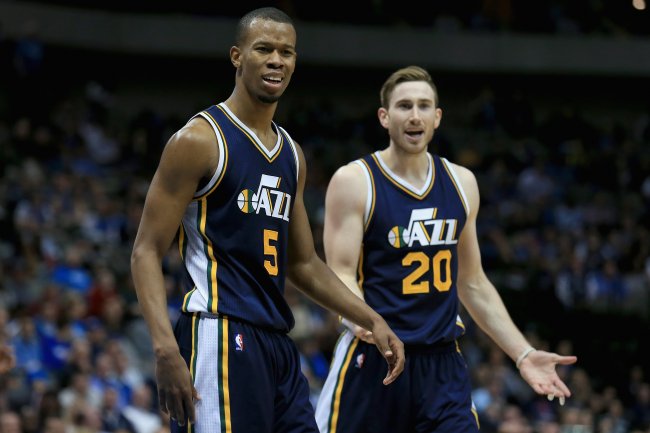 Tom Pennington/Getty Images
The Dallas Mavericks had some issues of their own holding onto a double-digit lead against a hungry up-and-comer. The Utah Jazz survived the Mavs' free-throw parade (36-of-41 at the line) to climb out of a 10-point fourth-quarter hole, force overtime and escape Big D with a 121-119 win.
The Jazz can thank their wing duo of Gordon Hayward and Rodney Hood for helping them pull out their 26th win of the season. Those two combined for 49 points, 10 rebounds and nine assists, doing their best work when it mattered most.
First came Hood, who nailed a three with time winding down to send the game to OT.
Then, with the score tied at 119 in the extra period, Hayward stepped back (and up) for the buzzer-beater.
That shot didn't just give Utah the game. With Houston's loss, it also vaulted the Jazz into seventh place out West, just a game back of Dallas at No. 6.
For that, Hayward has more than earned his cleaner cut.
February 10, 2016
Josh Martin covers the NBA for Bleacher Report. Follow him on Twitter, @JoshMartinNBA.