Updates from Friday, Aug. 15
The Wall Street Journal's Chris Herring provides details on a hefty advance the Kincks' Carmelo Anthony has taken out from the contract he signed in July:
New York Knicks star Carmelo Anthony is getting advance payment of more than $62 million from the five-year contract he signed last month, according to people familiar with the matter.

The advance for $62,032,340—or 50% of his $124 million-plus deal—is the maximum Anthony can take this soon under league rules .And in terms of sheer dollar amounts, it is surely among the largest advance payouts a player has taken in NBA history. Only Kobe Bryant, Jermaine O'Neal, Kevin Garnett and Rashard Lewis have ever signed contracts for larger amounts.
Herring later clarified his report:
I misunderstood a key, fundamental detail about advance money Carmelo is taking in his new deal. Was an honest mistake, but no excuses.

— Chris Herring (@HerringWSJ) August 16, 2014
He'll get the advances over 5-yr span; not all this summer. RT @_ktothef_34: What was wrong? He's getting a huge advance still right?

— Chris Herring (@HerringWSJ) August 16, 2014
Updates from Tuesday, July 15
ESPN's Ian Begley confirmed the numbers on Anthony's contract:
Sources: Carmelo Anthony's contract w/#Knicks is for $124 million over 5 years. Starts at $22.5 million. Early termination option in Year 5.

— Ian Begley (@IanBegley) July 15, 2014
Sources say Carmelo Anthony's contract w/the #Knicks is $5 million less than the maximum of $129 million, not $6 million as was reported.

— Ian Begley (@IanBegley) July 15, 2014
Frank Isola of the New York Daily News and Begley report more on Anthony's contract:
Carmelo Anthony has more power than you think. According to a league source, his new deal includes a no-trade clause, Daily News has learned

— Frank Isola (@FisolaNYDN) July 16, 2014
Carmelo Anthony's no trade clause is rare. Only Dirk Nowitzki, Tim Duncan, Kobe Bryant & Kevin Garnett currently have one, per @LarryCoon.

— Ian Begley (@IanBegley) July 16, 2014
Original Text
Carmelo Anthony's free-agent flirtation with the rest of the league turned out to be just that.
Although several teams predictably went hard after the seven-time NBA All-Star with their best pitches and recruitments, he opted to stay home and will sign a five-year deal with the New York Knicks worth $120 million, according to Yahoo! Sports' Adrian Wojnarowski:
Carmelo Anthony will sign a five-year, $120 million-plus contract to return to the New York Knicks, league sources told Yahoo Sports. ...

... Anthony might still take less than the maximum $129 million the Knicks can give him, a source said.
Anthony confirmed the news on Sunday, announcing his return in a statement on ThisIsMelo.com:
A few years ago I dreamed of coming back to New York City, the place of my birth, and on February 23, 2011 that became a reality. This organization has supported me and in return, I want to stay and build here with this city and my team. At this pivotal juncture in my career, I owed it to myself and my family to explore all of the options available to me. Through it all, my heart never wavered.

During this journey I met with some quality organizations who have amazing talent and leadership. I thank them for their consideration, belief in my talent, and opportunity to imagine the possibilities.

I will always remember this chapter in my life. In the end, I am a New York Knick at heart. I am looking forward to continue my career in Orange & Blue and to work with Phil Jackson, a champion who builds championship teams. Madison Square Garden is the mecca of basketball and I am surrounded by the greatest fans in the world.
The Knicks also confirmed the deal on Twitter, providing Phil Jackson's comments on Anthony's return to New York:
Phil Jackson: ​"After 3 months of questions around Carmelo Anthony's return to the NY Knicks..." (cont)

— NY_KnicksPR (@NY_KnicksPR) July 13, 2014
(cont) ​"...we are now happy to know that we have the cornerstone of what we envision as a 'team of excellence.'"

— NY_KnicksPR (@NY_KnicksPR) July 13, 2014
"Steve Mills and I have assured Carmelo through our conversations, that we share the vision and the determination to build this team."

— NY_KnicksPR (@NY_KnicksPR) July 13, 2014
Jackson later commented on Anthony's contract in New York:
Phil Jackson tells reporters in Vegas that Carmelo "did exactly what we asked him to do" & took less than max money in early years of deal.

— Ian Begley (@IanBegley) July 13, 2014
Frank Isola of the New York Daily News provides more details on Anthony's decision:
Carmelo has notified all teams, including the Bulls, that he is returning to the Knicks.

— Frank Isola (@FisolaNYDN) July 12, 2014
I'm pretty sure Carmelo will take less than $129 million. Not saying it will be five years $100 but it won't be $129 million

— Frank Isola (@FisolaNYDN) July 12, 2014
After all is said and done, Carmelo made Phil Jackson sweat a little. Phil needed Melo more than he thought he did.

— Frank Isola (@FisolaNYDN) July 12, 2014
Although Anthony didn't officially become a free agent until July 1, teams had been prepping for his potential availability for a long time. And when he opted out of the final year of his contract with the Knicks on June 23, things quickly picked up.
"Carmelo loves being a Knick, he loves the city, and he loves the fans," agent Leon Rose said at the time, via ESPNNewYork.com's Ian Begley. "At this stage of his career, he just wants to explore his options."
And he certainly had his options.
The Houston Rockets freed cap space by trading Omer Asik. The Dallas Mavericks traded for Anthony's friend and former teammate Tyson Chandler. The Miami Heat, Chicago Bulls, Los Angeles Lakers and several others joined the mix, each offering their own unique perks.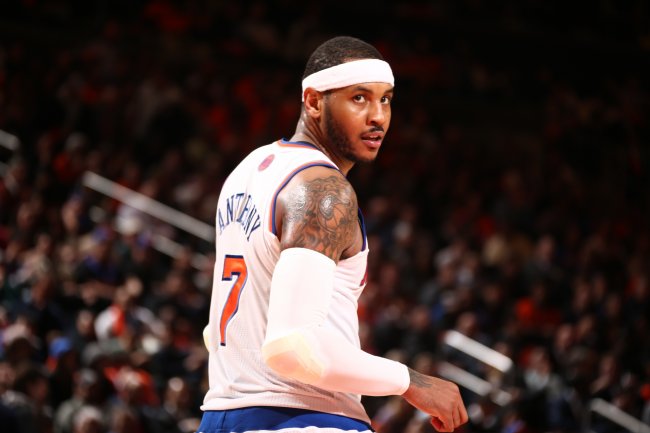 Nathaniel S. Butler/Getty Images
We've seen over the last decade why teams were figuratively—and probably even literally, in some cases—falling over themselves to woo Anthony. Long one of the best pure scorers in the league, he averaged 21 points per game as a 19-year-old rookie—that number has never dropped below 20.8 for a season—and won the scoring title nine years later, during the 2012-13 campaign.
Even more frightening—at least for defenses—is that he's still improving on that side of the ball. Exhibit A: his career-high 62-point outburst against a strong defensive Charlotte Bobcats side in January:
Over the last two seasons, Anthony has knocked down 2.2 threes per game after never averaging more than 1.2 before that. Last year, he rose above the 40 percent mark for the first time in his career, while his true shooting percentage (56.1) was the highest it had been since 2007-08.
His player efficiency rating (PER), according to Basketball-Reference, has stood at 24.8 and 24.4 the last two campaigns—the two highest marks of his career.
Where would you rank Carmelo Anthony among NBA players?
The advanced stats check out, too. Last season, when Anthony was on the court, the often woeful Knicks were still 0.9 points per 100 possessions (106.8-105.9) better than their opponents. When he went to the bench, they were outscored by 6.9 (101.3-108.2), per NBA.com.
Anthony is one of the most polarizing players in the NBA, but there is very little debate when it comes to his ability as a scorer. This decision will not only have an immense impact on the landscape of the NBA, but it figures to start a snowball effect for the rest of the free agents who were waiting to see where 'Melo landed.
With over 30,000 minutes on his legs, it will be interesting to see how this contract looks in four years. But for now, New York has comfortably asserted itself as a future contender by locking down a superstar who makes the Knicks an attractive future destination for free agents.