Looking to cure those NBA offseason blues? The Association's media day had you covered.
Seven teams held court on Day 1 in preparation for the 2013-14 regular season and the forthcoming preseason trip overseas.
The Chicago Bulls, Golden State Warriors, Houston Rockets, Indiana Pacers, Minnesota Timberwolves, Oklahoma City Thunder and Washington Wizards all fielded questions and offered insight into the campaign to come. A few certain somebodies even crashed the party with announcements of their own.
Players smiled, coaches and general managers talked and cameras flashed. The not-so-subtle message of the day was clear: Basketball is in the air again.
Finally.
Chicago Bulls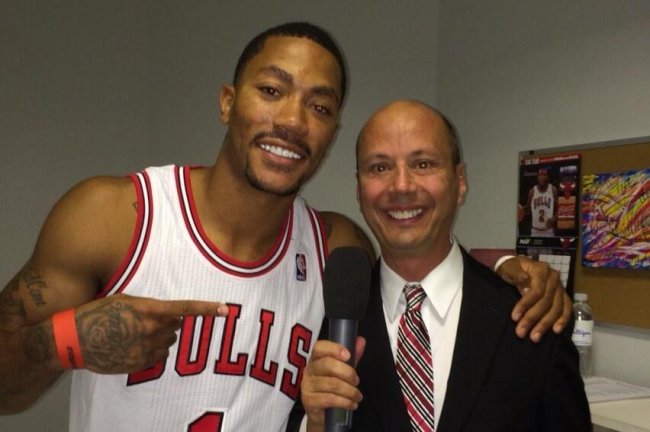 Derrick Rose is Ready to Go...For Real...We Think
Chicago's point guard is ready to do something he hasn't done since April 2012, according to ESPN's Mark Schwartz—play.
Reporting from Bulls media day, Mark Schwarz says Derrick Rose is ready to go: http://t.co/55LwMkMFoG

— The NBA on ESPN (@ESPNNBA) September 27, 2013
Derrick Rose says he's stronger and more confident than he was before his ACL injury. No word yet if that's because he's now the proud owner of a bionic left knee.
Gar Forman sure seems to be buying into Rose's progress at least. He indicated that there is "no hard limit" on the number of minutes he could play.
Forman on Rose: "As of today, there is no hard limit on his minutes." Adds it will be fluid, says he expects him to play in every exh. game.

— Chicago Bulls (@chicagobulls) September 27, 2013
Tom Thibodeau took a different approach, though, according to the Chicago Tribune's K.C. Johnson. He was less of a reckless optimist and more of a party pooper.
Tom Thibodeau on DRose: "He's made it clear to me that he doesn't want big restrictions. But as I told him, we'll have to wait and see."

— K.C. Johnson (@KCJHoop) September 27, 2013
Tom Thibodeau on DRose: "He's made it clear to me that he doesn't want big restrictions. But as I told him, we'll have to wait and see."

— K.C. Johnson (@KCJHoop) September 27, 2013
Maybe once the regular season gets here, the Bulls will stop contradicting themselves.
Luol Deng Is Still Important
Since contract talks have broken down between Luol Deng and the Bulls, some have been questioning whether Chicago views him as expendable. Coach Thibs won't hear it; he believes the Bulls need Deng to win a title.
Tom Thibodeau on Luol Deng: 'I don't think you can win a championship without a player like Luol."

— K.C. Johnson (@KCJHoop) September 27, 2013
Surprise, surprise. Thibs values what may be Chicago's best defender. Not exactly breaking news.
Deng being healthy—now that's news.
Bulls GM Gar Forman said he met with Luol Deng yesterday and that Deng is in a great place mentally and physically.

— K.C. Johnson (@KCJHoop) September 27, 2013
Hopefully, the Bulls can keep it that way. Looking at you, coach "My Starters Don't Need Water Breaks or Even Time to Breathe" Thibs.
Joakim Noah is Healthy, Too
Write this down. Actually, never mind. USA Today's Sean Highkin has done that for you.
Gar: "No problems at all" as of now with Joakim Noah's feet.

— Sean Highkin (@highkin) September 27, 2013
If we're to believe everything we hear, Rose, Deng and Joakim Noah are all healthy. At the same time. Seriously.
I feel like I'm entering the Windy City's version of The Twilight Zone.
Golden State Warriors
Short-Sleeve Uniform Saturdays
Weekends are reserved for golfing, catching up on sleep and watching reruns of Friends. This year in Oakland, they're also an escape from sleeveless jerseys.
Per John Dickinson of the Bay Area's 95.7 The Game, the Warriors will be wearing short-sleeve alternate uniforms for every Saturday home game in 2013-14.
#Warriors announce they will wear white short-sleeve alternate uniforms for every Saturday home games during the 2013-14 season.

— John Dickinson (@JDJohnDickinson) September 27, 2013
For those that have forgotten what they look like, here you go:
The @Warriors will wear these white @adidasHoops short-sleeve alternate unis for every Sat. home game during season. http://t.co/KJdal1jLkM

— NBA (@NBA) September 27, 2013
Super-tight, spandex-looking uniforms for the "W."
Splash Brothers Three
Stephen Curry and Klay Thompson better make room, because Seth Curry has arrived. And thanks to B/R's Benjamin Cruz, we know he's looking fly in his new digs.
Seth Curry in his Warriors uni. pic.twitter.com/Q3jYyq0iVs

— Benjamin Cruz (@cruzkontrol) September 27, 2013
With Curry's addition, I find myself wondering if the Warriors will shoot more threes than twos this season.
The Warriors Have a Twitter Mirror
Yes, this is important.
Golden State has a Twitter Mirror; you can't beat that.
.@KentBazemore checking out the @TwitterMirror at #TweediaDay https://t.co/QcmXrLI4Kp

— Golden St. Warriors (@warriors) September 27, 2013
Judging by Kent Bazemore's amusement here, I'm pretty sure it told him he was the fairest role player of them all.
Sorry, Seth.
Posing in front of the @TwitterMirror at #TweediaDay with Seth Curry @sdotcurry pic.twitter.com/G0PuuQkasQ

— Golden St. Warriors (@warriors) September 27, 2013
Harrison Barnes is Uber Generous
Media day doubles as Christmas in the NBA—in Oakland at least.
In anticipation of the new season, Harrison Barnes gave everyone on the Warriors a copy of NBA 2K14.
Starting off media right with NBA 2K14 games for the squad. S/O to @Ronnie2K pic.twitter.com/akfKOwYiHn

— Harrison Barnes (@HBarnes) September 27, 2013
Well played, Harrison. Although, if you're looking to buy your way into the starting lineup, I hear Mark Jackson isn't much of a gamer.
Mark Jackson Is a Funny Man
Andre Iguodala's arrival, coupled with David Lee's return, complicates things for the Warriors. Who's going to come off the bench? Barnes? Perhaps Lee?
Jackson was subsequently asked who his starting five would be, much to his (artificial) confusion.
Media keep asking me do I know my starting 5 yet? YES!! It's @andrewbogut #Warriors

— Mark Jackson (@MarkJackson13) September 27, 2013
No one dodges questions like Jackson. Absolutely no one.
Stephen Curry May or May Not Dunk on Someone
ESPN's Ethan Sherwood Strauss succeeded in making us all sad, and not because he was hating on your favorite team.
Despite the dunk videos, Curry gave himself 50-to-1 odds that he dunks on someone this season.

— Ethan Strauss (@SherwoodStrauss) September 27, 2013
Keep an open mind, Steph. You never know when the need to posterize someone will strike.
And just in case you should change your mind...
Houston Rockets
Dwight Howard Already Making Friends
Superman never managed to play nice in Los Angeles, but Hoopsworld's Yannis Koutroupis says he's having no such problems in Houston.
Dwight already forming a bond with all his teammates. Hanging out with the young guys. Went with some to a HS football game last night.

— Yannis Koutroupis (@YannisHW) September 27, 2013
I hope he bought them ice cream afterwards. Nothing will make Kobe Bryant more jealous than knowing Dwight's sharing frozen treats with his new teammates. Plus, I really like ice cream.
Rockets Ready to Win Now
General manager Daryl Morey shocked the world when he said Houston's plan is to win now, per NBA.com's Fran Blinebury.
Rockets GM Daryl Morey: "We we're focused on winning now. We want to be great come mid-April."

— Fran Blinebury (@franblinebury) September 27, 2013
Here I was thinking the addition of Howard was for grins, giggles and roller-coaster rides.
Though, to be fair, I do see the need for clarification. Some could mistake this whole "let's play D12 at the 4" experiment for Houston being keen on expensive tank jobs.
Mum's the Word for Omer Asik
Remember when Omer Asik demanded a trade after the Rockets signed Howard? Good. Because, per ESPN's Brian Windhorst, Asik himself doesn't.
Rockets C Omer Asik on offseason trade demand: "I have no comment on that, I'm just here to do my job."

— Brian Windhorst (@WindhorstESPN) September 27, 2013
Have to love Asik's selective memory. It comes in handy after trade demands gone awry, and chainsaw-juggling competitions gone wrong.
Dwight Howard to Shoot Threes?
Please God, no. No. Just no.
Dwight on playing with Omer: I've been working on my three game. Coach said I can shoot one a game if I make 7/10 in practice.

— Yannis Koutroupis (@YannisHW) September 27, 2013
I think he was kidding, because he eventually made some sense.
On a serious note, Dwight said it's important for whoever doesn't get the rebound to run. Said he can guard/play the 4. Did so early in ORL.

— Yannis Koutroupis (@YannisHW) September 27, 2013
Exhale.
James Harden Focusing On Defense
James Harden already wears many hats, and per the Houston Chronicle's Jonathan Feigen, he wants an "elite defender" cap to be one of them.
Harden said he's been working on conditioning and defense. Wants to defend teams' top scorers.

— Jonathan Feigen (@Jonathan_Feigen) September 27, 2013
Good for him. And until he actually improves, good for the player he'll be guarding.
James Harden is looking forward to guarding the opponent's best wing scorer. I bet the feeling is mutual.

— Zach Harper (@talkhoops) September 27, 2013
Indiana Pacers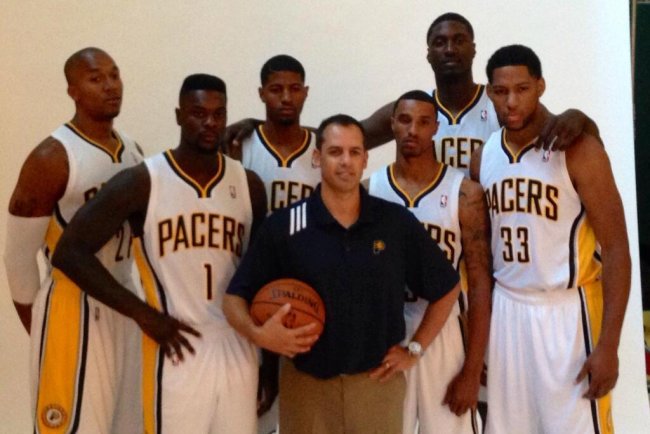 Roy Hibbert Wants to Be NBA's Best Center

Roy Hibbert was especially open during Indiana's media day. Per Pacers.com's Scott Agness, he's intent on becoming the best center in the NBA.
Hibbert says he's up to 290lbs. "I want to step up to the challenge and be able to play consistently (like the end of last year)."

— Scott Agness (@ScottAgness) September 27, 2013
Hibbert wants to be the best center in the league. Up there, is Joakim Noah. "I don't like him, but I have a lot of respect for him."

— Scott Agness (@ScottAgness) September 27, 2013
Joakim Noah wouldn't have been my go-to best center in the NBA. I would have gone with Marc Gasol. Or Howard. Or Kwame Brown. But whatever.
Frank Vogel Is Either Tight-Lipped or Confused
Teams are only allowed to play five players at a time still, right? OK, good. I just wanted to check since, according to FOX 59 Sports' Brittany Diehl, Vogel said both Danny Granger and Lance Stephenson will play starter's minutes next season.
Pacers head coach frank Vogel says danny granger and lance Stephenson will both play starters minutes.

— Brittany Diehl (@brittanydiehl) September 27, 2013
In other words, he has no idea who will start. That, or the NBA is allowing the Pacers to run six-on-five.
For what it's worth, the Indianapolis Star's Michael Pointer says Granger is ready to practice.
Granger will be full participant in practice tomorrow. Has some scheduled off days to make sure not pushing too far. #pacers

— Michael Pointer (@michaelpointer) September 27, 2013
Let the battle begin. No, seriously, Hibbert is waiting.
"If those two guys (Granger and Stephenson) have to go at it, so be it. . .I can't wait to see those two guys compete." -- Hibbert

— Michael Pointer (@michaelpointer) September 27, 2013
George Hill Is The Team's Best Rapper
Stop what you're doing because this is important: George Hill thinks he's Indy's best rapper.
"By far, the best rapper [on the team]. And if we sing, I'm the best singer...I'm really good." - @George_Hill3 #PacersMediaDay

— Indiana Pacers (@Pacers) September 27, 2013
(Insert Larry Bird and Hill beatbox joke here.)
Los Angeles Clippers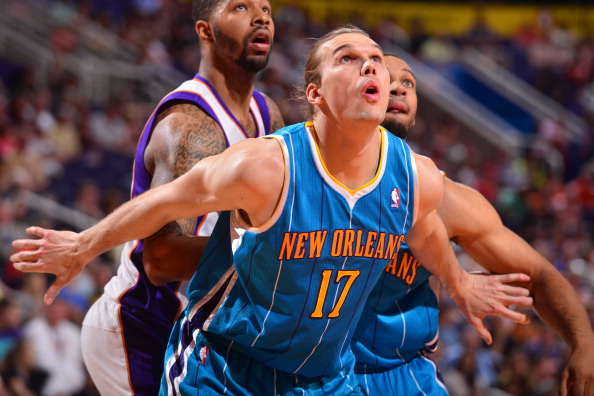 Barry Gossage/Getty Images
Lou Amundson Joins the Party
The Clippers continue to make headlines even when it's not their turn for a media day. This time, they broke into the conversation by signing Lou Amundson, as the Los Angeles Times' Eric Pincus first reported.
And I've just gotten word that the Clippers have signed Lou Amundson

— Eric Pincus (@EricPincus) September 27, 2013
I'm starting to wonder if there's someone out there the Clippers haven't signed or traded for this offseason.
Los Angeles Lakers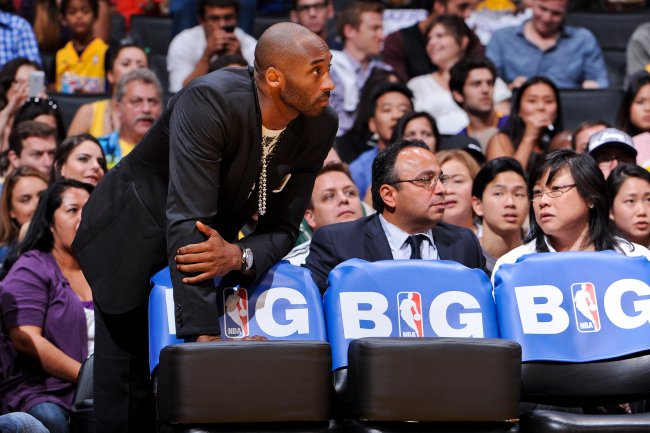 Andrew D. Bernstein/Getty Images
Kobe Bryant Knows He's Not a Doctor, Still Doesn't Care
Like the Clippers, Kobe decided to crash media day, too. He says he still plans to be healthy enough to start the season. Shocker.
"Now it's about cutting the recovery time, I should be OK [for the start of the season]," Bryant said in an interview with The National, a website in Dubai, according to the Los Angeles Daily News' Mark Medina.
The optimism is great, but Kobe isn't one to say he won't play, either. Until some medical professionals confirm his self-imposed timetable, take all Kobe-relayed updates with a grain of salt. And a shot of tequila if you're into that sort of thing.
Miami Heat
Roger Mason Jr. in the House
Pat Riley's Heatles pulled a Vince Vaughn and Owen Wilson of their own as well, interrupting our regularly scheduled media day-ing to announce they had signed Roger Mason Jr.
OFFICIAL: The @MiamiHEAT have signed Roger Mason, Jr.

— Miami HEAT (@MiamiHEAT) September 27, 2013
How U, Roger?
Minnesota Timberwolves
Injury Bug Starts Biting Early
The dreaded injury bug decided to get a head start on ruining the Timberwolves' playoff hopes this year. Minnesota announced that Chase Budinger sustained a cartilage injury in his left knee.
The Minnesota Timberwolves today announced that forward Chase Budinger sustained a cartilage injury to his left knee.

— Timberwolves PR (@Twolves_PR) September 27, 2013
Budinger to visit Dr. James Andrews in Birmingham, AL early next week. An update to his status will be provided after that examination.

— Timberwolves PR (@Twolves_PR) September 27, 2013
Budinger's status is uncertain going forward, but Flip Saunders mentioned the swingman could be out for eight weeks, according to the Star Tribune's Jerry Zgoda.
Flip said he doesn't want to put timetable on Chase, but mentioned 6 to 8 weeks. "We want to get it right"

— Jerry Zgoda (@JerryZgoda) September 27, 2013
This is hardly ideal. Sadly, it's also typical. Injuries have decimated Minny's roster the past couple of years.
Related: Listen closely and you'll hear the sound of Rick Adelman cloaking Kevin Love and Ricky Rubio in bubble wrap.
Minnesota Ready to Run
"We're lean and ready to run," Saunders said of the T-Wolves.
Everyone except Budinger, that is.
Saunders specifically listed Shabazz Muhammad, Derrick Williams and Love as those who were looking good.
Flip says team's conditioning - mentioned Love, DWilliams, Shabazz - looks like a month into camp. "We're lean and ready to run."

— Jerry Zgoda (@JerryZgoda) September 27, 2013
Clearly, the Timberwolves have high expectations for this season. Let's hope they're not dashed by more injuries to a certain Spanish guy or beard-sporting power forward.
Oklahoma City Thunder
Thabo Sefolosha Changes Jersey Number to 25
Thabo Sefolosha isn't feeling the No. 2 jersey anymore, per Daily Thunder's Royce Young.
Thabo Sefolosha has changed his number to 25 for this season. Says it was just "time for change."

— Royce Young (@royceyoung) September 27, 2013
To the handful of people that now own a useless artifact, Sefolosha is sorry.
Thabo to the fans that had No. 2 jerseys: "Sorry to the 19 people that had No. 2."

— Royce Young (@royceyoung) September 27, 2013
Russell Westbrook's Opening-Night Status Up in the Air
Head coach Scott Brooks said Oklahoma City's floor general would participate in the "early parts" of practice, according to NBA.com's Jeff Caplan.
Scott Brooks said Westbrook will participate in early parts of practice & then focus on individual work. Said a plan has long been in place.

— Jeff Caplan (@Caplan_NBA) September 27, 2013
@russwest44 says he will be on the floor for 1st practice (limited) but can't be sure of 1st game. He has never missed a regular-season gm.

— Jeff Caplan (@Caplan_NBA) September 27, 2013
The Memphis Grizzlies made quick work of the Thunder without Russell Westbrook in the playoffs and OKC lost Kevin Martin over the offseason, so this has huge implications—if it's true.
Westbrook is apparently experiencing some soreness, though he says that's not uncommon at this point.
Russ strolled in without even a little limp. Knee has swollen a bit in past 24 hrs after some work on the court, but Dr's say that's normal.

— Rachel Nichols (@Rachel__Nichols) September 27, 2013
Asked if he would be back to start the regular season, Westbrook couldn't provide a definitive answer, according to The Oklahoman's Darnell Mayberry.
Asked about his state of mind, Russell Westbrook says he's "Positive. Always positive" and "confident."

— Darnell Mayberry (@DarnellMayberry) September 27, 2013
Westbrook says he's "not sure" if he'll be back to start the regular season. He said he's not trying to look ahead.

— Darnell Mayberry (@DarnellMayberry) September 27, 2013
Everyone is now free to do their best "Russell Westbrook is back" dance in an effort to speed up the recovery process.
Russell Westbrook is back.. https://t.co/1pQVyaNJps

— Sports Vines (@TheSportsVines) July 15, 2013
Kevin Durant Loves Dwyane Wade
KD: "Dwyane Wade is a great, great player. I'm not discrediting anything he's done. I just voiced my opinion ... I love you D-Wade, man."

— Royce Young (@royceyoung) September 27, 2013
So much for this feud.
Steven Adams Was a Steal
Kendrick Perkins can't score. Or dribble. His defense has gotten steadily worse, too. But he's still a master at flattery.
Perk called Steven Adams the "steal" of this past summer's draft, and the Thunder, who selected him 12th overall, better hope he is. He's technically prime real estate from their Harden trade.
Perk on Steven Adams: "I think we probably got the steal of the draft, in my opinion."

— Royce Young (@royceyoung) September 27, 2013
Good luck beating out Dennis Schroeder for the rights to biggest draft-day steal, Stevie.
Philadelphia 76ers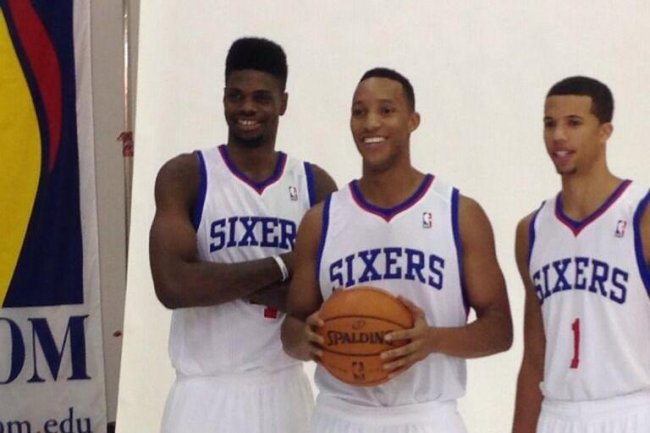 (Still) Riggin' for Wiggins
Forward Arnett Moultrie suffered an ankle injury that required surgery, and USA Today's Jeff Zillgitt says he won't return until after New Year's.
76ers F Arnett Moultrie suffered an injury to his left ankle last week & had surgery Thursday. He will return after the new year, per team.

— Jeff Zillgitt (@JeffZillgitt) September 27, 2013
Just so everybody knows, I'll be reading all Sixers injury updates this season as if they contain "#TankMode" and a series of winking emoticons at the end of them.
Status of Nerlens Noel's Knee is Murky; Hi-Top Fade Seems Fine
Calkins Media's Tom Moore brought us the most recent Nerlens Noel update, which wasn't much of an update at all.
#Sixers Noel: 'I'm at the 7-month mark' from torn Acl. Can't put percentage on knee.

— Tom Moore (@tmoore76ers) September 27, 2013
Whatever that means.
Fear not, though, Sixers fans. Noel is prepared to play hard when he gets healthy.
#Sixers Noel: 'I'm a hard worker. I'm going play my heart out' when get healthy.

— Tom Moore (@tmoore76ers) September 27, 2013
Wink, wink.
Evan Turner Was Prepared for a Trade
As part of Philly's roster overhaul, Evan Turner said he himself was preparing to be traded.
#Sixers Turner said he 'was ready' to be traded. 'Just hoping it was warm' as he smiles.

— Tom Moore (@tmoore76ers) September 27, 2013
LeBron James hates cold weather, too. He and Turner should totally purchase adjoining mansions on the sun after they retire.
Jason Richardson Still Not Cleared to Play
Jason Richardson is taking his time recovering from a knee injury, and still isn't cleared to run. He's aiming to return in late January or early February.
#Sixers J-Rich on knee: 'I haven't been cleared to run. Taking a slow approach.' Hoping to be back late Jan/early Feb.

— Tom Moore (@tmoore76ers) September 27, 2013
Call me crazy, but I believe this one. I don't think the Sixers would purposely prolong Richardson's rehab, since playing him might help them tank.
But yeah, wink, wink.
Washington Wizards
John Wall Is at It Again
Tattoos are cropping up on John Wall like ants at a picnic. Or a 23-year-old kid with money to burn (oh, wait...).
The Washington Post's Michael Lee captured the latest addition to his left leg:
John Wall got Psalm 23:4 tattooed on his left leg #wizards pic.twitter.com/xEZmkwe32P

— Michael Lee (@MrMichaelLee) September 27, 2013
Now if you'll please excuse me, I must go pen a 10,000-word rant on why Wall getting this tattoo means the sky is falling. Or something.
New Uniforms
After receiving complaints from broadcasters, scorekeepers and everyone who isn't a fan of the Wizards, Washington will be sporting slightly different jerseys this year.
#wizards uniforms are slightly different. No stripe on the back. Team got a lot of complaints from broadcasters/score keepers past 2 seasons

— Michael Lee (@MrMichaelLee) September 27, 2013
The new look. #wizards kept stripe on front but not on back to see jersey #. Road unis also don't have back stripe pic.twitter.com/WxwzhxUJXJ

— Michael Lee (@MrMichaelLee) September 27, 2013
Let's hope players don't feel naked without that stripe.
John Wall Likes the Pressure
To be clear, I'm talking about the pressure of living up to his max contract; not the sudden expectation that a tattoo a day keeps his checking account at bay.
John Wall: "I embrace it, I love pressure. There is nothing to hide from. You hide from it, you don't need to be playing." #wizards

— Michael Lee (@MrMichaelLee) September 27, 2013
On a more serious note, it's good that Wall embraces pressure. There's going to be tons of it in Washington this season.
Anything less than a playoff berth for the Wizards and Wall will be deemed overrated and overpaid before he can say "I'm still better than Brandon Jennings."