Mike Miller had to go.
Pat Riley and the Miami Heat don't like it any more than most of South Beach will, but it had to be done.
The team announced that it had waived Miller via the amnesty provision, three years into his tenure in Miami. According to Joseph Goodman of the Miami Herald, Miller was informed of the decision a day before it was announced.
Mike Miler's agent was informed Monday night that the Heat will be using the amnesty clause on Miller, the Miami Herald has learned.

— Joseph Goodman (@JoeGoodmanJr) July 16, 2013
OFFICIAL: The @MiamiHEAT have waived Mike Miller per the NBA's Amnesty provision.

— Miami HEAT (@MiamiHEAT) July 16, 2013
Just a few days ago, Riley claimed the Heat wouldn't be using the amnesty clause on anyone.
"Right now, we're not using amnesty, no," he told the Associated Press (via NBA.com).
To that end, this move catches us by surprise.
What Miller did in Game 5 of the 2012 NBA Finals was incredible. The way he persevered through the playoffs this year, to provide the Heat with a consistent outside shooter yet again, was admirable. Miami doesn't win both its championships without him, especially this last one.
Injuries marred much of what was supposed to be an extension of the free-agency coup the Heat orchestrated in 2010. Alongside LeBron James, Dwyane Wade and Chris Bosh, Miller was going to become more of a steal with each trey he drained.
Miller was never able to break 60 regular-season appearances during his time with the Heat, though. When he played, he would grimace, void of the ability to move freely. Time and time again, his health failed him.
His shot rarely did.
Unable to emerge as a consistent part of the rotation, Miller continued to bury three-pointers. He connected on at least 36 percent of his deep balls in each of his three seasons in Miami, and at least 41 percent the last two years.
On some level, this then stings. Breaking up any part of a two-time championship team always does.
Still, there was no avoiding it.
Finances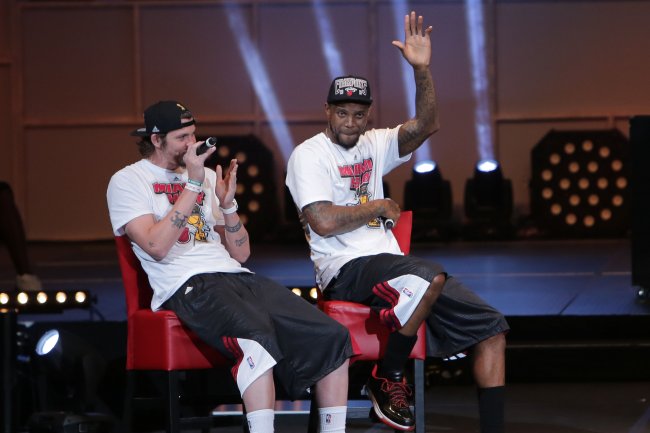 Alexander Tamargo/Getty Images
It's all about the Benjamins.
With Miller's $6.2 million salary on the payroll, the Heat would have more than $86 million on the books leading into next season, and face some serious luxury-tax penalties.
By amnestying Miller, the Heat are saving somewhere around $15 million. Had they parted ways with Joel Anthony instead, they would have only saved about $9 million.
Miller amnesty will save MIA approximately $15M this season. Using it on Anthony would have saved about $9.5M.

— Zach Lowe (@ZachLowe_NBA) July 16, 2013
Remember, this has nothing to do with on-court value. If it did, Anthony would be searching for a new home.
It barely even has anything to do with the actual salary, either, because the Heat still have to pay Miller the roughly $13 million he's owed the next two years.

Arison, however, was facing $33M luxury tax bill & Miller amnesty saves team $17M in taxes. Still owe him $13M in salary over next 2 years.

— Brian Windhorst (@WindhorstESPN) July 16, 2013
This is about the taxes that came with Miller's pay check. Over the next two years, erasing Miller from the books will put an extra $40 million in owner Micky Arison's pocket.
Waiving Mike Miller would save the Heat over $40 million in tax payments over the next two seasons.

— Tom Haberstroh (@tomhaberstroh) July 16, 2013
No matter how many championships this team has won or plans on winning, $40 million is $40 million. Knowing how the new CBA is structured, the Heat couldn't afford to pay the fines that came with retaining Miller.
Understanding that is important. We can't operate under the pretense the organization was acting overly selfish or being stingy. That's just not true.
Frivolous spending now has consequences, and Miller is just the latest casualty in an age where dollars and cents have the final say in the decision-making process, a concept the amnestied sharpshooter grasps himself.
I want thank the Heat organization, my teammates and the fans for an amazing run #TrulyBlessed

— Mike Miller (@m33m) July 16, 2013
Yes, we're still in South Beach. And the Heat are still a team willing to do what's necessary to win.
We're just not in 2010 anymore.
Immediate Repercussions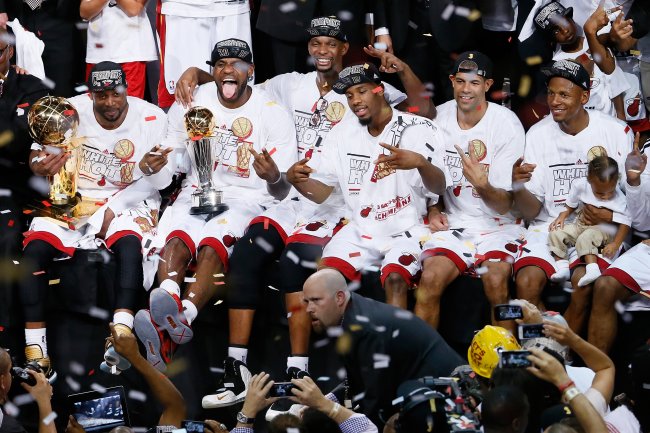 Kevin C. Cox/Getty Images
Miller appeared in just 59 games during the regular season, but his contributions are going to be missed.
The bouncy-haired forward converted 41.7 percent of his attempts from beyond the arc, the third-best mark of anyone on the team who attempted at least 10 three-pointers (sorry, Chris Andersen).
More impressive still, Miller buried 44.4 percent of threes during the playoffs.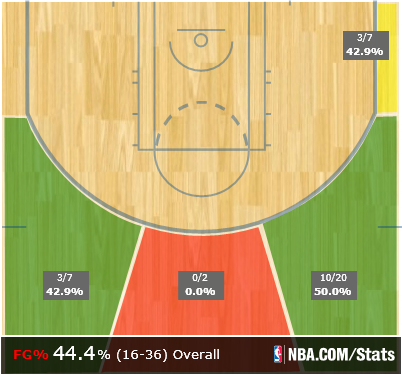 For much of the postseason, Miami struggled from beyond the arc. The Heat wound up shooting at a 38.1-percent clip for the playoffs, but hit on just 35.6 percent of their attempts through the first three rounds and 34 percent through the first two.
Talented as they are, subtracting an outside assassin like Miller from the rotation without a contingency plan in place isn't going to fly.
Miller started Game 7 of the NBA Finals this year (though he didn't score); he's been an important part of what the Heat have done. Miami is going to have to rely on someone else to pick up the slack.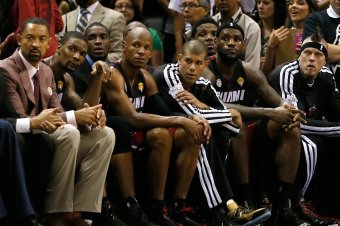 Kevin C. Cox/Getty Images
The onus that comes with Miller's departure is inevitably going to fall on a number of players, not just one. James Jones may see more playing time as a situational shooter, and Rashard Lewis could receive some additional burn as well.
Miami is also going to look to Ray Allen and Shane Battier. Both are deadly shooters themselves who allow the Heat to spread opposing defenses paper-thin.
When smaller lineups aren't an option (rarely), that's where Jones and Lewis will come in. Jones stands 6'8" (like Miller) and Lewis 6'10". Neither is what you would call stout a defender, but they match up better against opposing small and power forwards than the 6'5" Allen would.
Succession by committee—that's how the Heat are going to replace Miller.
The Summer of 2014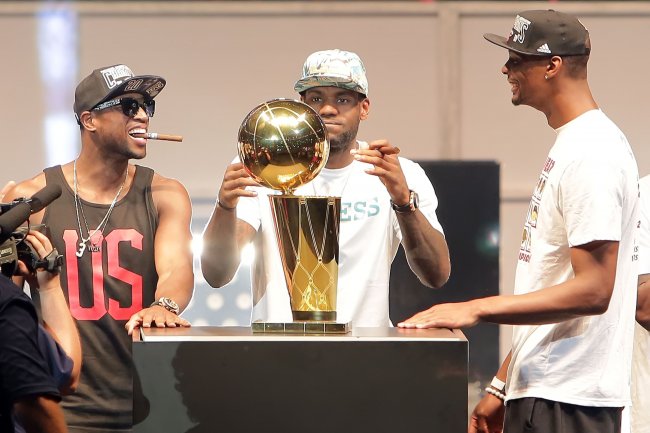 Alexander Tamargo/Getty Images
Every move the Heat and the rest of the NBA make comes back to next summer, when LeBron James, Dwyane Wade and Chris Bosh are all eligible to become free agents.
Any organization that was smart enough to put itself in position to pull off a coup in 2014 has. The Los Angeles Lakers are going to be players, the Cleveland Cavaliers are going to look to get things done and the Dallas Mavericks will presumably try to make a run at another superstar yet again.
And that's not even everyone.
Each team with the means to sign LeBron is going to go after him. The same could even go for an injury-prone Wade and a dissipating Bosh. They're all going to have options.
The Heat have only one: Try to keep this crazy train rolling.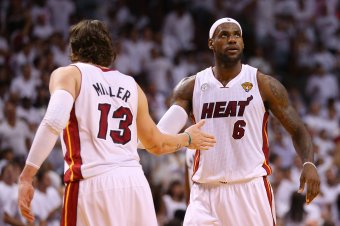 Mike Ehrmann/Getty Images
Whether the Heat win a third straight title is almost irrelevant. The absence of another ring may compel one or more of their superstars to leave, but that's only part of their problem. Situating themselves in order to continue to hoard superstars will be the biggest obstacle.
Those luxury-tax penalties aren't going anywhere; they're actually only going to get worse. To keep up the lavish style Miami has become accustomed to over the last three years, Riley and company needed to save Arison some green now, so he's willing to part with more of it later.
As previously constructed, the Heat stood to field a roster that would cost them more than $140 million for the 2014-15 campaign if they kept their Big Three intact. Dynasty or not, that's a hefty bill for Arison to foot.
Severing ties with Miller alleviates a fraction of that burden. His departure is the beginning of the Heat's quest to put their finances order.
His departure may become part of the reason why LeBron still calls Miami home in one year's time.