For the second time in the past six years, the Boston Celtics have been part of a trade that may fundamentally alter the axis of power in the Eastern Conference.
According to Adrian Wojnarowski of Yahoo! Sports, Kevin Garnett has waived his no-trade clause and the Celtics and Brooklyn Nets have consummated the oft-rumored swap that will send him and Paul Pierce to Brooklyn:
Kevin Garnett will agree to trade to Brooklyn and Celtics are sending KG and Paul Pierce to the Nets, league sources tell Y! Sports.

— Adrian Wojnarowski (@WojYahooNBA) June 28, 2013
UPDATE: Friday, July 12, at 2:10 p.m. ET by Sam Westmoreland
The deal is now official, according to the Celtics' team website:
The Boston Celtics announced today that they have traded forward Paul Pierce, forward/center Kevin Garnett, guard Jason Terry and forward D.J. White to the Brooklyn Nets in exchange for forwards Gerald Wallace and Kris Humphries, guard/forward Keith Bogans, guard MarShon Brooks, forward Kris Joseph, three future first round draft picks and the option to swap first round picks during the 2017 draft.

"We would like to thank Paul, Kevin, and Jason for everything that they have done for this franchise. We would not have won Banner 17 without Paul and Kevin and they will go down amongst the all-time great players to have ever worn a Celtics uniform," said Celtics President of Basketball Operations Danny Ainge. "At the same time we are excited to welcome Gerald, Kris, Keith, MarShon and Kris to the Celtics family. They bring a wealth of talent, experience, depth, and flexibility to our team."

"Paul and Kevin exemplified everything it means to be a Celtic," said Celtics Managing Partner and CEO Wyc Grousbeck. "They were instrumental in bringing back Celtic Pride and providing our fans with the franchise's first championship in over 20 years in 2008. We wish them nothing but the best in the future."

"We are really excited to welcome Gerald, Kris, Keith, MarShon and Kris to the Celtics organization," said Celtics Head Coach Brad Stevens. "They collectively bring a great deal of versatility, unique skill sets and production to our roster. I cannot wait to get to work with them."
Nets owner Mikhail Prokhorov had this to say, according to Howard Beck of The New York Times:
Nets owner Mikhail Prokhorov: "Today, the basketball gods smiled on the Nets."

— Howard Beck (@HowardBeckNYT) July 12, 2013
Prokhorov also says Nets "will be dazzling to watch, and tough to compete against."

— Howard Beck (@HowardBeckNYT) July 12, 2013
---End of update---
UPDATE: Sunday, June 30 at 2:10 p.m. ET by Tom Kinslow
ESPN's Marc Stein
has an update on the timetable for the completion of the blockbuster between the Nets and Celtics.
The Nets' inclusion of April signee Kris Joseph in the trade means that Brooklyn and Boston have to wait until July 12, as opposed to July 10, because Joseph can't be traded until after three months have elapsed from the day he signed with the Nets as a free agent.
UPDATE: June 28 at 10:10am E.T by Michael Cahill
ESPN has details of the blockbuster deal which differ slightly from the reports that come out on Thursday night.
Brooklyn has agreed to send three first-round picks (2014, '16 and '18) along with Kris Humphries' expiring contract, Gerald Wallace, Kris Joseph,MarShon Brooks and a sign-and-traded Keith Bogans to the Celtics for Pierce, Garnett and Terry, a source told Broussard.

It was initially reported that Brooklyn had includedTornike Shengelia and Reggie Evans, but the source said that the Joseph and Brooks were in the final tally.
They also provided clarity on the draft picks involved:
In 2014, Boston gets either Brooklyn's pick or Atlanta's pick, whichever is worse. And in 2017, Boston has the right to swap picks with Brooklyn, a source said.
---End of update---
Original text:
ESPN's Chris Broussard broke down the blockbuster package deal that will shake up the Eastern Conference.
sources confirm Nets/Celts trade that will send KG, Pierce, J Terry to Nets for 1st rounders in 2014, 2016, 2018 and

— Chris Broussard (@Chris_Broussard) June 28, 2013
(cont) K Humphries, G Wallace, Reggie Evans, Tornike Shengalia, Keith Bogans going to Boston.

— Chris Broussard (@Chris_Broussard) June 28, 2013
Wojnarowski also noted that the Nets will fully guarantee the $12 million owed to Garnett in the 2014-15 season.
Kris Joseph will part of the Nets package to the Celtics, as well as the right to swap draft picks in 2017, league source tells Y! Sports.

— Adrian Wojnarowski (@WojYahooNBA) June 28, 2013
The Nets have agreed to fully guarantee the $12 million owed Garnett in the 2014-'15 season, sources tell Y! Sports.

— Adrian Wojnarowski (@WojYahooNBA) June 28, 2013
The blockbuster trade was first rumored by Wojnarowski earlier Thursday. However, as part of the deal, the Celtics had to pick up the $15 million option for the 2013-14 season on Pierce's contract, thereby forcing the teams to hold off until July 10. The NBA went through a league-wide moratorium on transactions from July 1-9, where teams cannot make any deals unrelated to the signing of rookie contracts, restricted free-agent tenders and league-minimum contracts.
Garnett's contract in 2014-'15 could've been bought out for $6 million, but Brooklyn has guaranteed the full $12 million, sources tell Y!

— Adrian Wojnarowski (@WojYahooNBA) June 28, 2013
The two principle parts in this trade, Pierce and Garnett, spent the last six seasons as teammates in Boston. Garnett was acquired in a blockbuster of equal proportions from the Minnesota Timberwolves in 2007, beginning a new era of prosperity for the Celtics. They won the title in their first season as teammates, with Ray Allen helping to form the first vestige of the "Big Three."
While still competitive beyond anyone's expectations, the cracks in the foundation had begun to show. Team president Danny Ainge had looked into dealing Pierce and Allen multiple times previously, and the latter wound up leaving for the Miami Heat as a free agent last offseason. When Rajon Rondo was forced to miss the remainder of the 2012-13 season with a knee injury, the Celtics folded in a hard-fought six-game series against the New York Knicks in the first round.
The writing was on the wall.
This deal finalizes the full-scale destruction of the roster that brought them a championship. Head coach Doc Rivers left for the Los Angeles Clippers recently in a deal that landed Boston an unprotected 2015 first-round pick. And with Garnett and Pierce's departure, Rondo remains the only roster holdover from when the team hung its 17th banner.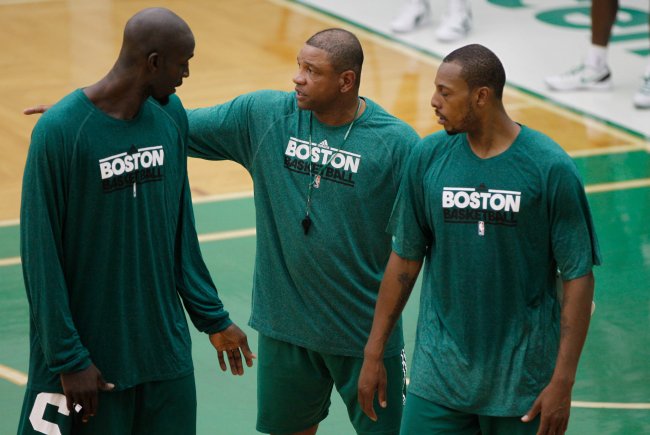 Greg M. Cooper-USA TODAY Sports
For the most part, the Celtics pulled the trigger on this deal to acquire assets. In today's NBA, where luxury tax penalties are exorbitant and cheap labor is a must to compete, Boston's three acquired draft picks loom large—even if they are in the 20s, as Brooklyn undoubtedly hopes.
Acquiring Humphries gives Boston another asset in the form of an expiring contract. The 28-year-old forward is in the last year of his two-year, $24 million contract and could be an attractive piece for a team looking to get out of a long-term deal.
The portion of this deal that will undoubtedly draw the most ire in Boston will be the acquisition of Gerald Wallace—more specifically, his lengthy, expensive contract. Wallace has three years remaining on the four-year, $40 million deal he signed with the Nets last offseason.
A player who often relied on his athleticism to lock down opposing defenders, Wallace began showing signs of marked decline this past season. Soon to be 31 years old, it's easily conceivable that Wallace's effectiveness will only diminish further over the duration of his contract.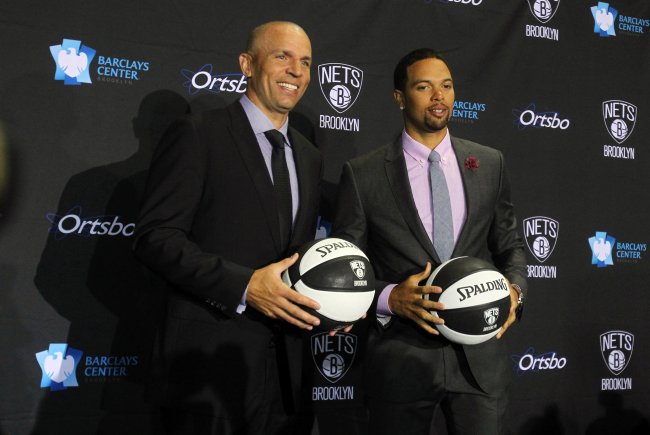 Brad Penner-USA TODAY Sports
How would you grade this deal for Celtics?
For the Nets, acquiring Garnett and Pierce continues the team's all-in championship push that started with the team's move to Brooklyn. The team's core will now include Garnett and Pierce to go along with Deron Williams and Joe Johnson—all players well into their 30s or pushing that past-peak age. Brook Lopez, 25, will be the only projected Nets starter under the age of 29.
With Jason Kidd in the fold as head coach, Brooklyn is pushing all its chips to the center for 2013-14. Pierce's contract expires after next season, while only half of Garnett's $12 million salary is guaranteed. Should this not work out, the Nets will have still made a brash move to the forefront of the Eastern Conference while getting out from under Wallace's contract.
Will it work? That's unclear, but, on the face of it, it certainly makes Brooklyn a formidable foe for LeBron James and the defending champions next season.
Follow Tyler Conway on Twitter: