The Los Angeles Clippers have been in talks to acquire Kevin Garnett and Doc Rivers from the Boston Celtics, but the negotiations that began last week appear to have reached an impasse.
UPDATE: Tuesday, June 18, at 12:05 p.m. ET by Sam Westmoreland
Just as quickly as things appeared to be heating up, the trade talks surrounding Garnett and Rivers have been reported as dead, according to reports from the Los Angeles Times' Brad Turner.
The Clippers have called off the deal with the Celtics. Clippers executive said Celtics asking for too much, the Times told today.

— Brad Turner (@BA_Turner) June 18, 2013
Clippers refused to give in the Boston's request for 2 first round draft picks, sources.

— Brad Turner (@BA_Turner) June 18, 2013
Sam Amick of USA Today is also reporting that negotiations have stalled, but expressed some skepticism that the discussions are officially over.
Being told talks died between Clips and Celtics over Doc Rivers/Kevin Garnett et al. Will believe it when Clips hire someone,but that's word

— Sam Amick (@sam_amick) June 18, 2013
Ramona Shelburne of ESPNLosAngeles.com added more details behind the dissolution of talks.
The teams have no plans to speak again, the sources said, and the Clippers are preparing to move on and hire a coach this week.

The talks broke down Tuesday morning when the Clippers "refused to budge" on Boston's latest proposal that asked for DeAndre Jordan, straight up for Garnett, and two first-round draft picks as compensation for allowing Rivers out of the final three-years and $21 million of his contract.
Baxter Holmes of the Boston Globe talked to Celtics GM Danny Ainge, who confirmed that talks had died.
Danny Ainge confirms to the @BostonGlobe that the proposed Clippers-Celtics deal is, in fact, dead.

— Baxter Holmes (@BaxterHolmes) June 18, 2013
Ainge also told Holmes that nothing has changed in regards to the franchise's stance on Rivers as its head coach.
Danny Ainge tells @BostonGlobe the Celtics wants Doc Rivers back as their head coach: "He has been told that all along."

— Baxter Holmes (@BaxterHolmes) June 18, 2013
Adrian Wojnarowski of Yahoo! Sports reports that the deal died when the Clippers couldn't meet the financial obligations to get the deal done.
As Clippers-Celtics talks fall apart, several sources tell Y! that Clippers had "cold feet' on the financial payouts needed to close deal.

— Adrian Wojnarowski (@WojYahooNBA) June 18, 2013
Clippers refused to give additional 1st-round pick, but ultimately $35M extension for Rivers and $3M-plus Jordan trade kicker played part.

— Adrian Wojnarowski (@WojYahooNBA) June 18, 2013
---End of update---
Negotiations will continue Tuesday, according to Yahoo! Sports' Adrian Wojnarowski:
For now, the Clippers and Celtics plan to reconnect on Tuesday morning to further negotiate the Garnett-Rivers deal, league sources tell Y!

— Adrian Wojnarowski (@WojYahooNBA) June 18, 2013
Wojnarowski found that the Celtics have apparently backed away from their request for the Clippers to absorb multiple long-term contracts and are allegedly willing to pull the trigger on this trade for two first-round picks and center DeAndre Jordan.
As per ESPN's Marc Stein and Ramona Shelburne, L.A. is willing to take on at least one bad contract—either Courtney Lee's or Jason Terry's—but not both.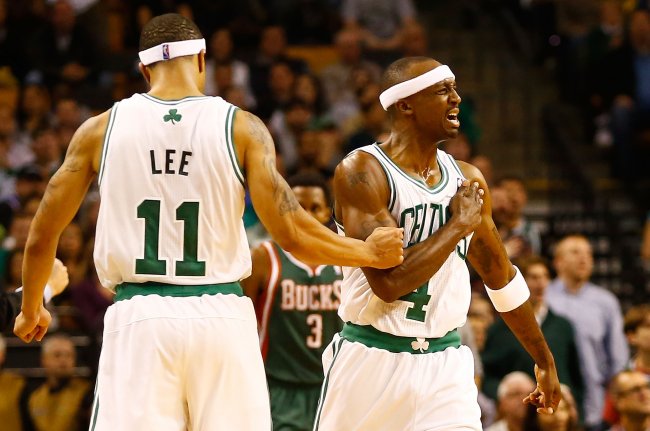 Jared Wickerham/Getty Images
The Clips are reluctant to part with more than one draft pick in exchange for the 37-year-old big man and head coach, as they are trying to retain as many pieces as possible for a future deal.
No longer in pursuit of emerging young guard Eric Bledsoe, it seems the Celtics are just trying to acquire as many young assets and shed as much salary as possible in this deal.
Celtics general manager Danny Ainge was reportedly originally seeking Bledsoe, center Jordan and two first-round draft picks in exchange for Garnett and Rivers, but the Clippers balked at the price.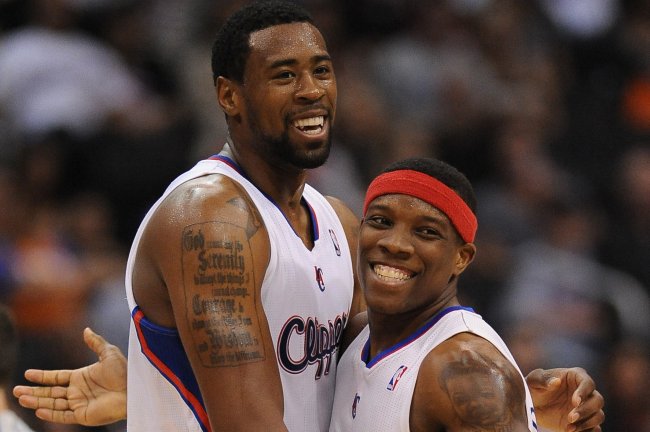 Jayne Kamin-Oncea-USA TODAY Sports
Shelburne and Stein noted that the Clips would prefer to do two separate deals, one with KG heading to L.A. for Jordan, and another with Rivers joining for a first-round pick.
However, Boston is insistent that it either receives two first-round picks or sheds salary via dumping Lee's three-year, $14.4 million deal, Terry's two-year, $11 million contract or possibly both.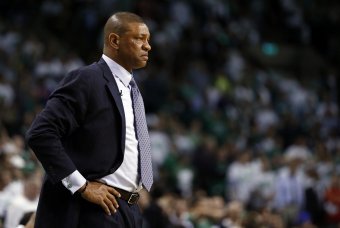 David Butler II-USA TODAY Sports
At this point in negotiations, it seems imperative for both sides that an agreement is reached. Should things fall apart in these late stages, there could be significant negative ramifications for each team.
It's hard to imagine a scenario where Rivers would return to the Celtics. The coach is due $7 million per year over the next three seasons, and he has spurned his players by trying to get out of his current obligations.
Sports Illustrated's Chris Mannix had a telling observation:
Sentiment around the league is that Doc Rivers/Boston has reached point of no return, regardless of the outcome of Clippers talks.

— Chris Mannix (@ChrisMannixSI) June 17, 2013
Rivers could return to broadcasting if he isn't traded to L.A., as there's little chance the C's would pay him to oversee a rebuilding effort.
The Big Ticket may opt to retire, which is something he mulled last summer before signing a three-year extension in July. Without the coach he spent the last six years under, the future Hall of Famer and 2008 NBA champion could choose to hang up his sneakers.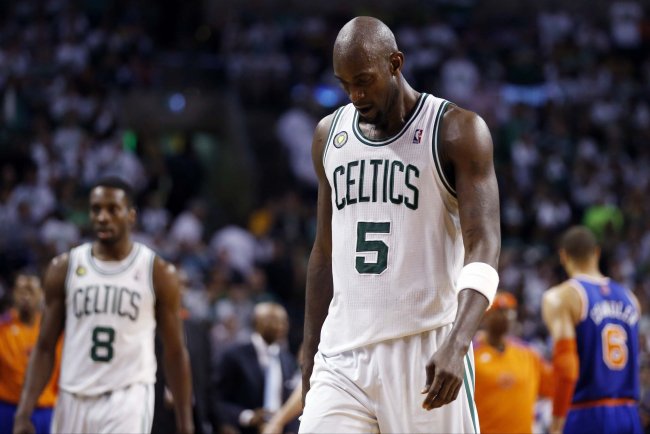 David Butler II-USA TODAY Sports
For the Clippers, a failure to secure Rivers could set off a chain reaction that forces Chris Paul to spurn the franchise in free agency. As of now, there are still a number of respectable options on the open market, but each could easily be snapped up if the trade is delayed any longer.
Will this trade get done?
Losing CP3 would greatly set the up-and-coming franchise back and likely see it fade back into irrelevance.
It's clear that both parties need to get this done, so expect another day of heavy negotiations to conclude with more progress made and a possible finalization of this transaction.