Miami Heat vs. San Antonio Spurs: Game 5 Postgame Grades and Analysis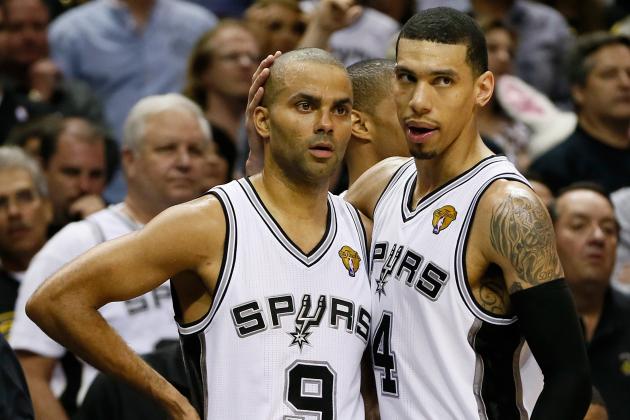 Kevin C. Cox/Getty Images

The Miami Heat were down 75-74 with 3:04 remaining in the third quarter, and then the San Antonio Spurs decided to turn on the afterburners.
Thanks to a 25-5 run over the span of the next seven minutes, the Spurs crushed the Heat 114-104 and are now sitting just a single game away from hoisting the 2013 Larry O'Brien trophy.
Manu Ginobili, who was inserted into the starting lineup for the first time all season, led the Spurs with 24 points and 10 assists while shooting an impressive 8-of-14 from the field and 7-of-8 from the free-throw line.
Danny Green set the NBA Finals record for most three pointers made with 25 three-pointers through Game 5. In addition to setting that record, Green had 24 points and three blocked shots.
I could go on and on about the Spurs' efficiency, like Tony Parker's 26 points on 10-of-14 shooting, but the entire team was incredibly efficient, shooting 60 percent on the night.
LeBron James, Dwyane Wade, Ray Allen and Chris Bosh combined for 87 of the Heat's 104 points and shot a combined 32-of-65 from the field, but it wasn't enough.
Now, LeBron and company are in a must-win scenario from here on out, with Game 6 set for a 9 p.m. ET tip on Tuesday.
Begin Slideshow

»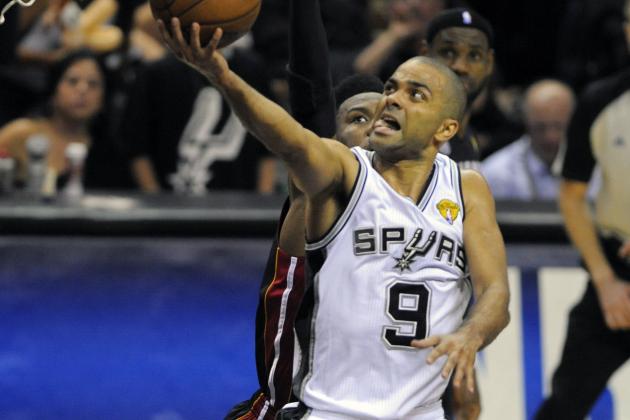 Brendan Maloney-USA TODAY Sports

Mario Chalmers, Heat
The Heat needed some significant production from guys outside of their Big Three, and Mario Chalmers certainly didn't give them that.
He accounted for seven points on 2-of-10 shooting from the field. It goes without saying that Chalmers can't be shooting 10 shots if he's not going to make near 50 percent of them.
Defensively speaking, Chalmers wasn't physical enough on Tony Parker, allowing him to shoot an impressive 10-of-14 from the floor.
The worst part of Chalmers' inefficient and unproductive game was that it didn't help the Heat spread the floor against a stingy Spurs team at all.
Overall Grade: D
Tony Parker, Spurs
Apparently injured hamstrings don't hold Tony Parker back. He had 26 points on 10-of-14 shooting.
He also dished out five assists en route to an impressive performance that was overshadowed by Danny Green and Manu Ginobili's Game 5 performances.
Parker owned Mario Chalmers in the third and fourth quarters as he led the Spurs on their third-quarter run that helped them get out to a 19-point lead in the fourth quarter.
When Parker is playing at this level, the Spurs are nearly impossible to beat. Mix that with the entire team shooting 60 percent from the floor and you can see why the Heat had such a hard time in Game 5.
It's not like the Heat weren't contesting his shots; he was simply hitting floaters and fadeaways over everyone wearing a Heat jersey.
Overall Grade: A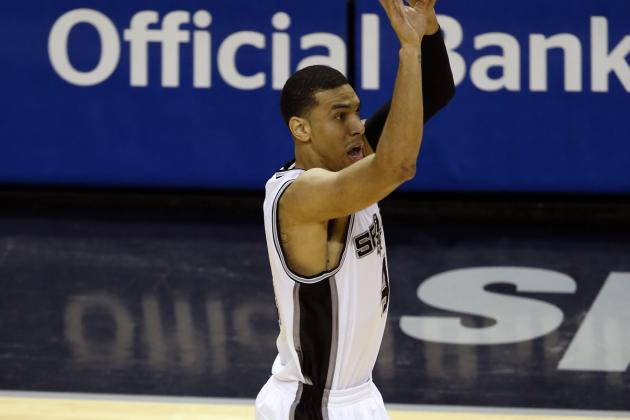 Derick E. Hingle-USA TODAY Sport

Dwyane Wade, Heat
Dwyane Wade had another productive game with 25 points and 10 assists, but it just wasn't enough to help the Heat win Game 5.
Wade once again insisted on leaving Danny Green open on the perimeter, letting him drop an impressive 24 points.
There's certainly a need for help-side defense from Wade, but he played off of Green a bit too often throughout the game. Wade needs to stick on Green and not let him get open looks, forcing other players to beat them instead of the red-hot Green.
Wade shot 10-of-22 from the field and committed four turnovers, which didn't help.
It's clear that Wade is able to get his game going offensively. Now the Heat just need him to get his defensive game going somehow.
Overall Grade: B-
Danny Green, Spurs
Well, he did it again. The one-time D-leaguer made his mark with red-hot shooting again, setting a record for the most three-pointers made in an NBA Finals series with 25 three-pointers through Game 5.
Interestingly enough, he stole the record from the Heat's Ray Allen, and I'm sure he was just as shocked as everyone else about that.
Green had an incredible game—24 points on 6-of-10 shooting from beyond the arc. His production once again was a major reason why the Spurs dominated the Heat.
The Heat need to figure out how to stop Green, which may not be possible because he's sinking shots from nearly everywhere on the floor—except around the rim.
Overall Grade: A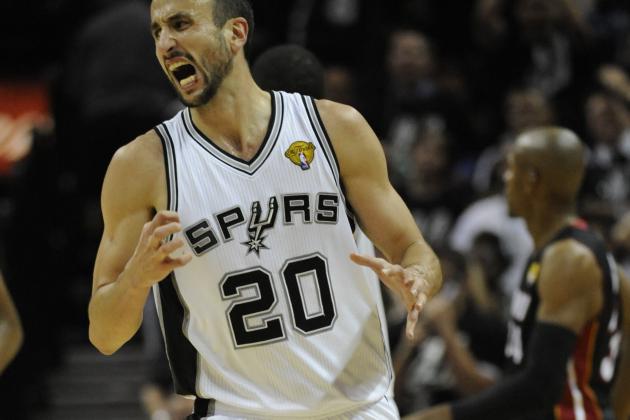 Brendan Maloney-USA TODAY Sports

Mike Miller, Heat
Mike Miller picked the worst possible game not to show up, scoring a whopping zero points on 0-of-1 shooting.
The Spurs did a solid job defending Miller on the perimeter, which can't be said about the Heat against the Spurs' perimeter shooters.
The worst part of Miller's game was his defensive performance. While the effort was there, as always, the production wasn't. The Spurs attacked Miller throughout the night and seemed to get big buckets from whoever he was guarding.
If Miller is only going to attempt one shot, the Heat don't need him on the floor because he is more of a liability on defense than a benefit on offense.
Overall Grade: F
Manu Ginobili, Spurs
The Spurs needed to do something different in Game 5, and they did just that by inserting Manu Ginobili into the starting lineup.
Honestly, I'm not sure why it took them until this point of the series to do this, but giving Ginobili more minutes worked just like you'd think—absolutely perfectly.
You know it's a good night for the Spurs when fans are chanting "MVP" for Ginobili down the stretch in the fourth quarter. Ginobili ended the game with 24 points and 10 assists while shooting an impressive 8-of-14 from the field and 7-of-8 from the free-throw line.
He was aggressive from the tip and spread the Heat's defense, which opened up the paint for Tim Duncan.
I'd imagine his name will be called in the starting lineup on Tuesday when the finals head to South Beach.
Overall Grade: A+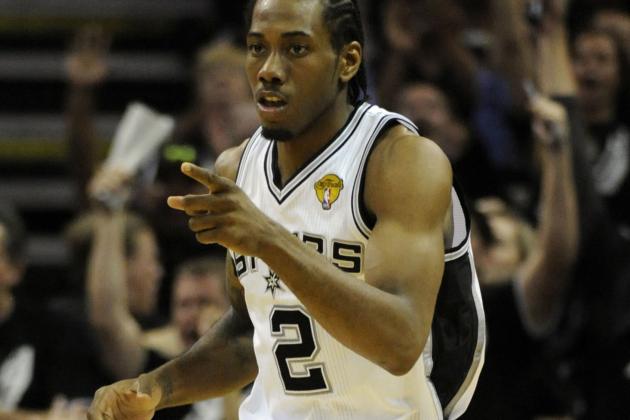 Brendan Maloney-USA TODAY Sports

LeBron James, Heat
"Meh" is the best way to describe LeBron James' Game 5 performance.
He was aggressive yet inefficient with 25 points on 8-of-22 shooting, eight assists, six rebounds, four steals and three turnovers.
While he accounted for four steals, his defense wasn't as tenacious as usual, especially down the stretch. He allowed Manu Ginobili and Tony Parker to hit floaters or fadeaways over him in the fourth quarter.
We heard it after Game 3, and we'll hear it again until Game 6 on Tuesday night, but LeBron needs to be the Cleveland version of himself if the Heat are going to win this series. He needs to attack the rim with more aggression and get to the line, even though he got to the line nine times in Game 5.
LeBron will need closer to a triple-double with 30 points for the Heat to beat the Spurs if they continue to play like they did in Game 5.
It's put up or shut up time for LeBron. If history has taught us anything, it's that he'll be ready to go on Tuesday night.
Overall Grade: C-
Kawhi Leonard, Spurs
Aside from their own Big Three, there isn't another player on the Spurs roster that mirrors the style of play and values of the franchise like Kawhi Leonard.
He's a quiet, humble player who does what Gregg Popovich asks him to do, and that was on display on Sunday night.
He had a solid night with 16 points on 6-of-8 shooting and eight rebounds.
His defense on LeBron was solid throughout the night. Leonard contested every shot and banged in the post when LeBron got the ball, making it uncomfortable for LeBron throughout the game.
While he doesn't get much attention, Leonard is the real X-factor for the Spurs.
Overall Grade: A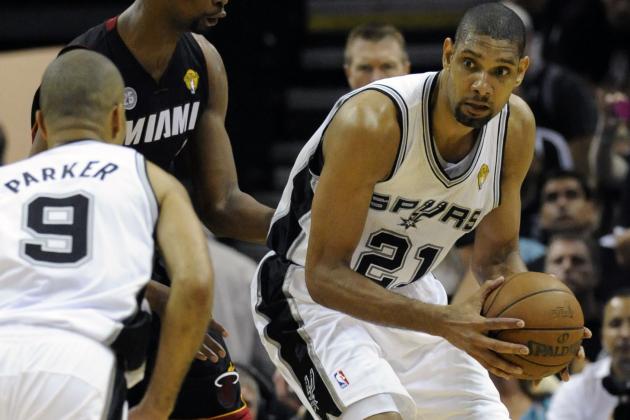 Brendan Maloney-USA TODAY Sports

Chris Bosh, Heat
On paper, Chris Bosh had a solid game. He had 16 points on 7-of-11 shooting. He also grabbed six rebounds, five of which were offensive.
With that being said, his lack of defensive pressure throughout the night cost the Heat big time.
Bosh's offensive production was matched by Tim Duncan's 17 points on 7-of-10 shooting, and Duncan minimized Bosh's ability to grab defensive boards.
The Heat need Bosh to be a more consistent force on the defensive side of the ball, because if he isn't altering shots in the paint, the Heat aren't going to be able to win.
Defensive is currently the Heat's biggest concern, and that's exactly what Bosh needs to focus on moving forward.
Overall Grade: B-
Tim Duncan, Spurs
With 17 points and 12 rebounds on 7-of-10 shooting, Tim Duncan had another productive and efficient night.
His play was easily overshadowed by Tony Parker, Manu Ginobili and Danny Green's remarkable nights, but that doesn't mean Duncan didn't dominate. Unlike his counterpart, Chris Bosh, Duncan blocked three shots and was a constant difference-maker on the defensive side of the ball in the paint.
Duncan's humble leadership is also helping the Spurs separate themselves from the Heat, and it's a major reason why they are just one game away from winning yet another NBA championship.
Overall Grade: A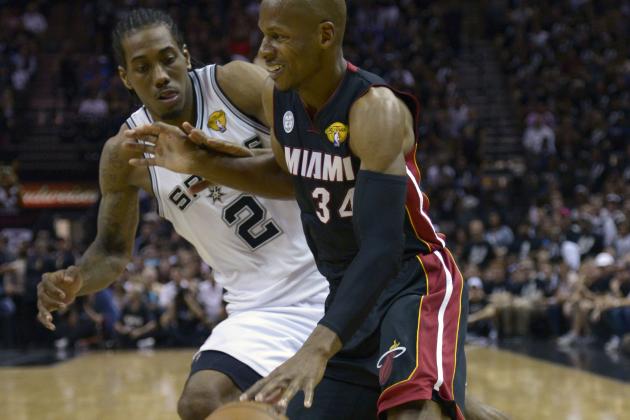 Brendan Maloney-USA TODAY Sports

Ray Allen, SG Heat
Well, at least one person on the Heat decided to show up in Game 5.
Ray Allen had a great game with 21 points on 7-of-10 shooting from the field and 4-of-4 shooting from beyond the arc.
Most of his points came in the fourth quarter when the Heat were trying to get back into the game, but that doesn't change the fact that his play was impressive throughout the night.
The Heat may want to consider inserting Allen into the starting lineup to counter Manu Ginobili being in the starting lineup, because his production is a necessity for Miami.
Overall Grade: A
Gary Neal, SG Spurs
Game 5 wasn't kind to Gary Neal, but that didn't matter because Manu Ginobili decided to show up.
Neal ended the game with just two points on 1-of-4 shooting from the field in 21 minutes of action. Typically that would hurt the Spurs, but they didn't need production from him thanks to the rest of the Spurs' backcourt stepping their game up.
The odds are that Ginobili and Green aren't going to be as hot in Game 6 as they were in Game 5, which means Neal will have to snap out of his slump on Tuesday with the 2013 NBA championship on the line.
Overall Grade: D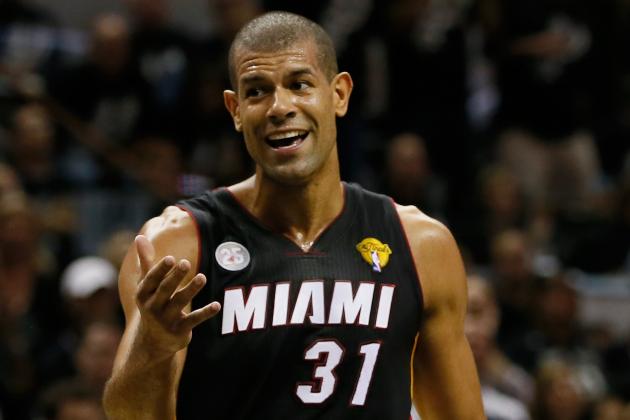 Kevin C. Cox/Getty Images

Miami Heat Bench
Aside from Ray Allen's 21 points, the Heat's bench didn't bring much to the floor.
Shane Battier finally had a productive night with seven points and three assists, but it wasn't really a difference-maker in the game.
It's interesting that Erik Spoelstra has decided to keep Chris Andersen off the floor, as his shot-changing abilities on defense are needed.
The Heat will need more production from their bench defensively in Game 6 if they are going to even make it to Game 7. Without increased defensive production, the Heat's season will be over on Tuesday night.
Overall Grade: B-
San Antonio Spurs Bench
The San Antonio Spurs bench was absolutely nonexistent in Game 5, mainly because Manu Ginobili took his talents to the starting lineup.
The bench accounted for just seven points on 3-of-9 shooting, but luckily that didn't hold the Spurs back.
The Spurs' second unit certainly needs to protect the ball more moving forward. The bench players committed a whopping seven turnovers, equaling their total combined point production.
Overall Grade: D-