The 25 Most Overrated Stars in NBA History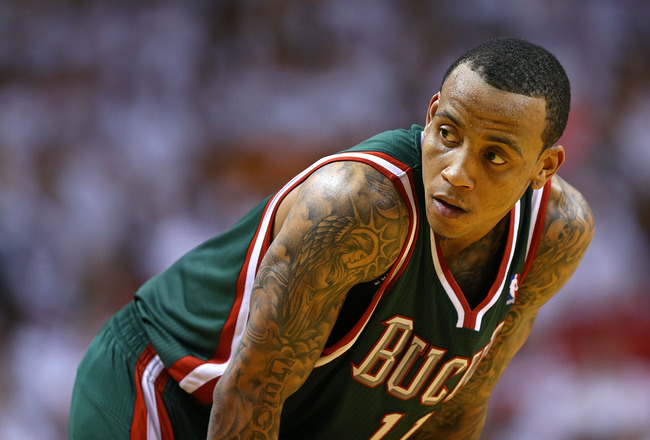 Wait, is this Monta Ellis or Dwyane Wade???
Mike Ehrmann/Getty Images
Rating players is always a tricky task, but the general public has failed when it comes to these 25 overrated stars of the NBA's past and present.
Larger portions of that public have failed for some, while a select group is causing the "overrated" tag to be levied upon other stars. But regardless, for one reason or another, each of the 25 is overrated.
Those reasons are quite important.
You'll see a few Hall of Famers present in this article. I might be calling them overrated, but it's for various reasons, and the magnitude of that "overratedness" certainly matters. Take the player on the very next slide, for example. Despite including him here, I'm calling him a top-10 player in NBA history and a virtual lock for a first-ballot HOF selection.
Context matters, so make sure you're aware of how it applies to each of the players mentioned.
Kobe Bryant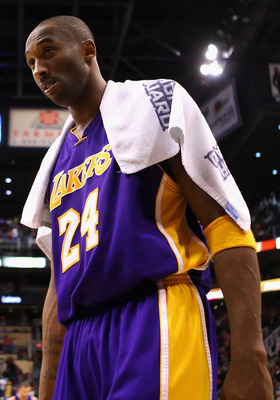 Christian Petersen/Getty Images
If you take a movie theater filled with a bunch of silent film-viewers and then insert a single person who's going to make a lot of noise, which one stands out?
It's the disruptive person who spoils the experience for everyone else.
The same can be said for the one dissenter in a crowd. If that dissenter is loud enough, his or her one controversial opinion can stand out more than that of the masses in agreement.
Such is the case with a few Kobe Bryant fans who don't hesitate to let you know that the Mamba absolutely must be the greatest player of all time. Michael who?
The majority have it right: Kobe and Tim Duncan are the best players of the post-MJ, pre-LeBron era in NBA history, and the Los Angeles Lakers superstar will deservedly go down in the annals as a top-10 player.
However, there's still a group of hold-outs.
No matter what you say about Kobe, you're going to find people who disagree with you. It's why he'd be present on my personal list of underrated players as well. If you say he's the third-best player in the league right now, you'll get both people who claim he's not in the top 10 and mega-fans who delusionally think he's still better than LeBron James.
The latter group tends to stand out due to the vocal nature of their protests.
Let's call Kobe conditionally overrated and conditionally underrated. The two aren't mutually exclusive.
Vince Carter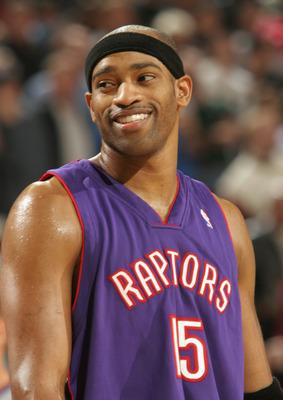 Otto Greule Jr/Getty Images
To be a true NBA star, you have to expend maximum effort whenever you're on the court. You can't succumb to nagging injuries, milk them for all they're worth and seem like you're looking for excuses to sit out.
Vince Carter might have been blessed with immense physical talent—and he'll go down in history as the greatest dunker of all time—but he was never able to parlay his talent into the level of success he should have found.
The shooting guard with a litany of memorable nicknames thrived in Dunk Contests. As for playoff games, though, they weren't exactly his forté.
That, in a nutshell, sums up "Vinsanity." He was more content to be an entertaining player than a dominant one. When the going got tough, he forgot about the second part of the phrase.
Baron Davis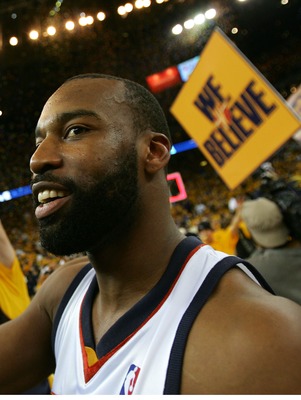 Jed Jacobsohn/Getty Images
Baron Davis was an extremely underrated consumer of donuts and other high-calorie foods late in his NBA lifespan, but his basketball career is going to be overrated down the road.
The bearded point guard was a sight to behold in his prime, exploding down the lane and finishing with dunks over players who seemed twice his size. He played with reckless abandon and was a deserving two-time All-Star in the early 2000s.
However, one incredible accomplishment forever altered his legacy: the 2007 playoff upset of the heavily favored Dallas Mavericks.
In that first-round series, Davis sparked the eighth-seeded Golden State Warriors by averaging 25.0 points, 6.2 rebounds and 5.7 assists per game (per Basketball-Reference.com). He shot 54 percent from the field and reached a level he would never match during the rest of his career.
Often times, delicious icing can mask an otherwise mediocre cake. Maybe it's too dry or just doesn't have enough flavor.
Davis' career was a good cake, but the icing he cooked up by taking down the No. 1 seed made it seem truly great.
Monta Ellis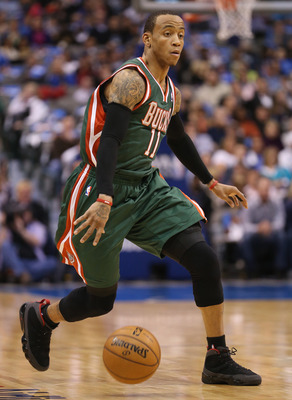 Ronald Martinez/Getty Images
There's a rather large dichotomy between being a great scorer and being a great basketball player. Up until recently, Carmelo Anthony fell into the first camp, but his developments while serving as the go-to player on the New York Knicks have pushed him into the latter one.
Monta Ellis still falls squarely in the former.
There's no denying his scoring prowess, but his shot selection leaves a lot to be desired. Why he continues to loft up four three-pointers per game while shooting below 30 percent from downtown is just beyond me.
Ellis' shot chart this season is ugly, and I'm trying to be nice by using that adjective.
Perhaps the worst part is that Ellis is blissfully ignorant of his flaws. He just keeps gunning away while maintaining the same level of irrational confidence. In fact, he even had the cojones to compare himself to Dwyane Wade, saying that the only differences between himself and the future Hall of Famer were a few wins and two rings (h/t Yahoo! Sports).
OK, Monta.
Sure.
Steve Francis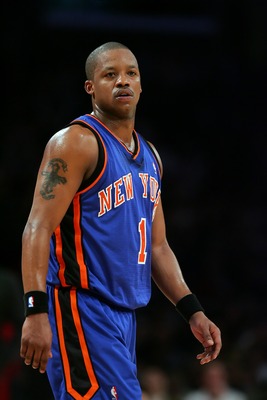 Lisa Blumenfeld/Getty Images
Now I could be wrong here, but I was under the impression that having a nickname like "Stevie Franchise" implied that you were supposed to be a franchise player.
Steve Francis' nickname wasn't supposed to be ironic, but it certainly seems that way in hindsight.
After he was traded to the New York Knicks, things didn't really work out too well. In two seasons at Madison Square Garden, Francis basically disappeared. There was no hint he was supposed to carry the team, and his already poor decision-making was even worse than normal.
Throughout his career, Francis created a number of highlights and racked up stats, but those were always his primary sources of motivation.
As you can probably guess, that's problematic.
Rudy Gay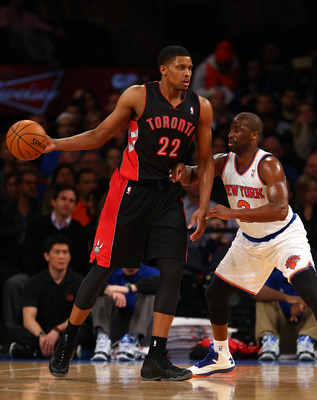 Elsa/Getty Images
SportsCenter was a wonderful creation. I can't even count how many hours I've logged watching the program go over all the highlights and recaps of sports' biggest (and smallest) events. However, it's not without its faults.
Take basketball highlights, for example. What gets shown more than anything else?
The answer is obvious: game-winning shots and thunderous slam dunks. The flashier the play, the better the play in the mind of the producers.
SportsCenter doesn't show us all the missed shots, whether during the first quarter or a crucial late-game situation. Nor does it show us the isolation plays that result in bricks when passing was an easier alternative.
All of this plays right into Rudy Gay's hands.
The Toronto Raptors forward thrives on those highlight-creating plays. He throws down tomahawks, plays hero ball at the end of tight games and scores a lot, often at the expense of everything else.
While Gay is a great defender, his offense isn't that valuable. Many players could produce a similar output if they were given the same number of opportunities.
According to Basketball-Reference.com, Gay earned 0.1 offensive win shares during the 2012-13 season, despite averaging 15.6 points per game. 0.3 of them came with Toronto Raptors, while minus-0.2 were "racked up" with the Memphis Grizzlies.
To put that in perspective, here's the list of Raptors who earned more offensive win shares during Gay's first campaign north of the border: Amir Johnson (team-high 4.4), Jose Calderon (4.0), Kyle Lowry (3.5), DeMar DeRozan (3.1), Jonas Valanciunas (2.4), Ed Davis (2.1), Alan Anderson (0.8), Quincy Acy (0.7) and John Lucas (0.7).
Robert Horry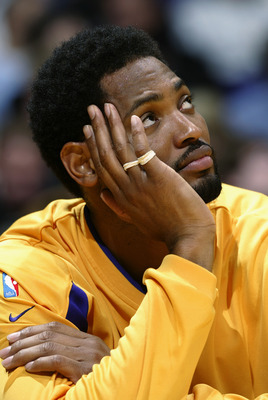 Jeff Gross/Getty Images
Robert Horry has a tricky legacy because he was nothing more than a role player throughout his career despite drilling a handful of memorable shots.
Of the 25 players listed in this article, Horry is the furthest from our traditional definition of a "star." However, I feel comfortable including him because he came up big enough times that he still enjoys his status as a semi-household name.
Horry's entire legacy depends on the controversial topic of "clutch." No one agrees upon a single definition, and everyone you ask will likely give you a slightly different variant of a similar theme. As for me, I contend that professional basketball players can't elevate their play down the stretch of a close game. They can maintain it as others fall off, giving the illusion of "clutchness," but there's no statistical evidence for a true increase.
You can find my full thoughts on the subject here, but let me pull out a relevant section on Horry:
If you go back and watch the tape though, all of his game-winning three-pointers were of the catch-and-shoot variety.

He would stand in the corner, receive the ball without a defender in sight and drain the shot. What goes overlooked is that those were shots he could have hit in his sleep thanks to the lack of hands in his face.

We remember Horry for the handful of game-winners he hit. Why don't we remember that he shot 227-for-634 from downtown in his playoff career, good for just 35.8 percent? It wasn't like Horry knocked down every big shot he took.

But if you don't want to believe me, believe Horry himself. Here's what he said after making a game-winner against the Sacramento Kings back in 2002: "If I hit it, we win; if I miss, y'all are going to blame the stars for losing the game anyway. There's no pressure on me."
Horry gained fame for being in the right place at the right time, and the respect he's given is a bit overblown.
Joe Johnson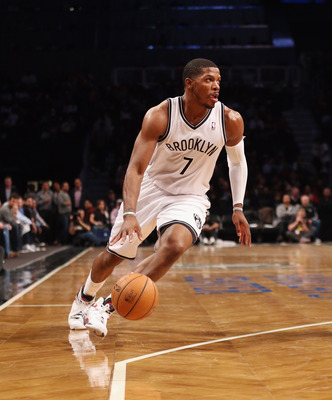 Bruce Bennett/Getty Images
You know a player is overrated when his fanbase celebrates his leaving town, even after he made the All-Star squad that year.
You know a player is overrated when a four-word contract description—in this case, "six years, $124 million"—can strike fear into the hearts of that same fanbase.
For Atlanta Hawks fans, both of the above criteria apply.
Bill Laimbeer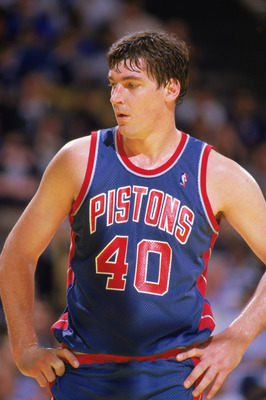 Stephen Dunn/Getty Images
As is the case with most players present in this article, Bill Laimbeer was a great player, just not the legendary one he's made out to be. Perhaps "legendary" is going a bit too far with this member of the Bad Boys, but he's still historically overrated.
Laimbeer's value stemmed from his defensive play, his three-point shooting ability that stretched the court for the Detroit Pistons in the 1980s and his physical style.
As a result of the intimidation factor that his constant cheap shots and in-your-face attitude promoted, the first of those three is mythologized a bit too much.
Jeremy Lin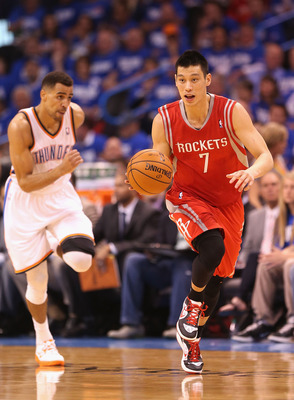 Christian Petersen/Getty Images
At the moment, Jeremy Lin might be a little underrated. The Houston Rockets floor general put together a solid season after settling in as a secondary ball-handler when James Harden was on the court, but he received virtually no attention from the average NBA fan.
During the 2011-12 season, nothing could be further from the truth. Linsanity was all the rage as we got swept up by the Association's bright, new and shiny toy.
As Grantland's Bill Simmons wrote in his latest trade values column: "I think I was drunk when Linsanity (no. 34) made last year's list … if it's any consolation."
Although I was completely sober, I'm guilty of overrating him last year as well. I too was a prisoner of the moment.
In the version of the Top 100 players I published in April of 2012, I ranked Jeremy Lin at No. 59 and wrote the following:
He absolutely has the look of a legitimate starting point guard in the league, and it wouldn't shock me at all if he became a top-40 player or better by the end of the 2012-2013 season.
Whoops...
Karl Malone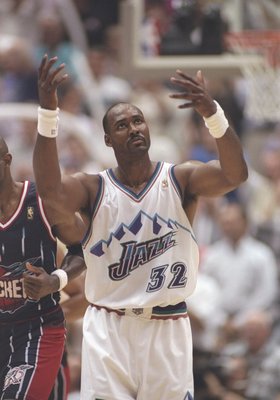 Brian Bahr/Getty Images
Karl Malone is a deserving member of the Hall of Fame and should be present in any rational list of the top 25 players in basketball history. He enjoyed a stellar career, one full of phenomenal performances but ultimately bereft of any championships.
Rings are a team accomplishment and should be used carefully when evaluating the career of an NBA player. In what's becoming a theme for this article, context is necessary.
And for Malone, the Mailman who supposedly always delivered, context doesn't look so good. He played in a system tailored for his strengths, was coached by a legend and teamed up with a fellow legend who complement him rather perfectly.
Still, his hands remain empty to this day, and it's not for lack of trying. Even his attempt to join the Los Angeles Lakers and chase a ring was a fruitless endeavor.
Without that championship, the select group of Malone fans who refer to him as the greatest power forward of all time don't have much of an argument. Tim Duncan stands alone at the top of the positional rankings.
Pete Maravich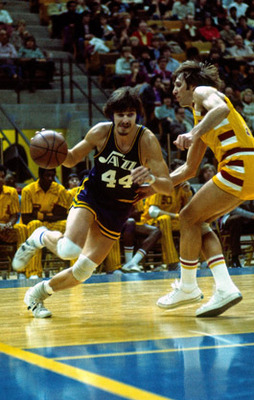 Photo credit to NBA.com.
Pete Maravich is another deserving Hall of Famer, but that's mostly for his contributions in Baton Rouge. "Pistol" was an incredible scorer during his collegiate career, but he couldn't quite reach the same level once he joined the ranks of the NBA.
His flashiness on the court was ahead of his time, the moves he brought to the table were virtually unmatched and he was undeniably effective early in his short career. He just wasn't the superstar we remember him to be, at least in terms of actual production.
The gaudy point totals were there—he even led the league in scoring during the 1976-77 season—but his NBA career was ultimately short-lived, and the decline was rather precipitous.
Stephon Marbury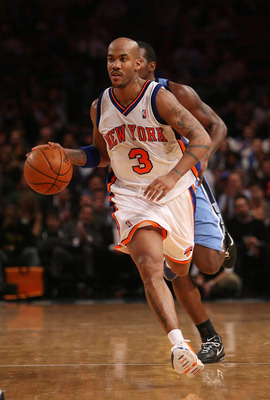 Nick Laham/Getty Images
Stephon Marbury was a flashy player with a knack for scoring points in bunches and creating highlights, but so many of the points were of the empty variety. Throughout his career, Starbury shot only 43.3 percent from the field and didn't knock down enough shots from downtown to make up for the overall inefficiency.
He didn't get much better in the playoffs either.
During the postseason, Marbury's field-goal percentage declined to 35.5 percent, and he actually contributed minus-0.4 win shares throughout his playoff career (per Basketball-Reference.com).
The guard also decided his energy was too important to be wasted on defense. That was one of many selfish decisions throughout his coach- and team-killing career.
Alonzo Mourning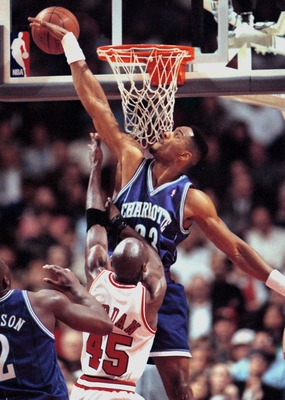 Jonathan Daniel/Getty Images
If you search long enough, you can find highlight after highlight of Alonzo Mourning getting posterized. The list of players who threw down on the big man is simply too long to write out here in its entirety.
Zo was a great rim-protector for the most part, but he was also prone to finding himself out of position, and the results were ugly. All shot-blocking centers end up on a few posters by virtue of spending time contesting attempts at the rim, but Mourning's spatial awareness did him no favors.
On top of that, Mourning wasn't the most terrific rebounder, although he did manage to record double-digit boards a few times early in his career. As for his passing, well, let's not talk about that.
Mourning is eligible for the Hall of Fame next year, and while he should receive some consideration, there are other more deserving players in NBA history that deserve a bust in the Hall first.
Jermaine O'Neal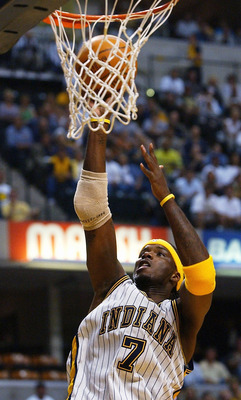 Jonathan Daniel/Getty Images
Jermaine O'Neal was a double-double machine during his prime with the Indiana Pacers, but he could never get the job done after the 82nd game of the season.
Throughout his postseason career, the big man averaged only 12.0 points and 6.7 rebounds per game while shooting 42.1 percent from the field. Between 2001 and 2006, O'Neal was a bit better, averaging 18.1 points and 9.8 rebounds per contest, but he still only connected 42.6 percent of the time.
The other big problem during O'Neal's career was that he simply couldn't stay healthy.
During the Indiana portion of the power forward's NBA life, O'Neal averaged only 64 games per season. When you're not on the hardwood, it's awfully tough to produce quality numbers.
Robert Parish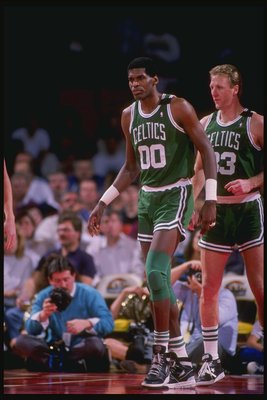 Tim DeFrisco/Getty Images
Robert Parish hung along far past his prime, playing until he was 43 years old and averaging only 3.7 points and 2.1 rebounds per game for the Chicago Bulls. And wow did the longtime Boston Celtic look strange in a red jersey.
Although he was a fantastic big man during the vast majority of the 1980s, Parish received a noticeable boost from two of his talented teammates: Kevin McHale and Larry Bird.
Without either of the two aforementioned players, the Celtics couldn't have won titles in 1981, 1984 or 1986. Those rings are a major part of Parish's legacy, although it's tough to argue that he was as vital to the Boston cause as either Bird or McHale.
Willis Reed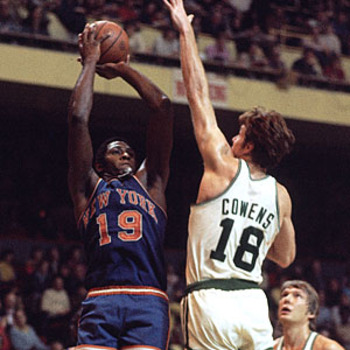 Photo credit to NBA.com.
One moment can do a lot for a player's legacy, and Willis Reed had one hell of a moment. Unfortunately, it's one that left him historically overrated.
When Reed strode out of the tunnel in Game 7 of the 1970 NBA Finals despite his torn thigh muscle, it left an indelible impression upon basketball fans. That was as gritty as it got, and Reed deservedly received quite a bit of respect.
However, the big man didn't have much of an impact in that game. It was Walt Frazier's show after Reed drained two shots and promptly took a seat, but Clyde is rarely ever mentioned, at least with respect to this game.
Do you really think Reed's heart had that much of an impact on his teammates? Did they really need extra motivation to get hyped up for Game 7 of the NBA Finals?
I think not. If that extra boost was necessary, they never would have gotten to that stage of the playoffs in the first place.
Glenn Robinson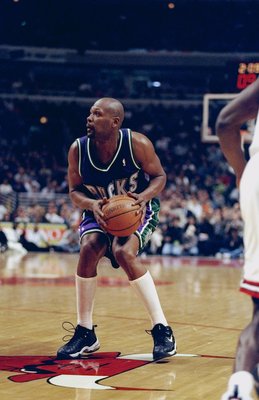 Jonathan Daniel/Getty Images
Rudy Gay and Monta Ellis are the modern examples of high volume scorers who don't play with enough efficiency, but Glenn Robinson was the prototype during the late 1990s and early 2000s.
The Big Dog may have scored in the 20s while playing in his prime, but he piled up the missed shots more frequently than the made ones. He retired with a career PER of 17.5 and true shooting percentage of 52.9.
Robinson earned only 20.5 offensive win shares during his career, a number far shy of what his reputation would lead you to believe.
As a reference point, LeBron James and George Hill have combined for 20.5 offensive win shares in the 2012-13 season alone.
Rajon Rondo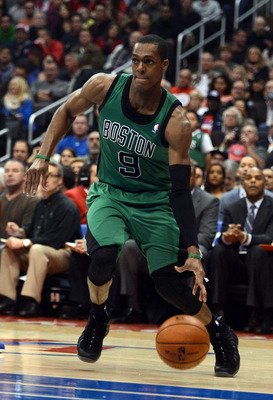 Harry How/Getty Images
Don't ever call Rajon Rondo anything but the best point guard in the NBA, because if you do so, hordes of Rondo supporters are going to come to his defense.
Well, hordes, let's hear it.
Rondo is an elite point guard, but he trails Chris Paul, Tony Parker, Russell Westbrook and a healthy Derrick Rose in the floor general rankings. Kyrie Irving and Stephen Curry have also emerged as contenders for Rondo's spot. Deron Williams has even re-emerged as one.
Rondo is obviously a fantastic distributor, but there are multiple things that work against him.
First is his lack of scoring ability, as his inconsistent—although admittedly developing—jumper doesn't threaten defenders enough to make him a truly potent option. Secondly, he chases stats during the regular season, often passing up open shots for a chance at an extra assist.
For Rondo to be properly rated, he'll have to live up to his potential by forgetting about box scores, and his fans will have to accept the fact that he's not the top 1-guard in the Association.
John Stockton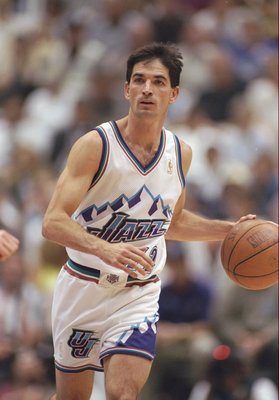 Brian Bahr/Getty Images
The John Stockton argument works in the same way that the Karl Malone one unfolded.
Stockton is a sure-fire Hall of Famer and one of the truly legendary point guards in NBA history. He had an unbelievable career that thrilled many fans around the world and won a whole bunch of games. There's no denying that.
However, Stockton was also the beneficiary of a perfect situation. He played in an ahead-of-its-time pick-and-roll system that perfectly maximized his talents; he teamed up with Malone, who complemented him perfectly; and he was coached by Jerry Sloan, who did everything he could to promote Stockton's success.
Would the Utah Jazz point guard have been successful in another situation? Certainly, as he was incredibly gifted on both ends of the court.
Would he have established himself as a Hall of Famer? Well, that's a little bit more questionable, although I still say yes.
Also contributing to Stockton's status as an overrated star is his famous assist record. His 15,806 career dimes are virtually untouchable, surpassing everyone else in NBA history by nearly 4,000 assists. However, they're a product of both his passing perfection and the length of his career.
If you look at more telling stats, like career assists per game and assist percentage, he's no longer as untouchable.
Did you know that Stockton never even finished in the top six of the MVP voting? He only finished in the top 10 three times during his career (1988-89, 1989-90 and 1994-95), earning just 0.161 MVP award shares.
Amar'e Stoudemire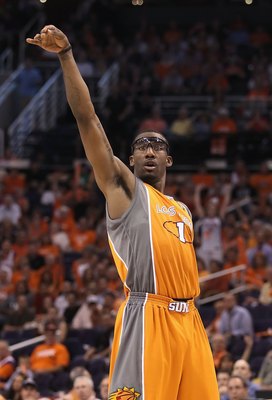 Christian Petersen/Getty Images
Speaking of players in situations that seemed tailor-made for their particular skill set, how about Amar'e Stoudemire teaming up with the run-'n-gun Phoenix Suns of the early and mid 2000s?
With Steve Nash running the show and Mike D'Antoni calling the seven-seconds-or-less offense from the sideline, there was no way for STAT to fail. He thrived as the screener in pick-and-roll sets, and his explosive athleticism made him an obvious target for lobs in transition.
There's no doubt Stoudemire was an offensive force in his prime, but he wasn't the unstoppable one he's sometimes perceived as. That was more the combination of his skills and the system he played in.
Antoine Walker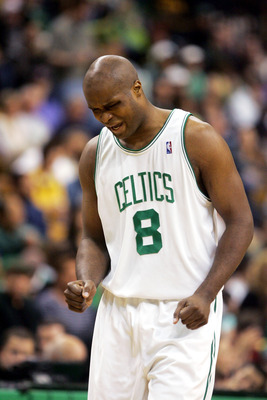 Jim McIsaac/Getty Images
Let's take a look at two seasons in Antoine Walker's overrated career.
Four years removed from his first All-Star appearance, Walker was selected to the midseason classic once more. During that 2001-02 season that earned him the berth, he averaged 22.1 points, 8.8 rebounds and 5.0 assists per game.
Seems like a logical selection now, right?
Well, add in the fact that Walker coughed the ball up 3.1 times per contest and shot only 39.4 percent from the field. He was below 40 percent, which seems to be basketball's version of the Mendoza Line.
Now it doesn't look so good. In fact, Walker had a 17.1 PER that season and was the beneficiary of a league-leading 3,406 minutes. Those aren't All-Star numbers.
The situation repeated itself one year later when Walker was named an All-Star once more then finished the year averaging 20.1 points, 7.2 rebounds and 4.8 assists per game while shooting 38.8 percent from the field. His turnovers also rose to 3.3 per outing.
That season, Walker earned a 14.6 PER—below the league average of 15.0—and racked up minus-1.6 win shares. According to Basketball-Reference.com, only Tom Boerwinkle (minus-1.7 in 1968-69) and Charlie Black (minus-2.2 in 1949-50) have ever produced a less valuable offensive season.
But...he was an All-Star!
Chris Webber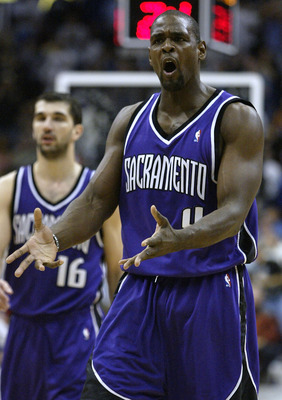 Elsa/Getty Images
Chris Webber has transitioned fabulously from the NBA court to the broadcasting booth, where he serves as a tremendous TV analyst. Maybe it'll be enough to earn my forgiveness for his failure to live up to expectations, but I doubt it.
The big man most famous for his Sacramento Kings days was an extremely good basketball player. He just fell short of great, even though achieving greatness was well within the realm of possibilities.
Webber loved him some offense, to the point that he would spend all of his energy on that end of the court, both trying to produce buckets on the first possession and then, assuming failure, crashing the offensive glass relentlessly in a desperate search for a second chance.
On defense, the level of effort was quite evidently lower. He never tried to battle for defensive positioning against more physical players, and the ferocity that he used to grab offensive boards just wasn't there on the defensive glass.
As a rookie, Webber actually recorded 5.1 defensive and 4.0 offensive rebounds per game. Thanks to Basketball-Reference.com's Player Season Finder, we learn that this 1993-94 season with the Golden State Warriors gave him one of 127 individual seasons in NBA history during which a player grabbed at least four offensive boards per contest.
Of those 127 seasons, only Xavier McDaniel in 1986-87 and Horace Grant in 1992-93 managed to record fewer defensive rebounds per game.
Dominique Wilkins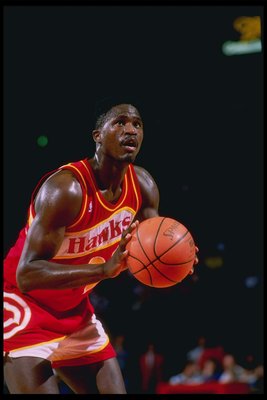 Tim DeFrisco/Getty Images
Dominique Wilkins was a highlight machine. Duh. I mean, you have to be to earn the "Human Highlight Film" as your nickname du jour.
But Wilkins' game was more style than substance. That's not really too big an insult to his substance, though, because the style was so legendary.
Between his monstrous throw-downs, penchant for duels with legendary players like Larry Bird and general offensive prowess, 'Nique established quite the reputation. He was viewed almost universally as a true superstar.
However, now that we look back on his career, his flaws become a bit more apparent.
Wilkins wasn't a great rebounder, and his defense was closer to nonexistent than worthy of an All-Defensive selection. As is so often the case, that was largely overshadowed by the plays we all strive to imitate.
Young boys and girls who go out to their driveway and practice rebounding or playing defense against an imaginary friend are few and far between. They probably turn out to be quite successful in the basketball world, but they're still rarities.
We all practiced shooting and dunking on lowered hoops because that's as glamorous as it gets. That's also why we remember those aspects of a player's game more than others.
James Worthy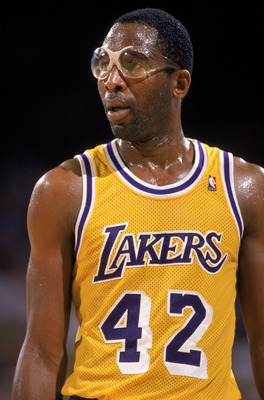 Mike Powell/Getty Images
Would James Worthy have made the Hall of Fame if he'd never played in the 1987-88 NBA playoffs and helped the Los Angeles Lakers hang up one of three banners they raised during his time in purple and gold?
Worthy played the most famous game of his career in Game 7 of the 1988 NBA Finals against the Detroit Pistons, and he was handed the Finals MVP for his effort. No one really questions whether he deserved it, though.
The forward unquestionably came up big during the final game, but throughout the seven-game series he averaged 22.0 points, 7.4 rebounds, 4.4 assists, 0.7 steals and 0.6 blocks per contest on 49.2 percent shooting from the field.
Were those really better numbers than Magic Johnson's 21.1 points, 5.7 rebounds, 13.0 assists, 2.0 steals and 0.1 blocks per game on 55 percent shooting?
Nope, not really. But Worthy put the finishing touches on the series, so his legendary triple-double is what gets remembered.
This was also the one and only triple-double of Worthy's career, for what it's worth.
Keep Reading