2013 NBA Free Agents: Predictions for Top Available Players This Summer
Kelvin Kuo-USA TODAY Sports
The 2013 NBA playoffs begin on April 20, but for fans of nearly half of the teams in the league, there is nothing to look forward to but the impending offseason.
Summer represents a time of hope and optimism for supporters of downtrodden franchises, as there is always a chance that a superstar is drafted, a blockbuster trade occurs or a marquee free agents signs in the city.
We're here to focus on the latter, so keep reading to find out our predictions on where the 10 best free agents will wind up playing in 2013-14.
*Salaries and contract information from HoopsHype.com.
10. Paul Millsap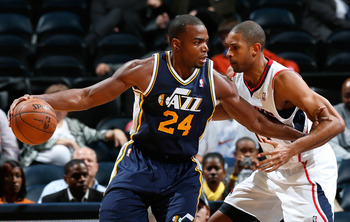 Kevin C. Cox/Getty Images
Paul Millsap is an unheralded, undersized power forward that brings a lot to the table and doesn't take much off.
While he's not going to score 50 points or grab 30 rebounds, the seven-year veteran brings his lunch pail and blue collar work ethic every time he steps onto the court.
He's an extremely efficient player that is capable of defending effectively despite his height limitations, has range out to the three-point line to draw defenders and does all the little things to help the Utah Jazz win.
For those reasons, we think he'd be a perfect acquisition for the aging San Antonio Spurs, who could use another big man to compliment the frontcourt rotation.
If Millsap is able to log 30 minutes a night, San Antonio will be fresher for the playoffs and have a better chance of succeeding after the regular-season grind.
Prediction: San Antonio Spurs
9. O.J. Mayo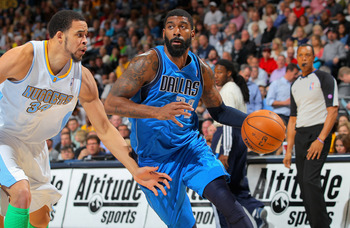 Doug Pensinger/Getty Images
O.J. Mayo revived his career with the Dallas Mavericks this year, especially after a strong showing at the outset of the season. He's proved that he is still an elite scorer capable of knocking down jumpers from anywhere on the court and creating his own shot when the offense stalls.
As a starter in every game during the 2012-13 campaign, Mayo put up great numbers, including 15.3 points on 45 percent FG shooting and 40.7 percent on three-pointers, while also chipping in 4.4 assists, 3.5 rebounds and 1.1 steals per contest.
While he's still a "me-first" player, he has shown a willingness to defer, especially since Nowitzki returned to the lineup. While we don't feel he will return, especially if Cuban overhauls the entire roster this summer, he could become a standout player in another city.
Our prediction is Detroit, where the emerging frontcourt of Andre Drummond and Greg Monroe direly need some support out on the wing.
With those two young bigs dominating, even a scrub like Kyle Singler was able to log a significant amount of playing time and contribute 8.8 points per game. Mayo would be a substantial upgrade there and could potentially score 20 per night for the first time in his five-year career.
Prediction: Detroit Pistons
8. Al Jefferson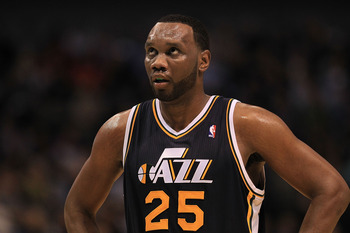 Ronald Martinez/Getty Images
Al Jefferson is an intriguing player to watch this summer, as the big man is more than likely on his way out of Utah. The Jazz simply have too many young, promising PFs and Cs on the roster to have this veteran keep soaking up major minutes.
The market for Big Al could be boom or bust, as his style of play and impact on a team is quite specialized.
He's an extremely talented scorer that commands an instant double-team every time he touches the ball in the low post. Jefferson is growing as a passer and is becoming more willing to find open teammates after drawing the defense in, while being able to score at will when left in one-on-one situations.
However, he's one of the worst defenders in the league and gives up buckets left and right to the opposition. He is often in the wrong place and doesn't seem to have the footwork or ability to grasp the concept of defense at an NBA level.
Jefferson is the definition of a double-edged sword, but we predict quite a few franchises will be willing to overlook his deficiencies in order to get a productive low-post scorer.
Washington should be willing to get in the mix, as the Wizards need to compliment their emerging backcourt of John Wall and Bradley Beal and eventually replace Emeka Okafor down in the paint.
Remember, Jefferson is only 28 years old and is still in his prime, so his presence could make the Wizards a playoff-bound team for the duration of his next contract.
Prediction: Washington Wizards
7. Brandon Jennings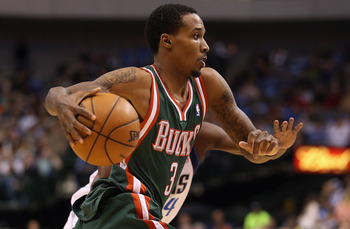 Ronald Martinez/Getty Images
Brandon Jennings has struggled for the mediocre Milwaukee Bucks this year, especially after the J.J. Redick trade at the deadline.
Couple that with his comments about unrestricted free agency (Jennings is a restricted FA in 2013) and it's hard to see another franchise make a run at this young point guard.
According to Yahoo! Sports' Marc J. Spears, Jennings had this to say about his plans: "If I take the qualifying offer and become an [unrestricted] free agent there is no way I am coming back. There is no way."
He went on to state that the only way Milwaukee could retain his services is by surrounding him with top-tier pieces and building a winning roster. He turned down a four-year, $40 million extension prior to the 2012-13 season, so he's clearly serious about his intentions.
Because of this, one way or another, Jennings is going to remain a Buck next season. Whether they hit him with a qualifying offer to try and persuade him or put the right players around him and sign him to a long-term deal, he's staying.
Teams that are interested in this 23-year-old guard will likely wait until the summer of 2014 to strike, as he will be much easier—and possibly cheaper—to sign in (potential) unrestricted free agency.
Prediction: Milwaukee Bucks
6. Andrew Bynum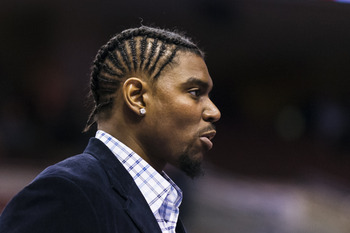 USA TODAY Sports
Andrew Bynum had one of the worst possible seasons imaginable in 2012-13, as the Philadelphia 76ers center never saw a second of floor time upon being traded from the Lakers this summer.
The "prized" acquisition is now set to become an unrestricted free agent, and we just can't see him sticking around Philly after what he put the city's fans through.
While there is bitterness for Bynum in the City of Brotherly Love, general managers aren't soon going to forget the way the seven-footer contributed to two L.A. championships and averaged 18.7 points and 11.8 rebounds in his final season there.
At his best, Bynum is arguably one of the top two big men in the league, next to Dwight Howard, and a bona fide superstar. He's going to command a max contract for his rare combination of size, scoring and defensive abilities, but it will have to be from a brazen organization.
There is no gutsier owner than the Dallas Mavericks' Mark Cuban, who is desperate to put a winning product back on the floor after an ugly 2012-13 campaign.
Bynum would be an immediate upgrade to a team that just missed the playoffs and a long-term replacement for aging superstar Dirk Nowitzki.
Assuming the center heals properly and is able to get back into form, this is a win-win situation for both parties.
Prediction: Dallas Mavericks
5. David West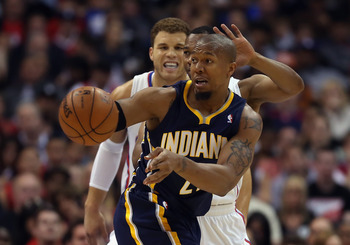 Jeff Gross/Getty Images
At 32 years old, David West is still deadly effective and a high-level contributor for a good Indiana Pacers squad.
However, his $10 million salary is a bit high, and there's a good chance the 10-year veteran is forced to take a pay cut for the upcoming campaign.
While he could stick around Indiana, it likely depends on how the franchise does in the upcoming postseason. If the Pacers make a deep run and look to have a legitimate chance to win in the next season or two, there is a strong possibility that West is retained.
If the team struggles, it may be time to part ways with West in order to breathe some new life into the lineup. If that should happen, there will be no shortage of suitors hoping to acquire the Xavier product's services on the cheap.
Because West has never advanced past the second round of the playoffs, we predict he'll sign a mildly reduced contract with a team that has a chance to contend.
In this scenario, we like him going to Atlanta—which has a roster spot and money available from losing Josh Smith.
Star big man Al Horford can slide to his natural center position and West could man the 4, forming a stout frontcourt that has a chance to beat the Miami Heat down low.
Prediction: Atlanta Hawks
4. Nikola Pekovic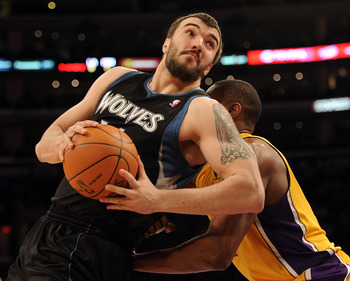 Harry How/Getty Images
Nikola Pekovic is a vastly underrated, old-school player that an organization can build around. While he may not have the name recognition as some of the other stars on this list, he's just as integral to the success of his team—if not more.
The 27-year-old just finished his third season in the league and only continues to improve with more NBA experience. He averaged 16.3 points on 53 percent field-goal shooting and 8.8 rebounds during the campaign, while also flashing potential to be one of the better low-post defenders in the game.
At 6'11", 290 pounds, the Montenegrin big man certainly has the size to dominate all but the biggest opponents. He's continuing to refine his game and could easily be a deadly second or third option for a contending squad as early as next season.
Fortunately for Minnesota, it has the cap room to re-sign this behemoth. He's likely going to stay put, as we don't see a huge market opening for Pekovic just yet.
Prediction: Minnesota Timberwolves
3. Josh Smith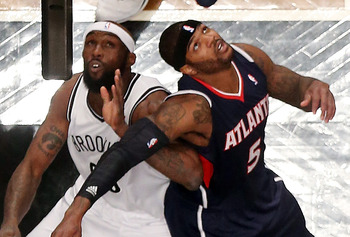 Bruce Bennett/Getty Images
The Atlanta Hawks were exploring potential deals for Josh Smith at the deadline, and they might wish they had pulled the trigger on one when the dust settles.
J-Smoove has been an integral part of the Hawks lineup for nine seasons now, but the team has never seriously contended for a championship or handsomely compensated the ultra-athletic forward during his tenure.
Smith and his agent are reportedly pushing for a maximum contract as an unrestricted free agent this July.
Because the veteran is capable of playing multiple positions and doing everything but score from outside with great efficiency and effectiveness, there are certainly going to be eager suitors lining up.
With the Hawks reluctant to hammer out the extension, we believe Houston Rockets general manager Daryl Morey will swoop in and woo away the 6'9" star.
There is a major rebuilding effort going on in H-Town, as the team reloaded last summer with James Harden, Jeremy Lin and Omer Asik. Adding a top-notch forward like Smith into the mix could push this team into the Western Conference finals as soon as 2014.
Prediction: Houston Rockets
2. Dwight Howard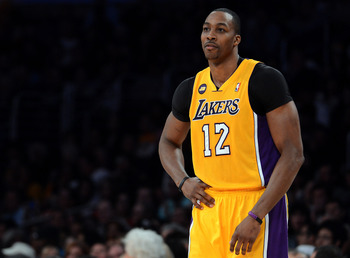 Harry How/Getty Images
Much like the Clippers did with Chris Paul, the Lakers made a calculated risk to trade for Howard last summer. The front office wants him to become the next great superstar to carry the franchise to a title, and it seems the big man is closer than ever.
After Kobe Bryant went down with a torn Achilles in mid-April, D12 will be expected to be "the man" in L.A. this postseason. It won't be easy, as the organization has an uphill battle ahead, especially after a rocky regular season landed this team an awful seed in the Western Conference playoffs.
However, Dwight seems up for the task, as evidenced by his 26-point, 17-rebound, three-block performance against the Spurs in a must-win game with the Black Mamba sidelined.
Superman will command a massive contract this offseason and will have a number of suitors, but he'll be forever revered in L.A. if he sticks around and wins a title.
Prediction: Los Angeles Lakers
1. Chris Paul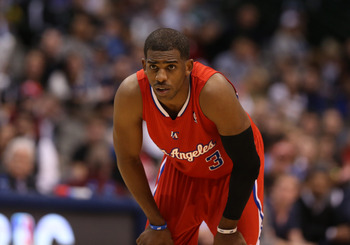 USA TODAY Sports
When the Clips acquired Chris Paul prior to the 2011-12 season, they were taking a huge gamble that the superstar point guard would decide to sign an extension with the franchise.
Fortunately, with the success that L.A. has had and the level of talent surrounding him, it seems safe to say that CP3 will remain a Clipper for the next five years.
This is an organization on the up-and-up, having finished with one of the best records in the league for two straight seasons. Blake Griffin, Jamal Crawford, Caron Butler, DeAndre Jordan and the rest of the supporting cast perfectly compliment Paul in "Lob City's" lineup, as these young athletes are able to get out on the break and finish off CP3's passes.
With a few young pieces available as trade bait, we expect the Clips to acquire some more veteran talent and make a serious push for the Finals after they lock up Paul for the long-term.
Prediction: Los Angeles Clippers
Keep Reading