Takeaways from Saturday Night's Wild NBA Action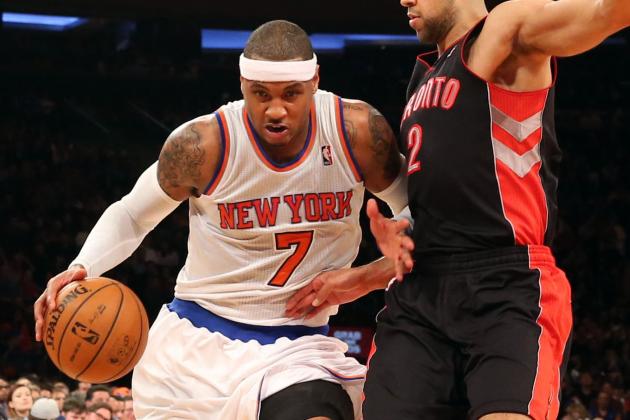 Anthony Gruppuso-USA TODAY Sport

Saturday night's NBA slate came on the heels of a day full of collegiate madness, but don't assume that the amateurs have the monopoly on riveting finishes and surprising performances. The professionals put together a night of wild action themselves.
Carmelo Anthony continued his impressive post-injury run, leading the New York Knicks to a big win in advance of a particularly rough patch of their schedule.
And a couple of unlikely stars stepped up for the Memphis Grizzlies and Detroit Pistons in two of the night's closest finishes.
Plus, Jordan Crawford went a little nutty, and Indiana Pacers coach Frank Vogel drew up a phenomenal final play that could only have been better if Paul George had finished it off.
The NBA may not own the trademark on madness, but Saturday's games featured enough wild action to satisfy even the most crazed hoop fan.
Begin Slideshow

»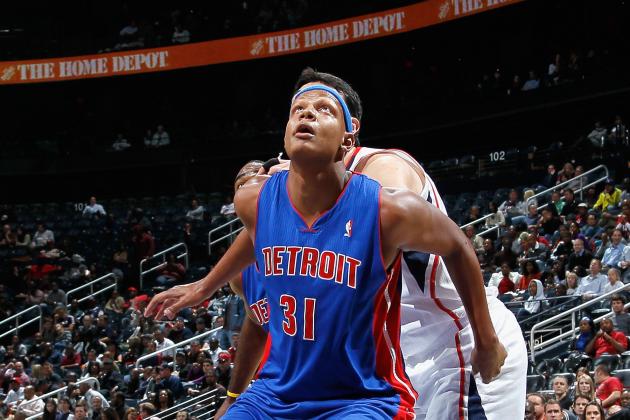 Kevin C. Cox/Getty Images

Charlie Villanueva came into the Detroit Pistons' matchup with the Charlotte Bobcats with some pretty uninspiring recent numbers. With March averages of just 4.6 points per game and 25 percent shooting from beyond the arc, you'd have to figure Villanueva was little more than an afterthought in the Bobcats' game plan.
But then the veteran forward exploded for a team-high 18 points in just 20 minutes, including a 4-of-7 night from beyond the arc—proving once and for all that the 'Cats can make absolutely anyone look like a world-beating talent.
For a player who had all but fallen out of the rotation lately, Charlotte's confidence-inducing defense was just what the doctor ordered for a breakout game. Heck, Villanueva even played some great D down the stretch.
Some, though, attributed Villanueva's night not to the Bobcats' general awfulness, but to some stranger natural occurrences:
Charlie Villanueva with the game-saving close-out and defensive rebound and oh wait whole moon's out nevermind.
— Kelly Dwyer (@KDonhoops) March 24, 2013
Whatever the cause, you can bet that Villanueva will be circling Friday, April 12 on his calendar. That's when the Pistons will face the Bobcats for the final time this season.
If there's another full moon, look out.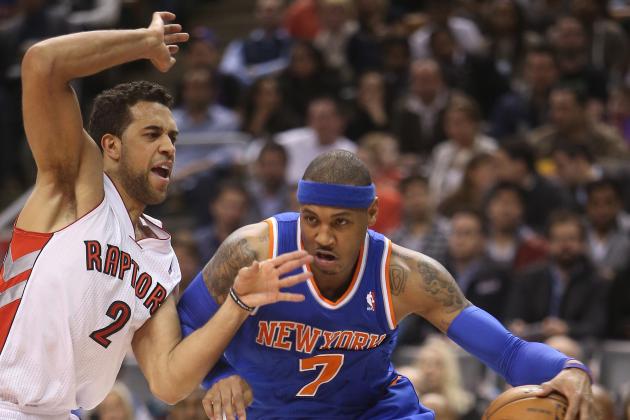 Tom Szczerbowski-USA TODAY Sport

Carmelo Anthony has played three games since missing time with a sore knee, and each one has been more impressive than the last.
Against the Orlando Magic on March 20, Anthony put up 21 points and eight rebounds in 33 minutes. Then, against the Toronto Raptors on March 22, he scored 37 points in 43 minutes. Despite the heavy playing time in that one, Melo looked strong on the back end of a home-and-home set against the Raptors, scoring 28 points on just 19 shots on Saturday.
Perhaps the best part of Anthony's latest performance was that it came in three quarters of work, thanks to a hefty 15-point Knicks advantage heading into the final period.
It's great that New York's star is playing well and looking healthy, because the schedule is about to get downright brutal. Over the next couple of weeks, Anthony will be grateful for the rest he got Saturday night.
Seven of the Knicks' next eight games will come against teams that are currently in playoff positions, and five of them will be against Eastern Conference foes.
As New York's lone reliable scorer (sorry, Kenyon Martin; two good games aren't enough to crack this category), Anthony is going to have to shoulder a massive load against stiff competition.
Good thing he's playing some of his best basketball of the season.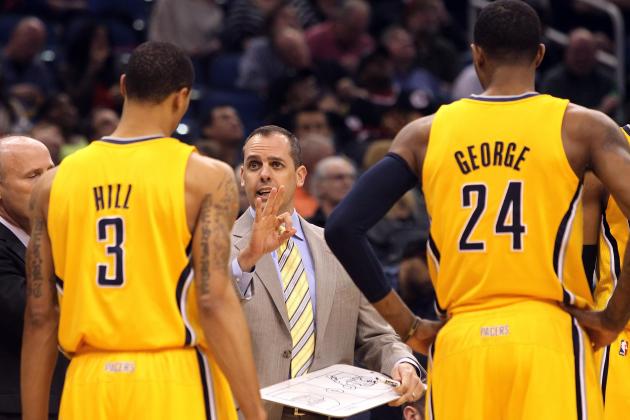 Kim Klement-USA TODAY Sports

The Indiana Pacers shouldn't have been within striking distance against the Chicago Bulls on Saturday, but a four-point play from George Hill (just get away from him, Kirk Hinrich!) trimmed the Bulls' lead from seven to three with 40 seconds remaining.
Hinrich missed a layup on Chicago's next possession, which gave Indiana a chance to make things interesting on the final play. Pacers coach Frank Vogel drew up a gem.
Hill took the inbound and waited beyond the top of the arc. As Paul George came around the right elbow on a curl, Tyler Hansbrough went to set a screen on Hinrich, who tried to stay with Hill as the Pacers point guard drove hard to his right.
At this point, it appeared that George was out of the play, left alone on the left wing as the action was taking place near the right elbow.
But then Roy Hibbert popped up from the left baseline and set a hard back screen on Jimmy Butler, freeing George to drift to the far left corner.
Hill's drive on the right side turned out to be a decoy play, as he whipped a pass across the lane to a waiting George in the corner.
George's open corner three (a ridiculously high-percentage look that the Bulls hate to give up) was off line, as was his last-second heave moments later. But the play that generated the shot was a thing of beauty.
With a great defense, star-quality talent all over the floor and a coach who knows what to do with it, the Pacers look to be a real threat not just this season, but for years to come.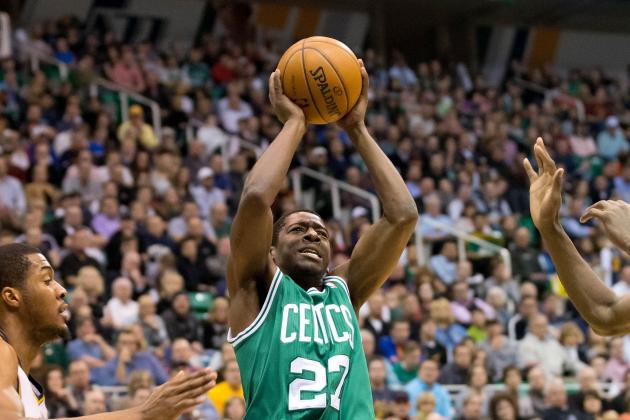 Russ Isabella-USA TODAY Sports

The Boston Celtics dropped a 110-106 contest to the Memphis Grizzlies on Saturday, which was bad news for the Celtics' efforts to avoid slipping toward the No. 8 seed and securing an ominous date with the Miami Heat in the first round.
But Boston's fourth straight loss wasn't without a little good, old-fashioned entertainment.
Jordan Crawford led a late-game second-unit charge that came up short on the scoreboard, but it featured enough truly horrible shot selections to keep viewers fascinated.
Well, maybe "shot selection" isn't the right term.
You can't criticize Jordan Crawford's shot selection because he's not selecting anything. He has shot diarrhea.

— Bill Simmons (@BillSimmons) March 24, 2013
It's probably worth mentioning that there are two distinct groups that probably didn't enjoy Crawford's shooting spree: Celtics fans and believers in fundamental basketball.
I HATE when Jordan Crawford makes those shots because it only encourages him to take more of them.

— Hardwood Paroxysm (@HPbasketball) March 24, 2013
Boston has some issues now, as Kevin Garnett missed yet another game, and the team moved to within one-and-a-half games of the No. 8 seed, but you have to look for silver linings on cloudy days.
Crawford's lack of a conscience provided one on Saturday.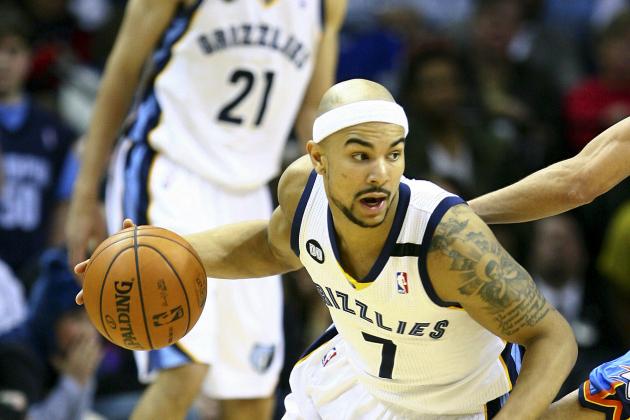 Spruce Derden-USA TODAY Sports

Jerryd Bayless had been playing well for the Grizzlies of late, averaging 16.2 points on 51 percent shooting in the five games leading up to Memphis' tilt with the Celtics on Saturday.
But his 30 points on 11-of-20 shooting topped everyone's expectations.
For a team that has struggled to find consistent offensive production all season long, Bayless' big night (and solid recent stretch) stands out as a very positive sign.
The fifth-year guard's stellar offensive performance came without primary offensive facilitator Marc Gasol in the lineup, which is an even more encouraging omen for Memphis' offense.
Defense has never been an issue for the stingy Grizzlies, but if Bayless can give them the option to play smaller and faster when they have to, he'll constitute a very significant weapon down the stretch and in the postseason.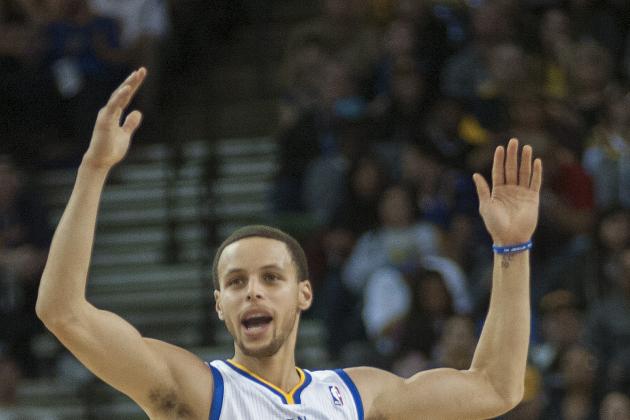 Ed Szczepanski-USA TODAY Sports

Stephen Curry had been on a pretty spectacular roll since the All-Star break. With a 54-point explosion in Madison Square Garden and more made three-point shots than any player in the league on his resume, it was starting to look like the Golden State Warriors point guard was making the leap from "good" to "great."
But leaps have always been a problem for Curry, and when he tried to hop around the intentional foul of Cartier Martin in the Warriors' 101-92 victory over the Washington Wizards on Saturday, his troublesome right ankle rolled over.
As was the case on Dec. 8, 2010, Jan. 4, 2012 and March 10, 2012, Curry didn't even need another player's misplaced foot beneath his own to cause disaster. His foot turned wrong-side up all on its own.
Curry finished the game with 35 points on a ridiculous 13-of-18 shooting, but the obvious takeaway here is that Golden State's most persistent problem has cropped back up yet again.
The Warriors will go as far as Curry can take them this season, so the entire Bay Area is probably praying right now that the point guard's postgame X-rays come up negative.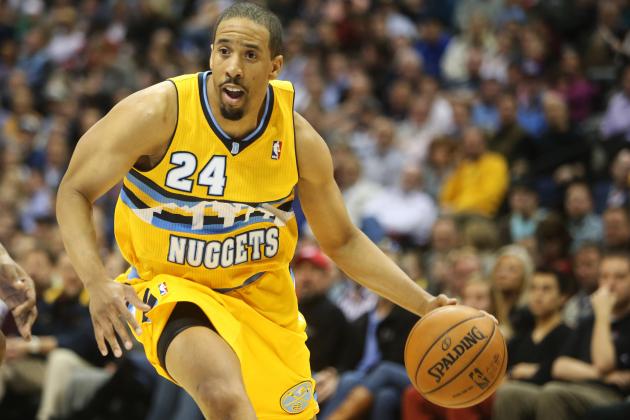 Chris Humphreys-USA TODAY Sports

With under a minute left and his team up by just three points, Denver Nuggets point guard Andre Miller stood in the right corner and surveyed the floor, looking for a cutting teammate.
And that's when it happened.
Sacramento Kings guard Isaiah Thomas, who was guarding Miller, turned his head to the right, perhaps anticipating a screen or looking to see where the cutter might come from. Miller seized his opportunity, blowing by Thomas on the right baseline and finishing at the rim while drawing a foul.
Denver went on to win by a final score of 101-95, an impressive achievement because the victory came on the second night of a back-to-back set, and the Nuggets were playing without starting point guard Ty Lawson, who missed the game with a bad heel.
The play was a perfect microcosm of Denver's criminally underappreciated winning streak, which now sits at 15 games. It happened while nobody was looking.
Thanks to the Miami Heat's 25-game run and a host of more newsworthy Western Conference storylines (thanks, Los Angeles Lakers), the Nuggets have quietly elevated themselves to elite status with little fanfare.
If the rest of the league keeps sleeping on the Nuggets, who knows who else Denver will catch unaware?
Nuggets have won 15 straight, ties the longest in franchise history, longest in their NBA tenure. 2.5 back of OKC for the division suddenly.

— Eye on Basketball (@EyeOnBasketball) March 23, 2013
When Blake Griffin lined up for a jump ball with Kris Humphries in the L.A. Clippers' 101-95 win over the Brooklyn Nets, there was a clear sense of disappointment permeating the Staples Center.
And when the officials correctly determined that Lamar Odom was the man who was supposed to be involved in the tip, everyone got what they wanted.
Never before had two players who could boast Kardashian nuptials squared off in this way.
For what it's worth, the Clippers won the tap, but remember: When it comes to Kardashian marriages, there are no winners, only survivors.
Oh, and the Clips notched their 48th victory and got a great performance from Chris Paul, who finished with 29 points and 11 assists. Who cares, though, right? More Kardashians!