Every NBA Playoff Contender's Most Troubling Issue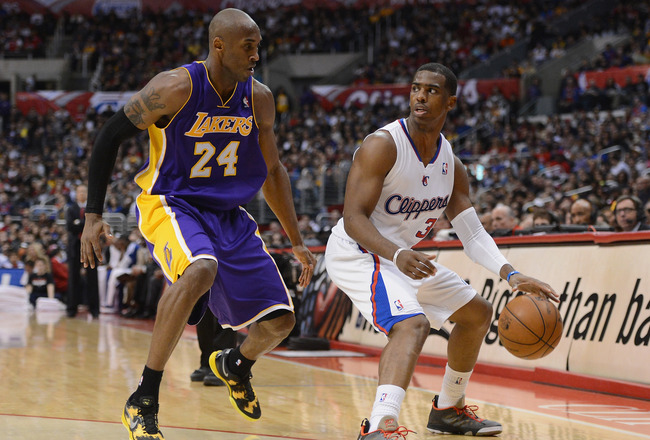 Harry How/Getty Images
The NBA's postseason is a time when the league's elite are put under the microscope. Flaws are broken down from every possible angle, while strategies are nitpicked to no end.
Each team has its own set of troubling qualities, although some will prove to be more significant than others.
Given the depth of talent across the league, the 2013 NBA playoffs figure to be as compelling and entertaining as ever, and the ability of contenders to exploit the opposition's flaws will be crucial to sustained success.
Let's examine what all those teams in the hunt must shore up before the playoffs arrive.
Note: Slideshow order reflective of conference standings.

Miami Heat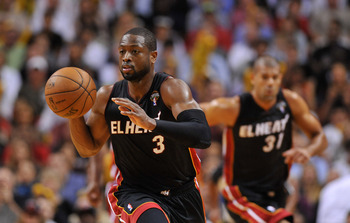 Steve Mitchell-USA TODAY Sports
Issue: Is there one?
On a 20-game winning streak, it's clear that very few, if any, teams across the NBA pose a true threat to the Miami Heat's superiority.
It was believed that the Indiana Pacers would be a difficult hurdle for the Heat to clear, but LeBron James and Co. silenced that speculation after a 105-91 thrashing of their Eastern Conference foes last week.
The only real issue that can be pointed to is the Heat's lack of size, but that's a problem that Erik Spoelstra's troops combated last postseason en route to capturing a championship.
If anything, the Heat's size has improved, with Chris Andersen slotting into a rotational role as an energy player off of the bench who rips down rebounds and blocks shots with reckless abandon.
Indiana Pacers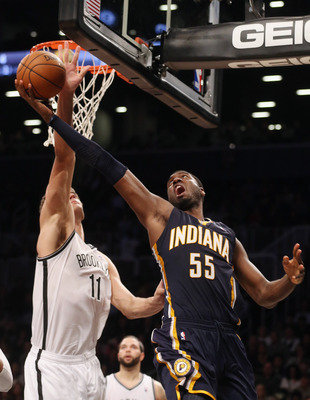 Bruce Bennett/Getty Images
Issue: Interior scoring, shot selection
The Indiana Pacers are no offensive juggernaut. Ranking 25th in the NBA in points per game, that's quite obvious.
Part of the reason for the Pacers' lethargy on the offensive end may have something to do with personnel, but it also has plenty to do with their on-court strategy.
According to HoopData, the Pacers rank 25th in the NBA in field-goal percentage at the rim (61.3 percent), which is a weak mark when you consider the Miami Heat lead the league in that category with a field-goal percentage of 72 percent.
The Pacers also rank fourth in the NBA in shot attempts between three and nine feet, which, as Grantland's Kirk Goldsberry recently discussed, are some of the hardest shots to make in basketball.
Indiana converts on just 40.4 percent of its looks from three-to-nine feet, so perhaps it'd be better served distributing those attempts more evenly at the rim and beyond the arc.
New York Knicks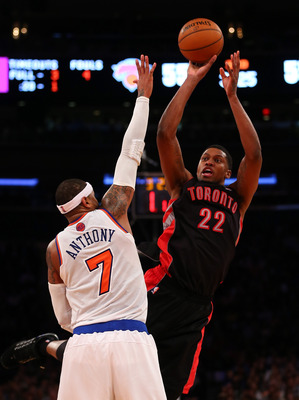 Elsa/Getty Images
Issue: Defensive intensity
The New York Knicks' defense isn't in a state of disrepair just yet, but it's trending in the wrong direction heading into the postseason.
Mike Woodson's defensive unit currently ranks last in the NBA in blocks per game (3.8), according to TeamRankings, while it's allowing opponents to score 23.5 points per game off of three-pointers, a mark that ranks 25th in the NBA.
While the block numbers have been disappointing, New York is aided by the fact that it allows opponents to score a meager 39.5 points in the paint per game, thanks in part to the interior presence of Tyson Chandler.
Where the Knicks must improve is on the perimeter, where they've struggled mightily to defend talented wings. Iman Shumpert's recovery from an ACL injury has him playing at less than 100 percent, which is evident based on his weak defensive rating of 107, according to Basketball-Reference.
Brooklyn Nets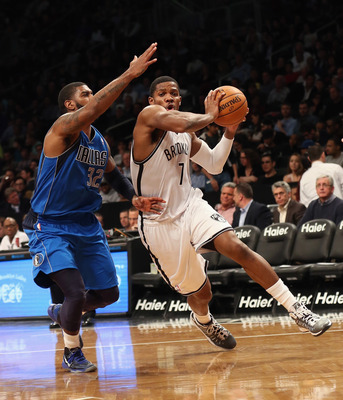 Bruce Bennett/Getty Images
Issue: Pace
The Brooklyn Nets have the personnel to run an effective offense, just not one they can push at an appropriate pace.
Playing at the league's slowest pace, according to Basketball-Reference, the Nets have trouble maximizing their offensive potential, generating just 88.2 possessions per 48 minutes.
What's worse is the the Nets are only hitting on 44.3 percent of their field goals as a team, a mark that ranks 19th in the NBA.
One silver lining here is the Nets' offensive-rebounding percentage. Despite playing at such a slow pace, the Nets have found ways to generate second chances with an offensive-rebounding percentage of 30.2, the fourth-best mark in the league, per Basketball-Reference.
They have Brook Lopez and Reggie Evans to thank for that.
Chicago Bulls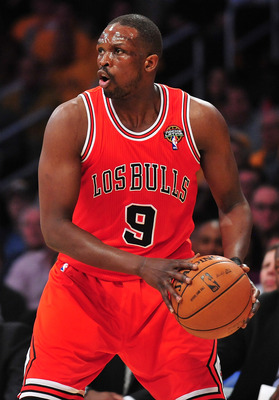 Gary A. Vasquez-USA TODAY Sports
Issue: Injuries, lack of depth
Tom Thibodeau's Chicago Bulls would be an Eastern Conference front-runner were it not for a slew of injuries that have decimated the team's offensive firepower and depth.
The obvious starting point here is Derrick Rose, who, despite being cleared to play, will take his time before making a return. It's easy to sit back at home and criticize Rose, but the truth remains that only he knows when his body's going to be in the right shape to compete at the highest level.
Aside from Rose, the Bulls are dealing with injuries to Taj Gibson, Kirk Hinrich and Rip Hamilton, each of whom play important rotational roles.
With the trio out, Thibodeau has been forced to reach deep into his bag of reserves, plugging in Vladimir Radmanovic, among others.
Should the three key vets return in time for the playoffs, the Bulls will be looking at a much more complete rotation than their current nine-man grouping.
Boston Celtics
USA TODAY Sports
Issue: Rebounding
The Miami Heat have found ways to use an undersized lineup to their advantage, but the Boston Celtics don't have the same type of diverse personnel to make that sort of scheme work.
Rebounding the ball with smaller personnel has been quite difficult for Doc Rivers' crew, with no player averaging more than eight boards per game.
According to TeamRankings, Boston ranks 26th in the NBA in opponent's total rebounds per game (52.4), while it ranks 28th in total rebounds per game (48.2).
Atlanta Hawks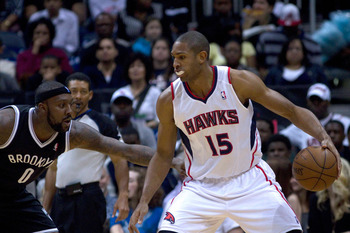 Joshua S. Kelly-USA TODAY Sports
Issue: Defending the three
Much like the New York Knicks, the Atlanta Hawks could be undone in the postseason by some shoddy perimeter defense.
According to Basketball-Reference, the Hawks rank 28th in the NBA, allowing opponents to shoot a strong 38 percent from beyond the arc.
It helps that the Hawks rank among the Top Five teams in three-point field-goal percentage (37.7 percent), but Larry Drew won't be able to count on his squad outgunning the opposition come playoff time, as it averages just 97.1 points per game.
In addition, according to TeamRankings, the Hawks allow opponents to knock down an average of 7.5 threes per game, which ranks 20th in the NBA.
Milwaukee Bucks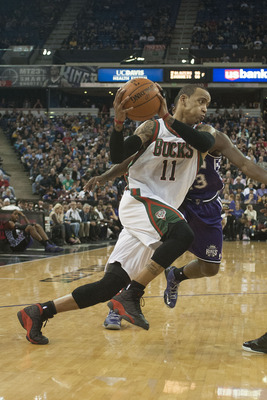 Ed Szczepanski-USA TODAY Sports
Issue: Team defense
Given Larry Sanders' presence in the middle of the Milwaukee Bucks' defense, you'd think that opposing teams would be wary of getting into the paint and going up against the league's leading shot-blocker.
Conversely, according to HoopData, the Bucks give up the most field-goal attempts at the rim of any team in the NBA, allowing 30.6 per game.
Fortunately, the Bucks allow opponents to convert on just 60.8 percent of those easy attempts, but nonetheless, allowing nearly 31 attempts per game is alarming.
According to Basketball-Reference, the Bucks are also allowing 100 points per game, which ranks 20th in the Association.
The real culprits here appear to be guards Brandon Jennings and Monta Ellis, each of whom are posting defensive ratings of 105 or greater. Porous defense on the perimeter allows opposing guards to slash into the lane, forcing the defense to collapse, ultimately creating open looks for bigs down on the blocks.
San Antonio Spurs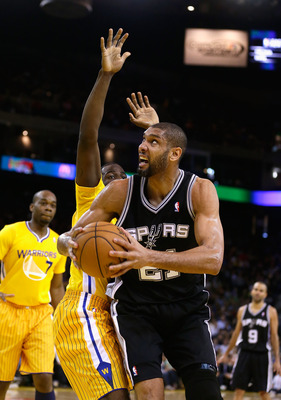 Ezra Shaw/Getty Images
Issue: Overcoming age, sneaking by Oklahoma City
Teams coached by Gregg Popovich tend to have few glaring holes. The San Antonio Spurs rank in the Top 10 for both offensive (109.4) and defensive (101.0) rating, according to Basketball-Reference, while they possess the league's second-best effective field-goal percentage (53.8 percent).
With that established, it's time to look at the opponent who's likely to give the Spurs fits come playoff time.
The Oklahoma City Thunder are considered the favorites to capture their second consecutive Western Conference title, despite trailing the Spurs in the standings by a game.
The logic is simple: The Thunder are younger, more dynamic and better suited to win a grueling seven-game playoff series.
Just look at last year's Western Conference Finals. Down 2-0, the Thunder surged back and won four straight games, simply outrunning and outgunning an aged San Antonio squad.
Tony Parker and Tim Duncan are playing some of the best ball of their careers, but it'll be crucial that they adjust the pace of the game to one that's more conducive to their style of play.
Oklahoma City Thunder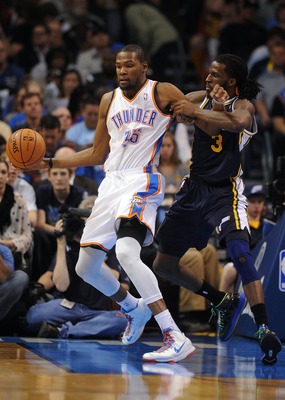 Mark D. Smith-USA TODAY Sports
Issue: Turnovers
Kevin Durant and Russell Westbrook lead the league's most intimidating offense, one that averages 106.5 points per game and 112.9 points per 100 possessions, according to Basketball-Reference.
But with all of that good comes a little bad.
The Oklahoma City Thunder turn the ball over 14.7 times per 100 plays, according to Basketball-Reference, while they commit a ghastly 15.7 turnovers per game, the second-worst mark in the NBA, according to TeamRankings.
Westbrook and Durant are of primary focus here, as they commit a combined 6.9 turnovers per game, good for nearly 44 percent of the team's total output.
In the grand scheme of things, it's not the most concerning problem, but the Thunder will need to take care of the ball in order to thrive against disciplined teams like the San Antonio Spurs and Memphis Grizzlies.
Memphis Grizzlies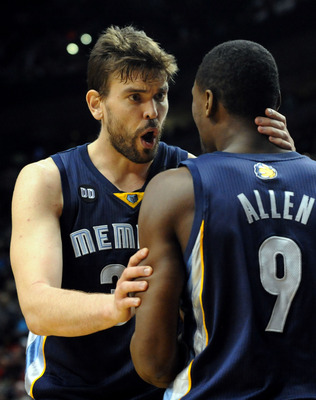 Steve Dykes-USA TODAY Sports
Issue: Offensive Efficiency
With a defense that ranks first in points allowed per game (89.4), the Memphis Grizzlies don't need the most explosive offense to remain competitive.
What's concerning, though, is that the Grizzlies are walking a fine line when it comes to offensive efficiency, as they rank 26th in effective field-goal percentage (47.4 percent) and 24th in free throws attempted, according to Basketball-Reference.
Another concerning statistic of note is that the Grizzlies rank last in three-pointers attempted and made, while they're hitting on just 34.7 percent of all threes, which ranks 23rd overall.
Los Angeles Clippers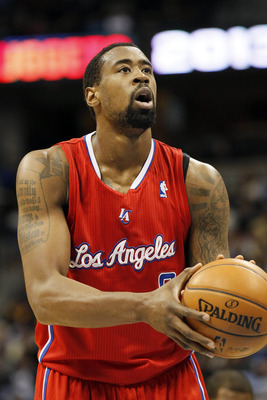 Isaiah J. Downing-USA TODAY Sports
Issue: Free-throw shooting
Free-throw shooting is a fairly minute issue in the grand scheme of things, but it happens to be one of the Los Angeles Clippers' few faults.
The Clippers have struggled a fair bit from the stripe this season, ranking 26th in the NBA with a collective free-throw percentage of 70.8.
Blake Griffin and DeAndre Jordan are both to blame here, as the two account for 8.7 of the team's free-throw attempts on a game-to-game basis.
Griffin's conversion rate of 66.3 percent is slightly below the team average, while Jordan continues to struggle mightily from the line, hitting on just 41.6 percent of his attempts (down from a mark of 52.5 percent in 2011-12).
Denver Nuggets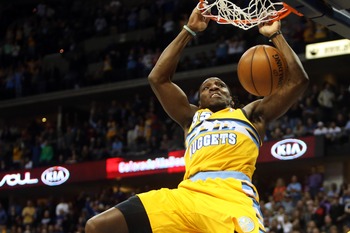 Chris Humphreys-USA TODAY Sports
Issue: Winning on the road
There's no team in the NBA that has a better home-court advantage than the Denver Nuggets.
With a record of 29-3 at the Pepsi Center, the Nuggets are helped by the fact that they're playing a mile high.
The flip side to the Nuggets' impressive home record is that they're 15-19 away from home this season, a legitimate cause for concern entering the playoffs.
Should the Nuggets end up with the West's fifth seed, they won't have the luxury of home-court advantage, which will force them into an uncomfortable situation.
If the playoffs were to begin today, the Nuggets would find themselves matched up against the Los Angeles Clippers, a team whom they failed to beat in their one trip to Staples Center this season.
With the playoffs looming, it must be emphasized that the Nuggets are more dependent on home-court advantage than any other team throughout the NBA.
Golden State Warriors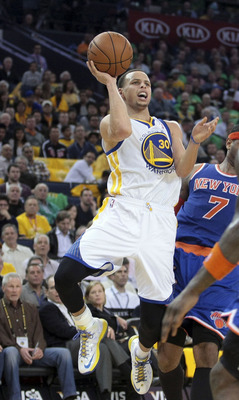 USA TODAY Sports
Issue: Defensive inconsistencies
In the Western Conference, where high-powered offenses reign supreme, defense seems to be what separates pretenders from contenders.
With that established, the Golden State Warriors may be edging towards pretender status, as they're allowing the league's eighth-most points per game, 100.7.
Add in the fact that the Warriors aren't forcing many turnovers, and it's starting to look like the Memphis Grizzlies could have a favorable first-round matchup on their hands.
The Warriors have turned the ball over 14.2 times per 100 plays, while they've forced just 12.3 per 100 plays, according to Basketball-Reference. Both of those numbers fall in the bottom 10 of their respective categories.
Houston Rockets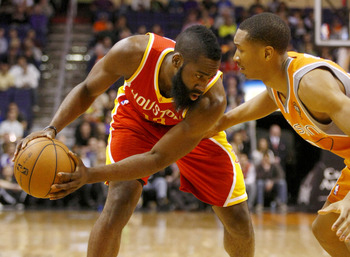 Rick Scuteri-USA TODAY Sports
Issue: Defensive activity
The Houston Rockets sit atop or near the top of the league in nearly every major offensive category, so they shouldn't have a problem winning a few playoff games based on raw offensive firepower alone.
What could prevent them from pulling a first-round upset, however, is the team's lack of defensive intensity and activity.
According to Basketball-Reference, the Rockets rank 25th in the NBA, allowing an effective field-goal percentage of 50.9, while they've generated the third-fewest blocks (257) of any team.
The Rockets benefit from the fact that they score nearly four points more per 100 possessions than they allow, but they won't be able to slack on defense the way they have for most of this season en route to extended postseason success.
Los Angeles Lakers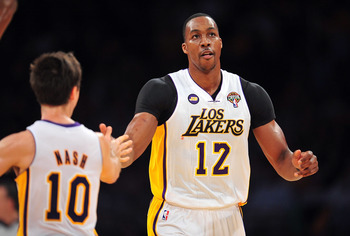 Gary A. Vasquez-USA TODAY Sports
Issue: Transition defense
It's the problem that's plagued the Los Angeles Lakers all season long, and it's not Dwight Howard's attitude.
The Lakers' transition defense has been abysmal, with the team's old legs unable to turn around and get stops on the fast break.
According to TeamRankings, the Lakers allow the second-most points per game in transition, with only the Sacramento Kings sitting behind them.
Allowing 16 fast-break points per game is simply unacceptable, and when you consider that the Lakers are generating just 10.5 points per game on the break (22nd in the NBA), that number is even more worrisome.
Keep Reading