NBA Streaks in Jeopardy of Flaming Out This Season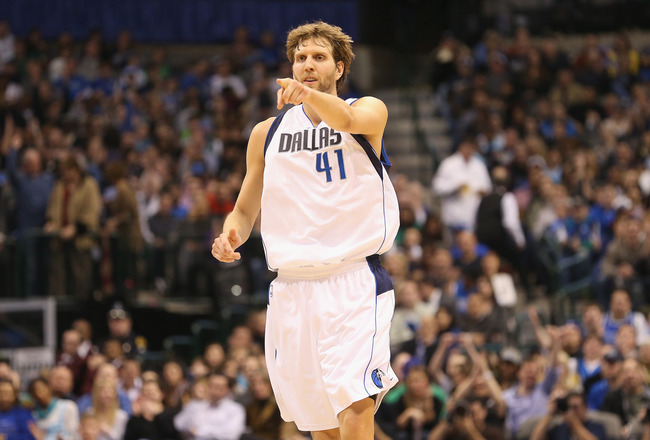 Ronald Martinez/Getty Images
The biggest story dominating the NBA these days is the Miami Heat's ongoing win streak, which recently reached a new high of 20 games.
It will take 13 more games for the Heat to tie the 1971-72 Los Angeles Lakers record of 33 straight victories, but what Miami's run has shown is that streaks rise and fall with regularity given the deep pool of talent that's present in the league today.
Several statistically robust streaks are in danger of flaming out as the 2012-13 season draws to a close, which is why we're here to break down the ones you should be keeping an eye on over the next few weeks.
Dallas Mavericks' 12 Straight Postseason Appearances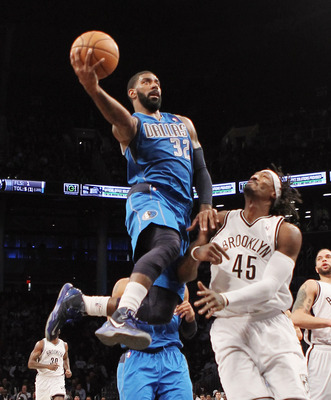 Bruce Bennett/Getty Images
At 30-33 and three games back of the Western Conference's eighth playoff spot, a playoff berth for the Dallas Mavericks isn't entirely out of the question.
Unfortunately, while they can't be counted out completely, the Mavericks chances of making the postseason appear bleak, with John Hollinger's playoff odds giving Dallas a meager 12 percent chance of qualifying.
Should the Mavericks miss out on the playoffs, it will be their first time doing so since the 1999-2000 season, one in which the team went 40-42, finishing as the ninth seed.
With the Los Angeles Lakers and Utah Jazz in a dead heat for the eighth seed, you'd be wise to bet against the Mavs making a surprise appearance in the playoffs.
Dirk Nowitzki's 20-Point Per Game Average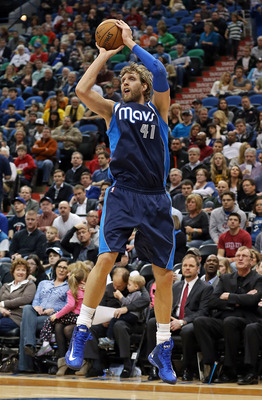 USA TODAY Sports
Coincidentally, the last time the Dallas Mavericks missed the playoffs was the last season in which Dirk Nowitzki failed to average 20 points per game.
For the last 12 years, Nowitzki has poured in more than 20 points per game, and he's done so quite efficiently, totaling a career field-goal percentage of 47.4 in the process.
It's tough to knock Dirk for averaging fewer than 20 points per game during a season in which he's worked his way back from a knee injury, but the fact remains that he's on pace to average somewhere in the neighborhood of 16 points per game (his current average).
The German's prime may be behind him at the age of 34, but he's still capable of filling it up when healthy.
Expect a resurgent year from Nowitzki in 2013-14.
Deron Williams' 8-Assist Per Game Average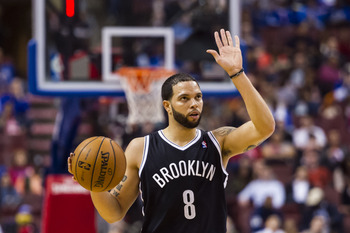 USA TODAY Sports
Deron Williams' 42-point outburst against the Washington Wizards last week was pleasantly surprising, but it should definitely be classified as a deviation from the norm during an otherwise disappointing regular season.
Williams has shot a weak 42.6 percent from the field, while his scoring average has dipped three points from where it was one year ago.
What's perhaps the most concerning statistic of Williams' down year is that he's on track to average fewer than eight assists per game for the first time since his rookie season.
For the past eight years Williams has averaged more than eight assists per game, posting double-digit totals five times over that span.
Currently sitting at 7.6 dimes a night, Williams will need a late season surge in order to keep his streak alive.
Andre Miller's Postseason Winless Streak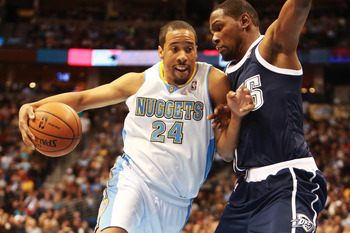 Chris Humphreys-USA TODAY Sports
Playing in his 14th season at the professional level, you'd be wise to assume that Andre Miller is well-traveled when it comes to making deep runs in the playoffs.
It turns out quite the opposite is true.
Miller has qualified for the postseason eight times with three different franchises (Denver Nuggets, Philadelphia 76ers and Portland Trail Blazers), but has never been able to sneak out of the first round.
The closest Miller has ever been to escaping the depths of the first round was during the 2011-12 postseason, when the Denver Nuggets pushed the Los Angeles to seven games before bowing out in dramatic fashion.
Fortunately for Miller, the Nuggets are in prime position to make a run at a first-round series victory, as they've got a stranglehold on the Western Conference's fifth seed and are just two games behind the Memphis Grizzlies for the fourth seed.
Nearly unbeatable at home this season (28-3), the Nuggets will have a great shot of ending Miller's drought if they can snag home-court advantage in the first round.
Kevin Garnett's 50 Percent Shooting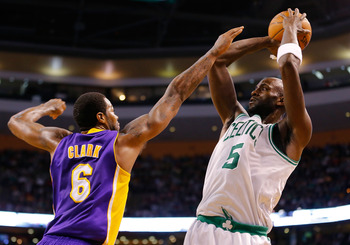 Jared Wickerham/Getty Images
Kevin Garnett is toeing a fine line when it comes to his impressive streak, one that's seen him shoot 50 percent or better from the field each of the last five seasons (all of which have been in Boston).
As of now, Garnett is shooting 48.9 percent from the field, just fractional points away from reaching the 50 percent plateau necessary to keep his run alive.
The last time Garnett shot below 50 percent from the field was during the 2006-07 season, his final one as a member of the Minnesota Timberwolves.
Playing a ridiculous 39.4 minutes per game, Garnett shot 47.6 percent from the field en route to an average of 22.4 points per game that season.
Dwight Howard's Run of Seasons with a PER of 20+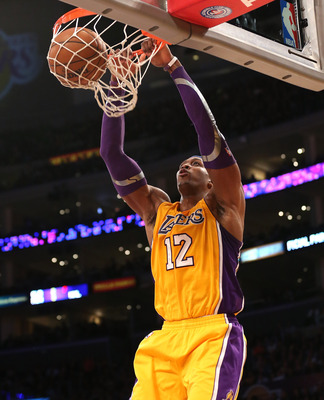 Stephen Dunn/Getty Images
It's been a rocky ride for Dwight Howard during the first year of his Tinseltown tenure.
Although Howard is still averaging a very respectable 16.5 points and 12.4 rebounds per game, his efficiency hasn't been up to par lately.
Coming off of back surgery, it was expected that Howard would struggle to regain his elite form, and that's exactly what's happened. Perhaps we should marvel at Howard's ability to post double-double averages and rank top five in blocks, but it's hard to act impressed when we've seen what he's capable of at full strength.
Currently posting a Player Efficiency Rating of 19.4, according to Basketball-Reference, Howard is in danger of seeing his streak of six consecutive seasons with a PER of more than 20 flame out.
Steve Nash's Usage Rate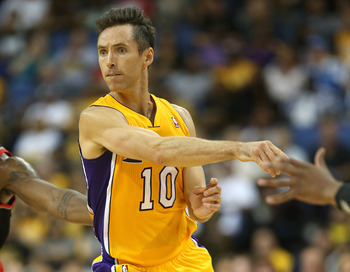 Stephen Dunn/Getty Images
At age 39, it'd be fair to expect Steve Nash's game to be in decline.
Ironically, despite being the second and sometimes third option in the Los Angeles Lakers' offense, Nash has continued to light it up from a shooting standpoint, as he's headed for another 50-40-90 season, shooting 50.9 percent from the floor, 44.1 percent from three and 90.6 percent from the stripe.
The flip side of being a second or third option has meant that Nash's usage has plummeted this season, and currently sits at a mark of 17, according to Basketball-Reference.
Prior to the 2012-13 season, Nash had posted a usage rate of 19.5 every season better dating back to 2000-01, according to Basketball-Reference.
Taken out of his role as the team's primary ball-handler, Nash has been forced to work off of the ball, which would explain why he's headed for a usage rate in the neighborhood of 16-18.
Kevin Durant's Streak of Scoring Titles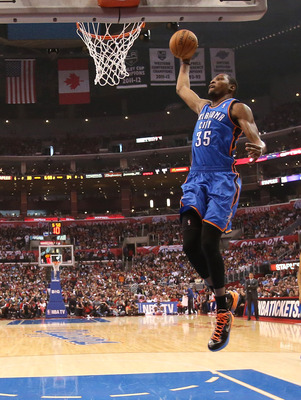 Stephen Dunn/Getty Images
Kevin Durant has won three straight NBA scoring titles, and he's got a fourth in his sights. And should he capture the honor for the fourth consecutive season, he'll join some elite company.
Wilt Chamberlain and Michael Jordan are the only other players to have ever won four consecutive scoring titles. And with an average of 28.4 points per game on the season, Durant appears to have good odds of joining the duo.
However, Durant will not simply cruise to a victory, as Carmelo Anthony and Kobe Bryant are both hot on his tail, averaging 27.9 and 27.4 points respectively.
Granted, Durant would need to be deprived of the ball by Russell Westbrook more than he's been while simultaneously falling into a massive slump in order to blow this lead. Along with recent injuries to Bryant (ankle) and Anthony (knee), this suddenly appears like the longest shot of them all.
Keep Reading