Heat Prove They Can Win Ugly, Dim Challengers' Hopes of Surviving 7-Game Series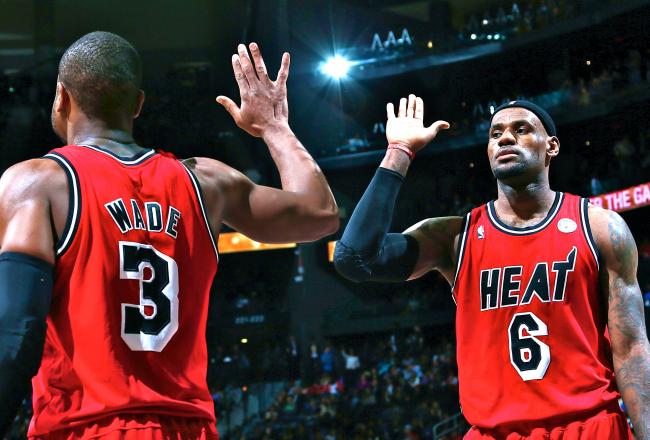 To characterize the Miami Heat's 86-67 win over the Chicago Bulls Thursday night as "ugly" is to disrespect the word "ugly" itself. The Heat turned the ball over 17 times—nine between LeBron James and Dwyane Wade—and were outrebounded by the bigger, longer Bulls by a 39-36 margin.
But, by the same token, "ugly" can be a good thing. Ugly, as in hounding the Derrick Rose-less Bulls into a season-high 26 turnovers. Ugly, as in limiting Chicago to 37.3 percent shooting, including a combined 8-of-23 performance between the All-Star tandem of Luol Deng and Joakim Noah.
Ugly, as in not only winning a game the way games are won in the playoffs, but doing so convincingly, against a potential postseason foe on a national stage.
Which should have the rest of the NBA shaking in its collective boots.
Believe it or not, Miami's latest victory was its first against the challenging trio of the Bulls, New York Knicks and Indiana Pacers. The Heat came into Thursday a combined 0-5 against those three teams this season, with the losses coming by an average of 14 points per game.
They were blasted twice apiece by the Knicks and the Pacers; the former by way of three-point fusillades and pesky pick-and-rolls, the latter with sheer size, strength and toughness. As was the case when the Bulls bullied the Heat in a 96-89 victory for Chicago on January 4.
The Bulls outrebounded the Heat by a margin of 48-28 in that game, including an astonishing (and decisive) 19-4 edge on the offensive glass.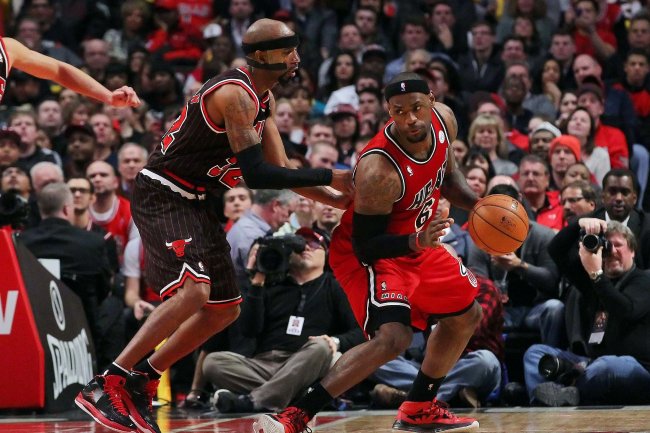 The Heat didn't box out the Bulls entirely this time around, but they did so enough to keep Chicago's size advantage from killing them. Miami's had its issues with the boards all season, due in large part to a preference for small ball and a lack of traditional, glass-cleaning bigs in the rotation.
But if the Heat can, at the very least, mitigate their lack of bulk by turning up the hustle, as they did at the United Center, Pat Riley's infamous aphorism of "No rebounds, no rings" will need to soften its tone.
If the math holds, some rebounds should yield some rings, right?
The more important math for Miami is that which is currently solidifying the team's standing atop the Eastern Conference. This latest win is the Heat's ninth in a row, matching last year's best streak, which also happened to come in February.
The recent surge has allowed the Heat to open up a 5.5-game lead over the Knicks in the race for home-court advantage throughout the Eastern Conference playoffs.
Not surprisingly, Miami's recent run has coincided with brilliant play from its "Big Three." The star-studded trio has put the Heat over the top in the team's last nine games:
| | | | | | | | | |
| --- | --- | --- | --- | --- | --- | --- | --- | --- |
| | Pts | FG% | 3P% | Reb | Ast | Stl | FTA | FT% |
| LeBron James | 30.4 | 67.8 | 47.1 | 7.8 | 7.1 | 2.0 | 8.2 | 81.1 |
| Dwyane Wade | 22 | 49 | 0 | 6.1 | 5.7 | 2.7 | 6.9 | 77.4 |
| Chris Bosh | 18 | 57.3 | 20 | 6.6 | 0.6 | 1.2 | 2.8 | 76 |
We've all been witness to the beautiful brand of basketball that the Heat are capable of playing, be it during their current streak, throughout the 2012-13 season, or even dating back to their run to the 2012 title.
Like any team on the proper side of decent, they can and often do win when they dictate the style of play, when they force turnovers and push the pace, slash in for layups and dunks, and kick out for wide-open three-point shots.
But it's how a team fares amidst less-than-ideal circumstances that is a truer measure of its ability to achieve greatness. After all, a seven-game series between familiar foes is bound to feature a see-saw in style and pace from game to game.
On Thursday night, Miami showed once again that it can not only survive such unsettling shifts, but thrive among them.
Which Eastern Conference team has the best chance to beat the Heat in a seven-game series?
We all marvel at LeBron and Wade every time one of them pushes the ball up the floor for an easy basket, and rightfully so. Watching those two set things up for their teammates—or, better yet, for each other—yields moments of sheer athletic brilliance.
But forgotten in those instances of stargazing is that the Heat are merely middle-of-the-pack in fast-break scoring that they succeed by attacking the basket on offense and playing tough team defense.
This is a Heat team capable of adapting to nearly any mode of ball, since LeBron himself is so versatile. He can get out on the break, nail shots from the perimeter, and pound the ball down low. And thus, so can they.
In essence, Miami has morphed into a 12-man embodiment of LeBron. He can do it all, and, collectively, so can the Heat. They have the requisite talent, experience and confidence to weather whatever an opponent might throw at them over the course of a series, whether it extends to seven games or not.
Which is precisely why every other title contender should cross its fingers (and toes) in hopes of avoiding the Miami Heat in the postseason.
This article is
What is the duplicate article?
Why is this article offensive?
Where is this article plagiarized from?
Why is this article poorly edited?