Miami Heat vs. Chicago Bulls: Postgame Grades and Analysis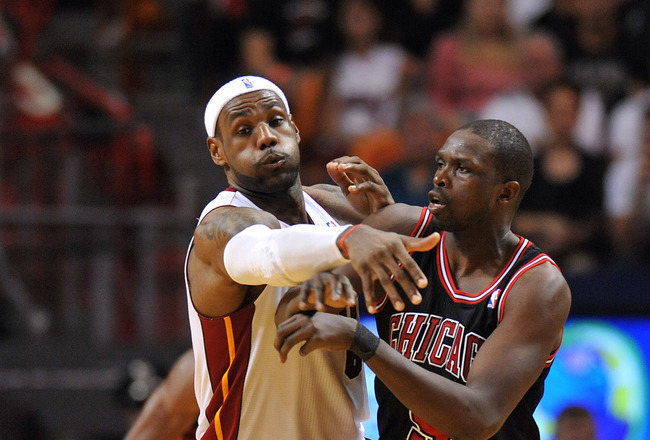 USA TODAY Sports
The Miami Heat overcame a sloppy start to win their ninth straight game, knocking off the Chicago Bulls, 86-67, Thursday night at the United Center.
The easy win came in large part because the Bulls simply couldn't retain possession of the basketball, as 26 turnovers limited their scoring to the lowest total by a Miami opponent this year.
LeBron James led the Heat with 26 points on 15 shots and missed a triple-double by just three assists.
It wasn't a particularly well-played game by the Heat, as they registered 17 giveaways of their own. But 50 percent shooting and an aggressive defense were more than enough to vanquish the sloppy, lethargic Bulls.
Nate Robinson led Chicago with 14 points, while only Joakim Noah (11) and Carlos Boozer (12) joined him in double figures. As a team, the Bulls shot just 37 percent from the field.
Combined with their terrible ball security, the Bulls' total lack of offense made for a very easy Miami win.
The Heat's victory moved their record to 38-14 and increased their lead in the East to 5.5 games over the idle New York Knicks. The fifth-seeded Bulls fell to 31-23 in defeat.
Point Guard
Mario Chalmers: C

Mario Chalmers tallied eight points, five assists and three rebounds on 4-of-10 shooting, and his game was marked by two constants that have been present all year.
First, he played with a confidence that far outpaced his actual skills, taking tough shots early in the shot clock and pushing the tempo with a bit too much aggression at times.
Second, James gave him a little talking-to because of the aforementioned mistakes.
In the end, Chalmers posted a final box score that was very much in line with his season averages. Those averages, incidentally, are very average.
Guess what his final grade is.
Nate Robinson: C-

Pressed into starting duties because of an elbow injury to Kirk Hinrich, Nate Robinson showed why his spark-plug style makes him better suited for the bench role.
Robinson forced plenty of bad shots, turned the ball over three times and handed out just three assists in 29 minutes. He played with plenty of energy, getting out in transition ahead of his slower teammates, but he consistently played like an aggressive scorer—not the facilitator the Bulls needed.
Chicago's little man basically did exactly what he normally does: force the issue and look for his own offense. That wasn't the right route to take as a starting point guard.
Shooting Guard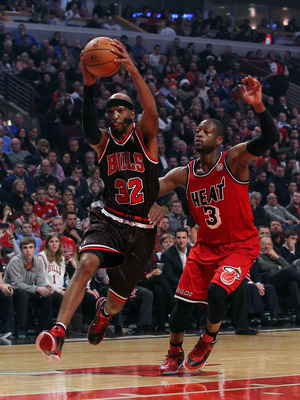 Dennis Wierzbicki-USA TODAY Sports
Dwyane Wade: A-

In the waning minutes of the second quarter, Dwyane Wade drove the left baseline and elevated, cocking the ball back with his right hand in preparation for a massive spike.
But he rocketed the ball off of the back rim, missing the easy dunk.
Moments later, Wade received a pass along that same baseline from James. And this time, he used two hands to ensure that his dunk went down.
In a way, those two plays are a good microcosm of Wade's season. He's more careful and doesn't routinely pull off the reckless highlights he used to, but thanks to some maturity and a little help from his teammates, he's nearly as effective as ever.
Wade finished with 17 points, eight rebounds and five assists on 8-of-15 shooting. He's a little more judicious with the way he throws his body around these days, but a more selective version of Wade may prove to be just what Miami needs.
Richard Hamilton: D

In the 10 games leading up to this one, Chicago's "shooting" guard hadn't been shooting very well at all. In said sample, Richard Hamilton averaged just seven points per game while making just 40 percent of his attempts.
Against the Heat, it was more of the same. Hamilton finished with just seven points on 3-of-8 from the field.
And now that the trade deadline has come and gone, it looks like the Bulls are stuck with a player whose best days are long behind him. Now 35, unless Hamilton drastically picks up his scoring, it's hard to see what he provides that someone like Marco Belinelli can't.
Bulls fans had better hope that the asking price for recently traded players like J.J. Redick and Anthony Morrow was too high, because they (or almost anyone else) would be a better option than Hamilton.
Small Forward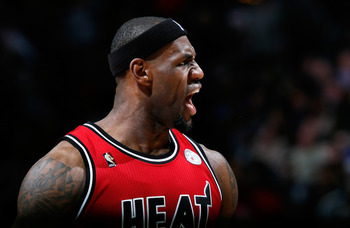 Kevin C. Cox/Getty Images
LeBron James: A

James put together yet another stellar game in what has become a sort of broken-record season. You know how it goes by now: James was ridiculously efficient, stuffed the stat sheet and generally looked like a different species than everyone else on the floor.
LBJ totaled 26 points, 12 rebounds and seven assists on 11-of-15 shooting, and if not for a couple of highly unusual misses, his night would have been even better.
In one instance, James inexplicably lost the handle on a breakaway dunk attempt, flipping the ball up toward the rafters. And at the end of the third quarter, he opted to shoot a left-handed runner from about 20 feet as the buzzer sounded. You know, probably because he was bored.
During the telecast, TNT color analyst Steve Kerr rhetorically asked, "Can you be quietly brilliant?"
Yes, Mr. Kerr. Yes, you can.
Luol Deng: D

Chicago's All-Star small forward drew a rough assignment against James Thursday night, and it'd be nice to attribute his poor offensive performance to the superhuman effort he put in guarding the league's best player.
Unfortunately, James did what he always does and Deng was left with no excuse for an ugly 3-of-12 performance.
Because he didn't get the job done on either end, there's no choice but to be harsh on Deng.
Power Forward
Steve Mitchell-USA TODAY Sports
Udonis Haslem: F

It's official—Udonis Haslem is losing minutes again. Without any statistically tangible value, Haslem apologists are usually forced to rely on citing the veteran's hustle and activity in the paint when forced to justify his place in the starting lineup.
But with Chris Andersen now providing those intangibles, it's pretty tough for Haslem to carve out a role.
Factor in the fact that Shane Battier gives the Heat so much more as a two-way threat and it's no surprise that Haslem logged just 16 minutes. In that limited time, he failed to score, committed three fouls and grabbed just three boards.
That's a fail if I've ever seen one.
Carlos Boozer: B

Maybe it was Haslem's defense (unlikely). Or, perhaps, Chicago's power forward just wasn't feeling well. Whatever the case, something wasn't right with Carlos Boozer in the early going.
But after failing to even attempt a shot until three minutes to go in the second quarter, Boozer got things together in the second half. He finished with 12 points and 11 rebounds on 5-of-9 shooting.
Unfortunately, because of his first-half hiatus, it was much too late for his contributions to count.
Speaking of not counting, Boozer earned the rare distinction of wiping away one of his own buckets, by committing offensive interference as his layup rolled around on the rim. That blunder aside, Boozer's second half was solid.
For the Bulls power forward, it was too little, too late.
Center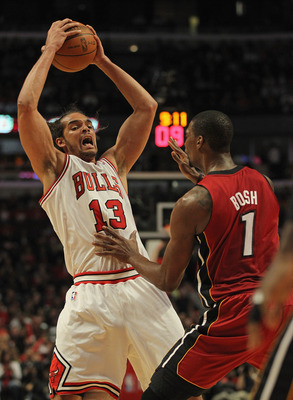 Jonathan Daniel/Getty Images
Chris Bosh: B

Chris Bosh has settled into a nice little niche as Miami's mid-range relief valve. Anytime things stagnate on offense, all James or Wade have to do is drive the middle and draw Bosh's defender.
The result of the ensuing kick-out pass is one of the most reliable jumpers in the league.
Bosh hit 5-of-9 shots on the way to 12 points. It wasn't spectacular, but that's not really what the Heat need from him anymore.
If there's an angle from which to criticize him, it'll continue to revolve around Bosh's disappointing rebound totals. He had just four against the Bulls.
Joakim Noah: A-

As usual, the effort never waned for Joakim Noah, who apparently only has two settings: "full speed" and "off."
Noah played hard, competed when switched onto guards, and never stopped trying to find his teammates with some of the best passing we've seen from a big man this year.
The Bulls center finished with 11 points, eight assists and eight rebounds. And as evidence of his activity, he also logged three steals and two blocks in 38 minutes.
There's almost nothing to criticize about Noah's night; he just didn't get enough help from the rest of his teammates.
Sixth Man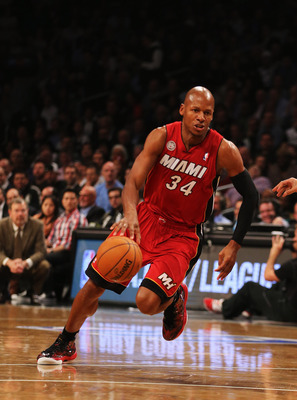 Al Bello/Getty Images
Ray Allen: C

Ray Allen came off the bench to play 29 minutes for the Heat, but he didn't provide much efficiency from the field. He was 4-of-11 from the floor, and even (gasp!) missed a free throw.
Despite a pretty comfortable lead that lasted for most of the second half, Allen had to haul his 37-year-old bones off the bench for a larger allocation of minutes than is ideal for his future durability.
He has certainly cooled off lately, as he's been shooting down around 32 percent over the last 10 games, but a few more easy wins like this should help Allen freshen up down the stretch. You know, if coach Erik Spoelstra has the sense to sit him down when games get out of reach.
That didn't happen in this one.
Marquis Teague: C-

Clearly, Hinrich's absence from the starting lineup had a significant trickle-down effect, as the seldom-used Teague logged an unusually high 19 minutes off the bench.
To his credit, Teague didn't totally embarrass himself out there. Well, except for one play when he slid down to the baseline to help on a driving James. LBJ rode him right out of the play en route to one of the easiest and-1 finishes of the year.
Teague led all Chicago reserves with six points and five boards, but turned the ball over four times.
That sounds like a slightly below average overall performance to me.
Bench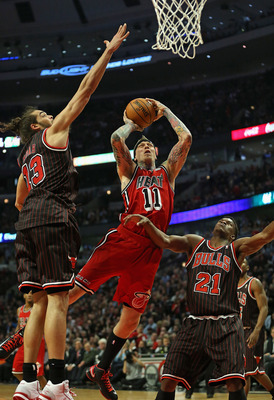 Jonathan Daniel/Getty Images
Heat Bench: C+

Norris Cole had a "where did that come from" dunk in the second quarter after he blew by Marquis Teague, but other than that, there wasn't much to see here.
If you're digging deep, I suppose Chris Andersen's activity and pair of blocked shots warrants a mention. But even those weren't particularly impactful.
Outside those two, only Shane Battier logged significant playing time. Yet he only totaled three points in 23 minutes. It'd be unfair to him not to mention his plus-17 plus-minus figure, though.
Benches don't matter as much in the playoffs, so the Heat will be in good shape there. What's interesting is that Miami is proving that reserves hardly count in the regular season either...as long as you've got a pair of All-Stars in the starting lineup.
Bulls Bench: F

You weren't alone if you were wondering what happened to Jimmy Butler in the loss. Chicago's emerging wing stopper and high-energy player played only 21 minutes and failed to score.
He wasn't alone among the Bulls' disappointing reserves, though. Excluding Teague, Chicago's bench players combined to shoot just 4-of-18 from the field.
On a team starved for offense, that's not going to cut it.
Keep Reading