10 Players That Need a Change of Scenery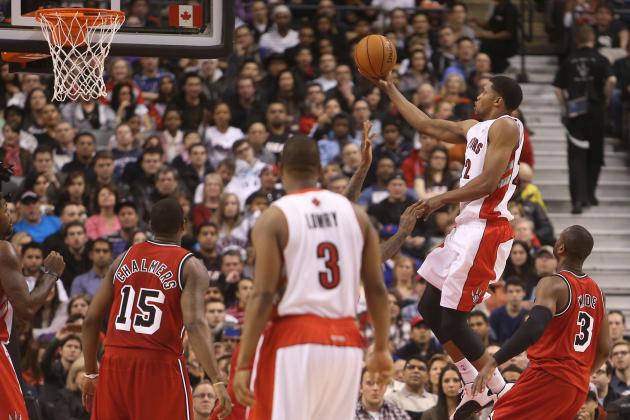 Tom Szczerbowski-USA TODAY Sports
After numerous trade rumors, Gay was the first player in a major trade in 2013.
The NBA trade deadline is in nine days and many possible trades have been discussed already. There have been big names involved in trades, while others may have to wait until the off-season to be unloaded. It has been a mostly predictable yet unstable season so far in the NBA.
It seems like every week, it's reported that someone is disgruntled or getting suspended or had an incident in the locker room. You could blame half of the headlines on the Los Angeles Lakers, but there are other teams going through difficult times. Other than the Spurs and Thunder, I see just about every team involved in some possible trade.
Now this won't be all about the trade deadline, because there is never a case where ten well known players get traded in February. Instead it will be about ten players that need a new team whether it's in February or in the summer.
It will be based on how they don't fit in with the team's system and are too talented to continue to underperform. Also, I'll give each player a few possible destinations where they could play next. When you compare it to other years, I can't remember a season where so many talented players are currently disgruntled or need a change of uniform so desperately.
Begin Slideshow

»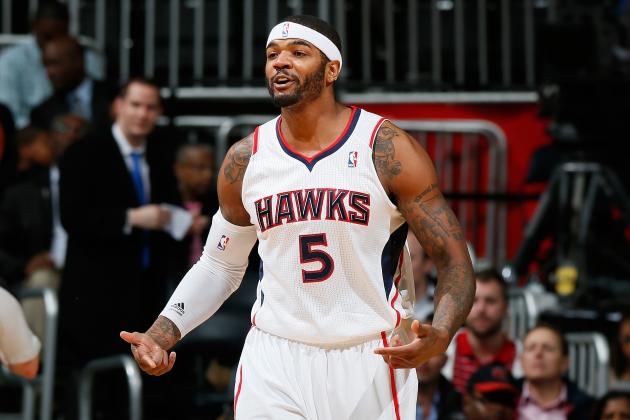 Kevin C. Cox/Getty Images
Smith has been involved with numerous trade links.
For years now, Josh Smith and the Atlanta Hawks haven't had the smoothest relationship. Smith has had attitude problems in the past, while the Hawks have been hesitant to be aggressive in improving their team. Despite making the playoffs on a consistent basis, they haven't looked capable of winning an NBA title during that period.
Smith has to be frustrated and is now looking for a max contract, which he deserves. Atlanta doesn't want to pay him so now they'll look to get some value for him. Despite being a talented player and deserving of a max contract, Smith and the Hawks need to part ways to help the Hawks rebuild.
Over the past year, Smith has had issues from getting kicked out of practice to wanting a trade last season due to the Hawks lack of aggressiveness to build a championship caliber team. Even though his shot selection has been poor, Smith is one of the most complete players in the NBA and will now be entering the prime of his career.
Possible New Destinations: Brooklyn Nets, Houston Rockets.
ESPN's Chris Broussard reported that sources believe Brooklyn is aggressively pursuing Smith. It would be an intriguing fit, but will Smith be able to play with players like Deron Williams and Brook Lopez? I'm not sure if he can go through phases by only attempting eight shots a game.
The trade could very well happen, but I'm not sure if Smith can play with three All-Star-caliber players, even though he's played with Joe Johnson over the past few years.
Houston could be a better option for Smith since they are starting to build a talented core. Also, Smith could co-exist better in Houston since James Harden is the only player that tends to shoot a lot. Jeremy Lin and Omir Asik can be effective without shooting, which would allow Smith to play up to his potential.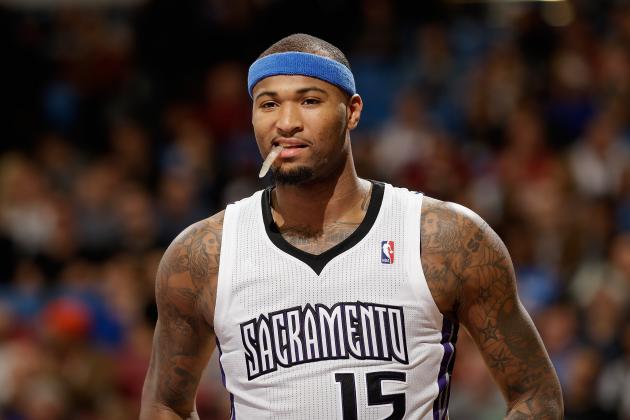 Ezra Shaw/Getty Images
It's rare for Cousins to smile, probably dreaming about his new team next season.
When a player comes into the NBA with maturity concerns, you would hope that he matures. That hasn't been the case for DeMarcus Cousins and he needs a fresh start. Even though he is talented and can be a franchise player, the Kings need to move on from him considering they'll have another high draft pick this season.
Cousins has been productive averaging 17 points a game with 10 rebounds. Even though the Kings aren't televised often, whenever I watch them it seems like Cousins just goes through the motions of a big man. He doesn't seem very interested and shows poor body language most of the time.
The big incident came this season with Cousins being suspended for conduct issues and getting in a shouting match with Kings coach Keith Smart. He's had issues in the past, such as striking OJ Mayo in the groin and getting suspended.
The immature behavior has been going on since high school. There are plenty of red flags with Cousins, but his talent can't be denied and he could be an elite center if he could get his head on straight.
Possible Destinations: Boston Celtics, Washington Wizards
Boston has been linked to Cousins, via USA Today. It may not happen in February, but it wouldn't surprise me if it happened in summer. Boston has players like Jared Sullinger, Avery Bradley and draft picks to acquire Cousins. Also with veterans like Paul Pierce and Kevin Garnett, Cousins could stop being a baby and grow as not only a player, but a person.
The other team that could be a logical fit would be the Washington Wizards. Obviously, the big connection would be John Wall and Cousins reuniting.
Even though they are a young team,Washington would be a good place for Cousins to play along with keeping a veteran like Nene or Emeka Okafor around to help him develop. A veteran mentor could do wonders for Cousins, something that Sacramento doesn't have.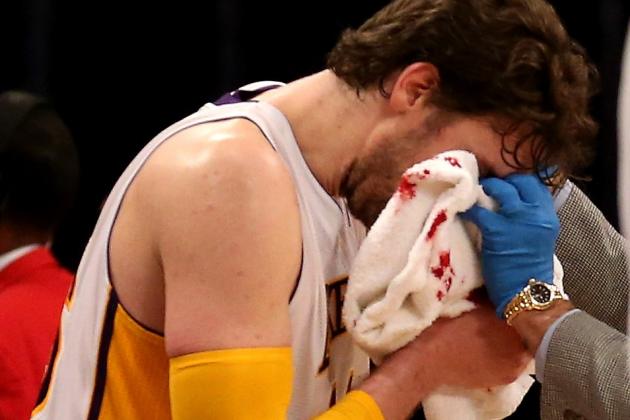 Stephen Dunn/Getty Images
Gasol is going through the worst year of his career.
There hasn't been a player more involved in trade rumors in the past two years than Pau Gasol. After the Lakers got swept by the Dallas Mavericks in 2011, I was convinced that Gasol was going to be traded. He had a bad series and it was clear that he couldn't play with Andrew Bynum.
Instead the Lakers traded Bynum last offseason, while keeping Gasol who continues to see his production decrease year after year. He's had his issues with Kobe Bryant and seems lost at times on the court. His role in the offense is still not clear to me because they have him on the perimeter, when he's clearly a better post player.
It's clear that Gasol has been disgruntled and then Mike D'Antoni put him in a sixth-man role. Gasol isn't pleased with the role and who could blame him? He's been an All-Star for years and now he's being completely underutilized by a team that isn't in the playoffs at the moment.
This trade is 18 months overdue and Gasol needs to be dealt more than ever. Since he's injured, it won't happen in February but it must happen this summer. Gasol may be 32, but teams have to consider the fact that Gasol will be rejuvenated and could still put up all-star worthy numbers.
Possible Destinations: New York Knicks, Minnesota Timberwolves
Some people may be surprised by not including the Chicago Bulls, but I don't see Chicago making a move. Carlos Boozer has played better this season and Chicago as an entire team has been playing better than expected.
Instead the Knicks could be the best option, since they need size and he could score in the low post. Gasol would be more effective than Amar'e Stoudemire in the Knicks offense, since the Knicks don't really have much low-post scoring.
The other team that could add Gasol is Minnesota, even though team president David Kahn shot down interest in trading for Gasol. It won't happen in February, but it could happen in the summer based on them trying to build a contender.
They would like to get rid of disappointing high draft pick Derrick Williams as well. Also, the Lakers would love to add a hard working big man like Nikola Pekovic. He could be the perfect piece to play off Dwight Howard, since he doesn't need to take many shots to be effective.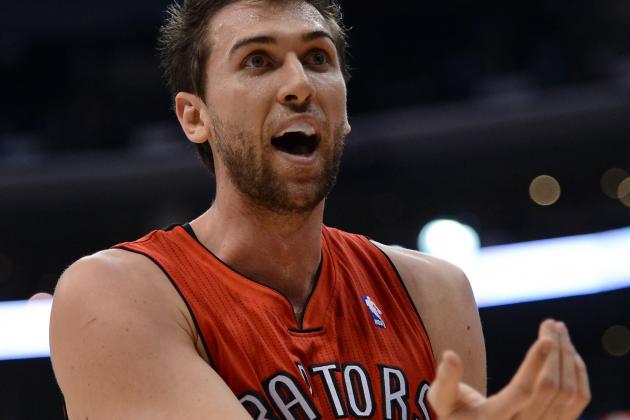 Harry How/Getty Images
Bargnani has worn out his welcome in Toronto.
Similar to DeMarcus Cousins, Andrea Bargnani has worn out his welcome. He is another high draft pick that has put up good numbers, but clearly he isn't a player that you can build your team around. Now he may not have maturity issues, but Bargnani has major limitations that make him a secondary option at best.
It's rare when a seven-foot center doesn't shoot 50 percent from the field, but Bargnani hasn't shot over 45 percent from the field since 2009-2010. For all the talk about him being a sharpshooter, he hasn't shot over 35 percent from three-point range since 2009-2010.
He hasn't been very efficient, but it doesn't help that he's had a poor supporting cast. He can still be an effective offensive player who could get more open shots on a better team. His defense is still below average and his rebounding is pathetic for a seven footer, but he can be a valuable piece to a contending team that needs scoring and has enough above average defenders.
Possible Destinations: Los Angeles Lakers, Atlanta Hawks
There isn't a better fit for Bargnani than the Lakers. When you see what the Lakers tried to do with Pau Gasol on the perimeter; they can do the same thing more effectively with Bargnani. Unlike Gasol, Bargnani isn't stubborn about not playing in the low post and is a better shooter than Gasol.
You can give Howard the entire paint to himself and that would make the Lakers offense much more efficient. Since Gasol is hurt, I don't see the trade happening now, but it could easily happen in the summer.
The Lakers would be the perfect fit, but if I had to pick another team it would be the Hawks. Al Horford is developing into one of the best centers in the league and he could carry the load of rebounding similar to Howard.
Bargnani can give the Hawks another shooting weapon and they could have enough cap room to sign a major free agent by trading Josh Smith for Bargnani.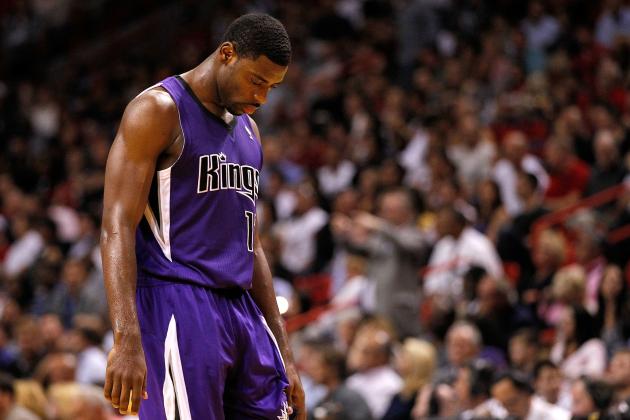 Mike Ehrmann/Getty Images
Evans doesn't fit in Sacramento's system.
The Sacramento Kings are in rebuilding mode, yet they still have some dead weight on their roster that still has value. It surprised me that Tyreke Evans was only 23 years old because it seemed like he has been on the Kings for five years already rather than this being his fourth year.
The issue with Evans is more on the Kings than on him, because they put him in an unfair situation. They made him the face of the franchise instead of realizing his limitations.
Evans is 6'6" and needs the ball to be effective but isn't a good enough passer to be a point guard. Also, he's never shot well enough to carry a team. Similar to Andrea Bargnani, he's not a No. 1 option and his numbers have shown that by declining each season in scoring.
Unlike players like Kyrie Irving or John Wall, he hasn't shown the ability to possibly turn the franchise around. The Kings need to rebuild more and that starts with dealing Evans away, who they don't know how to use properly.
Possible Destinations: Atlanta Hawks, Orlando Magic
Evans would be best fit on a team where he can have the ball and play off good shooters. The Hawks would be an ideal place for him, even though I'm not sure how that would happen. It could involve a package deal, but Evans would have less pressure to force shots with a better supporting cast around him.
It's really hard to see any contenders interested in him, because most of those teams have solid to above average backcourts. That is why I could see him in Orlando to replace Jameer Nelson, who is on his last legs as a starter. With high draft picks coming up, Orlando can rebuild with Evans and a batch of young talent, including a draft pick that at minimum will be a top-five pick.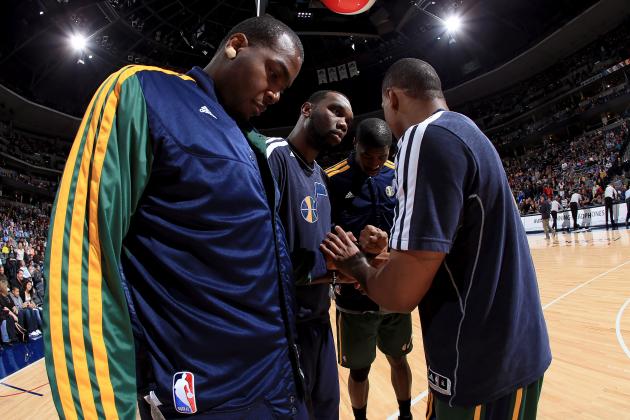 Doug Pensinger/Getty Images
With the amount of big men in Utah, Millsap is the odd man out.
Other than Pau Gasol, there isn't a player that I'm more shocked that he has stayed with his respective team for so long than Paul Millsap. It seems like Millsap was supposed to be traded by now, based on how many big men Utah has on its roster.
With the recent additions of young talented big men like Derrick Favors and Enes Kanter, it has made Millsap expendable along with Al Jefferson. Jefferson is a true center though, while Millsap is an undersized power forward. With the lack of true centers in the NBA, it makes Jefferson much more valuable.
Millsap is a solid power forward that will always give you great effort and a relentless motor. He may be undersized, but he's a good rebounder and doesn't take many bad shots. If you were looking for rebounding while having an actual starting center on the roster, then Millsap would be the perfect fit.
Possible Destinations: New York Knicks, Houston Rockets
Both teams have been mentioned with power forwards already and that will continue here. Even though he's played better, I still think Stoudemire doesn't fit well with the Knicks. He may be a good sixth man, but whenever he's on the floor with Chandler and Anthony the Knicks tend to struggle.
If they could add Millsap, then they could really be more effective on both ends of the court. A front court of Tyson Chandler, Carmelo Anthony and Millsap could really push the Knicks even more as a legitimate threat to the Miami Heat.
The other team is Houston that could really use a player like Millsap. Houston is ranked as the second-worst defensive team in the league allowing 103.2 points per game. They are lacking a physical player down low, despite Omir Asik having a solid season. If they could add Millsap, I could see them making a push for a possible four seed whether it's this year or next year.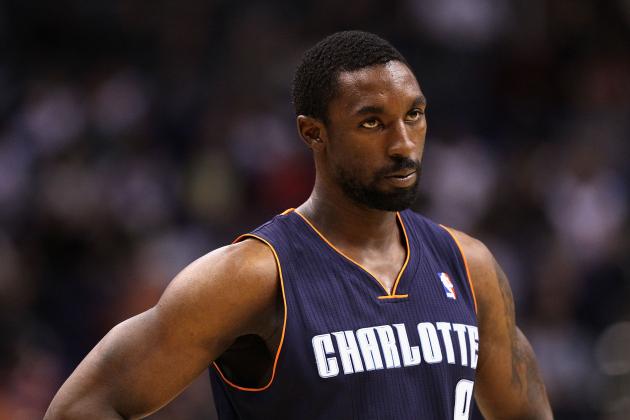 Christian Petersen/Getty Images
Why is Ben Gordon in Charlotte?
I'm still confused on why Ben Gordon is playing for the Charlotte Bobcats. Even though they could use his scoring, you would think Gordon would want to play for a contender. Now after wasting his time for the past few months, Gordon is probably looking at trade options.
After teams have shuffled through their bench rotation for the past three months, they probably realize by now if they need help or not. It's clear that some playoff teams will need bench scoring and there isn't a better player to trade for right now than Gordon.
Gordon is arguably one of the best sixth men in the past ten years despite only winning the award once. He can help a team's three point shooting woes; along with having the ability to score in bunches. He's shot over 40 percent from three-point range for the past three seasons, which is rare for any player to do.
Possible Destinations: Brooklyn Nets, Memphis Grizzles
It has been well documented that the Nets have been interested in trading for Gordon (via ESPN). They want a guard that can come off the bench to score, along with someone that can hit big shots late in games. If they can trade Kris Humphries, who is starting to get fizzled out of the rotation, then they can be more explosive and efficient on the perimeter.
Other than Portland and Indiana, the Memphis Grizzles have the least scoring production from their bench. The Pacers will be getting Danny Granger back shortly, so Indiana should be fine in terms of scoring. Lance Stephenson has played well this season and can excel in the sixth-man role.
The Grizzles just traded Rudy Gay away and didn't exactly get anything major back. Tayshaun Prince is a nice addition, but he isn't exactly a prolific scorer. He is similar to Tony Allen, who can hit the outside jump shot and play great defense.
Memphis is a solid team, but they need a guard who can score on a consistent basis other than Mike Conley. Gordon would be an excellent fit and the only thing that is probably holding Memphis back from trading for him is his contract, because he is making $13.2 million a year. If they can somehow bring Gordon in and try to restructure his contract in the offseason, it would be a great move by Memphis.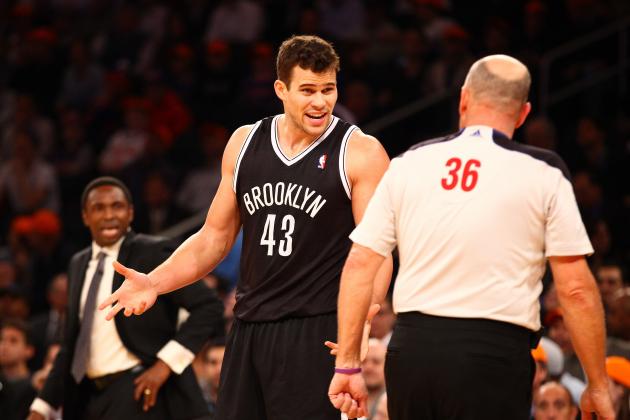 Al Bello/Getty Images
Humphries hasn't had many things go his way this season.
It was only one season ago where Kris Humphries put together career highs in every major category. He averaged a double-double and was really starting to come into his own as a talented power forward. Then Brook Lopez came back and he became an afterthought.
I'm not sure what exactly has happened to Humphries, but he has reverted back to numbers from 2003 to 2010, when he didn't do much. It's clear that his days are numbered in Brooklyn, especially with Reggie Evans starting to play more.
Humphries is still talented and can play a big role in any team's playoff push. He doesn't necessarily need to start but he should be playing more than 19 minutes a game. With his ability to score in the low post and rebound consistently, he should be playing up to 26 or 28 minutes a game.
Possible Destinations: Boston Celtics, Atlanta Hawks
Despite the trade links to Charlotte, I'm going to ignore them for now. I'd like to discuss teams that Humphries could help in the playoffs. Boston is the first team that jumps to mind mainly because they are the third worst rebounding team in the league.
With Jared Sullinger out for the season, their depth in the frontcourt is limited with Brandon Bass, Kevin Garnett and Jeff Green. I'm aware of Fab Melo getting chances, but I don't think he's ready to contribute for a team that will be in the playoffs.
Humphries could be productive and would give a huge boost to Boston that is in need of size. Also the Nets could get a guard like Courtney Lee from the possible trade, who can give them another guard that can shoot if they can't get Ben Gordon.
The other team that can benefit from Humphries would be the Hawks. It's obvious that if Josh Smith would be going to the Nets, then Humphries would be involved. He may not be on the level of Smith, but Humphries would be a solid replacement at power forward and form a nice duo with Al Horford.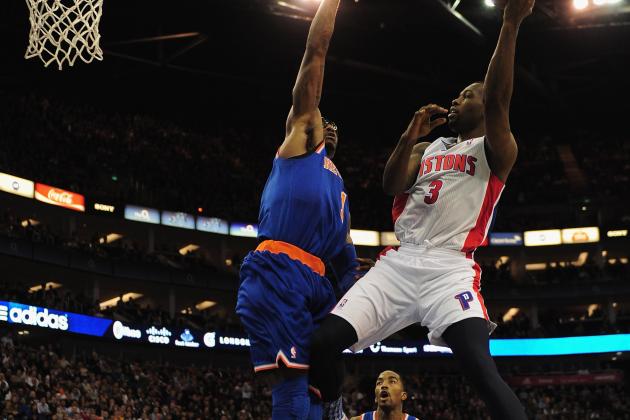 Jamie McDonald/Getty Images
Similar to Millsap, Stuckey is the odd man out of too many point guards for Detroit.
Similar to Tyreke Evans, there is another guard that has worn out his welcome on his respective team and desperately needs a new team. Now Rodney Stuckey wasn't positioned to be the face of the franchise, but he's a similar player to Evans that doesn't mesh well with his team.
Detroit tried to play Stuckey with Brandon Knight and that combination failed. It didn't lead to many wins, which led to Stuckey going to the bench. Then, Stuckey clashed with coaches and it went to the extent of him being a healthy scratch a few weeks ago.
It's clear that Stuckey is in need of a trade, despite the lack of interest in him. His numbers continue to decline from his average points per game to shooting percentage. He's still only 26 years old and is an explosive player that can be a playmaker, so there is still time for him to develop.
Possible Destinations: Los Angeles Lakers, Memphis Grizzles
With the amount of egos in Los Angeles, you would think it's a bad idea for the Lakers to add Stuckey. If you look at how Mike D'Antoni runs the offense, it would involve an explosive point guard that can be a playmaker.
Steve Nash may only have a full year left after this season, so it could be a good move to develop someone like Stuckey. It seems unlikely, but it would be an interesting fit. There isn't anyone better than D'Antoni in getting production out of point guards. Stuckey may not be the ideal point guard, but it could end up being successful.
It's hard to choose where Stuckey would fit, but Memphis could be a possibility for him as a sixth man similar to Ben Gordon. It may be a risk, but Memphis will soon find out that they'll have scoring problems against the best teams in the West if they don't add another scorer.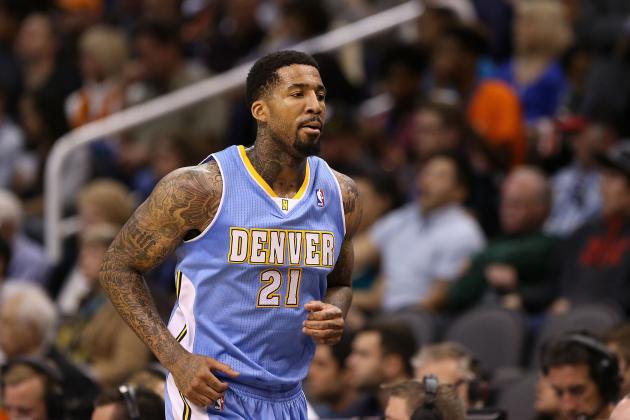 Christian Petersen/Getty Images
Chandler is too talented to be playing only 20 minutes a game.
The Denver Nuggets are arguably one of the most deepest teams in the league. They have quality players all around their roster, which has left a few players frustrated about playing time. Wilson Chandler is the first player that has expressed his feelings.
It may not be a clear message, but it was a notable sign that Chandler is frustrated by the lack of playing time based off a few tweets. There was a time where Chandler was averaging around 15 points a game and being very productive for the Knicks. After the lockout ended, Chandler hasn't been the same and hasn't found a good situation for him to excel in.
He may not be a star by any means, but he has proven that he can play for 30 to 35 minutes a game and be efficient. It seems like his talent is being wasted in Denver and that he deserves more of an opportunity somewhere else. He is very versatile as a scorer and is a good rebounder for a swingman that can contribute to any team.
Possible Destinations: Milwaukee Bucks, Cleveland Cavaliers
Both teams have glaring holes at small forward that can be fixed by Chandler. Even though Luc Richard Mbah A Moute is a great defender, he is more of a bench player. With Brandon Jennings and Monta Ellis mostly carrying the load in scoring, if they can add another outside shooter like Chandler it could be huge for Milwaukee's playoff push.
The other fit would be Cleveland, which is a bit odd but that is the only logical place. If the Lakers had more players to trade with than just Pau Gasol, I'd consider them. Instead, Cleveland has some draft picks and possible bench fodder that can allow them to trade for Chandler.
With the growth of Kyrie Irving and Dion Waiters among others, the addition of Chandler would bring more explosiveness to the roster. Cleveland has a nice young core that could use a small forward like Chandler, who could play off Irving very well.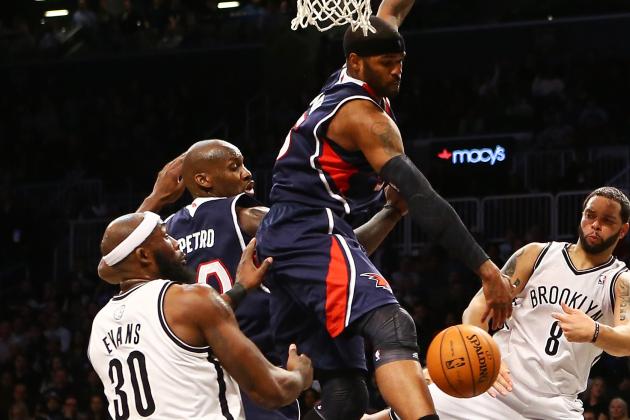 Al Bello/Getty Images
Josh Smith will be playing for Brooklyn in a few weeks.
There may be major trade rumors, but as we all know there aren't many trades that actually happen in February. Out of the 10 players that I mentioned, I'm expecting three players to actually be moved.
The Hawks are aggressively trying to trade Josh Smith and they will be successful. Even though I'm not sure how he'll fit in, I'm expecting the Nets to somehow make the trade happen. There will be other players involved in the trade, including Kris Humphries. The Nets will be a complete juggernaut with Lopez, Smith, Johnson and Williams.
Other than that, I'm actually going to predict that Ben Gordon will end up in Memphis. That is the only other move I could see happening out of the ten players. In the summer, you will see players like Pau Gasol and Andrea Bargnani get traded.
Paul Millsap to the Knicks is a move that I could see happening, but right now it looks like the Knicks are very content with their roster. Also, they don't want to lose Iman Shumpert in any trade because they have high hopes for him. Shumpert is very talented, but I don't see him as a superstar in the making, so the Knicks should loosen up with him.
You may see all these possible rumors, but teams will be very hesitant to make the trade unless it's absolutely beneficial to their team going forward. Otherwise, you'll have to wait until the summer to see teams take actual risks.
Allen Strk is a columnist on Bleacher Report. You can read more of my work at TJRSports.com covering the NFL, NBA, and MMA. You can follow me at @Allen_Strk on Twitter or e-mail questions/comments at AStrk19@gmail.com.