7 Takeaways from Thursday Night's NBA Action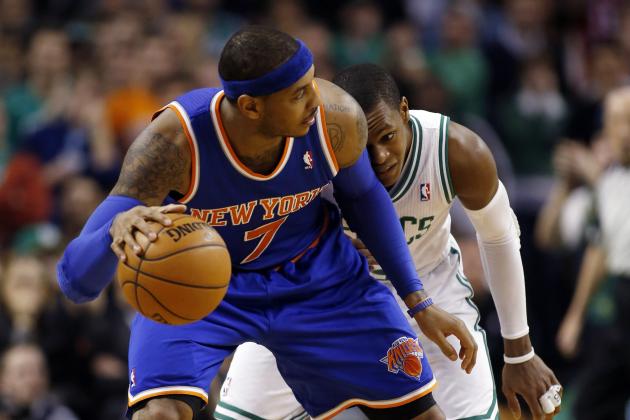 Greg M. Cooper-USA TODAY Sports

Rarely, if ever, has the NBA seen such a sterling ratio of thrilling results to games played during the regular season as it did on Thursday night. The slate was small—three games, to be exact—but all three went down to the wire and were decided by three points or less.
The New York Knicks and the Boston Celtics were locked in a defensive battle during their first meeting since a cereal-related scrum between Carmelo Anthony and Kevin Garnett on January 7th.
The Phoenix Suns, in their second game under interim coach Lindsey Hunter, gave the Los Angeles Clippers all they could handle without the services of Chris Paul.
But, surprisingly enough, the Toronto Raptors and the Orlando Magic, both likely bound for the lottery, turned in the most exciting finish of the night, thanks to an impossible buzzer-beater.
And that's to say nothing of the All-Star reserves, which were announced on TNT prior to the evening's action...and stirred up plenty of controversy on the Internet.
Begin Slideshow

»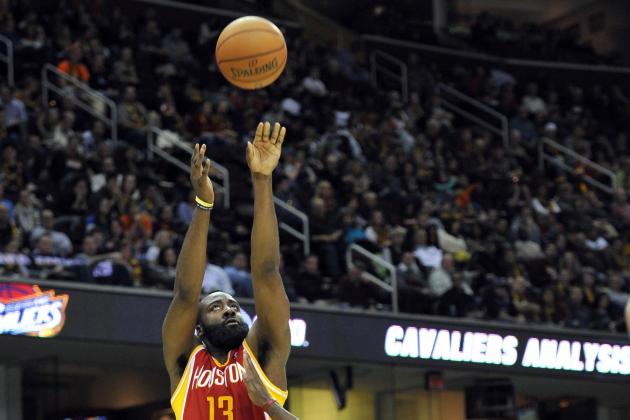 USA TODAY Sports

Of the 14 reserves picked to play in the 2013 All-Star Game by NBA coaches, 10 of them are first- or second-time selections.
Five of the six neophytes—Kyrie Irving, Jrue Holiday, Tyson Chandler, Joakim Noah and Paul George—will suit up for the Eastern Conference squad. James Harden is the lone newbie for the Western Conference.
The West, though, will feature three of the four All-Star sophomores, including David Lee, LaMarcus Aldridge and Zach Randolph. Luol Deng will be making his second appearance with the East's elite.
On the one hand, this group is replete with talented veterans whose contributions have only recently been recognized.
Noah and Deng have been pivotal contributors for the Chicago Bulls for some time, but only since Derrick Rose's injury woes began last season have they gotten their due. Z-Bo has long been a powerful force in the paint, though his gifts were difficult to appreciate when he was bouncing from city to city.
And according to ESPN Stats & Info, Chandler—an Olympic gold medalist and the reigning Defensive Player of the Year—is the most experienced player to make his maiden voyage to the All-Star Game since Vlade Divac in 2001.
On the other hand, plenty of youngsters are slated to appear in Houston, and this year's midseason showcase figures to be the first of many for them.
Kyrie Irving, Jrue Holiday, Paul George and James Harden have established themselves as cornerstones with their respective squads, with Irving and Harden displaying the most immediate superstar potential of the bunch.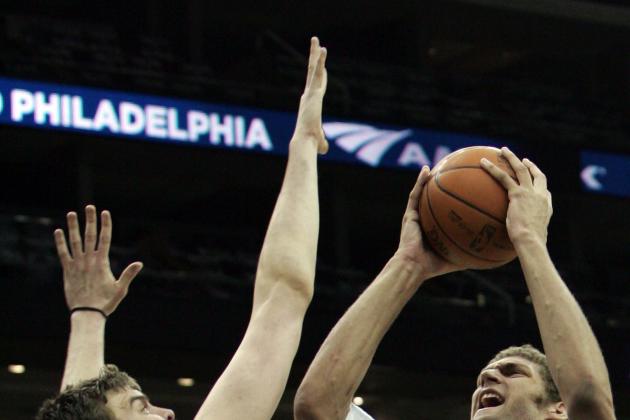 Nicole Sweet-USA TODAY Sports

One man's All-Star spot is another man's snub.
This year's edition won't be any different in that regard. Just about everyone the coaches picked to fill out the rosters deserves to go to Houston, though not without some griping and second-guessing.
The Western Conference team is missing a pair of pivotal players for playoff contenders in Marc Gasol and Stephen Curry.
Gasol was likely passed over in favor of Memphis Grizzlies teammate Zach Randolph. Z-Bo's stats (16.1 points, 11.6 rebounds, 1.4 assists) certainly pop more than Gasol's (13.2 points, 7.4 rebounds, 3.5 assists).
But to focus too intently on the numbers is to ignore Gasol's underlying impact on both ends of the floor.
His skills as a passer and mid-range shooter make his front-court partnership with Randolph, a fellow slow-foot, work beautifully despite the new dictates of the wide-open NBA. Gasol is also the anchor of Memphis' second-ranked defense and should be in the running for Defense Player of the Year as a result.
Curry, for his part, has been the best player for the resurgent Golden State Warriors. He's shooting a sizzling 45.1 percent from three to go along with his team-best 20.9 points, 6.6 assists and 1.7 steals. The dude can flat-out knock 'em down and would have been a perfect choice to compete in the three-point contest.
Not to mention he's the best and most important player on the Warriors, and that includes two-time All-Star David Lee. Even Warriors head coach Mark Jackson was up in arms about it:
C'mon Coaches! Ur Better Than That!!!!!#StephCurry

— Mark Jackson (@JacksonMark13) January 25, 2013
The most egregious snub of all, though, may well be in the Eastern Conference.
Brook Lopez certainly deserved a spot on his own merits. He's tops among centers in scoring (18.6 points) on solid 52.1 percent shooting.
Better yet, Lopez, once thought to be defensively challenged, is boarding (7.4 rebounds) and challenging shots (2.1 blocks) surprisingly well for a big lug with a "soft" approach. He also happens to sport the fourth-highest Player Efficiency Rating (PER) in the NBA, per ESPN.
Worse still, with Lopez, Deron Williams and Joe Johnson all denied, the Brooklyn Nets, currently the third seed in the East, will send nary a representative to Houston.
Remember back in October when everyone and their mother was bagging on the Toronto Raptors for signing DeMar DeRozan to a $38 million extension?
Doesn't seem so silly now, does it?
The fourth-year swingman out of USC rescued the Toronto Raptors from yet another crunch-time collapse with this impossible buzzer-beater to stun the Orlando Magic on Thursday night, 97-95.
DeRozan scored 14 of his game-high 22 points in the fourth quarter, including Toronto's last six and eight of the team's final 10.
That sort of clutch play, along with his four rebounds and team-high seven assists, is precisely what the Raptors need and expect from a player of DeRozan's talents and pay grade.
DeRozan isn't and hasn't been much of a shooter; he is hitting a subpar 43.9 percent of his field-goal attempts and 25.4 percent of his threes.
But the kid is confident, athletic and still quite young at the tender age of 23. He also leads the 16-27 Raptors in scoring at 17.3 points per game. At this point, DeRozan has plenty of room for improvement and time to reach that high ceiling.
Nonetheless, there's little doubt that Raptors general manager Bryan Colangelo could have passed on extending DeRozan in the fall and re-signed him at a friendlier number in July.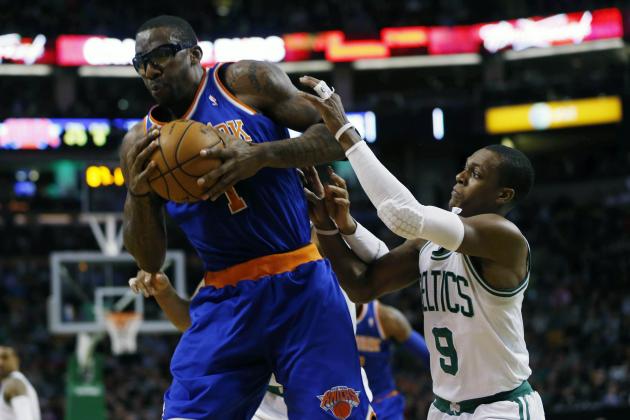 Greg M. Cooper-USA TODAY Sports

It's been a while since the New York Knicks last beat the Boston Celtics on the road.
How long, you ask?
More than six years. The last time around, the Knicks—led by Steve Francis, Eddy Curry and Quentin Richardson—dominated Paul Pierce, Wally Szczerbiak and the C's, 101-77.
So yeah, it's been a while.
This time around, Carmelo Anthony and Amar'e Stoudemire did the bulk of the damage for New York in an 89-86 victory.
Anthony dropped a game-high 28 points (on 28 shots, though) to go along with nine rebounds, three assists and two steals in 41 minutes. With that, 'Melo extended his streak of 20-point performances to 27 games despite the unwanted attention from Cheeriogate.
The bigger story, though, was Stoudemire. The oft-injured power forward scored 15 points on 4-of-7 shooting with nine rebounds and two blocks in what was arguably his finest game of the season.
He had some of that old spring in his step at times, most notably during a sequence in the second quarter when he blocked rookie Jared Sullinger on one end and threw down a reverse jam on the other.
If the Knicks can continue to get that sort of production from STAT off the bench, they could further establish themselves as a team to be reckoned with in the Eastern Conference once Raymond Felton returns.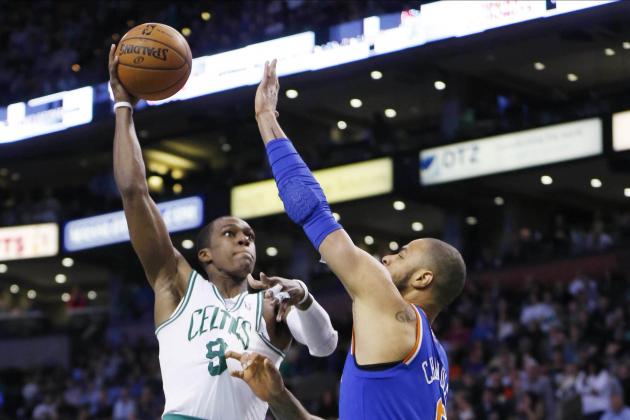 Greg M. Cooper-USA TODAY Sports

New York's gain in the standings only added to Boston's ongoing misery. The loss was the Celtics' fifth in a row, dropping their record to 20-22 and cutting their eighth-seed cushion to a mere three games.
This resulted despite stellar statistical efforts from Paul Pierce (22 points on 15 shots) and Rajon Rondo, who recorded his league-leading fourth triple-double of the season. And despite holding the Knicks to 38.6 percent shooting and sinking more free throws (21) than New York attempted (20).
The C's traded leads with the Knicks through the first three quarters but never pulled ahead in the fourth. They were ultimately undone by poor shots and untimely errors down the stretch.
Not what you'd expect from a veteran squad with two starters in the All-Star Game, to say the least. Luckily for the C's, their competition in the Eastern Conference isn't all that stiff right now.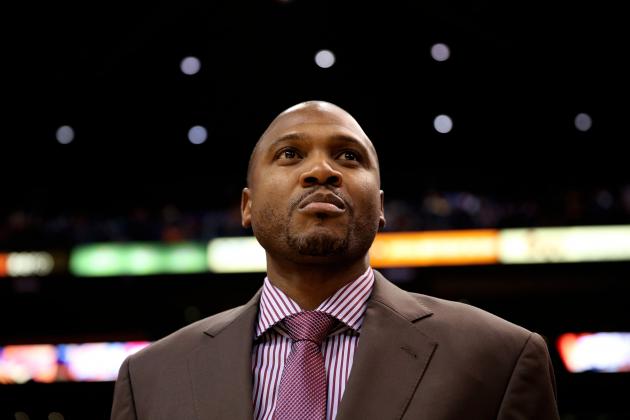 Mark J. Rebilas-USA TODAY Sports

The Phoenix Suns moved to 2-0 under interim coach Lindsey Hunter with a stunning 93-88 win over the Chris Paul-less Los Angeles Clippers on Thursday.
The win marked the fourth time this season that a team has won its first two games in the immediate aftermath of a firing/mutual parting of ways.
Bernie Bickerstaff started the trend when he took over Mike Brown's fledgling operation with the Los Angeles Lakers. Then the Brooklyn Nets won two for P.J. Carlesimo, and the Milwaukee Bucks followed suit with a pair of positive results for Jim Boylan.
The difference, of course, is that the latter two teams are on track to make the playoffs in the East, while the former came into the season with great expectations...which have since fallen by the wayside.
The Suns, on the other hand, were doomed to fail from the start. This past summer, they parted ways with Steve Nash, replaced him with Goran Dragic, spent big on Michael Beasley and traded for Wesley Johnson.
Not exactly a recipe for success, to say the least. In any case, good luck to Lindsey Hunter in his first true coaching gig.
He'll need it.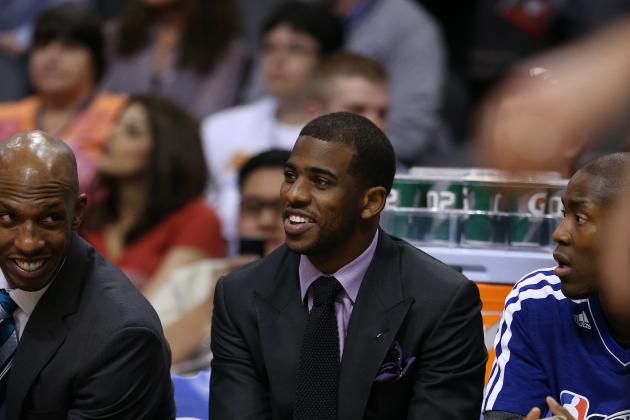 Mark J. Rebilas-USA TODAY Sports

So much for Chris Paul's MVP case going down the proverbial drain. The Clippers had been 3-0 without their All-Star point guard up until their last two games, both of which resulted in defeats.
The first, a 109-97 loss to the Western Conference-leading Oklahoma City Thunder, was perfectly understandable given the circumstances.
A five-point loss to the second-worst team in the West, though? Not so much.
All the talk about LA's tremendous depth went silent for a night as Blake Griffin, the team's other All-Star, struggled in CP3's absence. Griffin tallied a less-than-remarkable 12 points (on nine shots) with eight rebounds, two assists and two blocks in 37 minutes, much of which was spent hobbling around on a bum ankle.
Injured or not, Griffin struggled to do much on his own as the Clips resorted to isolation after isolation to carry them through. Not even a 21-point outburst could rescue LA from its third loss in a row.
To be sure, this result isn't quite as embarrassing as were early-season losses to the Cleveland Cavaliers and the beat-up New Orleans Hornets. Even so, it's discouraging to see the Clips stumbling in Paul's absence while the Thunder and the San Antonio Spurs continue to rip off big wins.
The Clips can only hope that Chris Paul's knee—and, to a lesser extent, Chauncey Billups' foot—heal up soon, lest they fall too far back into the pack out West.