8 Takeaways from Sunday Night's Stellar NBA Action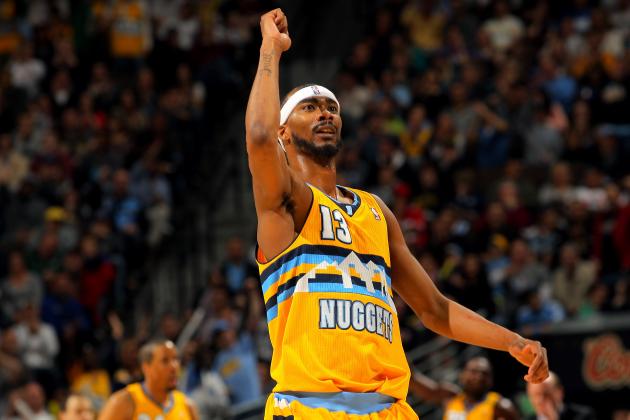 Doug Pensinger/Getty Images

With another weekend of NBA action gone, Sunday's slate of games did not disappoint in terms of storylines and even exciting, down-to-the-wire action.
The Denver Nuggets and Oklahoma City Thunder ran into an overtime conflict, we learned a bit more about what the Los Angeles Lakers and Boston Celtics are capable of, watched as the Dallas Mavericks took another step in the right direction and witnessed with mouths agape Andre Drummond's amazing athleticism.
Not only were we able to learn a few things about some individual teams, but there were also a few things going on with individual players who had monster games themselves.
Let's take a deeper look at what went down in Sunday night's action and really figure out what we can learn from Sunday night's games.
Begin Slideshow

»
As the Oklahoma City Thunder dropped a 121-118 overtime game to the Denver Nuggets, the crowd mercilessly booed Russell Westbrook.
There wasn't much that he did during the game, besides torching the Nuggets for 36 points, eight rebounds and nine assists, but he did block the Denver mascot's, Rocky, half-court shot:
Russell Westbrook stole the halfcourt shot by the Nuggets mascot and now the crowd is screaming for his head on every possession.

— Matt Moore CBS (@MattMooreCBS) January 21, 2013
Not only did he steal the shot right before it went through the hoop, but he took away a chance at free Qdoba Queso from the crowd.
If there's one thing that's evident after Sunday night, it's that you don't step between people and their free food.
Denver got the last laugh in the end, as Westbrook's game-tying three-point attempt was deflected at the buzzer.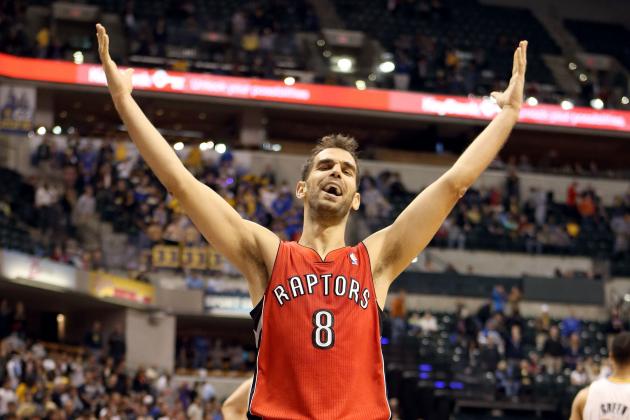 Andy Lyons/Getty Images

After Kyle Lowry hit the sidelines and Raptors fans watched in excitement as Andrea Bargnani got hurt, Jose Calderon stepped up and suddenly became the leader of this Toronto Raptors squad.
Not only did he become the focal point of their offense again, but he has become a much more vocal leader with all the efficiency of the past.
Sure, his defense is still not strong, and he's getting up there in years for a young, rebuilding team to build with, but he's been great this season.
Calderon is averaging 11 points and is shooting a career-high 42.8 percent from the three-point line.
If he's not careful, the Raptors might actually end up keeping ahold of the stellar Spanish guard for the long haul.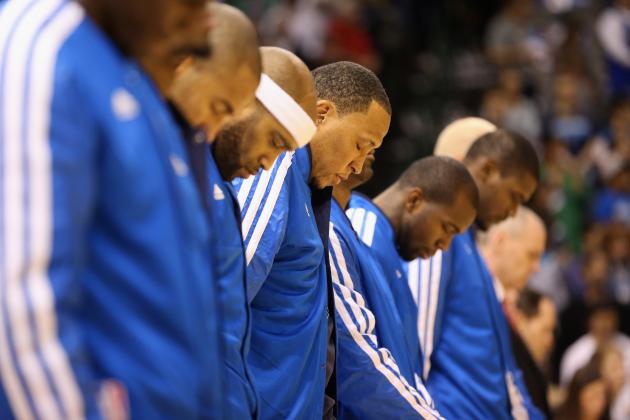 Ronald Martinez/Getty Images

After losing 13 of 15 games starting in the middle of December, Dallas ripped off five wins in its next six games, including a 111-105 victory over the Orlando Magic Sunday night.
It was another step toward fighting for a playoff spot, or at least being in a situation where it makes sense for them to trade for a piece to make a push in the next month.
Over the course of their past six games, Dirk Nowitzki has shown signs that he's getting back to being his old self, Shawn Marion is shooting nearly 60 percent while keeping up a high scoring rate, Elton Brand is playing some defense, Chris Kaman is knocking down jumpers and even Vince Carter is exhibiting aggressiveness.
I wouldn't put any money on the Mavericks making it into the playoffs by the end of the year, but they're definitely not the team that lost 13 of 15 games back in December.
Nick Laham/Getty Images

Not only has Andre Drummond surpassed preseason expectations at this point in the season, but he's absolutely obliterated them. There should already be teams regretting passing on him in the draft.
Drummond has been smart enough to get to the rim as much as possible. In the process, he's become one of the league's most efficient scorers, shooting at a 60 percent clip so far this season.
Andre Drummond has been so good and so efficient. Never expected it. 47.2 percent of his field goals made are on dunks. Very impressive.

— Fred Katz (@FredKatz) January 21, 2013
Against the Celtics, Drummond was constantly able to slip past Kevin Garnett either on the pick-and-roll or just based on the fact that Garnett kept biting on the faux penetration by the guard, leading to five easy alley-oops.
Drummond led the Pistons with 16 points, put up seven rebounds and had a steal and a block.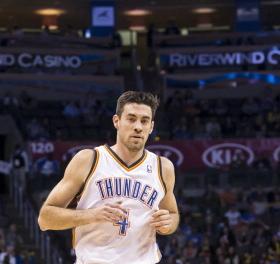 Shane Bevel/Getty Images

During Oklahoma City's loss to the Denver Nuggets, there were a ridiculous 61 fouls called.
In case you were questioning, that's too many.
The referees were equally terrible in this one, calling phantom falls whenever Kevin Durant drove into the lane, but whistling just as many ridiculous makeup calls on the other end.
Going into overtime was even worse:
The Thunder were called for three moving screens in overtime. Crazy.

— Royce Young (@dailythunder) January 21, 2013
There were moving screens, but starting to call them in overtime is crossing the line. It took away from the flow of the game and ended up costing the Thunder in the end.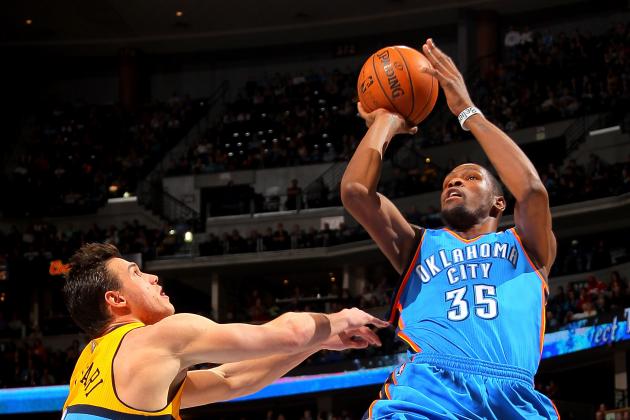 Doug Pensinger/Getty Images

Usually when talking about great shooters, the normal benchmark for an amazing season is a clip of 50 percent shooting from the field, 40 percent from the three-point line and 90 percent from the free-throw line.
In the history of the NBA, only 12 players have picked up those shooting percentages in a full season, with just four of those 12 seasons coming from non-guards.
It's looking like there's no way Durant ends up with anything less than those percentages.
Against the Nuggets, he had a legitimately bad shooting night: 35 percent from the floor and 30 percent from the three-point line, while putting up 20-of-21 free throws.
He also scored 37 points. And that's a bad night.
Larry Bird has had the highest scoring season of any player to average 50-40-90, picking up 2,275 points. Through 41 games (half a season), Durant has scored 1,209 points.
He's on pace for 2,418 points.
Doug Pensinger/Getty Images

Before the season started, the Denver Nuggets had all the hype of NBA statisticians and even a bit of NBA title talk going on.
Then the season started.
Denver struggled to stay at .500 and saw its record run to 12-12 by the middle of December. Since then, the Nuggets have gone 13-6 and have been everything we've ever wanted them to be.
We've seen Ty Lawson go into full-on takeover mode, JaVale McGee play games and not make dumb mistakes, Andre Iguodala hit three-pointers and make defensive stands, Danilo Gallinari rain down fire from beyond the arc and Wilson Chandler return and have productive games.
Last night's hero of the game was Corey Brewer. He picked up 26 points, six rebounds, three assists, a steal and a block, the last coming on Russell Westbrook's game-tying three-point attempt.
This team has so many weapons that it's hard to imagine any team easily disposing of the Nuggets in the playoffs.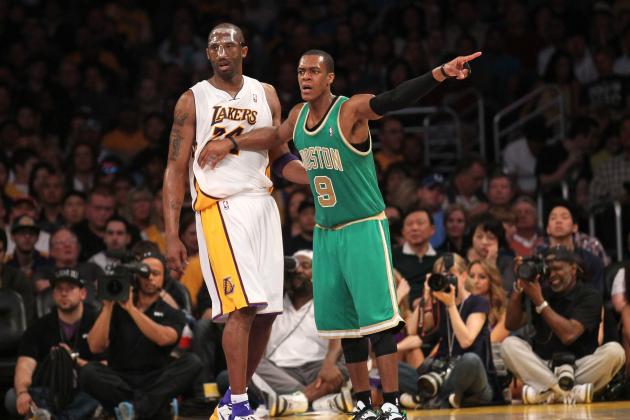 Stephen Dunn/Getty Images

The Los Angeles Lakers and Boston Celtics have done their best to turn their seasons around in the past few weeks, but both took ugly losses on Sunday.
The Boston Celtics are almost certainly going to end up in the playoffs, seeing as they're in the Eastern Conference and seem entirely capable of ending up a few games over .500. However, it's hard to say exactly "what" this team is, especially with an inconsistent Paul Pierce.
The Lakers are the real problem. Los Angeles lost 108-103 to the Toronto Raptors.
Kobe Bryant shot 10-of-32, Dwight Howard was ejected after playing just 17 minutes, Metta World Peace had another poor shooting night and Earl Clark was the only productive player off the bench.
They're stuck, looking for answers with very few ways to fix their problems and running short on time in the process.
They stand at 17-23, three games behind the final playoff spot in the Western Conference with no improvement in sight.
There's no telling how the next few months go for the Lakers, but if Sunday afternoon was any indication, they're in deep trouble.