Report-Card Grades for Pau Gasol's Return from Injury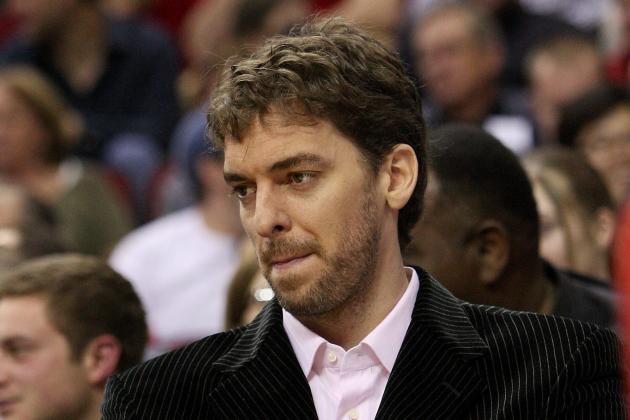 USA TODAY Sports

Pau Gasol has officially returned to the Los Angeles Lakers, taking the floor in L.A.'s narrow, 101-100 victory over the Charlotte Bobcats Tuesday night. The big man has been a hot topic all season, so it's no surprise he was one of the major headlines coming into this game.
Gasol started things slowly, but it didn't take long for Gasol to assert himself on both ends of the floor, as he played an overall solid first quarter.
In the team's newest rotation, Gasol came out of the game early and eventually replaced Howard at center. This move appeared to help his aggressiveness, as it forced him into the paint from the outset. Unfortunately for L.A., their seven-foot Spaniard virtually disappeared during the second quarter.
After half, everything broke down for the Lakers. The entire team was struggling, and Gasol was even more quiet than he'd been all game. Fortunately for the team, the period would end with a Lakers run, and they would take that momentum with them into the final 12 minutes.
Gasol began the fourth quarter aggressive once again. A strong one-handed move to the basket and a great pass to Metta World Peace helped L.A. quickly regain the lead, and before you knew it, we had a game on our hands at the Staples Center.
This game went down to the wire, and, ultimately, the Lakers were able to claim the victory. The team may not have gotten a particularly noteworthy performance from Gasol, but 10 points, nine rebounds and five assists in 29 minutes is nothing to scoff at, and the team has regained a crucial weapon in their fight to turn the season around.
Begin Slideshow

»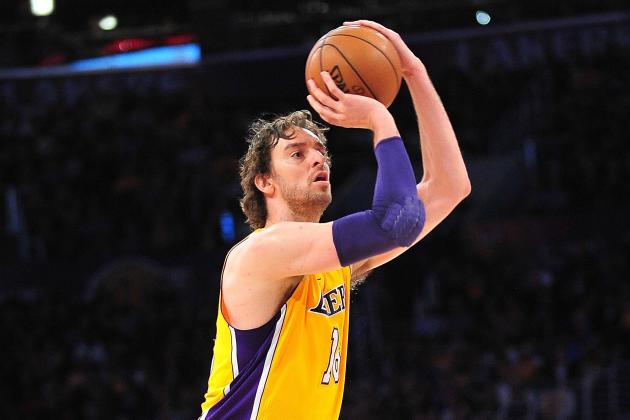 Gary A. Vasquez-USA TODAY Sports

Pau Gasol is having arguably the worst season of his NBA career, and a big reason for that is inefficient shooting. He's shot the ball more from outside than fans would like to see, and his shooting percentage has dropped to a career-low 41.4 percent.
Unfortunately, Gasol's shot was way off early in this one. The Bobcats must have read the scouting report, because Gasol had a number of open looks. He couldn't take advantage in the mid-range game, and his shot looked just as bad as it has looked all season long.
As the game progressed, nothing appeared to change. Gasol was never the focal point of the offense, but when given the opportunity to score, he was rarely able to capitalize, finishing with 10 points on 3-of-10 shooting.
Grade: F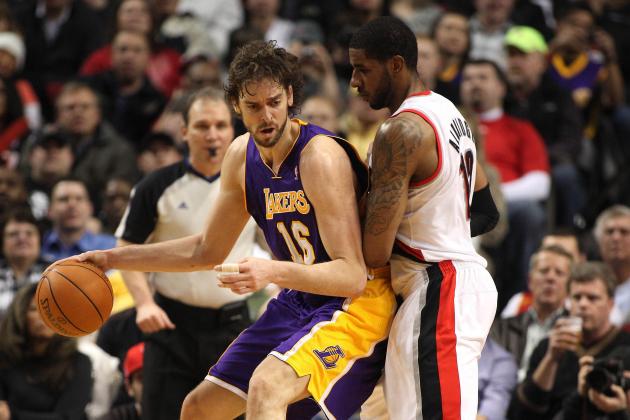 Craig Mitchelldyer-USA TODAY Sports

Per Ramona Shelburne of ESPN, Kobe Bryant has said, "We should go to (Pau Gasol) more in the post because he can dominate from there as he has to the tune of two rings."
That being said, not much appeared to change throughout this contest.
Regardless of position, Gasol is a great passer. He knows how to make swing passes on the perimeter and entry passes into the paint, so placing him outside is a good strategy for getting others involved. The problem, however, comes when you want Gasol to be the one scoring.
Along with his shot, his low-post game was inefficient when given the chance. Emphasis on "given the chance," though, as Gasol was never truly given the opportunity to prove himself down low.
Defensively, Gasol made an impact in the post a few times in the game. He had a few early blocks, he stripped the ball a handful of times and his occasional defensive presence is the only reason he doesn't earn a failing grade in this category in his return.
Grade: D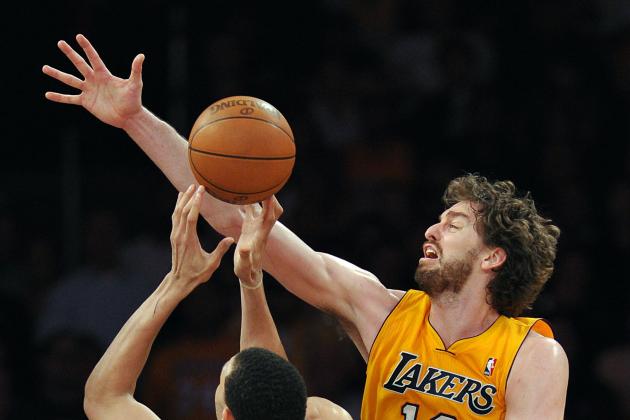 Jayne Kamin-Oncea-USA TODAY Sports

Pau Gasol was given the assignment of Byron Mullens to start the contest, and unfortunately, Mullens was the one to score eight of the Charlotte Bobcats' first 10 points.
Mullens was finding shots from all over the floor, and more times than not, it was because Gasol was nowhere near the big man when he fired from deep range. Even when Gasol managed to get a hand in his face, it simply wasn't enough.
Ironically enough, as much as we've talked about Gasol being soft throughout the years, his defense really stepped up when he took his game into the post.
Charlotte isn't known as a great scoring team in the paint, and Gasol was able to take advantage of that. He used his long frame to disrupt shots, and even when he didn't record one of his four blocks, he had a number of plays where he disrupted the opposing bigs.
Like almost every aspect of Gasol's return, his defense disappeared at times. You'd like to see great defense from start to finish, but nobody is going to argue with four blocks and an imposing presence.
Grade: B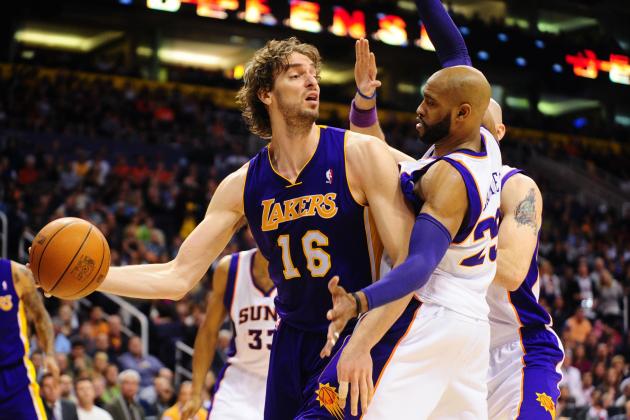 Mark J. Rebilas-USA TODAY Sports

Pau Gasol has one of the best basketball minds of all NBA big men, and that notion was evident from the get-go against the Bobcats.
The seven-footer made a beautiful entry pass to a perfectly positioned Dwight Howard early in the game, and that set the tone for what we would see the rest of the way from Gasol. His passing was spot on, and he helped set up his teammates on multiple occasions throughout his 29 minutes on the court.
Along with finding his teammates, he can fill lanes in the fast break—a crucial element to Mike D'Antoni's system. His role is never going to be that of primary scorer on this roster, but he knows how to utilize his skill set when his shot isn't falling.
Overall, Gasol played a very smart game. Gasol's performance was inconsistent, but if his basketball IQ remains more prevalent than his deficiencies, the team will be in good shape as they continue to fight and regain health.
Grade: A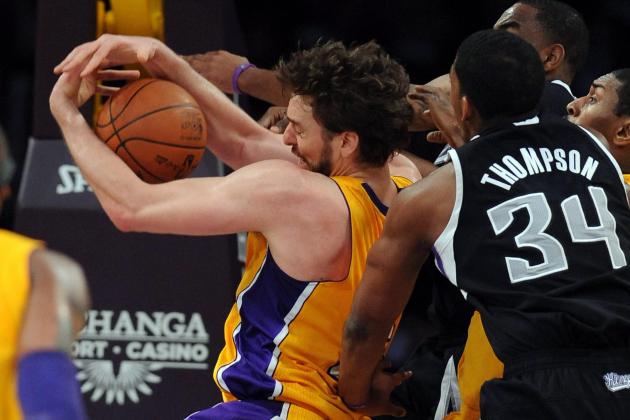 Jayne Kamin-Oncea-USA TODAY Sports

Gasol began this game with a timid look about him, as he was held simply to a passing role. He was out on the perimeter, he wasn't playing great defense and, again, it's safe to say that his impact wasn't felt immediately out of the gate.
However, by the end of the first quarter, we were seeing a much different Gasol than the one that started the game. He quickly transitioned into the paint—in rebounding and defensive situations—and he finished the quarter with five rebounds and three blocks to go along with his five early points.
Gasol's aggressiveness has been a common subject for his critics throughout the years, and while he'll never have the same intensity that Kobe Bryant has, he appeared to be on the prowl throughout spurts. He finished the game with nine rebounds, and he earned himself six shots from the foul line.
The problem is that the team needs him to be aggressive in more than just spurts. If Gasol is still recovering, that's fine—we'll cut him some slack in his first game back. But the team needs consistent performances in the effort department, especially when his scoring has been so fickle.
Grade: C+
Gary A. Vasquez-USA TODAY Sports

It's yet to be seen whether or not Pau Gasol is the best fit in Mike D'Antoni's offense, but one thing that's for sure is that he was playing his role nicely against Charlotte Tuesday night.
Gasol may be a seven-footer, but he can run the floor well in transition. Even on plays where he never touched the ball, he helped spread the floor the way you want to see if you're a fan of the Los Angeles Lakers.
It's no secret that Gasol wasn't moving well around the floor even before his injury became public. He had moments in this game where he appeared to be rested, but there were also situations where he had virtually no lift on his jump.
His screen setting was also an area where you'd like to see better play, as his picks didn't lead to nearly as many points as L.A. fans would like to see.
His physical prowess wasn't top-notch, but his basketball IQ made a big-time appearance. He looked focused in this one, and once the fourth quarter began and the team regained momentum, his emotions began to show.
Grade: B-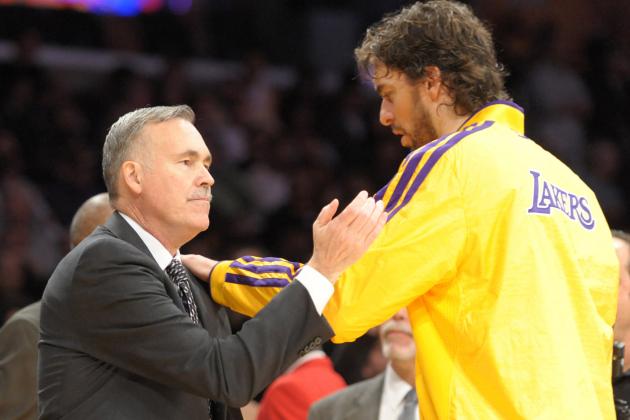 Kirby Lee-USA TODAY Sports

Pau showed signs of making a great comeback Tuesday night, but the word that most accurately describes his return is "inconsistent."
"Quiet" is another word, but the truth is that there were moments where he stood out in a positive way. He was a big body in the paint, he was making great passes and his aggressiveness was almost unmatched when the team was playing well.
The problem is that every one of the aforementioned descriptions can only be claimed for brief moments by the 32-year-old power forward.
There's no denying that the Lakers want Gasol back in the lineup, but you can't ignore the season he's had up to this point. They need an efficient Gasol, and they need him to play with the consistency that will help get them back into the playoffs out West.
They didn't get that performance versus Charlotte, but they did get a glimpse at what could be if he can stay healthy and find his rhythm late into the season.
Grade: C+