New York Knicks: 4 Reasons They Can Keep Winning Without Carmelo Anthony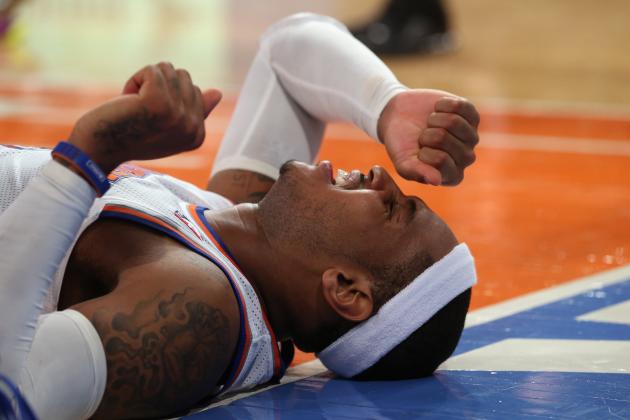 Bruce Bennett/Getty Images
Carmelo Anthony could miss more than one game with a leg injury.
Carmelo Anthony has been playing like an MVP in his first full 82-game season with the New York Knicks. After returning from London where he played with Kobe Bryant, who has five rings to his name, and LeBron James, who was fresh off of his first title, 'Melo has been playing with more fire than ever.
In his past two games, he has played otherworldly basketball. After torching the Brooklyn Nets for 45 points, 'Melo scored 22 in the first quarter at Madison Square Garden against Mike D'Antoni and the Lakers. Anthony had totaled 30 points midway through the third quarter when a hard Dwight Howard foul sent him to the locker room and he didn't return.
The first-place Knicks are one of basketball's best teams, but Anthony may miss multiple games with what looks to be a painful ankle sprain.
Can the Knicks keep winning without their star forward? Here are four reasons Mike Woodson's squad can continue their hot streak in Anthony's absence.
Begin Slideshow

»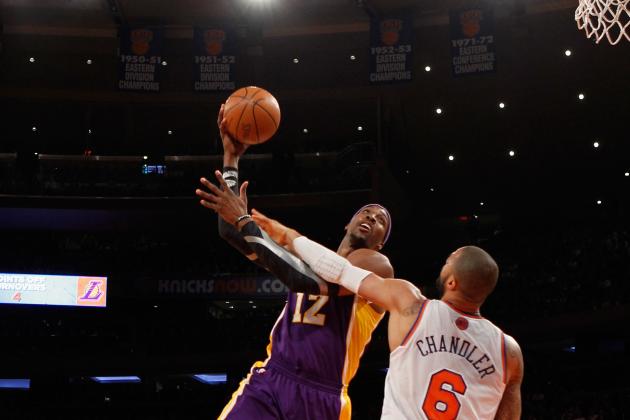 Bruce Bennett/Getty Images
The Knicks have been stout on defense all season.
Make no mistake, the New York Knicks are an exceptional offensive team. They rank fourth in the NBA in points per game at 103.2, and that isn't only due to their leading scorer in Anthony.
Where the Knicks really win games, however, is on the defensive end. They have played tough on that end all season and rank 10th in the NBA in points allowed per game with 95.8.
With Tyson Chandler anchoring the paint, scoring on the Knicks is no easy task. The addition of physical perimeter defender Ronnie Brewer, the new-found defensive focus of J.R. Smith and the veteran savvy of Jason Kidd and Rasheed Wallace have also helped defensive rotations and play overall.
A focus on getting stops instead of running up the score could ease the temporary loss of 'Melo.
Bruce Bennett/Getty Images
Raymond Felton has been exceptional leading the pick-and-roll attack this season.
Under Mike D'Antoni, the Knicks' offensive focus was the pick-and-roll, run mainly by Raymond Felton and Amar'e Stoudemire.
When Mike Woodson took over, he decided to move the offense toward Anthony's strengths—mid-range post isolation—but kept the pick-and-roll intact by putting Anthony on the weak-side elbow. When the ball isn't in 'Melo's hands, Raymond Felton and Tyson Chandler run one of the best pick-and-rolls in basketball.
Felton has become excellent at penetrating off of screens and either passing to the screener or to the weak side for a jump shot, or shooting floaters in the lane. Tyson Chandler is capitalizing on every opportunity that he gets, as he is shooting 70.8 percent from the field (which would be good for the second-best field-goal percentage in history).
With Anthony on the sidelines, Felton has shown that he can lead the Knicks using the pick-and-roll as he did against Miami, when he scored 27 points with seven assists in 'Melo's absence.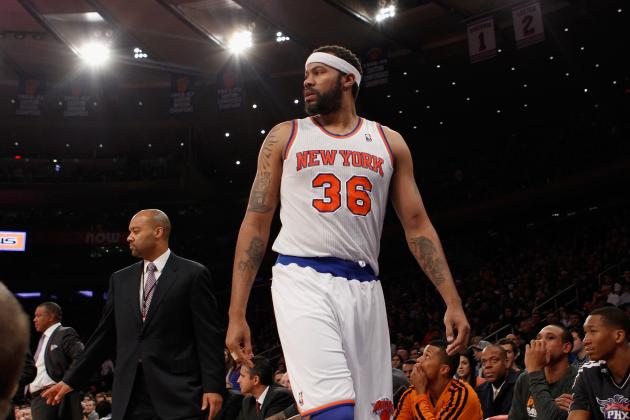 Bruce Bennett/Getty Images
The Knicks have a very deep bench.
One thing that is very important in surviving a grueling, five-month, 82-game NBA regular season is depth. The Knicks have plenty, with 10 players who are getting regular minutes (not including Amar'e Stoudemire or Iman Shumpert).
At any time, they can have Pablo Prigioni, J.R. Smith, Steve Novak, Kurt Thomas and Rasheed Wallace on the floor, none of whom are regular starters. Keeping everyone fresh so that no one has to take on a significant amount of responsibility without 'Melo will make his loss easier to cope with.
Eventually, when Stoudemire and Shumpert return, the Knicks will have the ideal problem of finding minutes for 12 players who deserve them.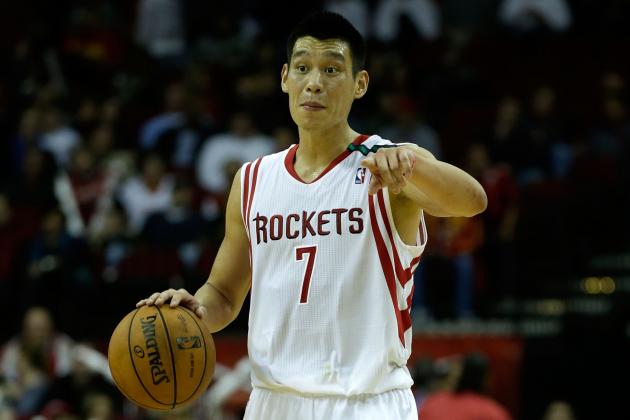 Scott Halleran/Getty Images
Jeremy Lin will make his return to Madison Square Garden on Monday.
The Knicks' schedule will ease up a bit over the next month, as five of the next eight teams they play are .500 or below. This should make it easier for the Knicks to forget that their leading scorer might be on the sidelines for a few of those games.
Also, the next three opponents that are over .500 (the Nets, Bulls and Timberwolves) are only a combined nine games over .500, while the Knicks are 12-over by themselves. None of these teams are among the league's elite.
Additionally, their next five games (including each of the over-.500 teams they will play in December) will all be at Madison Square Garden, where the Knicks have not lost this season and where head coach Mike Woodson owns a 20-1 record.
The loss of a player like Carmelo Anthony could be detrimental to the Knicks at many points throughout the season, but the timing of his injury is as ideal as it could possibly be.