Game-by-Game Predictions for the Houston Rockets in December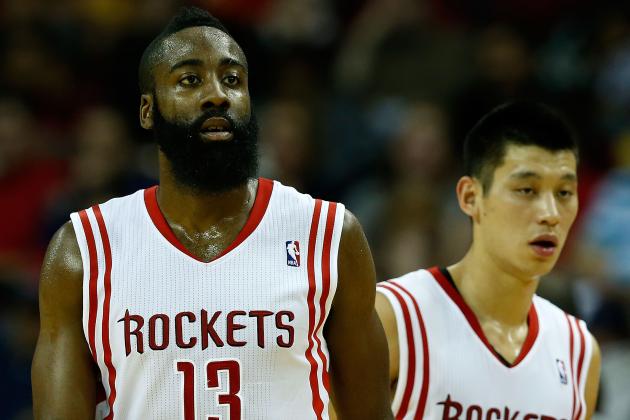 The NBA season is now a month old, and the Houston Rockets need to start performing better.
The team has gone 7-8 to start the season, and has struggled to find consistency on defense. They currently rank second-to-last in points allowed, at 101.5 per game, though they rank fifth in points scored, at 102.1 per game.
December isn't going to get any easier for the young Rockets. Sixteen games are scheduled, more than half of which are against teams that either made the playoffs last season or will make a strong push for the postseason this year.
Needless to say, everyone on the team, from star to benchwarmer, needs to be fully prepared if this month is to be better.
The Rockets are fortunately on the right track. They've won three of their last four games, and the offense looks more cohesive and balanced as of late. They've also gone 5-3 at home, and 10 of their December games will be played at the Toyota Center.
The stage is thus set for Houston to do well this holiday season, and each of their 16 games should be a good one.
Begin Slideshow

»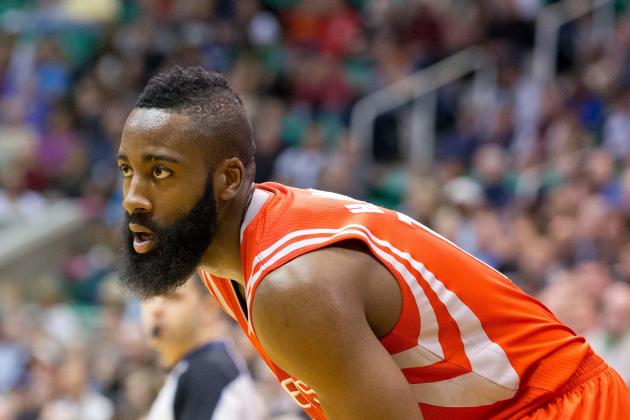 Houston played Utah in Salt Lake City Nov. 19 and lost 102-91. James Harden was sick and only played 17 minutes, and Ömer Aşık became a victim of the altitude. At home, Houston is going to be out for revenge.
This game is going to be a clash of styles, with Houston's run-and-gun game going against Utah's frontcourt-reliant system. Al Jefferson had the clear advantage against Aşık in Utah, but he'll be in for a tougher battle in Houston. He will also have to play even harder than he usually does, what with all seven of Utah's losses coming on the road this season.
In the end, Houston is going to pull out all the stops to walk away with victory in this one. Harden is going to completely take over on offense, from scoring points to dishing out assists, and will also be a factor on defense. Utah will give a great effort, but it just won't be enough against the young and hungry Rockets.
Prediction: Rockets win 102-95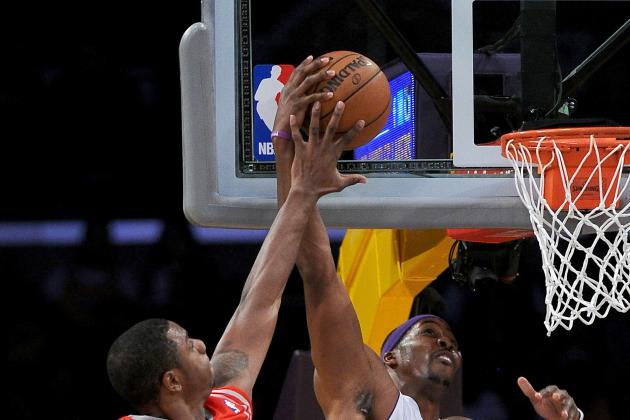 Houston gets another rematch in this game, taking on the experienced Los Angeles Lakers at home. Both teams faced off in Los Angeles Nov. 18, with the Lakers winning 118-109. Kobe Bryant had a triple-double and Dwight Howard bested Aşık in the paint by scoring 28 points and pulling down 13 rebounds.
The run-and-gun game was in full force on both sides, but the Lakers' experience ultimately won out. Such will be the case when they visit Houston. Bryant will have another fine game, and Howard will best Aşık once again.
That isn't to say that the Rockets won't put up a respectable effort. Harden will have a fine scoring night and Patrick Patterson will battle Pau Gasol to a stalemate once again.
The final score will be close, but the young Rockets just won't have the veteran leadership and experience needed to defeat Los Angeles. It will be a tough loss, but Houston cannot let it bog them down.
Prediction: Lakers win 120-113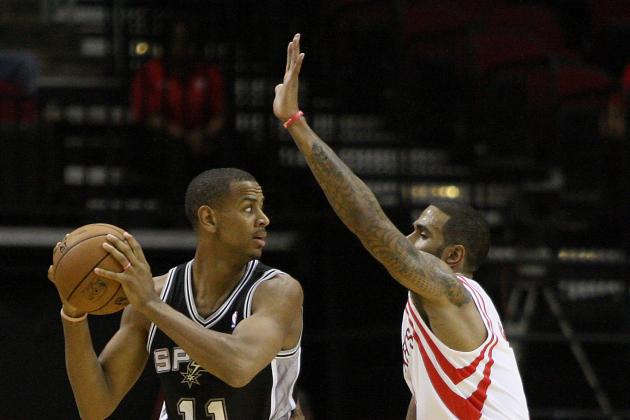 The Rockets split the season series with the San Antonio Spurs last season, with each team winning and losing two games. There's no telling how the season series will play out in 2012-13, but the first game they play against one another will have a clear winner. In San Antonio, the Spurs' collective experience will lead to a blowout victory in their favor.
San Antonio's core may be getting older, but they seem to be playing with an extra bounce in their step. The 36-year-old Tim Duncan is playing as though he is 10 years younger, averaging 18.4 points, 9.8 rebounds and 2.5 blocks per game. Whereas, 35-year-old Manu Ginobili is only averaging 11.8 points per contest, but is still a fine bench player and playing some tough defense.
Most important of all, San Antonio's core players have won three championships together. They know how to play with and get the best out of one another. No matter who steps up for the Rockets in this game, be it James Harden, Jeremy Lin or even Chandler Parsons, San Antonio is going to have an answer.
On their home court, this could make for an ugly battle.
Prediction: Spurs win 108-88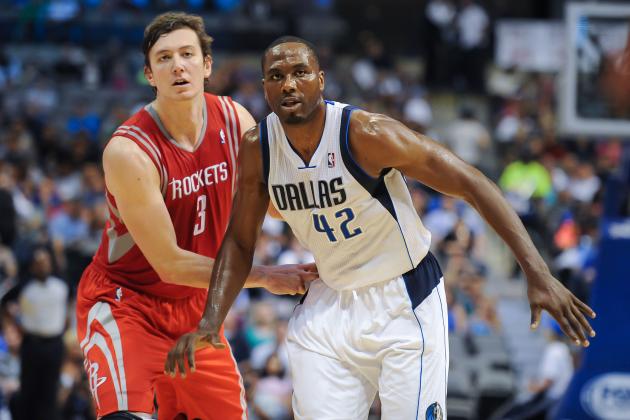 Houston won't have time for a break after losing to San Antonio. They face the young Dallas Mavericks at home the very next evening, and will be looking to prevent their losing streak from reaching three games.
Fortunately, Dallas will still be without star forward Dirk Nowitzki and will be missing his presence as power forward. Young Patrick Patterson will be in a prime position to win his battle with veteran Elton Brand, and Ömer Aşık will prove to be a superior athlete matched up against Chris Kaman.
The Rockets will also be at an advantage on offense. Dallas, too, likes to run, but they lose a lot of their bite without Nowitzki in the lineup. This puts Harden and his teammates in a prime position to completely take control on the offensive end, with Dallas having the slow-footed Brand in the lineup.
Harden and Parsons will thus take over on offense, sinking jump shots and driving to the basket from start to finish. Dallas will go on a run at various points in the game, but it's not going to be enough without their star. Houston will win this game and get back in the win column.
Prediction: Rockets win 110-99
The stage may be set for another blowout by San Antonio, but Houston has home court advantage this time. They will also have had three days to analyze their loss to the Spurs in San Antonio, and will be better prepared when the veteran squad visits them at the Toyota Center.
San Antonio will be in control most of the game, with Tony Parker and Tim Duncan doing what they do best. Danny Green will be a force from beyond the arc and sink multiple clutch threes.
Houston may trail most of this game, but will refuse to back down. Clutch shots from Harden and Parsons will keep the team in the hunt for a win from start to finish, with a big run coming in the fourth quarter.
In the final seconds of this game, Harden will make the game-winning basket as the Rockets pull off the upset special. The fans will roar, players will celebrate and the Spurs will only be able to watch in disbelief.
Prediction: Rockets win 108-106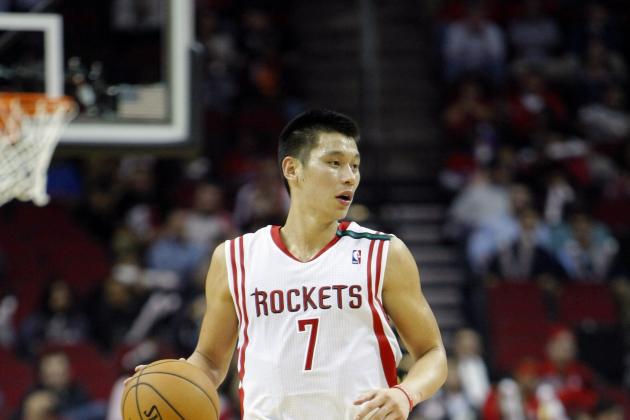 The Wizards may have just won their first game, but that doesn't take away from the fact that they are still one of the NBA's worst. Houston will remind them of this when the young team comes to town, and Jeremy Lin will get to relive some of last year's Linsanity.
Playing for the New York Knicks last season, Lin had a fine game against the Wizards. He scored 23 points and dished out 10 assists, and he has the tools to put on a very similar performance in this game.
Lin will exploit Washington's weak defense and create off the dribble, finally showing some confidence in his jump shot. He will also drive to the basket and create plays for his teammates. For the first time all season, the Houston fans will get to experience Linsanity.
In a blowout win, the Rockets will carry the momentum of their upset win against San Antonio and finally get some bang for their buck out of Lin.
Prediction: Rockets win 107-85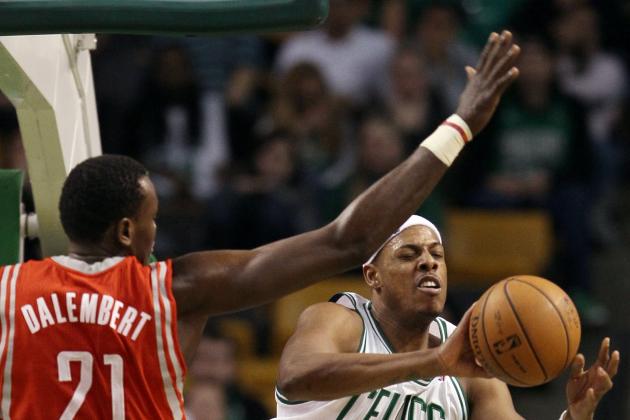 Like the Rockets, the Boston Celtics have also gotten off to a sluggish start. The adrenaline will be pumping on both sides for this game, as it will be on national television. The experienced Celtics will look to make the Rockets play their balanced defensive game, completely taking the run-and-gun out of the equation.
Houston may have been able to defeat San Antonio this same week, but they won't have an answer for the Celtics. Boston point man Rajon Rondo will have a field day against the turnover-prone Jeremy Lin, and Paul Pierce will do what he does best in sinking clutch shots.
Boston will also win the battle under the basket. Kevin Garnett will take Aşık to school in the low post and also do a fine job scoring points against the young center. He will help this remain a low-scoring game, played completely on Boston's terms.
Harden will do all he can in the scoring department to keep Houston alive, but it just won't be enough against a balanced and experienced Boston squad.
Prediction: Boston wins 94-86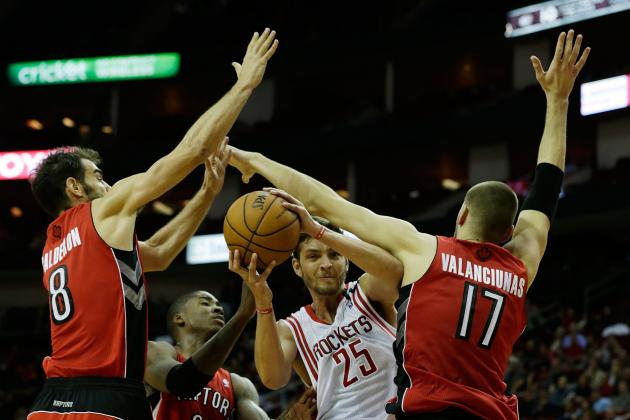 Houston played the Raptors at home Nov. 27, and will head north of the border to face them in December. It's a long trip, so there's every possibility that the Rockets will feel some fatigue from the road, and also their loss to Boston.
Despite that, they'll be fully focused against a Raptors team that is just as young and inexperienced as they are. Nothing against Toronto, but their defense is weak and ranks 27th in the NBA in points allowed, at 101.5 per game.
Houston's defense is worse, currently ranked 29th in points allowed, but their offense is ranked fifth compared to Toronto's, which is 17th. The Rockets' run-and-gun will thus be in full effect as Harden has another fine game against the Raptors, scoring a lot of points to go with some fine assists.
In the paint, Ömer Aşık will torch rookie Jonas Valančiūnas on the glass and also block his fair share of shots. The Raptors will have no answer for his defense, nor Houston's attacking offense, and they will not be able to keep up with Houston in the long run.
Toronto may go on a run here and there, but this is another easy victory for Houston.
Prediction: Rockets win 115-99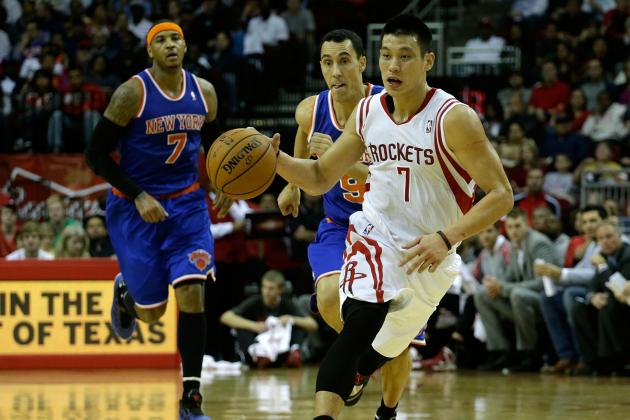 The Rockets absolutely torched the Knicks in Houston Nov. 23, 131-103. The slow-paced, defensive New York players had no answer for the Rockets' fast-paced game, and just looked lost on defense. James Harden scored 33 points and was 16-of-16 from the free-throw line.
This time, however, the Rockets will be in New York and will not have a break following their win against Toronto. New York has played remarkably well at home this season, and the rowdy Knicks fans will be cheering their boys on from start to finish.
New York will also be ready to play defense tonight, and won't underestimate the Rockets like they did before. Tyson Chandler will own Aşık in the paint, and Carmelo Anthony will control the Knicks' offense.
This will make for a sour homecoming for Jeremy Lin, as the fans will show no mercy. He will likely be booed every time he has the ball, and the Knicks will exploit his turnover tendency.
It won't be a blowout victory at Madison Square Garden, but a big win for the Knicks, nonetheless.
Prediction: Knicks win 103-90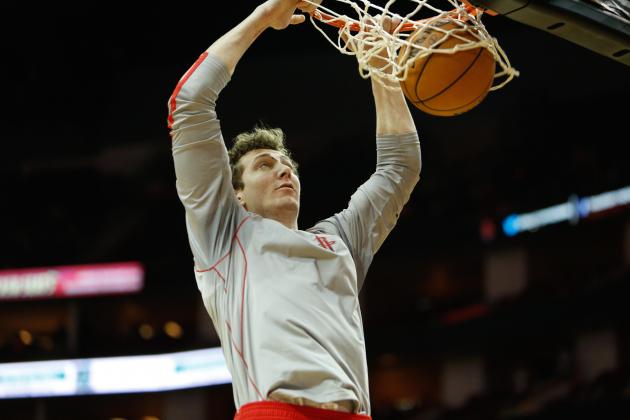 The player of the game tonight will be Ömer Aşık, who will be in a prime position for a great game against the Sixers. Not only will Houston have home court advantage, but the Sixers do not have a solid center to keep Aşık at bay. With Andrew Bynum out indefinitely, they will look to Kwame Brown or Lavoy Allen to cover the Turkish seven-footer.
Fortunately for Houston, this will provide them the perfect opportunity for a win following a tough loss in New York. Philadelphia plays a defensive game, but does not have the star power to fully take control in crunch time, even though they are 9-6 right now. As a result, the Rockets will be able to run the offense at their fast pace and not have to worry about an overwhelmingly good defender slowing them down.
Look for Harden to have a high-scoring night. Look for Lin to toss some lobs up to Aşık, who will perform on both sides of the hardwood. Philly may have the better record coming into this game, but they won't be any match for Houston.
The Rockets will smell Christmas a-coming, and will launch into overdrive starting with this game.
Prediction: Rockets Win 100-92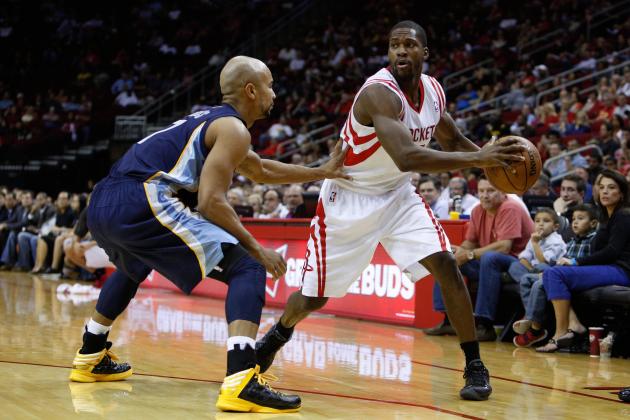 Memphis defeated Houston 93-85 Nov. 9, but that was in Memphis. Plus, Houston struggled with turnovers all night long, committing 20. Despite that, they still managed to out-rebound Memphis 41-40 and shot 41 percent from the field to the Grizzlies' 37.
In Houston, they will be fully focused and ready to fend off hard-charging Memphis. Patrick Patterson will go toe-to-toe against Zach Randolph all evening long, keeping him out of the offense and doing all he can to keep him away from rebounding the ball. Aşık will fight to a stalemate against Marc Gasol.
The game's X-Factor will be none other than James Harden, who was guilty of five of the 20 turnovers in Houston. He also scored 18 points on just four of 18 shootings. He will be better tonight, winning every battle against Tony Allen and scoring a great number of points.
All Memphis will be able to do is watch in shock from the bench. The Rockets will want this game more, and pull off a great upset victory to prove it.
Prediction: Rockets win 97-93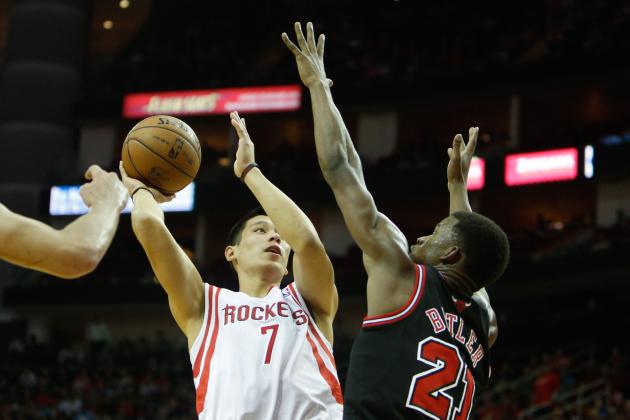 Houston will head on the road for the holiday this season, and will face the Chicago Bulls at the United Center Christmas Day. Chicago has struggled without Derrick Rose and lost a tough one to Houston Nov. 21.
It will be just as close a game this time around. The Rockets will be riding the momentum of their short winning streak, and will be ready to play in the Windy City.
Assuming Derrick Rose is still recovering from ACL surgery, Chicago will again struggle against Houston. They have no consistency at the point, and have relied on Luol Deng and Joakim Noah to carry the team in their star's absence.
On Christmas Day, the Rockets will be hungry for a road win, one of the greatest gifts an NBA team can receive. The run-and-gun will be in full force against the slow-paced Bulls, and Houston will pull off yet another upset victory to continue their magical December run. On the backs of Patrick Patterson and James Harden, the winning streak will be extended to three games.
Prediction: Rockets win 107-94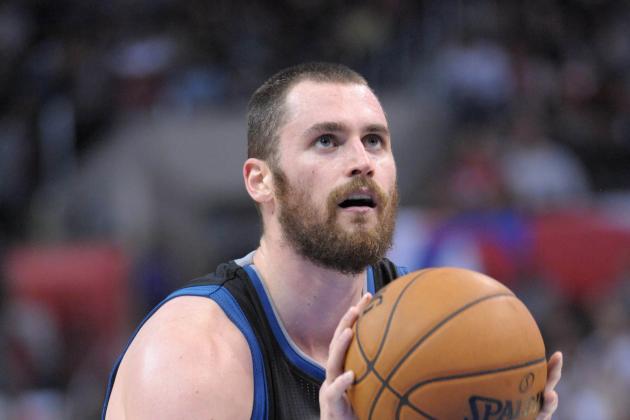 Any holiday cheer the Rockets were feeling will be snuffed out when they head to Minnesota. The Timberwolves could very well have point man Ricky Rubio back at this point, which could make life difficult for Houston.
However, Rubio isn't going to be the man responsible for a Rockets' loss on Boxing Day this year. It will instead be teammate and double-double machine Kevin Love, who will absolutely destroy Houston's frontcourt in the paint.
Love will have a double-double against Houston, and Nikola Peković will do a fine job of defeating Aşık in the low-post. Harden and Parsons will do all they can to keep their team in the game, but their efforts will fall short in Minneapolis.
The Timberwolves will own this game, and further cement their status as a playoff contender this season.
Prediction: Minnesota wins 111-98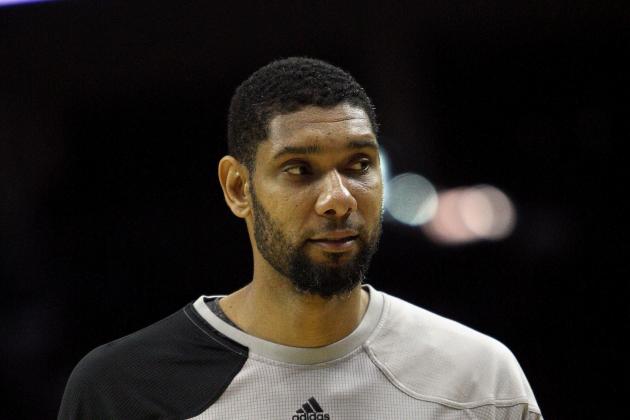 Continuing the trend from last season, the Rockets will face San Antonio for the third time and again lose. Why? Well, apart from feeling shellshocked after losing in Minnesota, this game is also being played at the AT&T Center, where the Spurs have always played well.
Granted, Houston will be better prepared for the rowdy San Antonio fans this time. They will go toe-to-toe with the veteran team, winning key battles in the paint in key situations, and also making some clutch shots, courtesy of James Harden and Chandler Parsons.
Unfortunately, their youth and inexperience will catch up with them by the last quarter. Tim Duncan and Tony Parker will take control on both sides of the floor, and the Rockets will have no answer for the veteran core that has three rings on their collective belt.
Despite a respectable effort, the Rockets will leave San Antonio on a two-game losing streak.
Prediction: Spurs win 96-91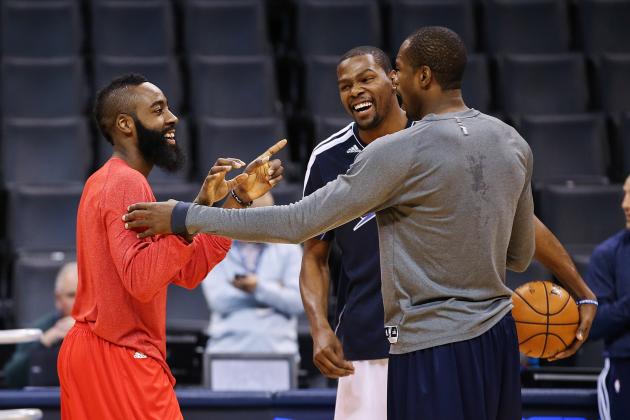 James Harden got to reunite with his former teammates Nov. 28, and his Rockets did not fare well. Oklahoma City won 120-98 and absolutely destroyed Houston on defense. They out-rebounded them 46-38 and forced 16 turnovers.
Harden himself was limited to 17 points on three of 16 shootings, relying on the charity stripe for his scoring. Houston also shot just 41 percent from the field compared to the Thunder, who shot 54 percent.
That game was in Oklahoma City, and the result isn't going to be any different in Houston. The Thunder made the NBA Finals last year for a reason, and they will continue to show that they are indeed the best team in the Western Conference.
They also have the advantage of knowing how Harden plays, which will allow them to again completely take him out of the offense. As much as Rockets fans may not like to see it, Kevin Durant and Russell Westbrook will again show that they are just fine without the reigning Sixth Man of the Year, and thus extend Houston's losing streak to three games.
Prediction: Thunder win 118-93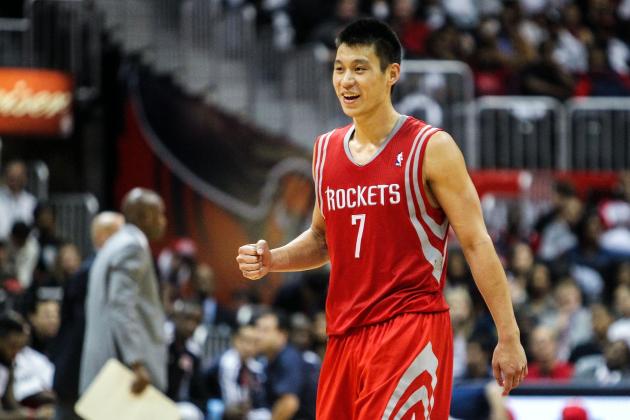 Houston faced Atlanta at Philips Arena in just their second game of the season, and was able to come away with a 109-102 victory. Harden led the way with 45 points and seven rebounds, and Jeremy Lin contributed 21 points and seven assists to go with 10 rebounds.
Atlanta will come to Houston on New Year's Eve, and the Rockets will be using this win as motivation to break their losing streak. The young Hawks' isolation game will be no match for Houston's run-and-gun, and the Rockets will ring in 2013 in grand fashion.
This won't be a blowout victory, but it will feature a lot of fireworks. Aşık will have some fine dunks. Harden and Lin will carry the offense, and Parsons will sink some clutch three-pointers.
Even Patrick Patterson will turn in a fine night, registering a double-double and looking like the fine player he was at Kentucky.
Atlanta will put in a respectable effort, but they won't be the ones celebrating at the Toyota Center this New Year's Eve. That honor goes to the Houston Rockets, who will have finished the month of December 9-7.
Prediction: Rockets win 102-98