Deepest Rosters in the NBA for 2012-13 Season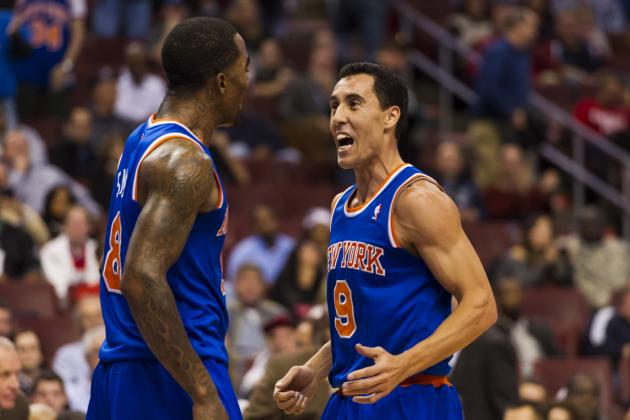 Howard Smith-US PRESSWIRE

Nothing defines a truly great NBA team like depth. Greatness cannot be achieved solely on the backs of the starters, so having a productive second unit is extremely important. Among previous championship winners, each franchise has had at least one or two valuable players off the bench that played a key role in the team's success.
This season, some teams have really gone the extra mile in making sure that their bench is plenty stocked. Be it through a handful of role players or guys who can step in and play starter minutes at the drop of a hat, these deep teams are very well-prepared for a stretch run. More importantly, if a star player should go down, deeper teams won't immediately go into panic mode.
Once the final stretch leading to the playoffs comes around, however, the teams with depth will have a true advantage. The whole reason they have such a deep bench is to forge a balanced attack and show some variety against the opposition. Should the deepest of the teams make the playoffs, that's when their real overall talent will be most evident.
Read on to find out which teams are most comfortable rotating subs in relief of their starters.
Begin Slideshow

»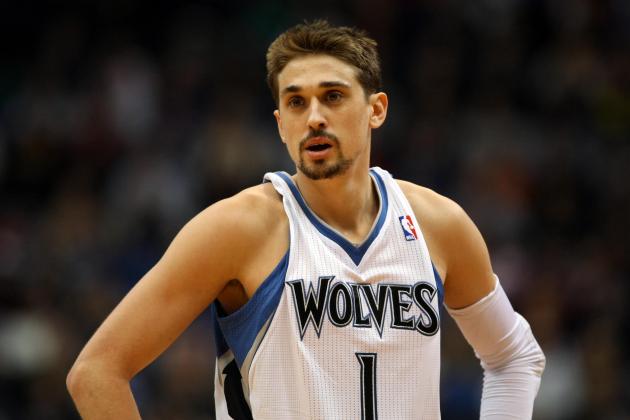 Brace Hemmelgarn-US PRESSWIRE

Minnesota is a young team that crumbled after hotshot point guard Ricky Rubio tore his ACL last season, but it came in with a new attitude in 2012-13. The Timberwolves started the season 5-2, and that was without Rubio or star forward Kevin Love. Instead of just moping through each game, win or lose, everyone came together and put forth a collective effort to bring home the victory.
Chase Budinger provided some fine scoring off the bench, 11.8 points per game to be exact, and the team continued to play well even after he tore his meniscus. Rookie guard Alexey Shved (pictured) is starting to come into his own as a shooter, which will be key as Brandon Roy recovers from his latest knee surgery.
Most noteworthy is the fact that Minnesota has played this well with Luke Ridnour and J.J. Barea running the point while Rubio continues to recover from his injury. Keep in mind that Ridnour is essentially a point guard who doesn't really excel at any one particular skill, and Barea has a reputation of a shooter.
Barea's approach hasn't changed much, but Ridnour has looked tougher than ever on defense. Even when Rubio comes back, he's going to be a valuable member of the team.
This can only help Minnesota as it looks to get back to the postseason for the first time since 2004, especially now that Kevin Love has returned.
Jennifer Stewart-US PRESSWIRE

Denver made a big splash over the summer when it got in on the trade that sent Dwight Howard to the Los Angeles Lakers, sending Arron Afflalo and Al Harrington to the Orlando Magic and receiving the dynamic Andre Iguodala from the Philadelphia 76ers. The team may only be 6-6 now, but the Nuggets are just starting to show how deep a roster they have.
Kosta Koufos and Javale McGee are forming a formidable tandem at center. Koufos provides a blue-collar game in the middle, whereas McGee brings more of a power game and shot-blocking under the basket.
In the backcourt, Andre Miller is a phenomenal backup to point guard Ty Lawson, while Corey Brewer is proving to be a fine three-point shooter off the bench.
Wilson Chandler may be injured, but he'll provide a fine spark in the second unit once he returns. Even second-year-man Jordan Hamilton is making the most out of limited minutes.
Granted, Denver is a young team that might not yet have the overall experience to go far in the playoffs and win a title, but its play thus far has made one key point; in the playoffs, Denver isn't going to go down without a fight.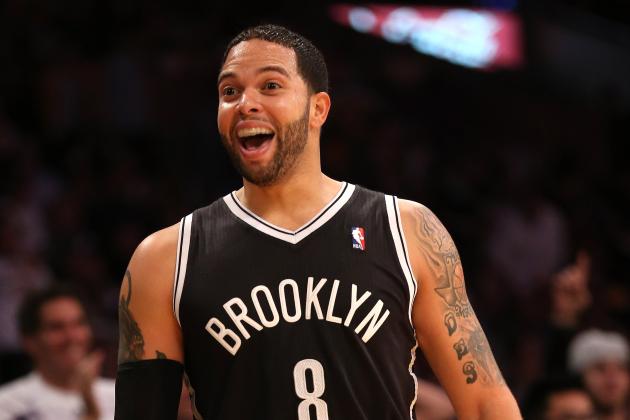 Stephen Dunn/Getty Images

Deron Williams has a lot to smile about. After years of being a lottery team, the Nets finally have a balanced core group, and a balanced bench to go with it.
Williams himself has a fine backup in C.J. Watson, who is shooting 36 percent from long range and averaging 1.2 steals in 23.1 minutes off the bench. The rest of the backcourt looks even stronger.
Second-year-man MarShon Brooks' minutes have been limited as he works his way back from a sprained ankle, but he's going to develop into a fine sixth man down the stretch. Over his first three games, before he was injured, he averaged 10.3 points over 19.6 minutes per contest.
The Nets' second-unit frontcourt players, however, have been the story of the season. Journeyman Reggie Evans has been a great rebounder, averaging seven boards in 17.7 minutes and playing much larger than his 6'8", 245-pound frame.
An even better story is the one of Andray Blatche, who is averaging 8.9 points and 5.3 rebounds after his attitude issues caused the Washington Wizards to amnesty him over the offseason. He appears much happier now that he is on a contending team and recently turned in a 22-point effort against the Sacramento Kings.
If this young group can continue to play well against experienced teams, then it could potentially advance deep into the playoffs in the very near future.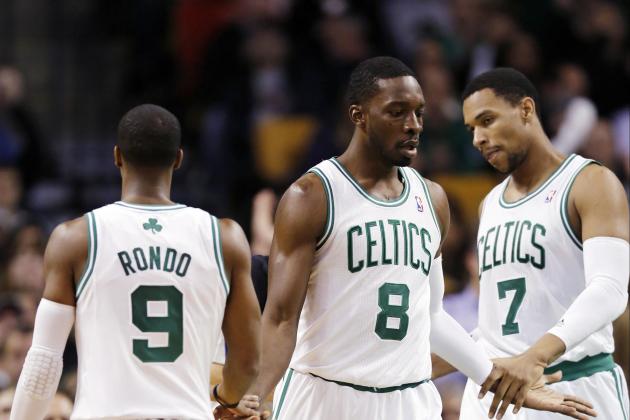 Greg M. Cooper-US PRESSWIRE

The Celtics are one of the NBA's oldest teams, but their young bench players are showing that they will be ready to take over as starters when the time comes.
Rookie Jared Sullinger is starting to develop a fine low-post game and turning into a respectable defensive player. He may only be averaging 4.8 points and 4.4 rebounds over 18 minutes of play, but give him time. He has good size at 6'9", 280 pounds and will slowly become a dominant bench big man a la Glen "Big Baby" Davis.
Leandro Barbosa has come out of nowhere to provide deadly three-point shooting in the backcourt and is shooting 37 percent from downtown while averaging 6.8 points over 14.5 minutes per game. They aren't the eye-popping numbers he posted in Phoenix, but will be a big help in Boston until Avery Bradley is ready to return from offseason shoulder surgery.
The best reserve in Boston, however, has to be Jeff Green at this point. After missing all of last season with a heart problem, he is averaging 7.9 points per game and has done some impressive work above the rim.
Boston may be off to a sluggish start, but the Celtics are going to look like their usual contending selves once both units can come together.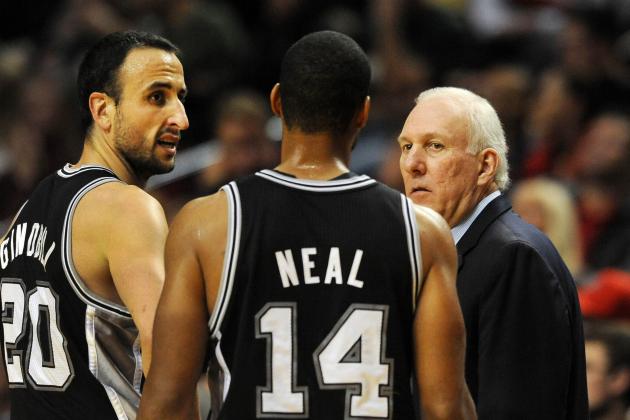 Steve Dykes-US PRESSWIRE

The Spurs have been the best team in the Western Conference each of the past two seasons for a reason. On top of their fine starting crew, they have a deep bench that can enter the game and immediately provide a spark.
Stephen Jackson may be injured now, but he can be a deadly shooter who also provides pesky defense when he actually feels like playing it. He's expected to miss a few weeks with a broken finger and will be greatly missed on the court.
The rest of the bench will more than make up for the loss of Jackson, as Manu Ginobili will continue to offer solid scoring and tough defense. He is only averaging 9.9 points per game thus far, but his scoring is slowly starting to return to form and will make the Spurs all the better once he has his touch back.
Gary Neal is a lock for providing solid scoring from downtown, and Patty Mills can turn on the afterburners in an instant for some added toughness.
The most interesting player on the Spurs' second unit, however, has to be Brazilian big man Tiago Splitter. He has great size at 6'11", 240 pounds, but is really just used as a big body in the paint. He still remains committed to developing his game, though, and turned in a 23-point performance against the Boston Celtics on Nov. 21.
Behind the youth and tenacity of their bench, the Spurs will surely cruise to a top spot in the West again this season.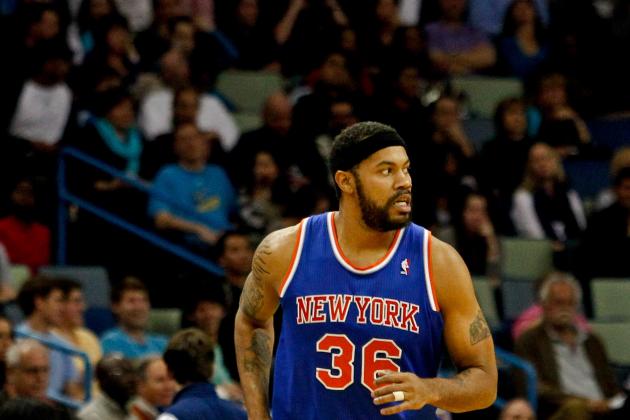 Derick E. Hingle-US PRESSWIRE

If someone had told me at this time last year that Rasheed Wallace would come out of retirement and join the New York Knicks as a bench player in 2012-13, I would have laughed hysterically. Had they told me he would assume this role and actually be productive at age 38, I probably would have dropped dead.
The fact remains that Wallace, despite spending two years away from the game, has provided the Knicks with a great low-post presence off the bench. He is averaging 7.5 points and 4.4 rebounds in 14.4 minutes per game. His PER is a respectable 20.6.
The rest of the Knicks' bench is a testament to how well the team will fare in the long run. J.R. Smith is doing a great job as the sixth man and is second on the team in scoring with 15.9 points per game. He has also averaged 5.1 rebounds and is shooting a deadly 53 percent from long range.
35-year-old rookie Pablo Prigioni hasn't done any eye-popping work as a backup point guard to Raymond Felton, but his defensive effort has played a key role in New York's 8-2 start. Steve Novak is slowly starting to regain his magic touch from behind the three-point line, and Marcus Camby and Kurt Thomas provide minutes at center as needed.
Ready for the crazy part? The Knicks have accomplished all this without star big man Amar'e Stoudemire, further establishing themselves as one of the deepest teams in the league.
Mark D. Smith-US PRESSWIRE

Lob City may be best known for star point guard Chris Paul and dunking-machine Blake Griffin, but the supporting cast deserves its due credit as well. The scrappy and young second unit has done a solid job of providing quality minutes off the bench, whether it be for tough defense in the paint or some electrifying shooting.
The face of the second unit belongs to Jamal Crawford, who came to Los Angeles after one unhappy season with the Portland Trail Blazers. He hasn't started one game this year, yet he has still managed to play 28.4 minutes a night. He is averaging 19.7 points per game and shooting an astounding 44 percent from three-point land.
Helping Crawford in the backcourt is Eric Bledsoe, who is a pest on defense and can hold his own in the scoring department. He is averaging 10.5 points over 19.2 minutes per game, but his scoring isn't what has people talking about him as of late. Rather, it is the fact that his 6'1" self was able to block a shot by Miami Heat star Dwyane Wade.
The Clippers even have one of the best players of a generation on their bench in 40-year-old Grant Hill, who averaged 10.2 points per game for the Phoenix Suns last season. A knee injury has kept him from appearing in a game this year, but he should provide some quality depth at small forward, assuming he comes back at 100 percent.
With him healthy, the Clippers look all the more dangerous.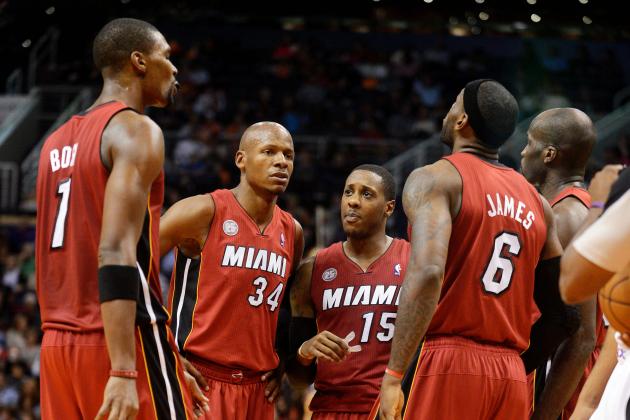 Jennifer Stewart-US PRESSWIRE

The defending champion Miami Heat's second unit may not have looked like much last season, but GM Pat Riley made sure to improve it over the summer to increase the team's chances of winning another title in 2013.
Three big-time shooters headline the second unit: Mike Miller, Rashard Lewis and the all-time leader in three pointers made, Ray Allen. Allen has served as the sixth man this year, averaging 12.5 points and shooting 52 percent from long range.
Miami's backup forwards and centers should not be overlooked, however. Joel Anthony provides some great size in the paint, and Udonis Haslem just passed future Hall of Famer Alonzo Mourning to become the team's all-time leader in rebounding.
Again, Miami may not seem like much beyond its Big Three, let alone its starting five, but the Heat are still an extremely deep team that will be a force to be reckoned with throughout the season.