Early-Season NBA Sixth Man of the Year Rankings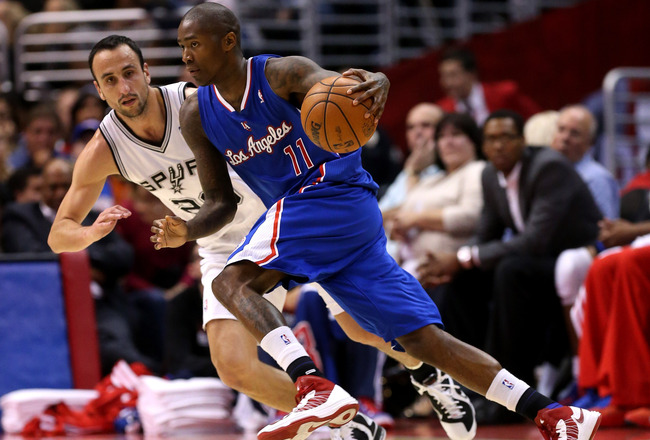 Stephen Dunn/Getty Images
Being considered one of the NBA's best sixth men is something of an unglamorous distinction.
While there is some level of recognition among hardcore basketball fans, it only goes so far. These are the guys you won't typically find on the NBA's official All-Star ballots, nor will you see them in any of the promotional materials distributed by the league.
That said, without the contributions of these key reserves, their respective teams would be much worse off. The life of a backup isn't always ideal, but for a select few, it could ultimately pay off in the form of the NBA's Sixth Man of the Year Award at the end of the 2012-13 season.
Note: Stats used in this article were accurate as of Saturday morning (Nov. 17).

5. Kevin Martin, Oklahoma City Thunder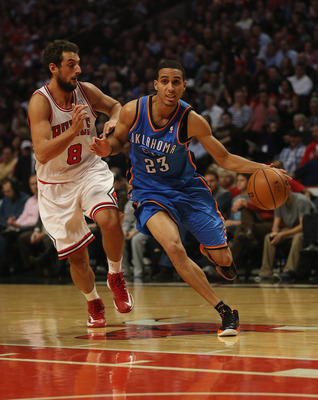 Jonathan Daniel/Getty Images
It's clear that Kevin Martin doesn't have the same skill set as James Harden (who won the league's Sixth Man of the Year Award last season), but the 6'7" shooting guard is slowly adjusting to life off the bench with the Thunder.
Martin's role may have changed with his trade to Oklahoma City, but he's still one of the league's better pure scorers (17.1 PPG). Expecting Martin to fill the stat sheet in the other major categories is a stretch, but few other reserves in the NBA have a mid-range game comparable to that of the former Rockets star.
"Kevin isn't a ball hog," said Thunder coach Scott Brooks in an interview with Mary Schmitt Boyer of The Cleveland Plain Dealer. "He's a guy who's going to help us win games."
4. Ryan Anderson, New Orleans Hornets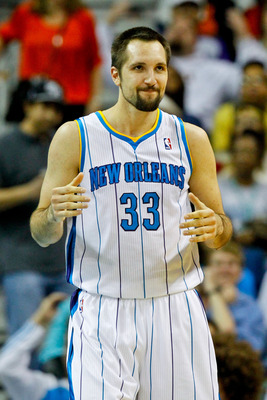 Derick E. Hingle-US PRESSWIRE
After starting 61 games for the Orlando Magic last season, Ryan Anderson is now a reserve for the New Orleans Hornets due to the presence of one Anthony Davis. But the 6'10" Anderson has quickly embraced his role as the team's sixth man and is one of the most unique reserves in all of basketball.
Anderson is one of the league's better "stretch 4's": power forwards who have range out to the three-point line. And not only is Anderson proficient beyond the arc (he averages 2.6 made threes per game), he still finds a way to control the action in the paint (8.6 rebounds per game).
With Davis ahead of him, Anderson doesn't figure to start for the Hornets at any point in the foreseeable future. But on the bright side, that pretty much ensures that he'll be in the mix for the NBA's Sixth Man of the Year Award all season long.
3. Carl Landry, Golden State Warriors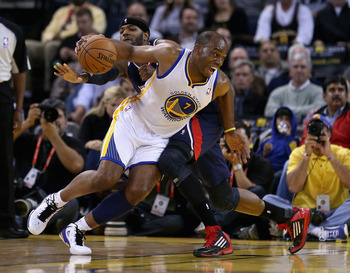 Ezra Shaw/Getty Images
With Andrew Bogut's injury status still uncertain, and David Lee still struggling to find his shot, Carl Landry has been Golden State's best big man so far this season.
Landry may only be 6'9", but he's an imposing figure in the paint who consistently outworks opposing forwards on the glass. Through the Warriors' first nine games, Landry has grabbed nine rebounds or more on four separate occasions.
Landry's numbers across the board have been phenomenal (15.3 PPG, 7.7 RPG, 58.8 percent shooting), and he could potentially be a dark-horse candidate to make the Western Conference All-Star team if he continues to play at such a high level.
2. J.R. Smith, New York Knicks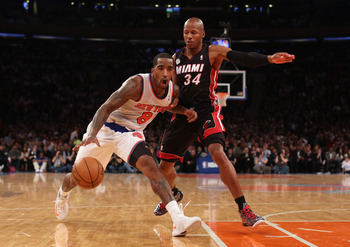 Nick Laham/Getty Images
J.R. Smith may not be a starter, but he logs more minutes than any New York Knick not named Carmelo Anthony (34.1 MPG). Knicks head coach Mike Woodson has full faith and confidence in the 27-year-old Smith, and the eight-year veteran has responded by averaging 16.7 points and 5.1 rebounds per game so far in 2012-13.
Smith admitted recently that he got caught up in the trappings of the Big Apple nightlife last year (via ESPNNewYork.com). This season, with a renewed emphasis on his game, the 6'6" shooting guard has emerged as one of the best role players in the entire league.
"He's so locked in and focused this year," said Knicks center Tyson Chandler. "He's really matured and he's really buying into what coach is preaching, and it's been a big help."
1. Jamal Crawford, Los Angeles Clippers
At this point, the NBA's Sixth Man of the Year Award is Jamal Crawford's to lose. Not only is the 6'5" shooting guard the most prolific sub in the entire league, he also leads the Los Angeles Clippers in scoring with 20.5 points per game.
"Forget the Sixth Man Award; he's an All-Star," said Clippers point guard Chris Paul in an interview with Ben Golliver of SI.com. "Jamal Crawford is an All-Star if you ask me."
Working against Crawford is the fact that he's fairly one-dimensional. While he fills it up at an impressive rate (26.1 points per 36 minutes), Crawford needs to raise his averages in the other major categories (1.9 RPG and 1.1 APG) in order to guarantee himself the hardware at the end of the season.
Keep Reading