Dwight Howard and 6 NBA Free Agents-to-Be Auditioning for Other Teams in 2012-13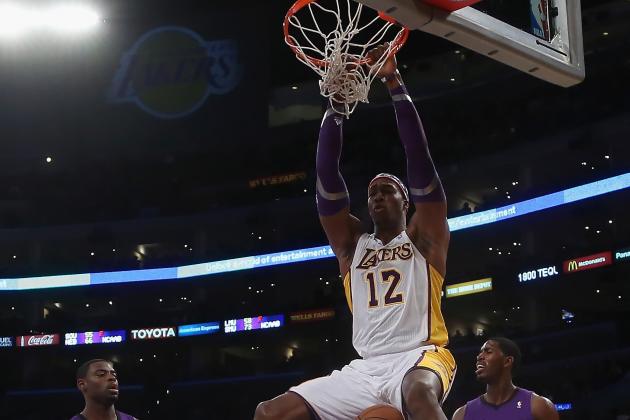 Jeff Gross/Getty Images
Could this be Dwight's first AND last season in L.A.?
There are a handful of 2013 NBA free agents who are playing out their contracts on teams for which they have no intentions of re-signing.
While it's too early for us to determine which players are "as good as gone," there are a handful who are going to draw significant attention—and significant dollars—in the summer of 2013.
This slideshow will look at eight players who are in the last year of their current deals and may be headed elsewhere when the summer comes.
Begin Slideshow

»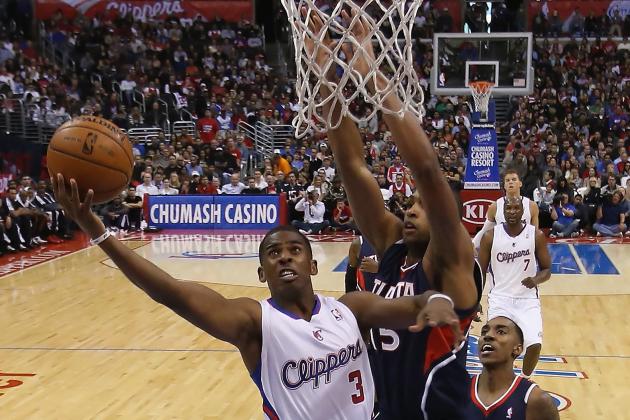 Jeff Gross/Getty Images
Will CP3 continue to try to bring the Clips their first championship?
Chris Paul is no lock to re-sign. He's a co-franchise player of the LA Clippers, and the Clippers have a bright future.
But that guarantees nothing.
Paul will have his pick of teams when the summer of 2013 comes. He's in the last year of a deal that pays him $17.7 million, and he is sure to command a max contract.
CP3 really has nothing to prove to warrant it, either. He's been (arguably) the best point guard in the league over the last five-plus seasons, and has averaged 18.8 points per game and 9.8 assists per game over his seven-year NBA career.
Paul seems committed to the Clippers, but it will be interesting to see if one of the plethora of teams in need of a point guard is able to lure him out of La-La land.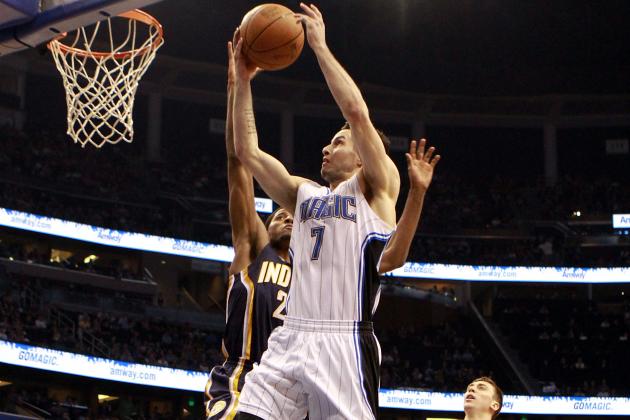 Marc Serota/Getty Images
J.J. Redick is the Magic's most valuable asset.
J.J. Redick is on his way to having a career season on a depleted Orlando Magic team.
He's been solid over his NBA career, but injuries to Jameer Nelson and Hedo Turkoglu have opened the way for Redick to start. It seems quite plausible that, even after Turk returns, the Magic will use a three-guard set which features Nelson, Aaron Afflalo and Redick.
Redick is a fan favorite in Orlando, and this year he's averaging 15 points per game and 4.6 assists per game, while shooting outstanding percentages (51.9 percent from the floor, 47.4 percent from three).
The thing is, it is plausible that Redick will continue these numbers even when Nelson and Turkoglu return.
Redick has come into his own now and is just entering his prime at 28. Teams will come knocking for Redick's services, both at the trade deadline in February and during the summer when his contract expires.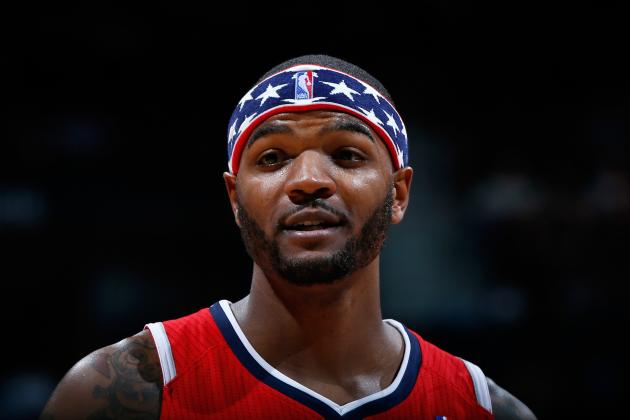 Kevin C. Cox/Getty Images
Josh Smith seems unlikely to remain a Hawk.
The Atlanta Hawks are rebuilding and have already rid themselves of Joe Johnson's contract.
After years of falling short with the nucleus of Johnson, Josh Smith and Al Horford, the Hawks are ready to tear the house down and start fresh.
But Smith still may remain a Hawk.
If he doesn't, there will be no shortage of teams chasing after the 6'10" swingman. He's been one of the best defensive players in the league and is a game changer on the defensive end. He blocks shots, gets deflections, comes up with steals and he wreaks havoc for opposing teams.
Smith's shot is erratic, and he shoots far too many jump shots for a player with such outstanding athleticism, but working on those facets is what could result in a bigger payday for Smith.
Showcasing his offensive talents with Johnson gone will determine just how big Smith's contract is this summer.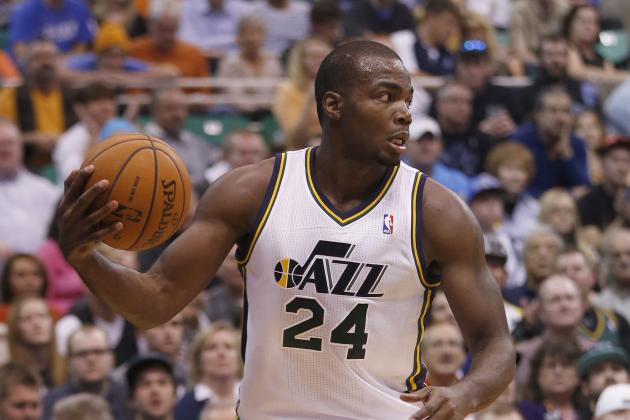 George Frey/Getty Images
Millsap could be a nice starting PF on a contender, too.
Paul Millsap is undersized to be an NBA 4, but it hasn't made much of a difference over his career. He's been very good despite being listed at 6'8" but likely measuring closer to 6'6".
Millsap averaged 16.6 points per game and 8.8 rebounds per game last season, and he's also a great defensive player, as he averaged a career high 1.8 steals per game last season in addition to blocking nearly a shot per night.
Utah just doesn't seem the place for Millsap or his frontcourt mate to be mentioned later in this slideshow. The Jazz have failed to assemble the talent around Millsap necessary to make much of a splash in the postseason, evidenced by the Jazz getting swept by the San Antonio Spurs in the 2012 playoffs.
Since Utah is developing Derrick Favors—and because they are years away from being a contender—it seems parting ways with Millsap only makes sense. He's just entering his prime at 27 years of age and will be heavily courted by teams in need of an interior presence.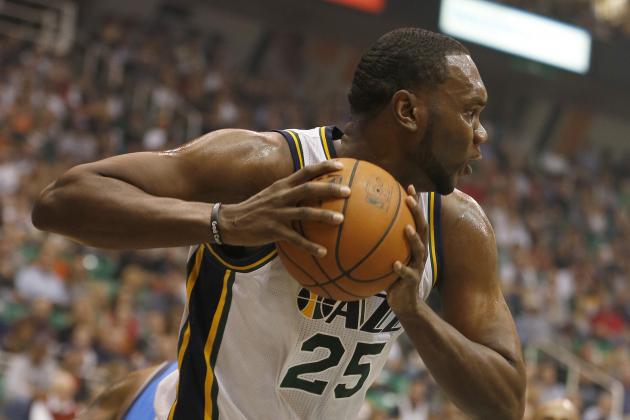 George Frey/Getty Images
Big Al has a lot to offer at the 5-spot.
Al Jefferson is struggling so far this season, which is not a good sign in a contract year.
Through seven games, Jefferson is averaging just 14 points per game and 10.7 rebounds per game. He's shooting nearly six percent below his career field goal average of 50 percent, and the Jazz are 3-4, which puts them on pace to have a similar record to last year.
Jefferson had knee problems earlier in his career, but since 2009-10, he's remained healthy and has missed only 11 games. He played all 82 games in the 2010-11 season, so any concerns about the 28-year-old's knees are beginning to fade into the past.
Jefferson has only been to the playoffs twice in his eight year NBA career, and will likely seek to leave Utah to play for a contender.
Jefferson wants to taste success, and he has the talent to help bring it to a team that may be on the brink of contention. He's not quite a franchise player, but he isn't far off, and it's a bit surprising Jefferson has never made an All-Star team in light of the fact he has averaged 20-plus points and 10-plus rebounds in the same season twice in his career.
Could Jefferson be an All-Star in new surroundings?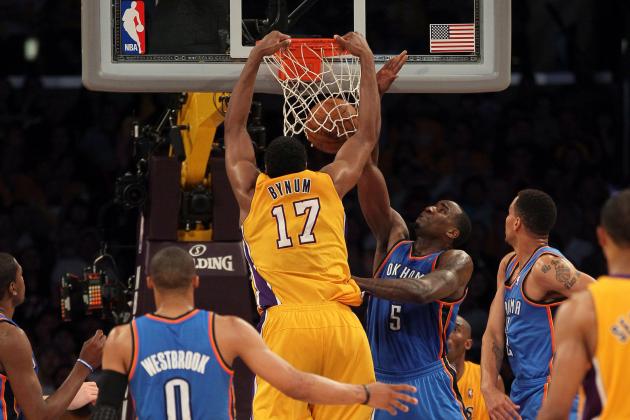 Stephen Dunn/Getty Images
We still have yet to see Bynum wearing red, white, and blue
Andrew Bynum should be auditioning for a new contract, but instead he's been sidelined and is recovering from a minor knee surgery he had as a preventative measure prior to the season. So far, all it's prevented him from doing is setting foot on the court.
It's unclear as to whether Bynum will command max dollars with a knee that isn't even allowing him to play basketball. When on the court, he's the second best center in the NBA, and he averaged 18.7 points per game and 11.8 rebounds per game in 2011-12 as a member of the Lakers.
Bynum could very well be the future of the Philadelphia 76ers organization…or he could spend the majority of the rest of his career watching from the sidelines in street clothes. That possibility may leave teams hesitant to spend their cap room on Bynum.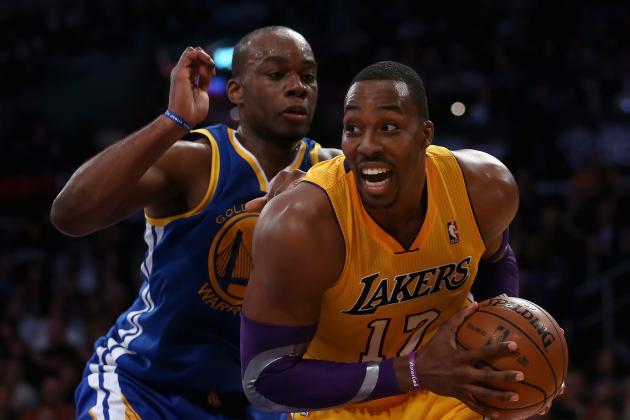 Jeff Gross/Getty Images
Might Brooklyn still be in D12's cards?
When Dwight Howard was seeking his way out of Orlando, he insisted he would keep his options open for the summer of 2013 when he became a free agent. He refused to sign a contract extension—and he still hasn't signed one.
With the L.A. Lakers struggling badly, nothing is guaranteed at this point, either.
Howard is having a bit of a down year (as are all the Lakers), averaging "only" 19.7 points per game and just 9.3 rebounds per game through six contests. He's shooting a career high from the floor (64.6 percent) and still blocking his usual two-plus shots per game.
It's not as though teams are going to do anything less than throw max dollars at Howard.
Howard is still the league's top center, and the only thing that could prevent him from getting a max contract is if his back acted up and kept him out for significant stretches of this season and/or endangered his career.
Barring that, teams will be lining up to sign D12.