Ranking All 30 NBA Teams on the Early-Season Panic Meter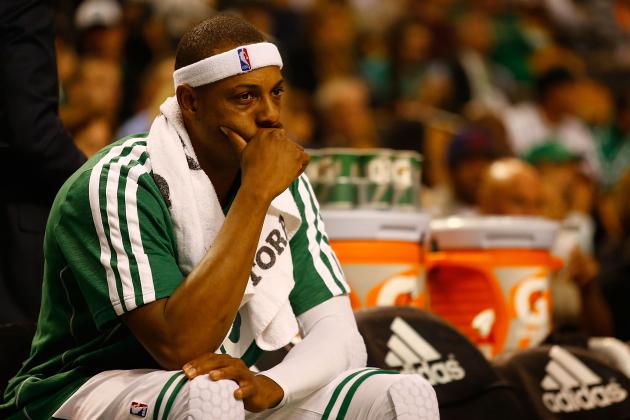 Jared Wickerham/Getty Images

We've all seen each NBA team for enough games to decipher just how every team's early season is going. Though that may have zero weight on the final outcomes, the panic meter is definitely being brought up.
There are just as many underachieving teams as there are overachieving through the 2012-13 season's opening weeks. For some, an answer in sight may be calming, but for others the answers may not be clear.
There have been numerous injuries to star players at the outset of the season. These injuries are lingering issues that arouse a certain level of panic in their franchise's fanbases. Superstars like Dirk Nowitzki, Derrick Rose and Kevin Love haven't seen the court yet and their teams are struggling because of it.
On top of that, we have already seen the first NBA coaching change as the Lakers have fired Mike Brown and his Princeton offense, replacing it with the run and gun game of Mike D'Antoni.
Two weeks into the NBA season, the panic meter is fully honed in on the action.
Begin Slideshow

»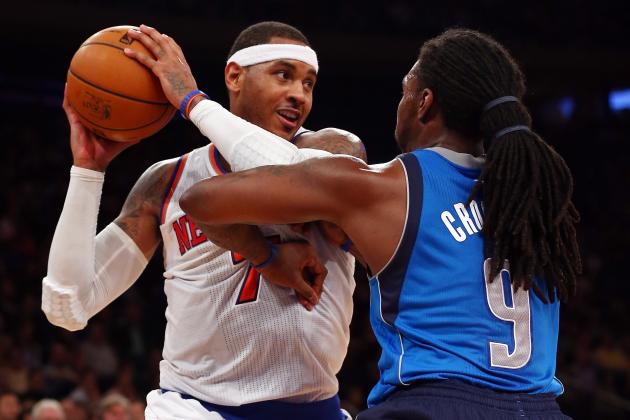 Elsa/Getty Images

Tough to find any panic when your team is 4-0, owning wins over the Miami Heat and two against a divisional rival, the Philadelphia 76ers.
The New York Knicks are the lone remaining undefeated team in the NBA. Their defense has been spectacular, allowing a league-best 87.5 points per game. They have outscored opponents by double digits in each game, and star Carmelo Anthony is playing inspired basketball.
The lone speck of panic in New York can come from the lingering absence of Amar'e Stoudemire. He and Anthony have struggled to coexist in the past. Stoudemire is missing a serious chunk of games this season, and the Knicks are playing very well.
If the team has a great record prior to his return and then stumbles when he finally takes the court, the fingers of blame will start pointing.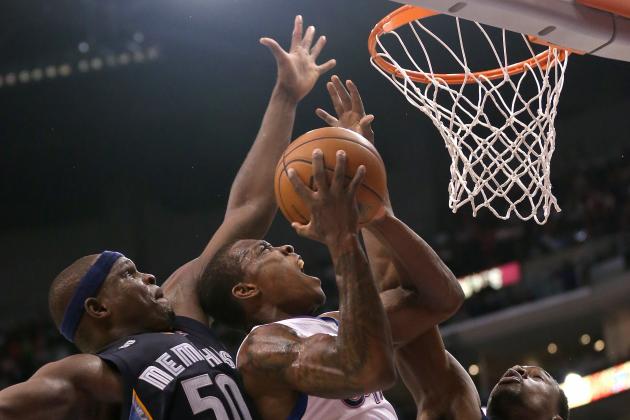 Stephen Dunn/Getty Images

After falling in their home opener to the Los Angeles Clippers, the Memphis Grizzlies have reeled off five straight wins.
This streak includes a blowout victory over the defending-champion Miami Heat. The Grizzlies have yet to miss O.J. Mayo on the offensive end, as they are scoring more than 100 points per game. That was thought to be one of the major concerns early on in the season.
The Grizzlies have embraced their well-rounded style and are now among the league leaders in almost every statistical category.
Zach Randolph is looking a lot like the Zach Randolph who first came to Memphis in 2009-10. After an injury-plagued season, the Grizzlies' power forward is back to averaging a double-double with 16.2 points and 14.5 rebounds per game.
The loss to the Clippers was slightly concerning, after the Grizzlies fell to them in the opening round of the playoffs. There is a decent chance for the series to repeat in 2012-13, and if it does, Memphis needs to prove it can win those games.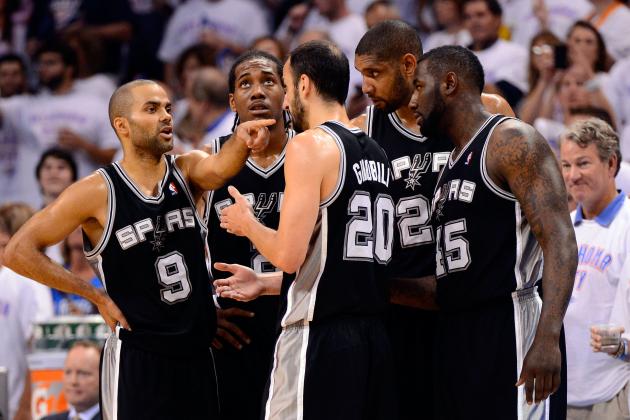 Ronald Martinez/Getty Images

The San Antonio Spurs have had a busy opening to the 2012-13 season. They are 6-1 and own an important win over the Oklahoma City Thunder.
Their lone hiccup could be cause for minor concern however, as they were taken down badly by the Los Angeles Clippers. At season's end, these two teams could be battling for seeding or even facing off in an opening-round matchup.
After they waxed the Clippers in four games in the 2011-12 playoffs, a 22-point loss is eye-catching.
The Spurs were outrebounded by 17 and were powerless to stop a Clippers offense that shot better than 55 percent from the field.
Outside of that loss, there isn't a whole lot to worry about in San Antonio. The Spurs appear to not have skipped a beat, and some improvements from their younger players will keep them winning for some time.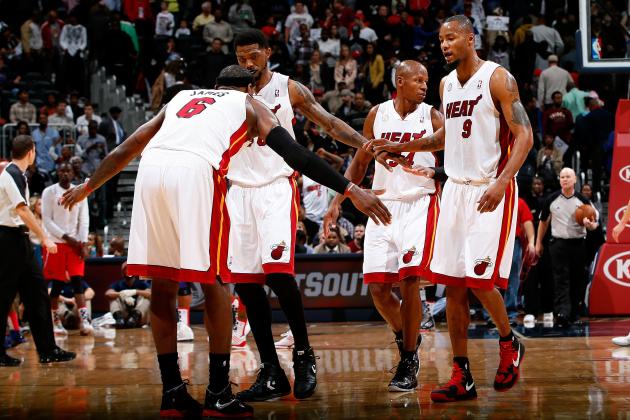 Kevin C. Cox/Getty Images

It is easy to be panic-free after winning a championship, and largely that has been the case for the Miami Heat.
The team is scoring a league-best 107.5 points per game, with their three stars averaging more than 20 a piece.
Imported shooter Ray Allen has been lights out since his Miami debut. He is connecting on nearly 60 percent of his threes and averaging more than 14 points per game.
Some panic can drawn out from their rebounding and defensive struggles. These two lingering concerns have led to two blowout losses. The Heat were embarrassed by the New York Knicks and recently fell by 18 to the Memphis Grizzlies.
While they are leading the NBA in scoring, the Heat's defense has been quite lax. They are allowing around 100 points per game, a big change from the team that ranked No. 4 in the league in the category a season ago.
Miami is also struggling rebounding the basketball. This comes as no surprise since their big-man depth was not improved in the offseason. Once again LeBron James is leading the team in boards.
As a team, the Heat rank No. 25 in the league in rebounding, which could cause some problems against bigger teams.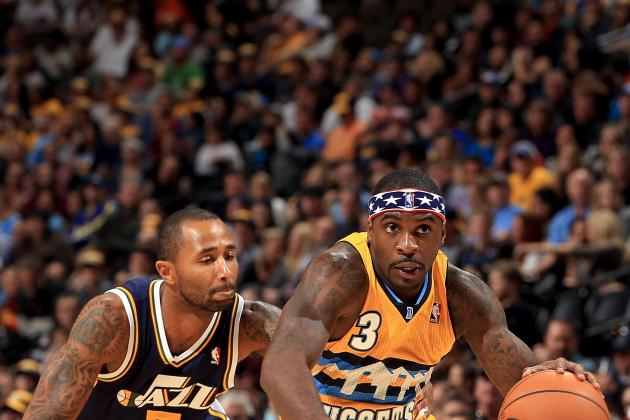 Doug Pensinger/Getty Images

The Denver Nuggets stumbled out of the starting gate with a pair of losses to inferior teams. They fell on the road to the Philadelphia 76ers and the Orlando Magic.
As things calmed down and they returned home for a couple games, the Nuggets have now put together four straight wins. That brings their record to 4-3. While unimpressive, the panic meter has to be relatively low as this team appears to be coming together.
The most notable item keeping the meter down has been the Nuggets' defense. While they still find themselves allowing an average of 96.3 points per game, that does not tell the whole story. Denver's defense suffered a setback in giving up 119 points to the Miami Heat but, outside of that game, has not allowed a team 100 points in regulation.
In five of their seven games, the Nuggets have held the opposition to less than 90 points.
If there is any panic in Denver, it is over those losses to subpar teams. Also, this is still a team that is prone to defensive lapses.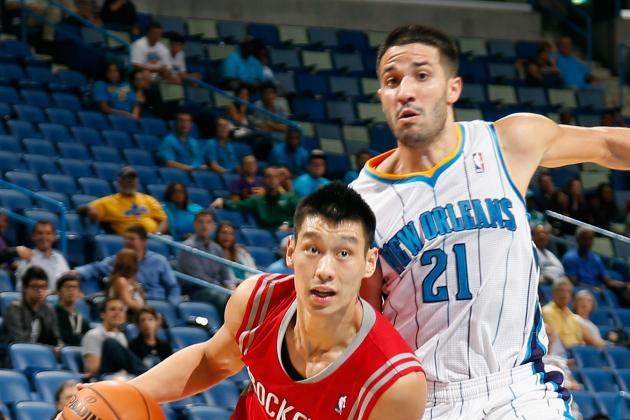 Chris Graythen/Getty Images

It is tough to decipher the panic meter in a place like Houston. There aren't sky-high expectations like with some other NBA programs.
The expectations here have relieved pressure on a team that can be quite enjoyable and every bit as dangerous. The panic level could be found in preseason based on the sizable contracts given to Omer Asik and Jeremy Lin. Neither player had a proven track record of NBA success, and both are integral parts of the Rockets' plans.
Both Asik and Lin have performed up to their deals thus far and have helped the Rockets to a 3-3 record.
Obviously the addition of James Harden has meant all the difference in the world, but the rest of the team has been effective in quelling panic.
When expectations aren't enormous, there is room to surprise people. That is where the Rockets are, and there is little panic in sight.
Jeff Gross/Getty Images

The Los Angeles Clippers have had some big wins early this season.
They have defeated some Western Conference heavyweights, beating the San Antonio Spurs, Los Angeles Lakers and Memphis Grizzlies. These are the types of teams the Clippers must beat to advance to title contention.
The strange thing is, the 5-2 Clippers have suffered losses at the hands of the two weakest opponents on their schedule thus far. It is clear the Clippers are an emotional team, which has treated them well in giving them a leg-up in those big games.
It has been a noticeable detriment when playing the likes of the Cleveland Cavaliers and Golden State Warriors, however.
The Clippers are among the league leaders in scoring early on, thanks in large part to the work of Jamal Crawford. The veteran has come off the bench to lead the team in scoring, averaging north of 20 points per game.
The only panic in Clipperland comes from those lackadaisical performances against weaker teams. With three of their next four games coming against title contenders, there isn't much worry in Los Angeles.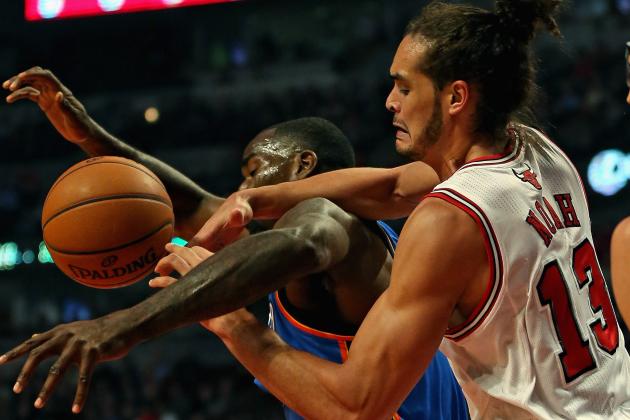 Jonathan Daniel/Getty Images

Chicago Bulls fans have to be fairly pleased with how this team has played to open up the 2012-13 season.
There was the blemish of a loss to the New Orleans Hornets, but a 4-2 record without your star player is something to be proud of.
The Bulls have been taking care of business, which is all fans can ask for while awaiting the return of Derrick Rose. This team needs to remain in the thick of things throughout the first half of the season for Rose's comeback attempt to be worth it.
They will remain in the thick of things by beating inferior competition. Largely they have been successful in this endeavor.
They are doing it by their usual suffocating defense, allowing just 88.7 points per game to opposing offenses.
Rose's fillers, Nate Robinson and Kirk Hinrich, have been more than serviceable in the early going.
The cause for panic is only tied to Rose here. The team knows what it can be with when he is 100 percent, and the loss to the Oklahoma City Thunder proved that it needs him. This isn't a team that can hang with elite competition without its superstar. The Bulls will need Rose to beat the Thunders of the NBA, and every missed day ups the panic.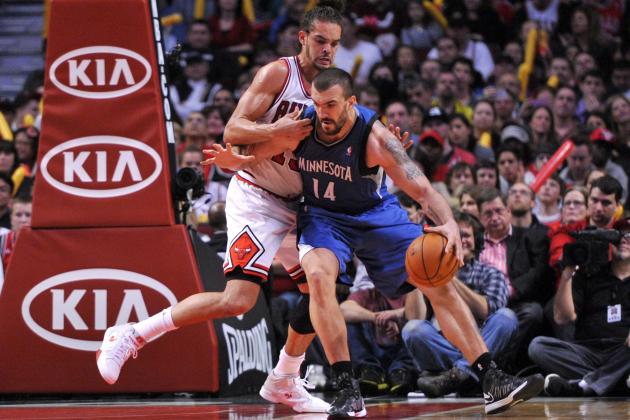 Rob Grabowski-US PRESSWIRE

Much like the Chicago Bulls, the Minnesota Timberwolves are treading water. They are also awaiting the return of not one, but two stars to their starting lineup.
Without Kevin Love and Ricky Rubio, the Timberwolves were though to be very susceptible to a poor start to the season. However, the team has rallied and put together a very solid 4-2 opening.
There have been impressive wins over the Indiana Pacers and Brooklyn Nets, as well as holding serve at home where they are undefeated.
The only panic arising is out of not knowing exactly when their two stars will return. It is unclear if this type of winning is something this team can keep up in their absence.
It is relaxing to know that, like with the Bulls, if the rest of the team can keep the ship afloat, then the success will be greater once Love and Rubio return.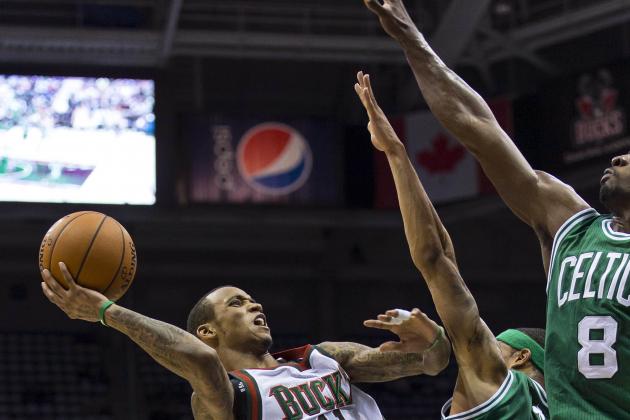 Jeff Hanisch-US PRESSWIRE

The Milwaukee Bucks have been as steady a team as you'll find in the young NBA season. That steadiness has landed them at 3-2, with both losses coming against upper-echelon teams.
The Bucks defeated the Boston Celtics and then nearly beat them a second time. They also picked up a win over a divisional foe, Cleveland Cavaliers. The Central Division still appears to be fairly open, and the Bucks need to rack up those victories to have a chance.
They must be pleased as well with the guard play. Brandon Jennings was off to a scorching start, but has since cooled off. The advantage for Milwaukee is that when Jennings slumps, Monta Ellis can pick up the offensive workload.
The guard tandem is combining for 35 points and 14.2 assists per game right now. The Bucks have also enjoyed an insanely hot shooting stretch from Mike Dunleavy, who is still connecting on nearly 65 percent of his three-point attempts.
The big men have been holding their ground and have the Bucks in the middle of the league in rebounding.
The lone source of panic in Milwaukee is the inconsistencies of their star guards. As great as the statistics show them playing, Jennings has slumped considerably for three games in a row and Ellis is shooting under 40 percent from the field.
If those two can't play with some level of consistency, this team will once again be on the outside looking in of the postseason.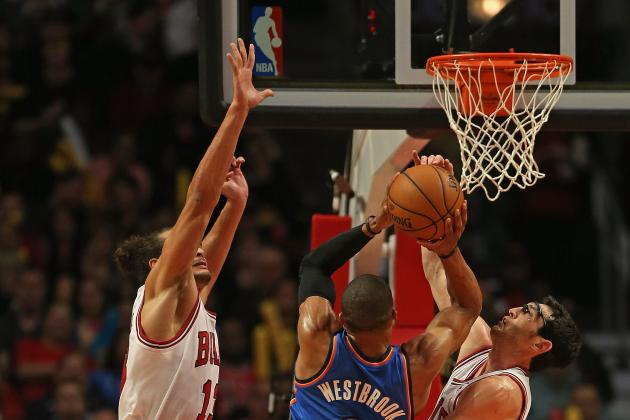 Jonathan Daniel/Getty Images

There has to be some minor panic creeping into the minds of fans of the Oklahoma City Thunder.
They have been beaten by the two best teams they have played, so their 5-2 record is a little deceiving. Wins over the Toronto Raptors, Cleveland Cavaliers and Detroit Pistons prove nothing about how good the Thunder can be.
Their losses to the San Antonio Spurs and Atlanta Hawks are concerning. Especially a loss to the Spurs. No matter how early in the season it is, big games like that weigh on playoff seeding and confidence down the road.
When the Thunder knocked the Spurs out of the 2011-12 postseason, James Harden had an enormous series. With Harden gone, there are small holes emerging in the Thunder's game plan.
At the level of play necessary to win a championship, small holes mean all the difference in the world.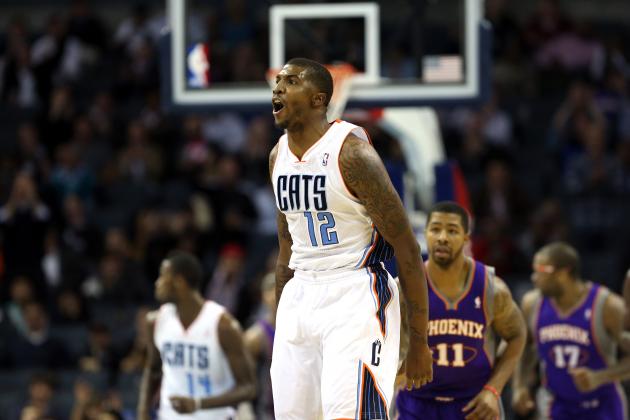 Streeter Lecka/Getty Images

Panic may be at an all-time low in Charlotte, as the Bobcats have come out with two early-season victories in 2012-13.
Both wins have come against 2011-12 playoff teams, and for a team that won just seven games a year ago, a 2-3 start is a blessing.
The Bobcats appear to have found a nice tandem at point guard, with Ramon Sessions backing up Kemba Walker. Both players have been playing inspired basketball and are No. 1 and 2 on the team in scoring.
Michael Kidd-Gilchrist, the No. 2 pick in the 2012 NBA draft, has been doing a little bit of everything through five games, averaging 12.2 points and 7.6 rebounds per game.
The panic can arise from once again having a team that cannot stop anyone. The Bobcats are dead last in the NBA in defense, allowing 107.2 points per game. They won't win many more games than they did last season if that remains the case.
Still, the panic meter can't rise too much while the Bobcats sit on the brink of the top eight teams in the Eastern Conference.
Drew Hallowell/Getty Images

It has been no Andrew Bynum, no problem thus far for the Philadelphia 76ers.
Playing without their major offseason acquisition through six games, the 76ers have jumped out to a 4-2 record.
Their big wins have come against the Boston Celtics and the Denver Nuggets in their home opener.
The reason they have been able to withstand Bynum's absence has been the awesome play of some supporting characters. In particular, Jrue Holiday has really emerged as a top-flight point guard. He is averaging 18.2 points and 9.5 assists per game.
The lack of an elite big man has been covered up thanks to the work Evan Turner has been doing on the glass. Averaging nearly 10 boards a game, the small forward has really stepped up.
The panic rising out of Philadelphia is slightly more than just "When is Bynum going to play?" The 76ers had a great opportunity to pick up divisional games early in the season, but squandered a home-and-home with the New York Knicks. With wins over the Celtics and Toronto Raptors, the 76ers could have had an early edge to that Atlantic Division crown, but losing both contests to the Knicks nullified that.
The 76ers, 2011-12's Eastern Conference No. 8 seed, know the importance of that top-four seed and would sure like to set themselves up for a run at it when Bynum does take the court.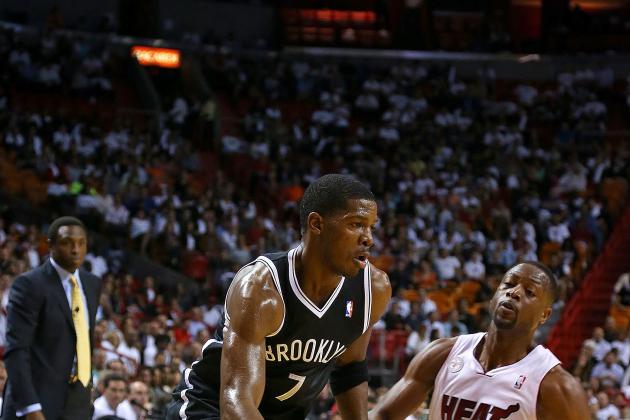 Mike Ehrmann/Getty Images

It is still very tough to figure out who the Brooklyn Nets are. They have only played one elite team, the Miami Heat, and were destroyed by them.
On the other hand, the Nets have done a good job taking care of the lesser franchises on their schedule, including two straight victories over the Orlando Magic. They have also sustained a few minor injuries to important role players like MarShon Brooks, Gerald Wallace and Josh Childress.
Since it is tough to figure out who they are, their panic meter remains more or less where it was prior to the season. There will be concerns about the depth of this team until it proves to be capable of staying with teams like the Heat.
We should get a better idea of the Nets in the coming month, as they play the Celtics and trek out to Los Angeles for the Lakers and Clippers. If the Nets can't win some of these games against top competition, then the panic meter can and will rise.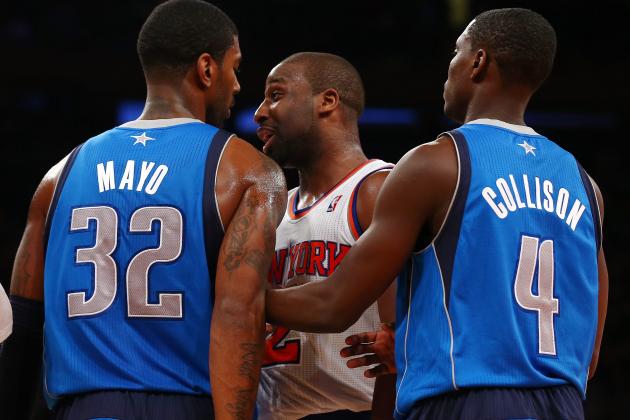 Elsa/Getty Images

The Dallas Mavericks' 4-3 record proves they can win without Dirk Nowitzki. This was in great doubt prior to the season when news of Nowitzki's injury broke.
The Mavericks put together a very new team with a lot of different pieces, and Nowitzki was one of the few constants. Some hiccups were expected and a horrible start was not out of the question. However, Darren Collison and O.J. Mayo have meshed quickly and Shawn Marion has provided the glue.
This is a team that might fall out of the playoffs with Nowitzki missing significant time, but it has put together some quality wins early on.
Still, it must be understood that wins over the Charlotte Bobcats and Toronto Raptors are not the kind of wins it will take to compete in the Western Conference playoff picture. To win big games down the stretch, Nowitzki is necessary.
Every day he misses ratchets up the panic meter for a team that will struggle to compete with elite competition.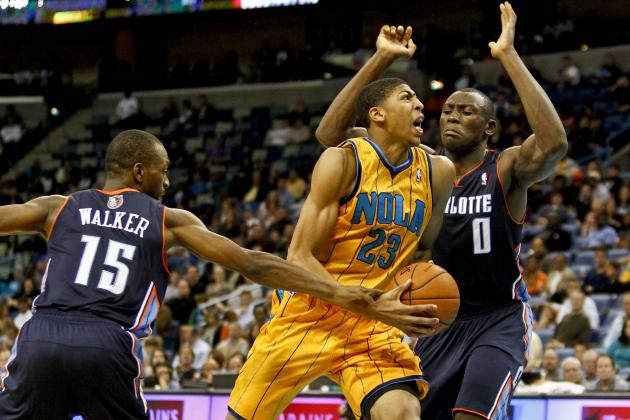 Derick E. Hingle-US PRESSWIRE

Serious injuries to their two first-round picks appear to have been dodged by the New Orleans Hornets.
Anthony Davis missed two games with a concussion and Austin Rivers sat one out with a finger injury, but the Hornets have made it through five games with a winning record.
At 3-2, the Hornets have posted solid victories over the Chicago Bulls and Utah Jazz. Neither of their two losses is particularly discouraging, and there have been some pleasant surprises on this roster.
Panic meter was on the verge of erupting when both Davis and Rivers went down, as they would have joined Eric Gordon on the sidelines. Luckily they recovered and helped the team to a win over the Charlotte Bobcats.
Panic can still be found in how poor of an offensive team this is. The Hornets have no go-to player offensively to get a bucket when they need one. They are not a particularly talented group offensively, as they are scoring just over 88 points per game.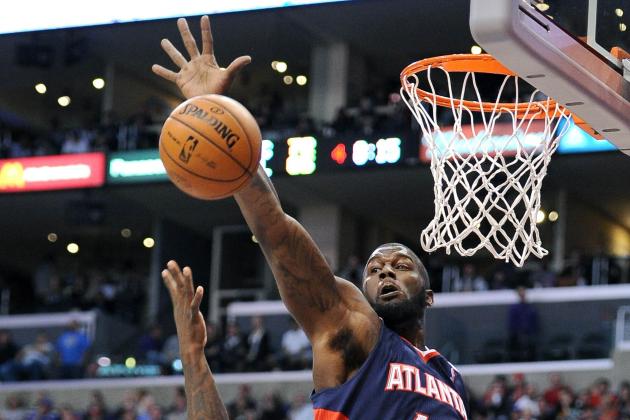 Jayne Kamin-Oncea-US PRESSWIRE

The schedule the Atlanta Hawks have played to open the 2012-13 season has been nothing short of hellacious.
Four of the five teams the Hawks have faced thus far went on deep playoff runs in 2011-12. The other team was their opener and James Harden's debut with the Houston Rockets.
Still, the Hawks have managed two wins, over the Oklahoma City Thunder and Indiana Pacers, but they've also kept the panic level fairly low. There were a lot of questions following the departures of starters Joe Johnson and Marvin Williams, but so far the Hawks have looked more than competitive.
The rest of the November schedule is much lighter in terms of elite competition, with only the Los Angeles Clippers a real contender. Knowing the fluffy schedule comping up, the panic meter can remain low, despite the 2-3 start.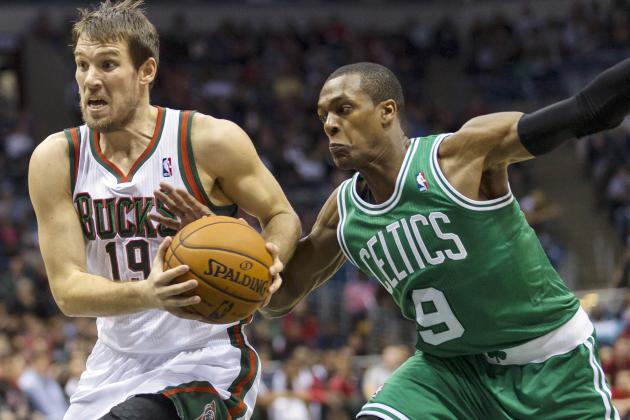 Jeff Hanisch-US PRESSWIRE

The panic meter is tricky when a supposedly elite team comes out to an average start. Panic can ensue right there, but the Boston Celtics are still just 3-3 with some very winnable games coming up.
A lot of the panic surrounding the Celtics is actually a product of games they have won. Twice, they made a Washington Wizards team, playing without John Wall or Nene, look very good. Still, the Celtics emerged victorious from both of those matches.
The Celtics' Big Three appears to be running flawlessly at the moment, so it is the role players and the bench that need to right themselves to stop the panic.
A benefit of having talent the Celtics do is the ability to grind out these wins while your chemistry builds. This team is integrating a lot of new players; only four returned from 2011-12.
As long as they rack up a few wins early on, they will survive until the chemistry kicks in.
Keep in mind, the eventual Eastern Conference runner-ups had a losing record at the 2011-12 All-Star break.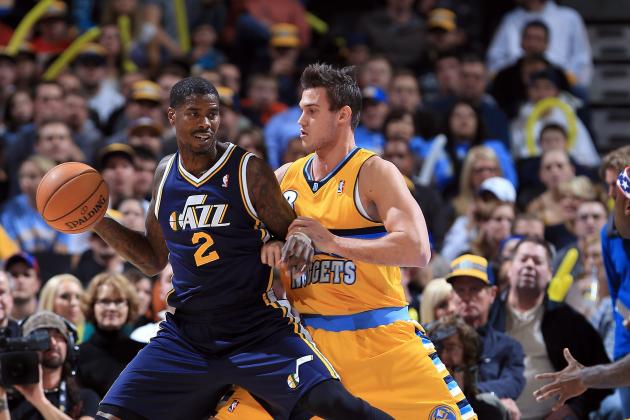 Doug Pensinger/Getty Images

The Utah Jazz may have a bone to pick with the NBA schedule-makers, as they just completed a four-game run against the Western Conference powers.
The Jazz went 1-3 against the San Antonio Spurs, Memphis Grizzlies, Los Angeles Lakers and Denver Nuggets, the lone win over the Lakers. That stretch is an unfair set of games to judge a team's panic meter.
The Jazz are largely who they were thought to be: a lower-tier playoff team. They are middling in most NBA statistical categories, but are great rebounding the basketball. They have proved this by grabbing more than 44 rebounds per game and winning of their first three games.
Though Mo Williams is nursing a minor injury, he won't miss too much time, leaving little panic on that front. In large, both he and Marvin Williams, the Jazz' main offseason acquisitions, have been playing well.
There is little to panic about, as the Jazz are right where they should be. However, with the always-competitive Western Conference improving, the Jazz may have to do better than status quo to play into the postseason. In that case, some panic for a 3-4 start is warranted.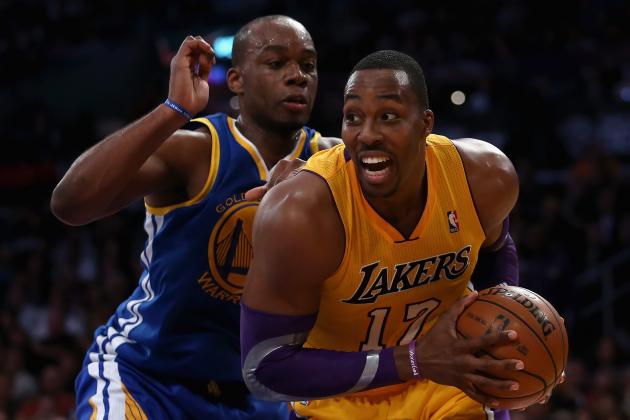 Jeff Gross/Getty Images

Anytime you are performing a coaching search five games into the regular season, you are going to find your panic meter a little jumpy.
After a 1-4 start, which led to the firing of coach Mike Brown, the Lakers' panic meter was as high as it has been in years. Something was not right with the team, and seeing Steve Nash go out for some time with an injury only added fuel to the fire.
However, since the Brown incident, the Lakers have won two straight quite handily. Kobe Bryant has taken on a lot more distribution duties since Nash went down and posted seven and six assists, respectively, in each of the last two wins.
With more tough games coming up throughout November, the Lakers are hitting a very important stretch very early in the season. Like the Boston Celtics, they need to bide their time until the chemistry kicks in. The Lakers have the talent to grind out some wins, but it isn't as pretty as expected, which leads to stress and panic.
Nash' injury is not as severe as it could have been and he will return fairly soon. That, coupled with a new coach and back-to-back wins, should be able to calm the panic meter a little bit.
Fortunately, team management made a decision in choosing to hire offensive mastermind Mike D'Antoni. Almost a decade ago, the man put together some Phoenix Suns teams that had some great on-court chemistry that led to two trips to the Western Conference Finals.
Given D'Antoni's relationship with Nash and all of the Hall of Fame caliber talent he'll have with the Lakers, the panic meter will surely calm down sooner rather than later.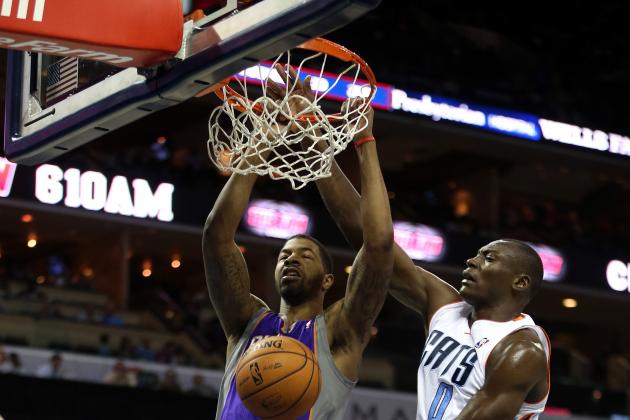 Streeter Lecka/Getty Images

The expectations for this new grouping of the Phoenix Suns are not as high as some other franchises this early in the season. Therefore, the panic just isn't flaming yet.
A 3-4 record is acceptable for a team at this stage of its rebuilding. Still, those three wins are wildly unimpressive, coming against the bottom-feeders of the Eastern Conference. This is not a team that is going to beat the elite squads in the NBA.
The new acquisitions like Goran Dragic and Michael Beasley have been playing well, but have made the Suns into a defensive travesty. They are allowing more than 103 points per game right now, and don't have the offense to recoup that.
Fans were expecting a rebuilding year following the Steve Nash era, but if this team turns into a cellar-dweller, the panic level might blow up.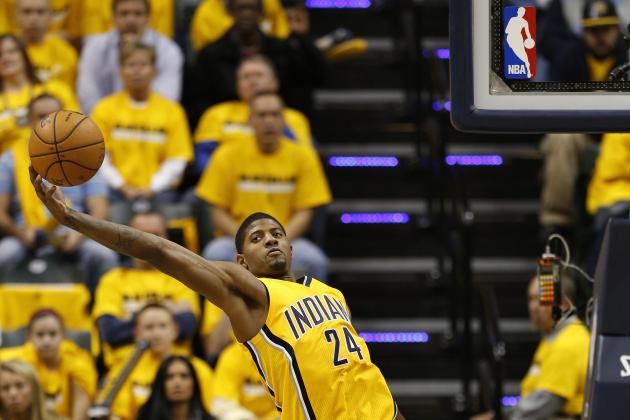 Joe Robbins/Getty Images

It is safe to say that when news broke about just how long Danny Granger would be out, the panic meter in Indiana went up a couple inches.
The Indiana Pacers' small forward will miss about three months with patellar tendinosis. Granger led the Pacers in scoring in 2011-12 and took nearly five more shots than anyone else each night. That is a fairly big hole to fill for a team that didn't bring in any true impact players.
Gerald Green has been used heavily at the position, including three starts, but he is shooting just 37 percent from the field. Sam Young hasn't fared much better in his opportunities.
Paul George has been the player tasked the most with raising his game in the star's absence. He has done a solid job performing in his usual all-around style, but it hasn't equated to quality wins.
The Pacers are 3-4, but those wins came against the Washington Wizards, Sacramento Kings and Toronto Raptors. None of those wins mean much in the grand scheme of things, especially when Indiana is falling to the Atlanta Hawks and San Antonio Spurs.
Until the Pacers prove they can beat quality opponents without Granger, the panic meter will remain relatively high.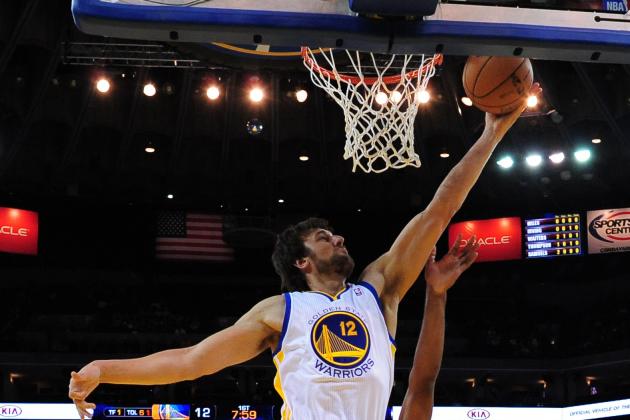 Kyle Terada-US PRESSWIRE

This should come as little surprise, as Andrew Bogut has already missed three games. The Golden State Warriors have played to a 3-4 record through seven games, but their starting center has been healing from lingering injuries.
When he is available for games, he is not playing more than 20 minutes a night thus far. This has largely stunted his production and thus made it incredibly difficult for the team to improve defensively.
A weak spot last season, the Warriors are still giving up nearly 100 points per game. Without Bogut, their defensive backbone, it is impossible for them to advance as a team.
Klay Thompson, who had such a promising rookie season, has not yet shown a leap in his sophomore campaign. His shooting has dropped to 38 percent from the field, despite averaging five additional shots a game.
Even David Lee isn't playing like himself. The power forward is scoring only 14.3 points per game and shooting just 42 percent from the field. Those are disappointing numbers for an offensive player of his caliber.
They have played some tough teams thus far, falling to the Los Angeles Lakers, Denver Nuggets and Memphis Grizzlies. Still, both in individual stats and team record, the Warriors are not off to the greatest start.
In Golden State, where good basketball is craved, the panic meter is creeping up.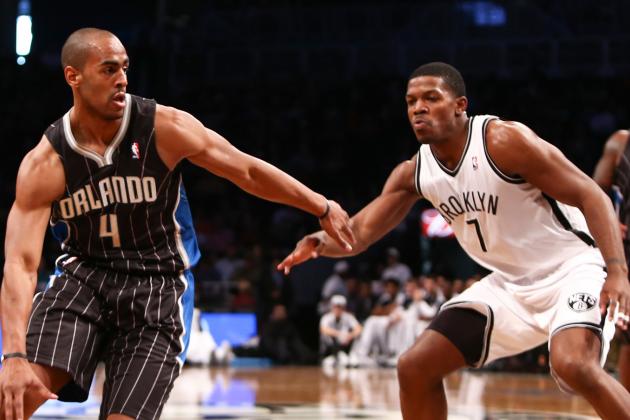 Debby Wong-US PRESSWIRE

There are numerous ways to look at the Orlando Magic through six games. They stand at 2-4 with a quality win over the Denver Nuggets and some tight losses.
If one went into this season thinking the Magic were going to be atrocious in the Dwight Howard aftermath, the 2-4 record may impress you, keeping the panic meter down. This is a team that can win some basketball games, but not enough to make any real noise in the playoff race.
Both Aaron Afflalo and Glen Davis are capable of leading this team to some quality wins. However, they are also more than capable of losing to below-average competition. They may have also gotten a steal in E'Twaun Moore, who has played very well for them as a starter.
Panic can creep in with losing streaks,which is what the Magic are on right now. After starting the season with two surprising wins, the Magic have lost four straight games. They have been unable to score more than 75 points in any of the last three games, and for the season are scoring just over 90 points per game.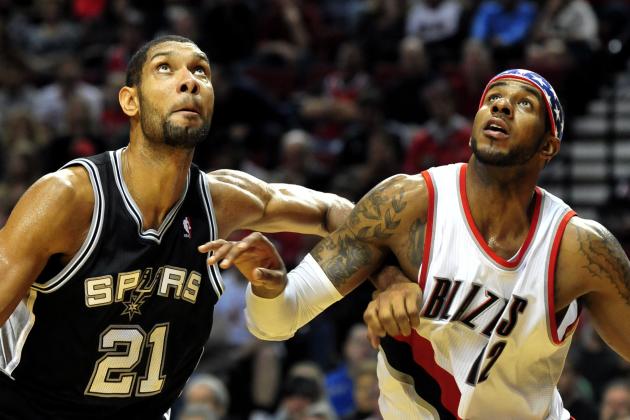 Steve Dykes-US PRESSWIRE

Unfortunately for the Portland Trail Blazers, five of their first six games came against playoff teams from 2011-12. That has had a large hand in their 2-4 start to the season.
They have quality wins over the Los Angeles Lakers and Houston Rockets, while their four losses are understandable for a team integrating a brand-new starting point guard.
Speaking of Damian Lillard, he has been great in Portland. He is averaging 18.8 points and seven assists, while maintaining decent shooting percentages. It is an impressive feat for the rookie against this stiff competition.
Unfortunately, the Trail Blazers look dangerously thin all over the court. Sasha Pavlovic right now is their seventh man—not a good sign for a potential playoff sleeper.
They have a formidable starting five, all of whom are averaging more than 10 points per game. However, beyond them, the production drops like a stone. Meyers Leonard has struggled to produce in his rookie season, essentially playing the sixth-man role.
The Trail Blazers need to find more quality from their bench if they are going to threaten for that No. 8 seed in the Western Conference.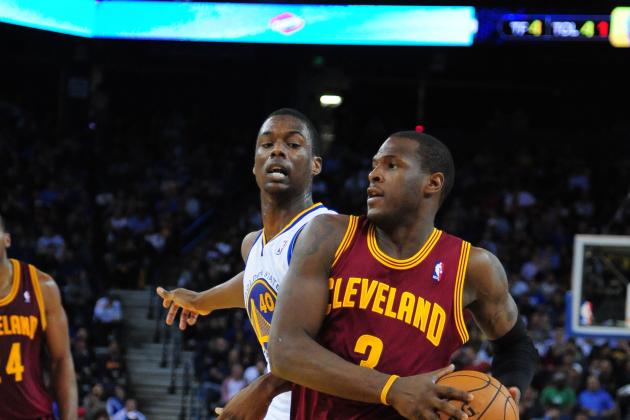 Kyle Terada-US PRESSWIRE

The Cleveland Cavaliers have not exactly faced a murderer's row of competition to open the 2011-12 season. Their lone quality win came against the Los Angeles Clippers, but they have four losses to teams they need to beat if they want to compete for a postseason spot.
They stand at 2-5, with important Eastern Conference losses to the Milwaukee Bucks and Chicago Bulls.
A positive to take out of the opening games has been the play of their starting backcourt, which features rookie Dion Waiters. Waiters has been solid, scoring double figures in all but two games on the season. Kyrie Irving has been typically impressive, averaging 22.9 points and 6.3 assists per game.
Unfortunately for Cleveland, neither Tristan Thompson nor Alonzo Gee has impressed enough with extended minutes. The lack of a talented swingman has been killing the Cavaliers' chances against good teams.
The panic meter is increasing as some big pieces of the team's future continue to have lackluster performances.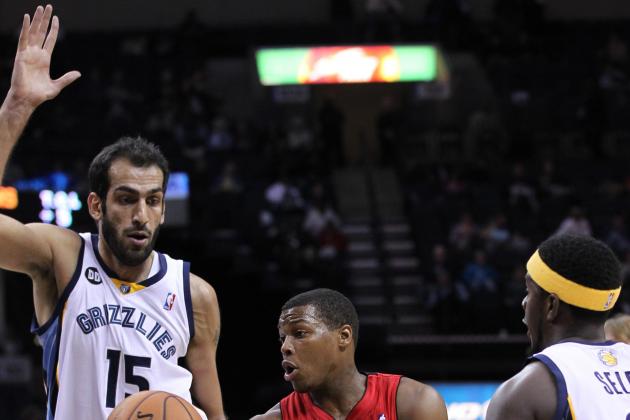 Nelson Chenault-US PRESSWIRE

After three games, despite a 1-2 record, it appeared the Toronto Raptors had turned a corner and were playing very good basketball.
Since then they have lost three more games, landing them at 1-5. They have lost more than games though. Starting point guard, Kyle Lowry has missed time with an injury. His absence has killed the Raptors' momentum. Lowry does so much on the court that it was impossible to simply fill in the spot and succeed.
The panic meter will continue to rise with Lowry on the sidelines; it is as simple as that. Without him on the court, the Raptors can't and won't compete with the better teams in the Eastern Conference.
Luckily, he is still listed as day-to-day, but has admitted the injury was a recurrence of a lingering issue.
Jose Calderon is, of course, a suitable backup. However, his spark isn't remotely close to that of Lowry's.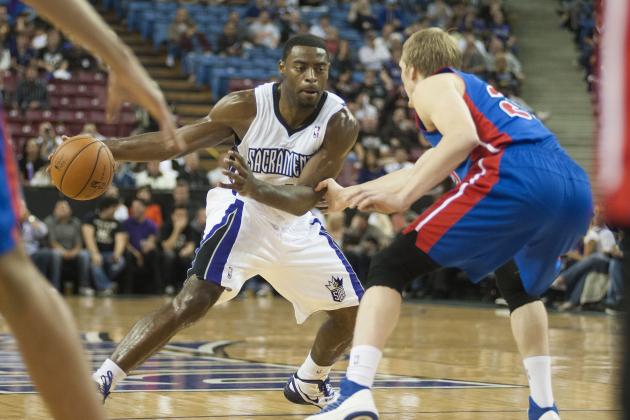 Ed Szczepanski-US PRESSWIRE

It has not been smooth sailing for the Sacramento Kings early on in the 2012-13 campaign. The team owns zero quality wins and stands at just 2-5 through seven games.
Outside of the play of DeMarcus Cousins, there isn't a hole lot positive coming out of Sacramento. Supposed star Tyreke Evans is off to the worst start of his career, averaging just 11.4 points per game. The panic meter on him alone is screeching. Each season of his career his play has deteriorated, and this appears no different.
Even one of the pleasant surprises from last season, Isaiah Thomas, has not been playing up to a par this year. The team ranks No. 30 in the NBA in assists, with their point guard averaging just over one per game.
Thomas Robinson, Sacramento's first-round pick in the 2012 draft, was recently suspended for two games for throwing an elbow at Jonas Jerebko. The games he missed were two more losses.
There isn't much good to talk about with the Kings, and therefore their panic meter is high and rising.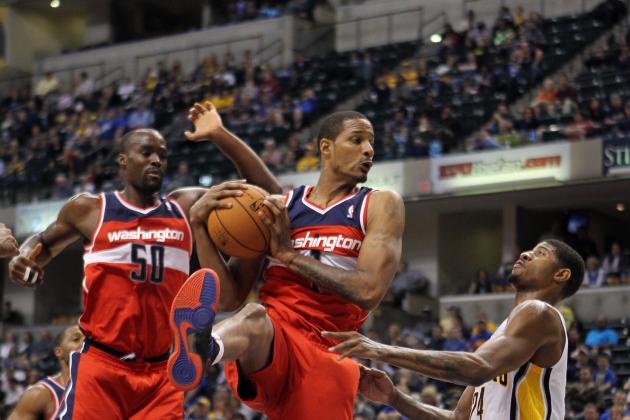 Brian Spurlock-US PRESSWIRE

One of two remaining winless teams, the Washington Wizards have started the 2012-13 season 0-5.
This should come as little surprise, however, as the Wizards are playing without arguably their best two players. John Wall and Nene have missed the opening of the season and their team is unable to score without them.
The Wizards are averaging just 88 points per game, with Bradley Beal leading the team in scoring with 13 points per game.
Speaking of Beal, it has been a grind for him through five games. He has struggled to find his stroke in a few games, a possible consequence of Wall's absence.
The Wizards have done admirably in keeping games close, but lost winnable games against the Cleveland Cavaliers and Milwaukee Bucks. They also were unable to close out potential upset wins over the Boston Celtics and Indiana Pacers.
When their two starters return, the panic meter may descend, but with every missed game and every loss, it continues its creeping ascent.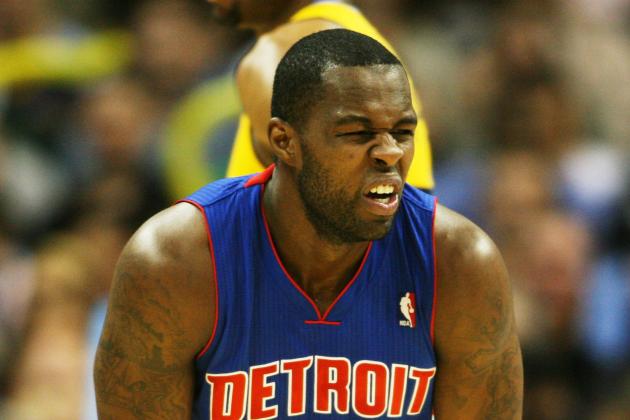 Chris Humphreys-US PRESSWIRE

The Washington Wizards are only held out of the top spot by the 0-7 Detroit Pistons.
The Pistons have been very disappointing this season, being outscored by 11.4 points per game. They rank near the bottom of the league in both points for and against.
This was supposed to be one of the surprisingly spunky teams in the Eastern Conference. However, they have stumbled out of the gate, and it has not been pretty.
For a team with two highly touted young big men in Greg Monroe and Andre Drummond, they rank dead last in the NBA in rebounding. They are hauling in just 37.4 per game.
Just three players are averaging in double figures. While Monroe and point guard Brandon Knight have been impressive, no one else on the team warrants the minutes they are receiving. Rodney Stuckey has been particularly putrid, but is still on the court for nearly 32 minutes a night.
Drummond has been solid throughout, but the Pistons seem content with issuing him just 16 minutes a game right now, coming off the bench.
The panic meter is high because of the 0-7 start, but it is increasing because they may not have any solutions.