Stock Up, Stock Down for Every NBA Team, Early Season Edition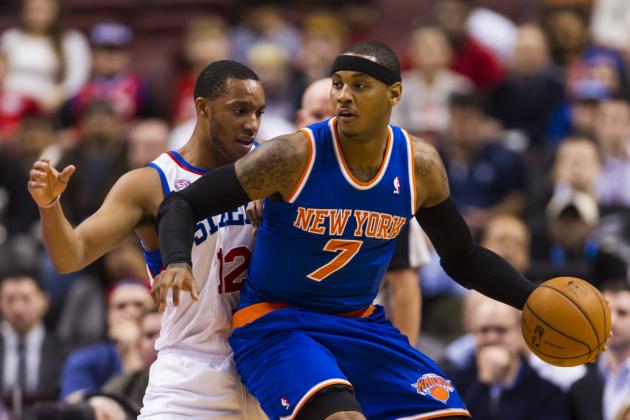 Howard Smith-US PRESSWIRE

As NBA fans, we love to jump to conclusions based on small sample sizes.
Whether they're overreactions or legitimate early indications of future success or disappointment, there's a feeling that the opening weeks of the season can help us identify long-term trends.
Several preseason favorites have looked lethargic in the early going, while several teams that were discounted as playoff wannabes have looked mighty good in the early going.
Here we present to you our early season stock up, stock down assessments for every NBA team.
Begin Slideshow

»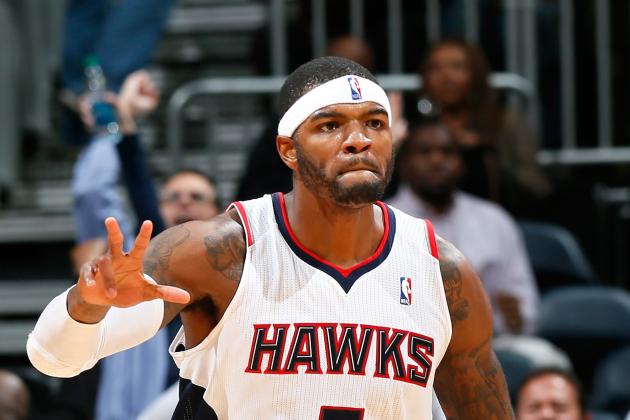 Kevin C. Cox/Getty Images

Assessed as a playoff pretender by fans and pundits in the preseason, the Atlanta Hawks have shown some impressive bite in the early going.
While many believed the Hawks' backcourt by committee would be a failed experiment, it has looked effective so far.
Lou Williams. Devin Harris, Jeff Teague and DeShawn Stevenson have all looked solid, and the Hawks' vaunted frontcourt led by Al Horford and Josh Smith has been steady.
Teague has looked particularly strong, averaging more than 16 points and seven assists per game. If he can continue to produce at this high level, he could be in the running for the league's Most Improved Player award.
The Hawks' most impressive win thus far has been a 104-95 victory over the Oklahoma City Thunder.
Verdict: Stock Up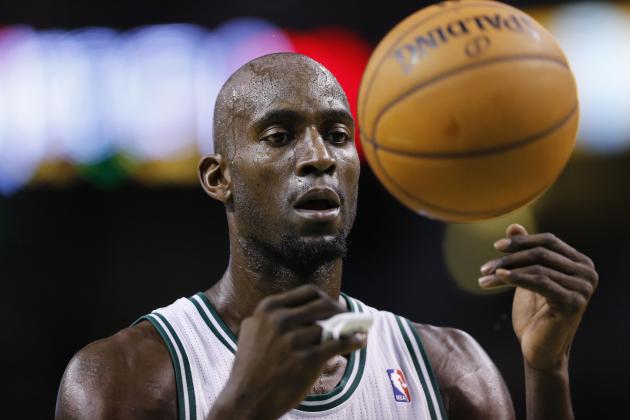 Greg M. Cooper-US PRESSWIRE

The Boston Celtics have not looked particularly sharp in the opening stages of the 2012-13 campaign, but as we've seen in the past, that's no reason to panic.
It's been proven that the Celtics—a team with a core of veteran leaders and one of the league's elite coaches—are built more for the playoffs than the regular season.
The Celtics have looked slow on the offensive end, but with some new pieces it's going to take time to adjust. In addition to looking a tad aged on the offensive end, the Celtics' defensive rotations have not looked sharp thus far.
For the time being, it's difficult to say that this team is trending upward.
Verdict: Stock down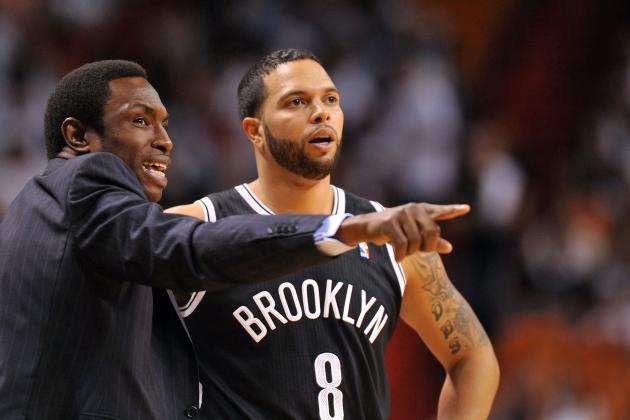 Steve Mitchell-US PRESSWIRE

The Brooklyn Nets have yet to put together an impressive performance on both ends of the floor, and that has led to some early-season disappointment.
Avery Johnson's bunch has the pieces to compete with the Eastern Conference's elite on the offensive end, but there hasn't been a comfortable balance between Deron Williams and Joe Johnson to this point.
Brook Lopez has been a bright spot for the Nets offense, but he needs to be more aggressive when defending on the blocks.
Brooklyn's lack of defensive prowess is a real cause for concern. They're going to need to prove over the next few weeks that they deserve to be mentioned alongside the Miami Heat, New York Knicks and Boston Celtics as a contenders in the Eastern Conference.
Verdict: Stock down
Streeter Lecka/Getty Images

For a team that won just seven games a year ago, it would be tough to say that the Charlotte Bobcats haven't improved.
Kemba Walker has been very impressive in the early going, leading the Charlotte offense with averages of 18.8 points and 5.8 assists per game.
Another sneaky performer for the Bobcats has been center Byron Mullens, who's averaged 11.6 points and 8.4 rebounds per game and has shown the ability to knock down deep shots.
Expect the Bobcats to surpass their win total from 2011-12 before the All-Star break, as this team has some players capable of filling it up in a hurry.
Verdict: Stock up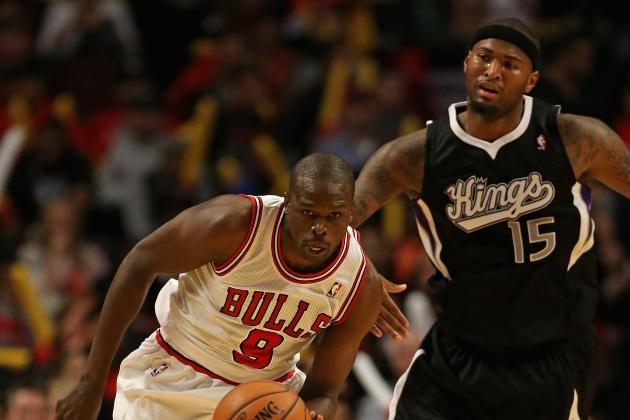 Jonathan Daniel/Getty Images

Entering the 2012-13 season, it was unclear how detrimental the injury to Chicago Bulls point guard Derrick Rose would be to the team's overall psyche. While losing Rose for half of the season wasn't ideal, the Bulls have made do without their All-Star floor general.
Luol Deng has taken on the role of leading scorer, while Richard Hamilton has reemerged as a quality 2-guard with a reliable mid-range jumper.
Joakim Noah continues to prove that he's among the league's most complete two-way big men (15.0 points, 9.2 rebounds and 2.5 blocks per game).
Teams should be frightened that the Bulls continue to play such stellar defense without Rose.
Verdict: Stock up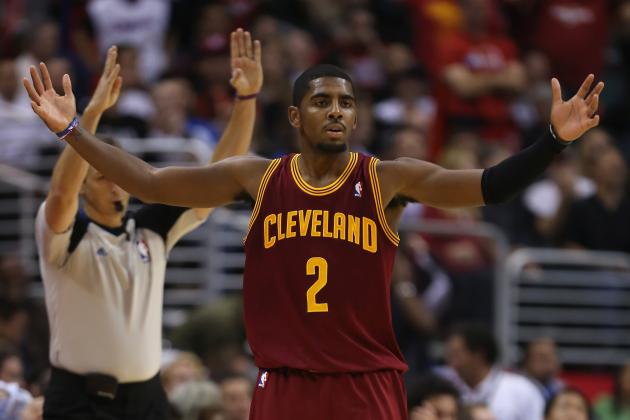 Jeff Gross/Getty Images

Kyrie Irving's play alone would be enough to give the Cleveland Cavaliers a "stock up" designation, but there have been other factors that have contributed to the team's early-season success.
While the Cavs continue to struggle on the defensive end, rookie Dion Waiters looks like a legitimate offensive complement to Irving and has been shooting confidently without hesitation.
Irving and Waiters have been the big prizes for the Cavs, but center Anderson Varejao has been a revelation on the glass.
Averaging 14 points and 15 rebounds a game through the team's first five contests, Varejao is quickly establishing himself as an elite rebounder.
Verdict: Stock up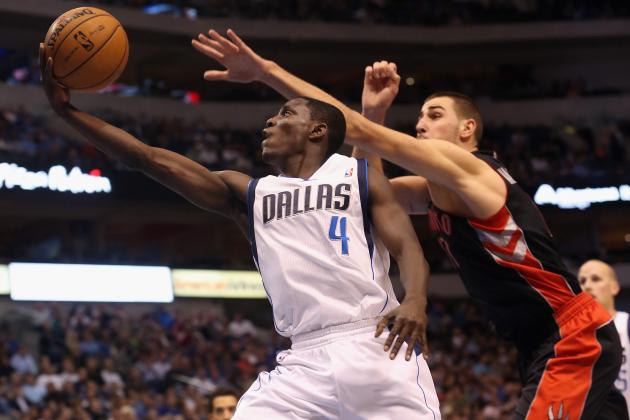 Ronald Martinez/Getty Images

For those of you who thought the Dallas Mavericks would be significantly worse due to the losses of Jason Kidd and Jason Terry, you thought wrong.
The Mavs have had several new faces emerge thus far, many of whom were regarded as one-year solutions at best during the offseason.
Darren Collison and O.J. Mayo have been the glue holding the Dirk Nowitzki-less offense together, and if they can continue to light it up at the same pace, the whole Western Conference will be put on notice.
Verdict: Stock up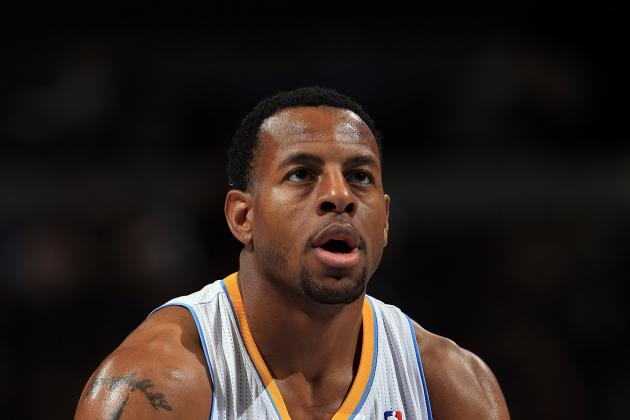 Doug Pensinger/Getty Images

Everyone's sexy preseason pick in the Western Conference, the Denver Nuggets have looked awfully sluggish thus far.
Without one true star, the Nuggets' vast array of athletic wings and bigs have struggled to find offensive continuity.
Andre Iguodala and Kenneth Faried have been two of the Nuggets' most impressive pieces early on, but it will be Ty Lawson's productivity that becomes crucial as the season drags on.
There are brighter days ahead for the Nuggets, but for now it appears that they're all still getting to know each other.
Verdict: Stock Down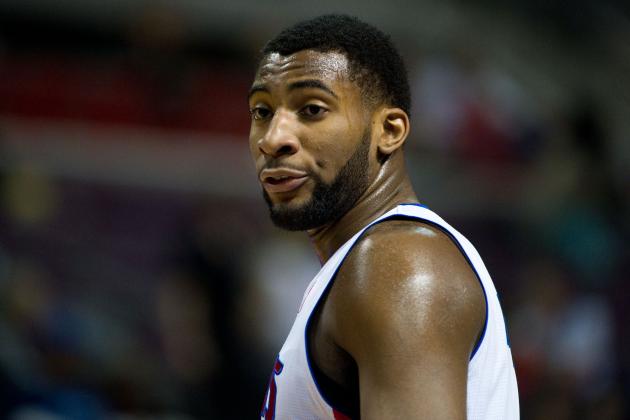 Tim Fuller-US PRESSWIRE

0-7 isn't exactly the way the Detroit Pistons envisioned starting their 2012-13 campaign.
Greg Monroe, one of the league's budding young stars, has looked like his usual self, posting averages of 15 points and nine rebounds per game. But he hasn't received much help from a lackluster supporting cast.
It's going to take a while for first-round pick Andre Drummond to mature, and point guard Brandon Knight has yet to have that epiphany that so many other great young point guards around the league have had.
The Pistons looked like they could have been a sleeper in the preseason, but their play through the season's opening weeks has put all of that speculation to rest.
Verdict: Stock down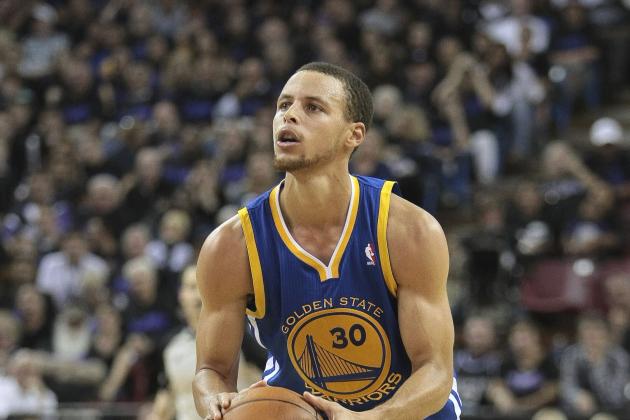 Kelley L Cox-US PRESSWIRE

Stephen Curry's ankles are still attached to his legs, and that alone is a major victory for the Golden State Warriors.
Curry and backcourt mate Klay Thompson have been the team's leading scorers in the early going, each posting over 15 points and five rebounds per game.
The health of center Andrew Bogut will be key moving forward. If Bogut can work his way back into a 25-30 minute per night role, the Warriors could make a run at one of the Western Conference's final playoff spots.
David Lee's offensive output continues to be steady, but his defense has been a total liability all season. Just as it has been for most of his career.
Verdict: Stock up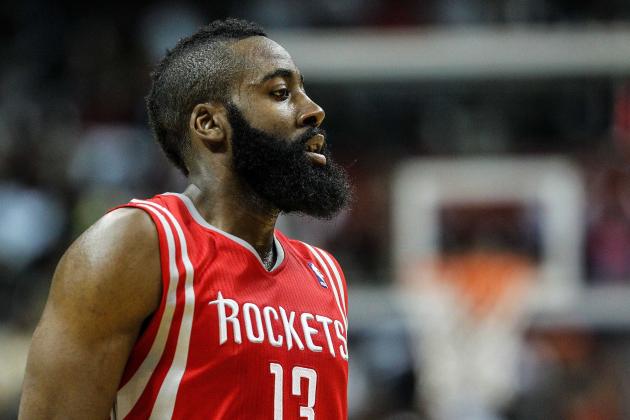 Daniel Shirey-US PRESSWIRE

Is there a team in the NBA that has taken more significant strides than the Houston Rockets?
The Rockets were set to enter the season with Jeremy Lin as their most offensively gifted player, with a supporting cast of rookies and journeymen as his primary complements.
However, the acquisition of guard James Harden has completely changed the landscape in Houston.
Hovering around 27 points per game in the scoring column, Harden has proved that he's more than capable of shouldering the scoring load and leading a franchise to positive results.
Quickly establishing themselves as one of the league's most exciting young teams, the Houston Rockets look to have a bright future ahead of them.
Verdict: Stock up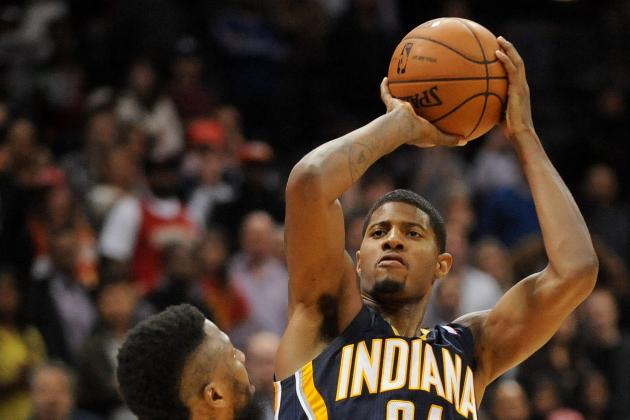 Kevin Liles-US PRESSWIRE

Like the Denver Nuggets, the Indiana Pacers were considered a sexy preseason pick to make a run at an Eastern Conference title.
However, things aren't looking so bright for the Pacers after two weeks. It was reported early last week that Danny Granger would be sidelined for three months with a knee injury, leaving the Pacers with major offensive voids to be filled.
The loss of Darren Collison to Dallas has stung, especially with new reserve D.J. Augustin playing poorly.
Gerald Green and Paul George have only looked good on occasion, and with Granger out, those two will be called upon to shoulder much of the scoring load.
Verdict: Stock down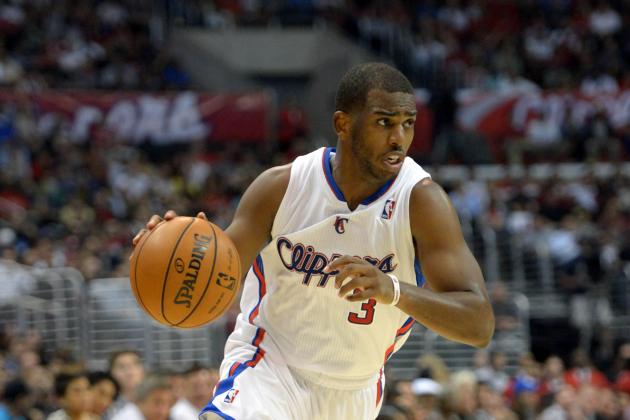 Kirby Lee-US PRESSWIRE

Early victories over the Lakers, San Antonio Spurs and Portland Trail Blazers have helped propel the Los Angeles Clippers into the elite conversation in the Western Conference.
A big key for the Clippers thus far has been the play of their revamped bench. We all know that Chris Paul, Blake Griffin and DeAndre Jordan are the showstoppers for the Clippers, bEric Bledsoe and Jamal Crawford have also been major contributors thus far.
The Clippers are currently second (via HoopStats) in the NBA in bench scoring with 41.8 points per game, and a large part of that is thanks to guys like Bledsoe, Crawford and the unsung Matt Barnes.
One bench player whom the Clippers would love to get more production out of is Lamar Odom, who is averaging 1.8 points per game. If Odom doesn't figure it out soon, he could be looking for work by the All-Star break.
Verdict: Stock up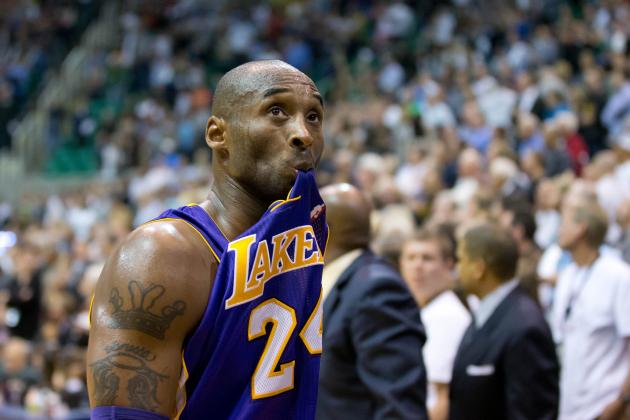 Russ Isabella-US PRESSWIRE

After an 0-8 preseason and a 1-4 start to the regular season, it was time for the Los Angeles Lakers to push the panic button.
By cutting ties (via ESPN) with head coach Mike Brown the Lakers essentially admitted to that they never should have gone with Brown and his assistant Eddie Jordan, who brought the now infamous Princeton offense with him to Tinseltown.
The season is still extremely young, but the Lakers are going to need to simplify things on the offensive end if they want to reach the levels of success that they have been dreaming of.
The Lakers should bounce back once Steve Nash returns to action, especially if they can find a comfortable rhythm on the offensive end.
Verdict: Stock down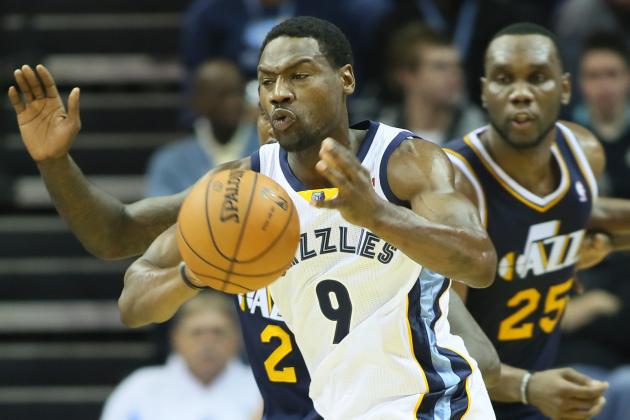 Nelson Chenault-US PRESSWIRE

If you're looking to find a team with superb offensive balance, look no further than the Memphis Grizzlies.
Mike Conley, Rudy Gay, Marc Gasol and Zach Randolph are all averaging double figures in the scoring column thus far, and while Tony Allen has yet to crack the 10 point per game mark, his defense and hustle have been excellent, per usual.
With their window as a contender in the Western Conference slowly closing, the Grizz realize that the time to win is now.
Conley continues to fly under the radar as one of the league's most underrated point guards, and has posted averages of 14 points and six assists. On a team with so much diverse offensive talent, expect Conley's numbers to jump.
Verdict: Stock up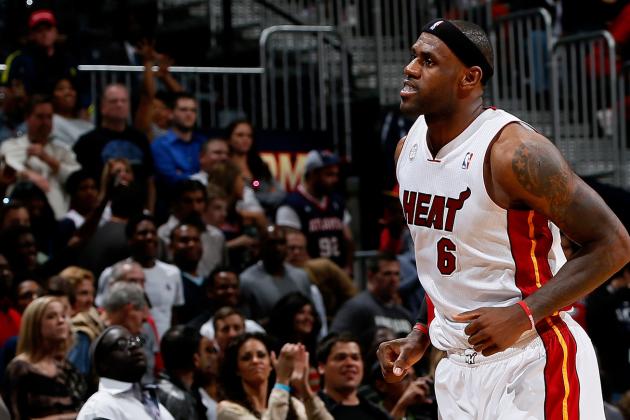 Kevin C. Cox/Getty Images

It's always a scary proposition when the reigning NBA champions, already possessing the league's best player, show marked improvement from a year ago.
LeBron James has looked his usual self, carrying over his no-nonsense attitude from the Olympic Games to the NBA regular season.
James is well on his way to averaging a double-double (22 points and 10 rebounds per game), and has the ability to be the first player since Oscar Robertson to average a triple-double for the regular season.
With a supporting cast that now boasts shooters like Ray Allen and Rashard Lewis, LeBron has the privilege of taking fewer shots, while passing out of double-teams to open marksmen on the wing.
Verdict: Stock up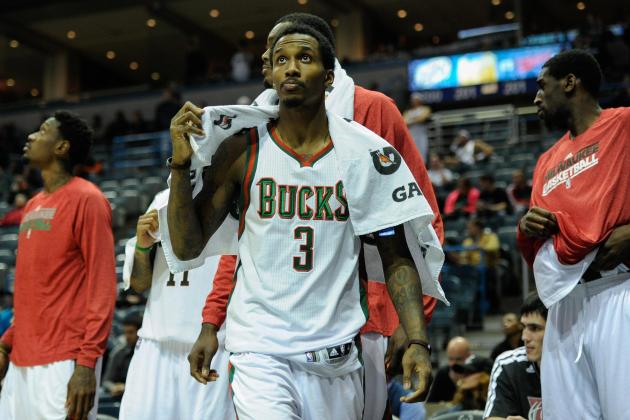 Benny Sieu-US PRESSWIRE

The dynamic backcourt duo of Brandon Jennings and Monta Ellis have the Milwaukee Bucks looking good early.
Jennings has been the real prize in the early going, knocking down a buzzer-beater against the Cleveland Cavaliers just over a week ago. In that same week, the Bucks took care of the Boston Celtics by a score of 99-88.
The biggest surprise for the Bucks thus far has been the play of center Larry Sanders, who is averaging more than 12 points and 8 rebounds per game after two weeks.
Sanders has converted on more than 60 percent of his field-goal attempts thus far, and looks like a potential building block for the franchise moving forward.
Verdict: Stock up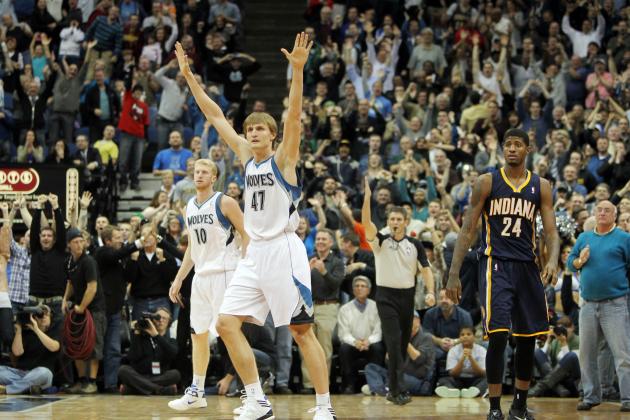 Brace Hemmelgarn-US PRESSWIRE

It would have been difficult to convince many people that the Minnesota Timberwolves would be competitive in the early going without stars Kevin Love and Ricky Rubio.
However, the moves the Timberwolves made this offseason to enhance their depth have paid off in a big way, and have resulted in early season victories over the Brooklyn Nets and Indiana Pacers, among others.
A consistent starting lineup that has plugged in newcomers Andrei Kirilenko and Brandon Roy has looked comfortable, but it's the T'Wolves bench that has been the focal point of their success.
Alexey Shved, Chase Budinger and Dante Cunningham have all been key to a balanced Minnesota effort, but it remains to be seen just how good they will be once they get Love and Rubio back.
Verdict: Stock up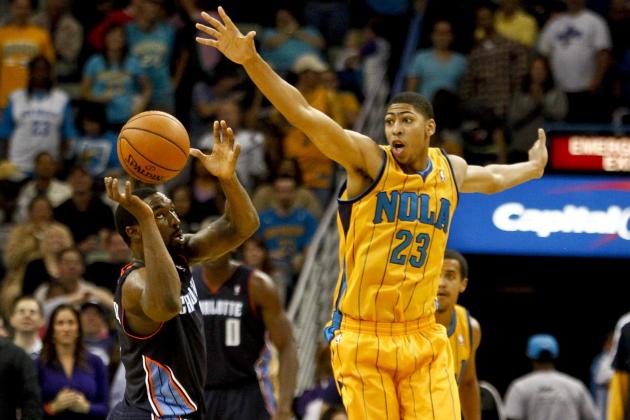 Derick E. Hingle-US PRESSWIRE

Playing through a mess of injuries, including a mild concussion (via Sports Illustrated) sustained by No. 1 overall draft pick Anthony Davis, the New Orleans Hornets haven't looked half bad.
Early wins over the Chicago Bulls and Utah Jazz are a nice start for Monty Williams' young bunch, but we won't have a real idea of where the team stands until they get primary scorer Eric Gordon back from a knee injury (via CBSSports).
Unfortunately for the Hornets, it looks like Gordon may be lost for some time, which means that Davis and Austin Rivers will need to mature at an accelerated pace.
Ryan Anderson's sharpshooting will also be key. Thus far, Anderson is averaging 15.2 points per game on 35.1 percent shooting from beyond the arc.
Verdict: Stock up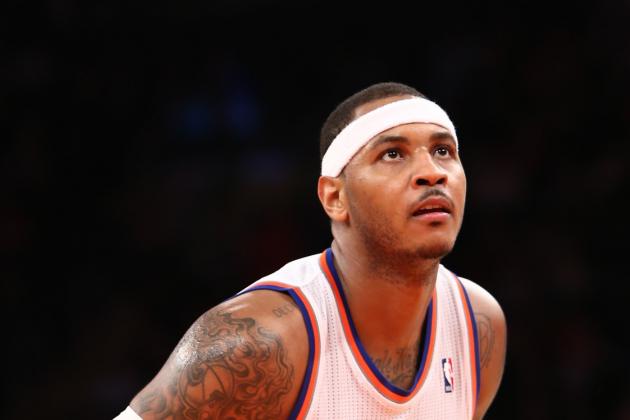 Debby Wong-US PRESSWIRE

No Amar'e Stoudmire, no problem for the New York Knicks. Off to a 4-0 start that no one saw coming, the Knicks have looked surprisingly confident, playing with a sense of purpose on both ends of the floor.
With Carmelo Anthony buying into his new role as a stretch 4, the Knicks have been able to spread the floor more, often times moving 'Melo around between the post and the wing. This has made him the two-dimensional offensive player many have longed for him to be.
The Knicks have recorded thorough wins over the Miami Heat, Philadelphia 76ers and Dallas Mavericks thus far, and have undoubtedly been the league's biggest surprise.
With the offense running at an efficient clip through Raymond Felton and Jason Kidd, Knicks' fans couldn't be happier with their team's early season success.
Verdict: Stock up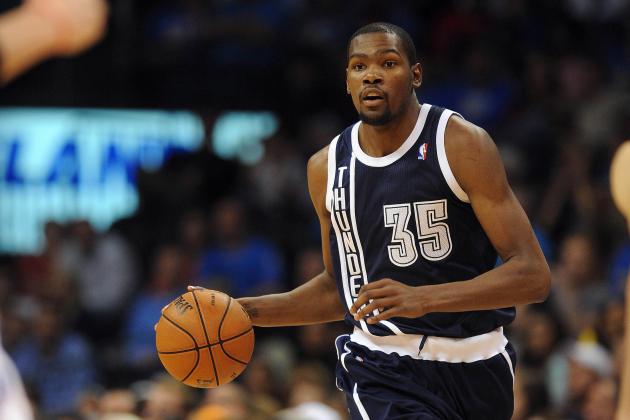 Mark D. Smith-US PRESSWIRE

With James Harden comfortably situated (via Yahoo!) in Houston, the Oklahoma City Thunder have had to face two burning questions in the early going.
One, how effectively will Kevin Martin replace Harden's production? And two, how will Russell Westbrook respond with more opportunities to score the basketball?
So far, Martin has looked like a worthy replacement for Harden, averaging over 18 points per game, and doing so with just 10 field-goal attempts per game. However, Martin's efficiency has contrasted harshly with Westbrook's.
Westbrook is averaging a shade over 18 points per game on just about 18 attempts per game, converting on just over 35 percent of his opportunities from the floor (25 percent from three-point range).
The Thunder have found ways to win early, and if Westbrook can refine his offensive game just the slightest bit, the team's offense will be well on its way to higher efficiency.
Verdict: Stock up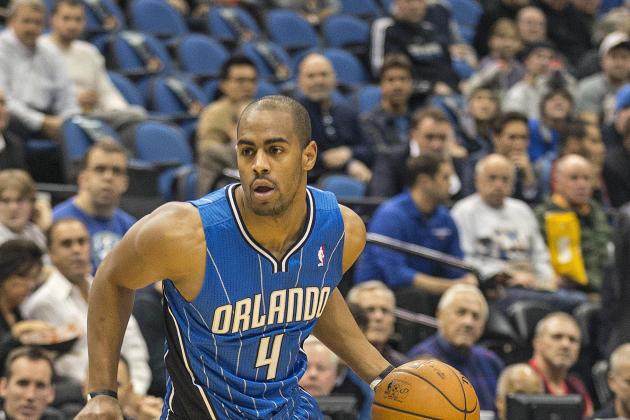 Jesse Johnson-US PRESSWIRE

An opening night win over the Denver Nuggets had many people stunned with just how good the Orlando Magic looked. While the Magic have slowed down since their surprising 2-0 start, there appears to be promise for Jacque Vaughn's squad.
With a starting lineup comprised of young guns like Arron Afflalo, Nikola Vucevic, and E'Twaun Moore, the Magic may not be able to sustain their brief success in the long run. But it's refreshing to see them succeed more than anyone believed they could.
Josh McRoberts is the only Magic starter not scoring in double figures thus far, but if you swapped him for J.J. Redick, the entire starting five would be.
Verdict: Stock up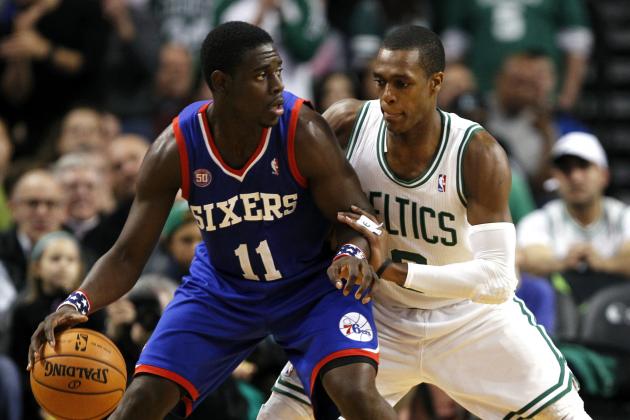 Mark L. Baer-US PRESSWIRE

The Philadelphia 76ers' first three games were none too pretty. After a sloppy opening night win over the Denver Nuggets, the Sixers lost back-to-back games against the New York Knicks, games in which they couldn't find any offensive continuity.
However, after three straight victories over the New Orleans Hornets, Boston Celtics and Toronto Raptors, things appear to be looking up for the Sixers.
The star of the show in the early going has been Jrue Holiday, who has averaged more than 18 points and nine assists per game. Those numbers should continue to climb, especially when Andrew Bynum returns to action.
The Sixers have lived and died by the three (courtesy of Dorell Wright and Nick Young) early, but it's an improvement from their offense a year ago, one that seemed frightened to shoot from distance.
Verdict: Stock up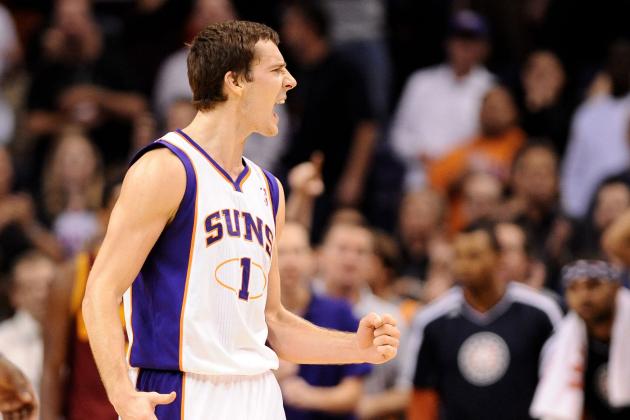 Jennifer Stewart-US PRESSWIRE

The Phoenix Suns may be 3-4, but their wins have come against fairly weak competition. Defeating the Cleveland Cavaliers, Charlotte Bobcats and Detroit Pistons by a combined 12 points, the Suns have looked average at best.
The Suns' four losses have come at the hands of the Golden State Warriors, Orlando Magic, Miami Heat and the Utah Jazz, and as has often been the case, they have struggled to play a complete game on both ends of the floor.
Goran Dragic has looked like the Suns' best player through seven games (16 points and 7.6 assists per game) while Michael Beasley continues to mystify with his wildly inconsistent offensive game.
Verdict: Stock down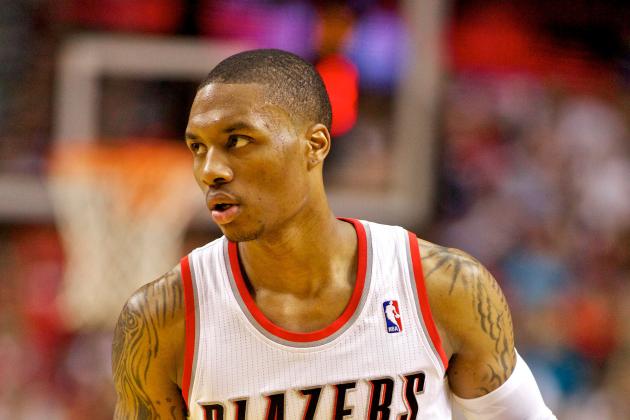 Craig Mitchelldyer-US PRESSWIRE

There isn't a team in the NBA who has faced a tougher early season slate than the Portland Trail Blazers. With wins over the Los Angeles Lakers and Houston Rockets, the Blazers have made it clear that they have the personnel to compete in the Western Conference.
However, losses to the Oklahoma City Thunder, Los Angeles Clippers, Dallas Mavericks and San Antonio Spurs have shown that the Blazers may have some work to do before they are considered a legitimate playoff contender.
Rookie Damian Lillard and All-Star forward LaMarcus Aldridge have led the way thus far, but the reliable play of Nicolas Batum, J.J. Hickson and Wesley Matthews shouldn't go without mention.
With an easier slate upcoming, the Blazers will have a chance to rattle off some wins and prove that they're one of the league's young teams on the rise.
Verdict: Stock up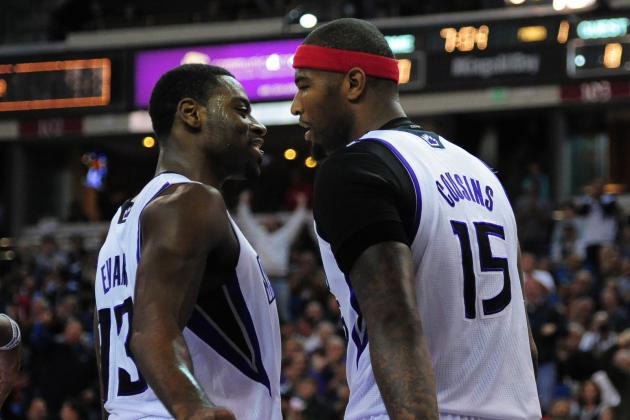 Kyle Terada-US PRESSWIRE

It's safe to say that the Sacramento Kings are the least talented NBA team in the state of California.
The Kings have a few young pieces with high ceilings, but Keith Smart's bunch doesn't look to have the maturity or confidence to be a threat in the Western Conference.
The brightest spot for the Kings thus far has been the play of Marcus Thornton, who has been filling it up to the tune of close to 17 points per game.
Center DeMarcus Cousins is also averaging a shade over 17 points per game, and continues to show that he has the ability to be an elite NBA center.
Verdict: Stock down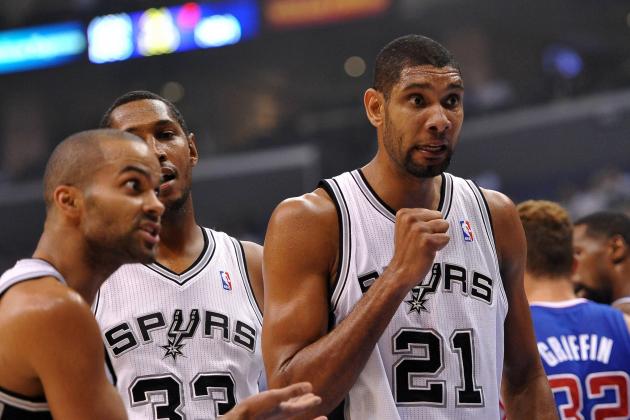 Jayne Kamin-Oncea-US PRESSWIRE

The San Antonio Spurs don't engender excitement in NBA fans the way teams like the Miami Heat and Los Angeles Lakers do because they have been labeled as a good team that's simply too boring.
In the Spurs' case, boring may not grab national headlines, but it does mean plenty of wins. Success is nothing new to the Spurs, and their hot start will undoubtedly mean another top-three seed in the Western Conference.
Tim Duncan has looked especially spry in the early going, averaging more than 18 points and nine rebounds per game.
Expect more of the same from the Spurs as the season goes on.
Verdict: Stock up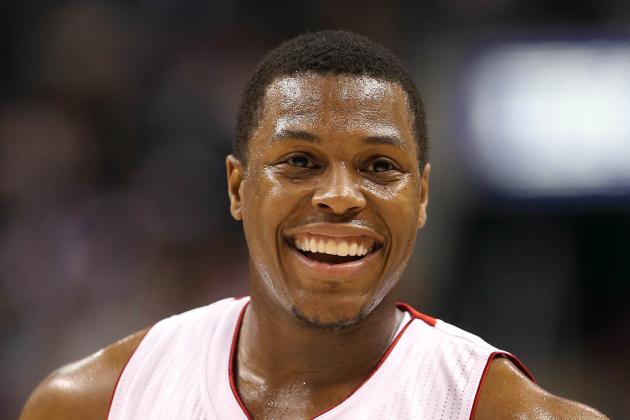 Tom Szczerbowski-US PRESSWIRE

It's never ideal when your key offseason acquisition suffers an injury (via ESPN) in the opening stages of the season.
Kyle Lowry was brought aboard to help energize the Toronto offense, which has been in need of a spark for quite awhile.
In the brief action Lowry did see before spraining his ankle, he looked like the player the Raptors had been wishing for.
Lowry continues to lead the team in points, assists, steals and rebounds per game, which says plenty about how far his game has come—and about how much size the Raptors lack in the frontcourt.
Sitting in the cellar of the Atlantic, it would be a surprise to see the Raptors finish above any of their divisional foes.
Verdict: Stock down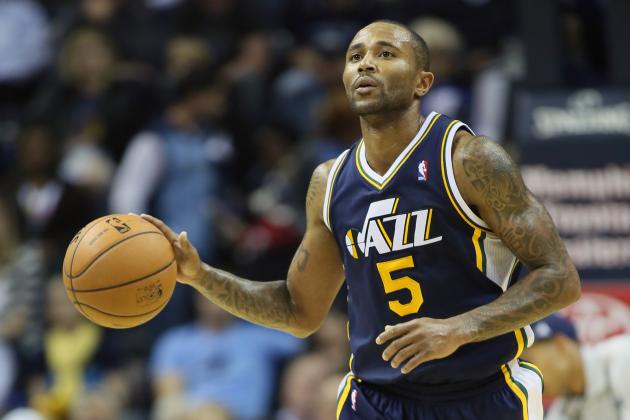 Nelson Chenault-US PRESSWIRE

The Utah Jazz have all of the pieces to compete with the best in the West, but they haven't looked particularly sharp to start the season.
Mo Williams currently leads the team in scoring at just under 17 points per game, and Gordon Hayward has been his usual solid self.
The problem seems to be in the frontcourt, where there are too many bodies and perhaps too few minutes to go around.
Marvin Williams looks like he has yet to get himself situated, while Paul Millsap and Al Jefferson have both been underwhelming.
With Jefferson, Millsap, Derrick Favors and Enes Kanter clogging up the frontcourt, it looks like someone may have to be dealt before the team reaches its full potential.
Verdict: Stock down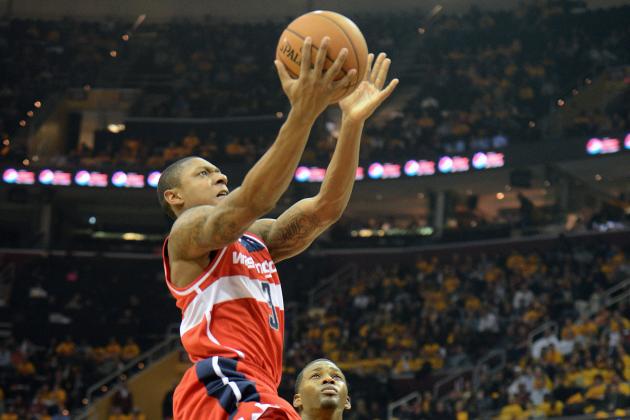 Jason Miller/Getty Images

It bears no repeating, but the Washington Wizards are a very poor basketball team.
Granted they're playing without their two best players (John Wall and Nene), but even with them, things would only be marginally better.
Rookie Bradley Beal is still adjusting to life in the NBA, and offseason acquisitions Trevor Ariza and Emeka Okafor have looked putrid, each posting a PER below 15 through five games.
What would be nice for Wizards' fans would be if 2011 draft pick Jan Vesley emerged as the versatile offensive weapon many believed he would be. So far, he looks like a bust.
Verdict: Stock down