Last Season's Breakouts Who Will Prove to Be NBA One-Hit Wonders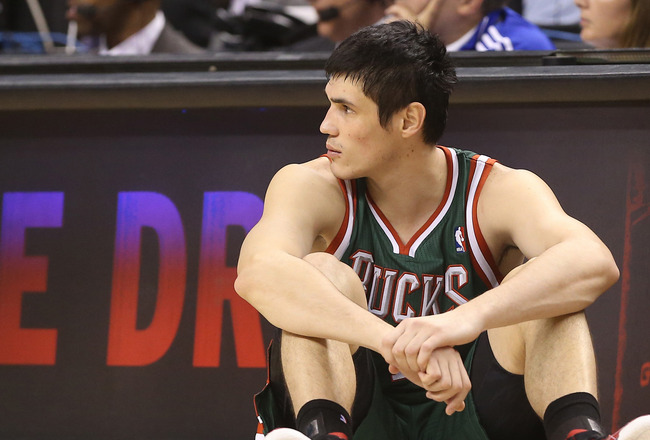 Tom Szczerbowski-US PRESSWIRE
In the NBA last season, unproven players were given the chance to shine due to the strike-shortened campaign.
A big reason for the opportunity was due to the number of veteran players who started the season out-of-shape. And a number of them finished the season that way.
Some newer players took that opportunity and ran with it. However, the lasting power of those seasons is very much in doubt.
One-hit wonders are not uncommon. Look at the music industry. Or just at look at Bobby Simmons' career. They happen all the time.
While these five players produced at a high-level last season, their ability to reproduce similar numbers is very much in question.
Here's a look at last season's breakout players whose production might never be the same.
Gerald Green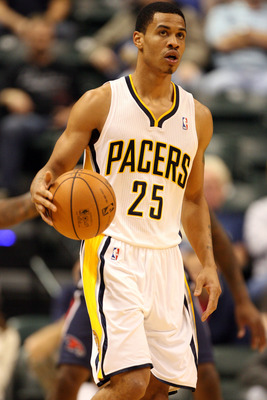 Brian Spurlock-US PRESSWIRE
After accomplishing nothing—besides blowing out candles on a cupcake—during his first four years in the NBA, Green must have hit rock bottom when Mark Cuban called him out. Cuban stated that Green, "just doesn't understand the game of basketball."
Ouch.
Green then worked on his game and made a triumphant return to the NBA. He posted career highs in everything and looked like he belonged in the league.
I loved Green's story last season.
You know what else I loved last season, "Somebody That I Used To Know" by Gotye. That was very short-lived. Now it just sounds like a singer whining for four straight minutes.
I hope that's not the case with Green. But this is what worries me.
Green put up career numbers on a talent-depleted New Jersey Nets team that was headed absolutely nowhere.
Green did get a long-term contract on a team where he could have been eased into playing for a contender. With the talent that the Indiana Pacers have on the wing, Green would not be asked to do too much too soon. Now with Danny Granger out indefinitely, a lot will be expected from Green. Really, who knows if he can up starter's numbers for a contending team.
He has never played significant minutes for a winning team before, and he has never been paid handsomely to do so. Two big hills to climb.
Ryan Anderson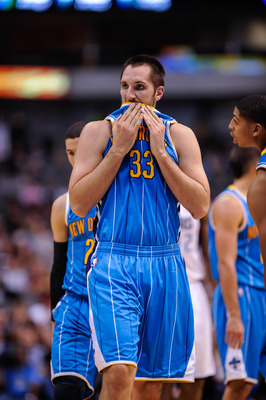 Jerome Miron-US PRESSWIRE
Ryan Anderson should have a fine career ahead of him.
Just don't expect numbers like last year ever again.
Anderson is a fantastic offensive player and a good weak-side rebounder who played well enough to the win the NBA's Most Improved Player Award. Now playing for the young New Orleans Hornets team, his numbers are likely to drop.
Anderson's stroke won't go away, but all the open looks that Dwight Howard generated will.
His rebound totals will also likely diminish. Without Howard taking on two or three guys on the block, 3.7 offensive rebounds a game likely won't be happening again any time soon.
Playing with Anthony Davis will help, but he is no Howard defensively. Not yet, anyway.
Now that teams are aware of how deadly he can be offensively and playing alongside many inexperienced players, opponents will make sure Anderson won't be the one who beats them on the Hornets.
Jeremy Lin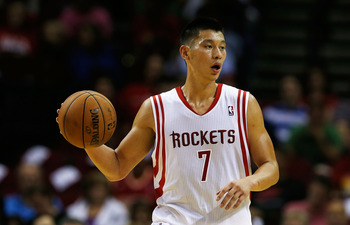 Scott Halleran/Getty Images
Linsanity!
What a great story!
And what a target that put on his back!
Watching Jeremy Lin breakout after being cut numerous times was fun to watch last season. However, this season he is definitely not going to sneak up on anyone. Teams will take a concentrated effort to stop him.
If the Houston Rockets are expecting his February 2012 numbers: 20.9 points, 8.4 assists, 4.0 rebounds and 2.1 steals, they will be massively disappointed.
Remember, those numbers came when Mike D'Antoni was the head coach. What point guard doesn't put up numbers when he is the head coach? Right, Chris Duhon.
Wish him the best in Houston. Having James Harden by his side is going to help, but expecting Lin to be even a top-15 point guard is even asking too much.
Especially if his preseason numbers are any indication of what is to come.
Ersan Ilyasova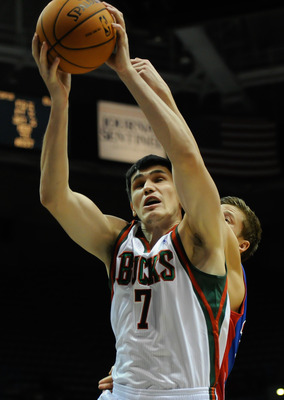 Benny Sieu-US PRESSWIRE
Ersan Ilyasova played his way to a new contract last season after posting a career high in numbers across the board.
Things will be different now that the whole NBA circle knows his name. Sure, they still can't pronounce it, but there will be a heighten focus on stopping Ilyasova.
A big reason for his breakout, beside his occasional 20-plus rebound game, was that Ilyasova shot 45 percent from the three-point line. He is a career 35 percent shooter from three even with that inflated average from last year. The Milwaukee Bucks can't expect that kind of hot shooting to continue.
With John Henson now on the roster the Bucks have options if they want to go defensive. With the scoring ability of their backcourt, Ilyasova might find himself on the bench if teams are slowing him down offensively and he continues to offer very little defensively. Even if he is in the game, Brandon Jennings and Monta Ellis will make shots hard to come by.
After signing a nice long-term contract it's still guesswork to say if he can sustain his high-level play.
Steve Novak
Al Bello/Getty Images
Steve Novak could always shoot the ball.
Finally he got his chance last season and posted a career-high 8.8 points per game while getting 5.2 attempts from three-point land.
However, he isn't likely to produce at that level again.
With a healthy New York Knicks roster Novak isn't likely to get over five shots a game again. Not with what little else he brings to the table.
Plus, teams will be fully aware that Novak attempted 83.7 percent of his shots outside the three-point line and adjust. They should be fully aware he can't put the ball on the floor and make him do so.
Unless Carmelo Anthony gets hurt for an extended period of time again or if opponents dare him to shoot threes, Novak won't be able to match last season's success.
Keep Reading