The 5 Biggest Surprises of the NBA Offseason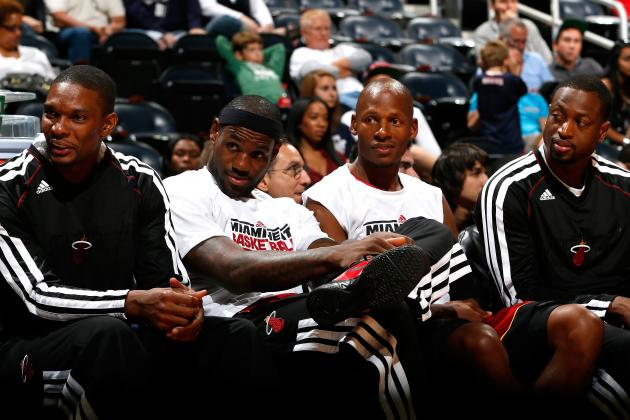 Kevin C. Cox/Getty Images
Raise your hand if you predicted seeing a photo like this one.
Now that NBA training camps are in full swing and preseason games are underway, we can start looking back on how teams were built, formed and recalibrated during the offseason.
Players were traded, signed and released, just like they are every summer. Like every year, there were a handful of shockers, head-scratchers and jaw-droppers.
If you want to win in the NBA or any pro sports league, you have to take risks and some of those risks are what lead to most of those surprises. Sometimes, league executives are just as surprised as fans when certain moves come to fruition.
So with that, here's a look at some of the more surprising events of the offseason.
Begin Slideshow

»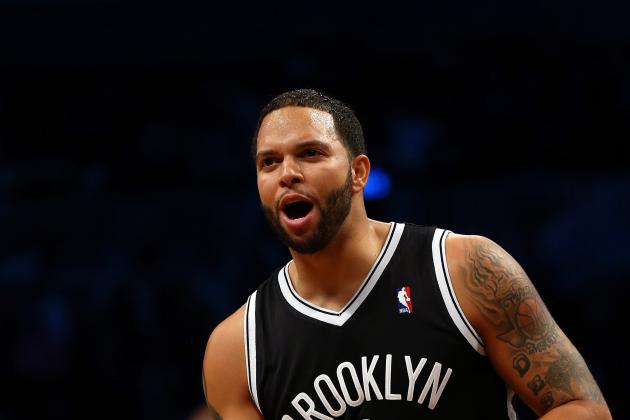 Elsa/Getty Images
Smart money had Williams in a Mavs uniform, not this one.
The party line on the Dallas Mavericks last season and into the summer was that they were clearing cap room so that they could make a run at free agent Deron Williams and free agent to be Dwight Howard.
They got neither player, and that was a huge surprise.
The potential trade of Howard to Big D never really got off the ground even after the Nets dropped out of the sweepstakes. As we all know, Howard wound up getting dealt to the Lakers.
But Williams, a hometown boy, was another story. It was down to the Mavs and Brooklyn retaining his services. Even though the Nets were able to offer him more money, given Dallas' championship pedigree and the presence of a bona fide superstar like Dirk Nowitzki, it felt like the Mavs would wind up with a brand new point guard.
Well, they did. Only it turned out to be Darren Collison, not Williams. Dallas owner Mark Cuban was not present at the Mavs' pitch meeting to woo Williams, and D-Will would later confess that Cuban's absence played a role in his decision to pass on Dallas (via Tim MacMahon of ESPNDallas.com).
Instead of Howard and Williams leading the Mavs into the future as Nowitzki faded off into the sunset, Dallas fans will see Collison, O.J. Mayo, Elton Brand and Chris Kaman play alongside Dirk this season instead.
And that window to earn another title just closed a little bit more.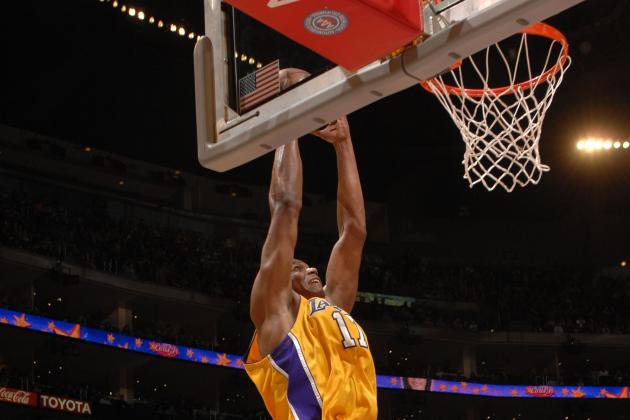 Jeff Gross/Getty Images
Bynum will now wear red, white and blue.
When it became clear last season that the Lakers did indeed have interest in Howard, the natural reaction was that underachieving big man Andrew Bynum would be the one to go.
Potential destinations mentioned included Orlando in a straight swap, or even Houston if the Rockets, who sold out to get Howard and still didn't, could stay involved by including another team.
Well, there were other teams included in the deal besides Orlando and L.A. But who had the Sixers down as one of them?
Philly swooped in along with Denver, moved its top player in Andre Iguodala to the Nuggets, got Jason Richardson from the Magic to replace Iguodala and pried Bynum away from the Lakers.
It was a huge move for Philly, which showed that it's a real threat in last year's playoffs before any of these moves were made. Now the Sixers have a potential franchise center to go with their young, emerging, backcourt talent. It was a coup, of sorts.
The jury is out on whether Bynum will actually work out as a Sixer. He's still nursing some chronic knee issues. His desire has always been questioned. And putting a personality like Bynum's with one like that of Sixers coach Doug Collins could be a time bomb waiting to go off.
But again, if you want to succeed, you have to be willing to take big risks. And that's just what Philly did.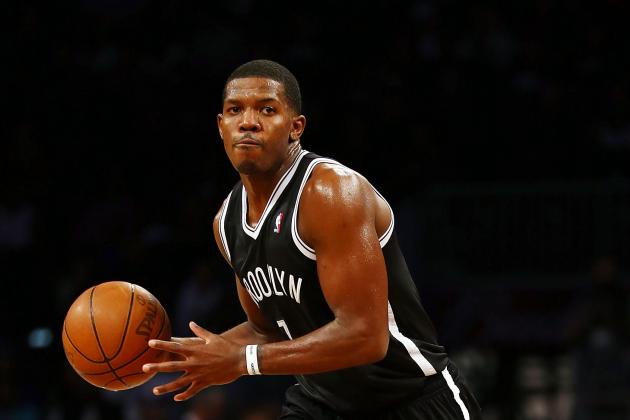 Alex Trautwig/Getty Images
Atlanta got out from under a thousand ton weight when it traded Johnson.
Take a poll of NBA fans and executives on the league's worst contract, and the chances are pretty good most of them will answer Joe Johnson.
The Hawks gave Johnson, a very good player who is nowhere near a superstar, a six-year max deal worth $119 million back in the summer of 2010, essentially wiping out any possible financial flexibility along with it.
But with four years and a whopping $89 million still remaining on the contract, new Hawks GM Danny Ferry somehow, some way got the Nets to bite and dealt Johnson for Anthony Morrow's expiring deal and some other assorted flotsam back on July 2.
The Hawks, stuck in perennial first-round exit purgatory for years now, got themselves out from under a thousand ton weight with the move. While they may not be too much better right away, at least it afforded themselves some major flexibility that they likely never even dreamed of for down the road.
Ferry should already be earning votes for Executive of the Year.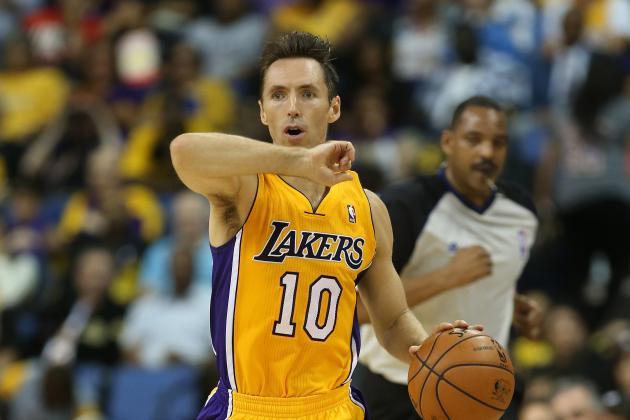 Stephen Dunn/Getty Images
Looks strange, eh?
Steve Nash has been the ultimate good soldier for the past few years, never once asking to be dealt from Phoenix as his career entered its twilight years and the Suns constant mismanagement dropped them from potential contender to also-ran.
So when Nash reached free agency in the summer, it made all the sense in the world that he'd leave the desert. And he had suitors as well, and the Knicks and Raptors were both in on him in a major way.
But he didn't wind up in either spot. Instead, he worked out a sign-and-trade deal to of all teams, the Lakers, one of Phoenix's biggest rivals.
The move sent shockwaves though the league. No one predicted it (via Marc Stein of ESPN.com). Suddenly Nash would be playing for a division rival just hours from where the Suns play with his first legit chance at a title since 2006.
Nash isn't the player he was back then, but that's not the point. The point is, if you're looking for absolute stunners, this one had all the trimmings.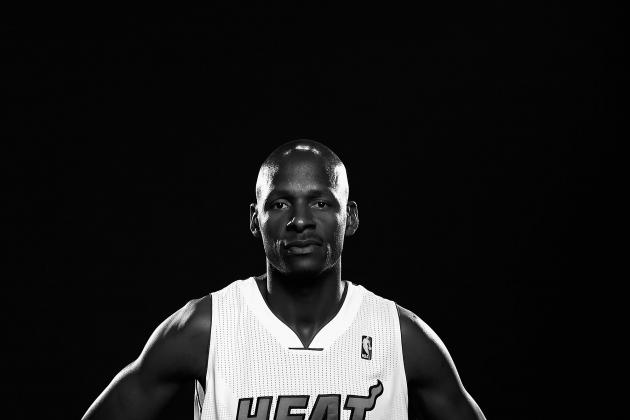 Chris Trotman/Getty Images
Still, to this day, so so surprising.
Boston Celtics fans knew that both Kevin Garnett and Ray Allen were free agents following last season's near run to another NBA Finals.
It made a lot of sense for both to return given how far the C's made it. With some reinforcements and the continued ascension of Rajon Rondo, making another run by getting the band back together was the way to go.
So when Allen opted to sign with the Celts' new biggest rival, the team that had knocked them out of the playoffs in each of the past two years and for fewer years and less money at that, jaws legitimately dropped.
Suddenly, Ray hated Rondo. He was angry about being asked to come off the bench (even though that's exactly what he'll do in Miami). He felt under appreciated during his entire five-year run in Boston and had had enough. So he left and stuck it to the C's and their fans in doing so.
Allen choosing to go elsewhere would have been a surprise. But choosing to go where he went for what he was offered in relation to what Boston was offering and all of the underlying circumstances made this move the biggest surprise of the offseason.