7 2012-13 NBA Preseason Stars Who Aren't Worth the Hype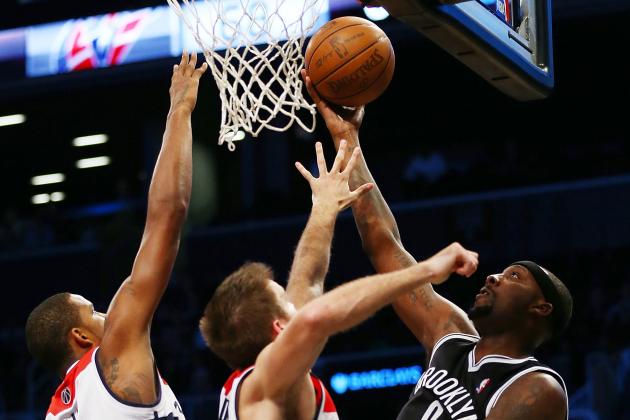 Alex Trautwig/Getty Images

If you thought the NBA Summer League was a mine full of pyrite, just wait 'til you see the preseason. The players, jerseys and arenas are all fairly familiar, except...
Oh, that's right, the games don't count. They're merely scrimmages arranged for the purpose of allowing head coaches to experiment with different plays and lineups, as well as figure out which of the riffraff at the end of the bench stays and which gets sent on its way to the D-League/Europe/Asia/the nearest Pizza Hut.
That's not to say that the NBA preseason can't be fun and interesting in its own right. Between rookies with high hopes (Anthony Davis, Michael Kidd-Gilchrist, etc.), superstars switching teams (Dwight Howard, Steve Nash) and oldish teams (the Brooklyn Nets) playing in new buildings (the Barclays Center), there's no shortage of intrigue swirling through The Association in October.
Be careful, though. Results from the preseason, like the Los Angeles Lakers losing to the Golden State Warriors by 27 points, are best taken in the same manner as any string of words out of Shaquille O'Neal's mouth—with a grain of salt.
The same goes for players, like these seven, who are "blowing up" before the regular season tips off.
Begin Slideshow

»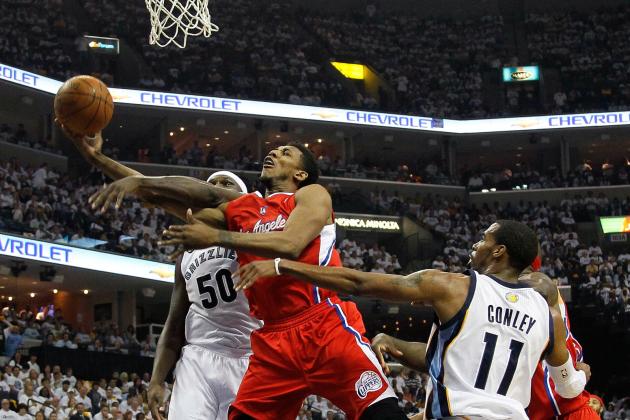 Kevin C. Cox/Getty Images

Just because Nick Young is essentially filling Lou Williams' shoes with the Philadelphia 76ers this season doesn't mean the former Washington Wizards and Los Angeles Clippers swingman is about to lead the team in scoring like Lou did in 2011-12.
So far, Swaggy P's 19 points per game are the most of any Sixers player in the preseason and the fourth-most of anyone in the NBA.
Not that anyone should expect him to keep up the pace. His field goal (.486), three-point (.600) and free-throw (.944) percentages are all leaps and bounds above his career averages, as are his 28.7 minutes per game.
He'll see his fair share of playing time while backing up the likes of Jason Richardson, Jrue Holiday and Evan Turner, but he can hardly hope to have his run of the offense in the City of Brotherly Love. If anything, Young will be lucky to average double-figures in scoring this season, what with Holiday and Turner expected to take the next step toward stardom and Andrew Bynum (eventually) commanding touches in the middle.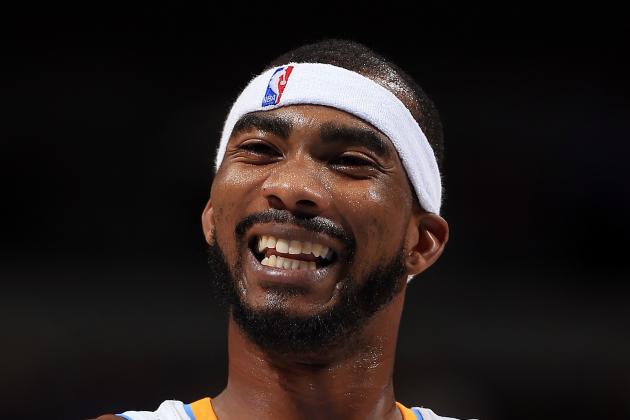 Doug Pensinger/Getty Images

Truth be told, Corey Brewer is an excellent fit on the wing with the Denver Nuggets. He's a long, tall athlete who can play lockdown defense, force turnovers on the perimeter and get down the floor in a flash.
There's a lot to like about Brewer in the Mile High City. Just don't get overly excited about his 18.3 points in 22.7 minutes per game.
Not that Brewer doesn't have the talent to be a competent scorer. He averaged 13 points per game during his third NBA season, albeit for a mediocre Minnesota Timberwolves squad.
Thing is, anyone would be hard-pressed to shoot 60 percent from the field and 50 percent from three, especially Brewer, whose career numbers in those categories are 41.3 percent and 30 percent, respectively. If anything, Brewer's 56.5-percent conversion rate on free throws is more indicative of his actual shooting ability.
The 22.7 minutes aren't exactly out of line with Brewer's 24.3-minute career average, though he's unlikely to get so much burn behind Andre Iguodala (37.7 minutes per game for his career) and Danilo Gallinari (30.9 minutes).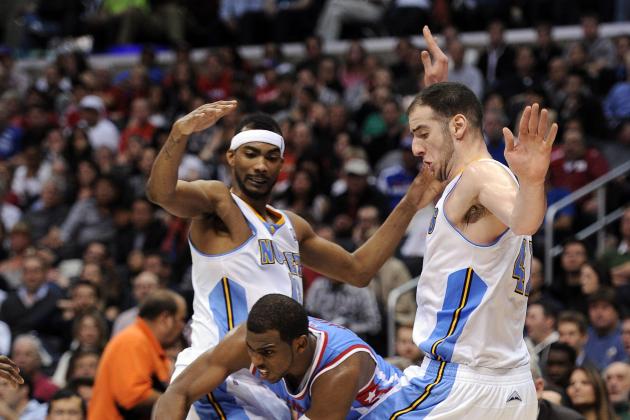 Harry How/Getty Images

Like Brewer on the wing, Kosta Koufos might be a quality player for the Denver Nuggets in the middle. The 23-year-old seven-footer showed some flashes of a productive future during his second season in the Mile High City, chipping in 5.5 points and 5.4 rebounds in 16.5 minutes per game.
Koufos' scoring (5.7 points) has hardly taken the preseason by storm, though he's rebounding at an eye-popping rate—10.7 boards in just 20 minutes per game, to be exact.
To Kosta's credit, he might be a double-double-type player at some point down the line, if/when he's granted starter's minutes, rather than just a cursory spot in the starting lineup. That could come sooner than expected if Nuggets GM Masai Ujiri sticks with his trend of trading big-money signings and decides to move JaVale McGee in the near future.
Until then, don't count on Koufos being the third-best rebounder in the NBA...or anything close to it, for that matter.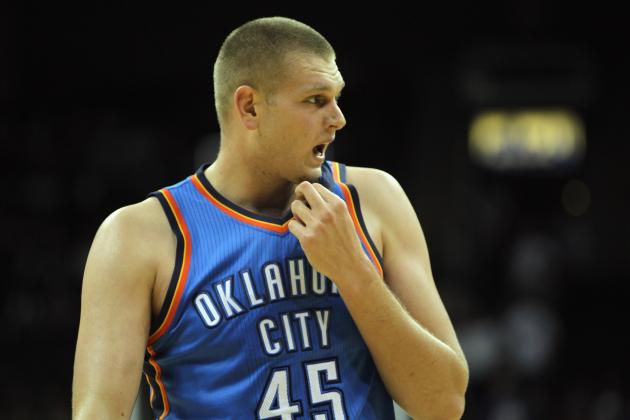 Jamie Squire/Getty Images

Speaking of young bigs who may (or may not) be comin' 'round the mountain when she comes, Cole Aldrich has been acquitting himself well this preseason. In two games, the former lottery pick out of Kansas has dropped 10 points and 11 rebounds one night and 11 points and 10 rebounds the other, with three blocks on each occasion.
The Oklahoma City Thunder must be encouraged by what they've seen from Aldrich this month, considering how much he stunk up the Summer League—5.0 points and 6.5 rebounds in 23.5 minutes per game, to be exact. And it's tough to blame Aldrich too much for his poor regular-season stats (1.7 points and 1.9 rebounds in 7.2 minutes) since his opportunities to play have been few and far between.
Which is precisely why you won't see Cole so much as approaching double-double territory any time soon. The Thunder are having difficulty enough justifying Kendrick Perkins' continued role (and expensive salary) at center. Chances are, OKC will opt to either go small or stick Nick Collison in the middle when Perk isn't playing.
In either case, that means minimal playing for Aldrich for a third year running, regardless of how he fares against scrubs in the fall.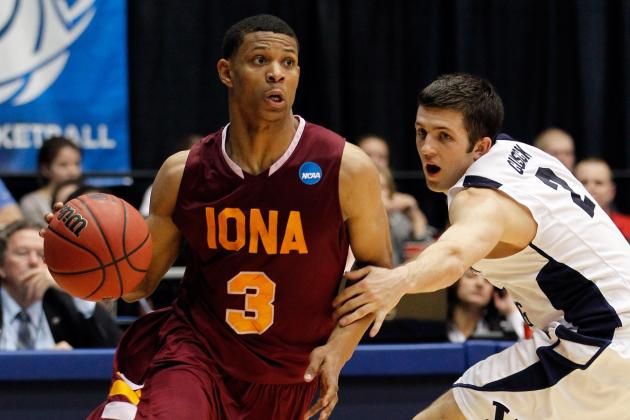 Gregory Shamus/Getty Images

Scott Machado doesn't have to worry about being crushed under the weight of NBA Draft expectations—he went undrafted this past June—or, well, the weight of Kendrick Perkins.
Nonetheless, the somewhat-ballyhooed free agent out of Iona has more than held his own this month, churning out 6.5 assists in just 15.8 minutes per game. That includes a nine-point, 11-assist showing against the San Antonio Spurs on Sunday.
Machado has the makings of a diamond in the rough, though, ironically enough, his path to playing time may well be blocked by another, very-much-now-ballyhooed former undrafted free agent—Jeremy Lin.
That's what you get for signing with the Houston Rockets, I suppose. Now, rather than having a clear opportunity to strut his stuff during meaningful minutes, Machado will be left to fight for scraps behind Linsanity, with Shaun Livingston and Courtney Fortson serving as the chief competition.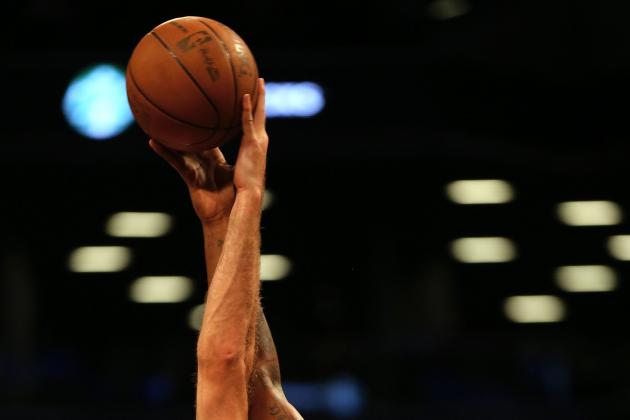 Elsa/Getty Images

Don't look now, Nets fans, but Andray Blatche might just see significant time on the court in Brooklyn this season. He's currently listed as Brook Lopez's primary backup at center, and given Lopez's recent history of foot problems, head coach Avery Johnson may have to enlist Blatche's services more frequently than folks in the hipster borough would care to consider.
To be sure, Blatche has put up better numbers in his career than the 14 points, 6.5 rebounds and 1.5 assists he's registered in 22.5 minutes through his first two preseason appearances in a Nets uniform. In fact, Blatche topped all of those stats in 2010-11, when he averaged 16.8 points, 8.2 rebounds and 2.3 assists in 33.9 minutes per game for a woeful Washington Wizards outfit.
Not that anyone should pencil in Blatche for a bounce-back year, not after the Wizards essentially told him to stay away at times last season before offing him via the amnesty clause this summer. He could turn out to be a pleasant surprise for the Nets this season.
But with the likes of Deron Williams, Joe Johnson, Gerald Wallace and Lopez dominating the ball, Blatche would be more than fortunate to extend his preseason productivity into meaningful game action.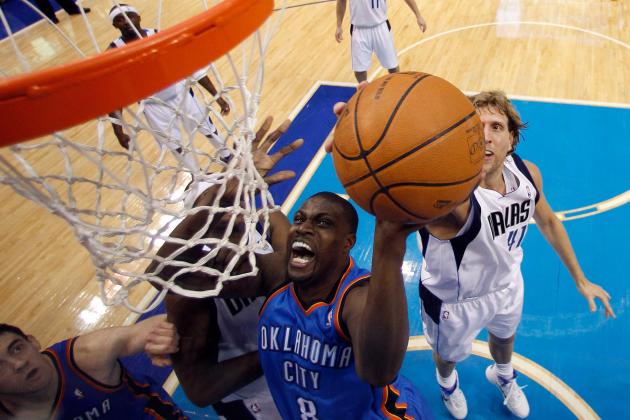 Pool/Getty Images

Nazr Mohammed has always been a solid rebounder and a steady back-up center. He's averaged a respectable 6.6 points and 5.2 rebounds for his career and was a valuable contributor on the San Antonio Spurs squad that won the title in 2005.
Still, nobody should anticipate the 35-year-old center being so energized by a return to his native Chicago that he rips down 9.7 rebounds—including a whopping 5.7 on the offensive end—for the Bulls this season. Even with Omer Asik joining the Houston Rockets, there doesn't figure to be all that much time or that many rebounding opportunities—between Joakim Noah, Carlos Boozer, Taj Gibson and Luol Deng—for Mohammed to manage a new career-high in that category.
Especially at his age. For now, though, he can enjoy stuffing the stat sheet amidst an abundance of preseason garbage time.