8 NBA Players Who Are Looking to Rebound from Down Year in 2011-12
Rasheed Wallace looks at the scoreboard in Boston's 2010 playoff series Game 7 against the Los Angeles Lakers
Christian Petersen/Getty Images
Not every NBA season can be a productive one, right?
That's the case with some players who didn't play up to their potential in the 2011-2012 season.
Injuries, trades, problems with coaches and even retirement kept these guys' teams wishing they didn't have them. But now they all have one thing in common: They want to make this season better.
They'll have their chance come the start of the season, but for now, let's take a look at how last year turned out for them.
Rashard Lewis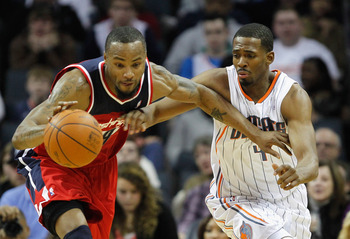 Rashard Lewis in a January game against the Charlotte Bobcats
Streeter Lecka/Getty Images
Rashard Lewis wasn't of much help to the Wizards last season when he put up his worst numbers since his rookie year with the then-Seattle Supersonics.
Lewis only played in 28 games last season and has struggled with knee injuries.
He averaged less than eight points on 38 percent shooting from the field. A career 38-percent shooter from beyond the arc, Lewis shot just under 24 percent last season for the Wizards.
Lewis signed with Miami this season after being bought out by New Orleans. He's ranked No. 6 among active players in three-pointers made (1,690).
Along with the all-time leader Ray Allen, the Heat hope one of the league's best outside shooting big men can provide some three-point scoring for the team off the bench. If Lewis' knees don't bother him as they have in seasons past, that will be exactly what Miami gets from him.
Glen Davis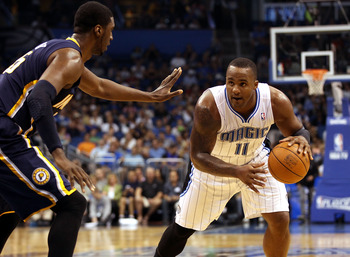 Glen Davis dribbles in Game 4 of Orlando's 2012 playoff series against the Pacers.
Marc Serota/Getty Images
Glen Davis hasn't been nearly as productive in the NBA as he was in his college days at LSU. The fifth-year player averaged a double-double (17.7 PPG, 10.4 RPG) in his last college season.
Since then, he's only had a double-digit scoring season once—in the 2010-11 season with the Celtics (11.7 PPG). And he's averaged less than six rebounds a game his whole NBA career.
Last season's 9.3 PPG and 5.5 RPG with Orlando could be considered an upgrade from his first three seasons with Boston, when he averaged just below 6 PPG. Still, Big Baby wasn't as good as he should have been.
That did start to change, however, when Dwight Howard went out in March with back problems, and Davis stepped up in a big way.
He had six double-doubles that month, including eight games when he scored 15-plus points. In the Magic's playoff series against Indiana, he averaged 19 points and nine rebounds in five games.
Davis started his turnaround last season. All he has to do is keep it up, and with Dwight Howard gone from the Magic, Davis might just be able to turn his whole career around.
Andris Biedrins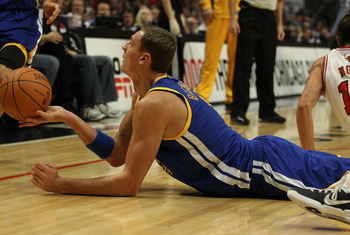 Andris Biedrins in a 2010 game against the Chicago Bulls
Jonathan Daniel/Getty Images
Andris Biedrins didn't even average 2 PPG in his eighth season with Golden State last year. He scored 1.7 PPG and averaged 3.7 RPG in 15 minutes per game.
Biedrins' productivity has been declining for the last three years, as he's dealt with injuries that have kept him out of games and out of shape.
But 1.7 PPG? Really?
This is a player who averaged a double-double just four seasons ago. Then, he was one of the Warriors' most valuable players whose 9 PPG and 9 RPG in the 2006-07 season helped them to upset the Mavericks in the first round of the NBA playoffs.
Biedrins had 20 games last season in which he played 10-plus minutes and scored zero points. Zero.
The Warriors have a team that looks like it will have some success this season. If Biedrins can stay healthy and get back to his earlier NBA form, he can be a big contributor to that success.
O.J. Mayo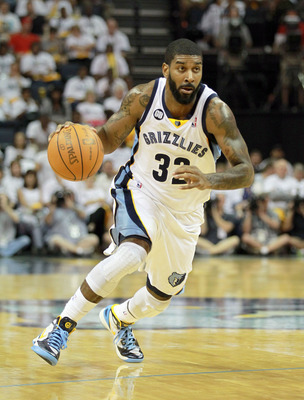 O.J. Mayo in Game 1 of the Grizzlies' 2012 playoff series against the L.A. Clippers.
Andy Lyons/Getty Images
O.J. Mayo came off the bench in all 66 of the games he played last season. In his first two years in Memphis, Mayo's numbers were comparable to those he had in his one year played at USC.
Since then, his scoring has decreased as he sees fewer minutes. Mayo averaged about 18 PPG in 38 minutes in his first two seasons. Last year he scored 12 points in 26 minutes a game off the bench.
This time, Mayo is playing for the Dallas Mavericks. The team is without its backup guard Jason Terry, and Mayo could prove to be a solid replacement at the 2-guard position. He has the ability to score more than Terry's 15 PPG last season and put up about the same number of assists and rebounds.
If Mayo gets to play with the Mavs more than he did in his last couple of seasons in Memphis, the career 43-percent shooter could be a great young scoring asset to Dallas.
Richard Jefferson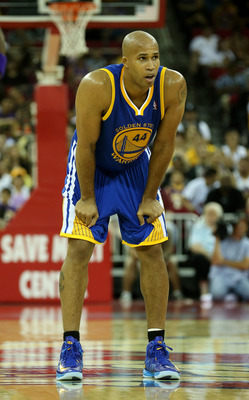 Richard Jefferson in an October 2012 preseason game against the Lakers.
Stephen Dunn/Getty Images
Richard Jefferson averaged a career low 9.2 PPG last year, splitting his season between San Antonio and Golden State.
This year he's back with Golden State and has a $10 million-per-year contract.
Jefferson isn't expected to see much playing time as he competes with Brandon Rush and rookie Harrison Barnes for minutes at the small forward position. But with that kind of money getting handed to him, the Warriors hope Jefferson can bring something other than veteran leadership to the table.
Stephen Jackson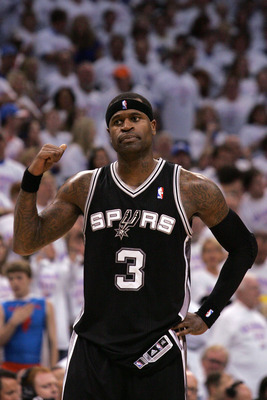 Stephen Jackson in Game 6 of the Spurs' playoff series against Oklahoma City
Brett Deering/Getty Images
Stephen Jackson was traded to the Spurs midway through last season after shooting 35 percent from the field in 26 games with the Bucks. The Bucks had sent him to Golden State, where he stayed for one game before going to San Antonio.
Jackson's 37 percent shooting for the season was his worst since his sophomore year in the NBA. He averaged a total of 9.8 PPG, compared to 18.5 in his previous season. Without big numbers by Jackson (he scored 20-plus points in three games), the Bucks didn't benefit from having him on the floor.
Jackson had some issues with his hamstring throughout the season. That, along with his problems with Milwaukee's head coach Scott Skiles, decreased Jackson's playing time and led to his trade.
Jackson was better with the Spurs in the second half, getting his shooting average above 40 percent.
Back with San Antonio again this season, Jackson will compete for minutes with second-year player Kawhi Leonard, who saw a lot of playing time in last year's postseason.
If Jackson stays healthy and keeps his attitude in check, he can continue his turnaround and provide some good scoring and veteran leadership to San Antonio.
Lamar Odom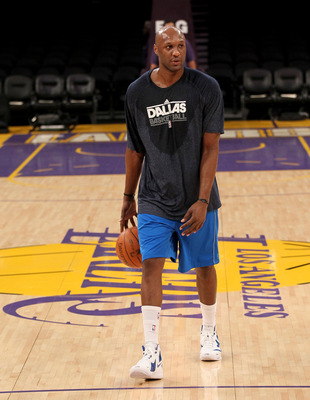 Mavericks' Lamar Odom in a January 2012 warmup at Staples Center
Stephen Dunn/Getty Images
Lamar Odom won the Sixth Man of the Year Award in the 2010-11 season with the Lakers. But he asked to be traded from the team after learning about a proposed trade that involved Odom going to the Hornets in exchange for Chris Paul.
Odom was expected to help the Mavericks fill the void left after center Tyson Chandler signed with the Knicks in his free agency.
Odom, however, did no such thing.
He started in just four of the 50 games he played for the Mavs, averaging less than 7 PPG on 35 percent shooting. That's compared to his 14.4 PPG on 53 percent shooting the previous season with L.A.
Odom was apparently dealing with the death of his cousin in the offseason and never had a chance to fully recommit himself to the game.
But eventually, the Mavs sent Odom to the D-League (where he never ended up playing), and the two soon parted ways.
Now Odom's back in Los Angeles, but with a different squad: the Clippers, who drafted Odom in the first round in 1999. The Clippers hope they'll get the player they drafted 13 years ago instead of last year's Lamar Odom.
Rasheed Wallace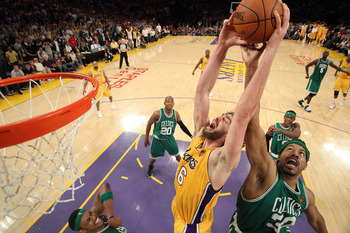 Rasheed Wallace defends Lakers' Pau Gasol in Game 7 of the 2010 NBA finals.
Ronald Martinez/Getty Images
Rasheed Wallace averaged zero points and zero rebounds last season. In fact, he hasn't seen one minute of playing time for the last two years.
Of course, that's because the 15-year veteran retired after his 2009-10 season with Boston.
Wallace is making his NBA comeback with the Knicks. He and his new team hope that Wallace can return as strong as he was before his two-year hiatus and his season with Boston.
He averaged 9 PPG and 4.1 RPG playing just over 20 MPG with the Celtics. His career averages are 14.6 PPG and 6.7 RPG in 33 minutes. He's a pretty solid defender, too. He averaged a steal and 1.3 blocks per game for his career.
Wallace left the Celtics and more than $12 million dollars that was left on his three-year contract after just one season with Boston. The 15-year veteran had trouble staying in shape during his time with the Celtics and will have to work hard to avoid that problem this season.
Wallace won a championship in 2004 in Detroit with Knicks head coach Mike Woodson, who was then an assistant to Larry Brown. The 38-year-old will serve as a backup to power forward Amar'e Stoudemire and hopes to play at least a small role in helping to get Woodson and the Knicks get another championship ring.
Keep Reading