10 NBA Fantasy Sleepers for the 2012-13 Season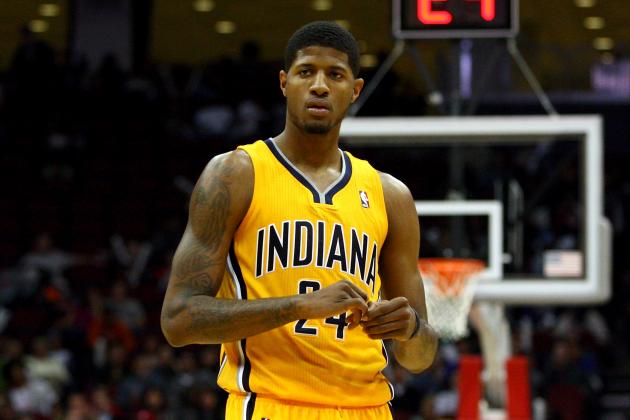 Chris Chambers/Getty Images

The NBA season kicks off in just under three weeks. This means one thing: It's time to draft your fantasy basketball team.
Every year there are players who are poised to break out. It may be young players who have finally learned to put it all together. Or veterans who needed a chance of scenery. Either way it can be tough to predict who these players are going to be. However, these lesser known players are vital for a successful fantasy season.
There are a few things to remember when it comes to the definition of a sleeper. Highly drafted rookies are not sleepers, they are expected to come in and contribute right away. Also be careful of players who put up big numbers in a contract year.
Last season both Paul George and Greg Monroe entered the season as young players with a lot of potential. When the season was over, both looked like they could be playing in the All-Star Game one day soon.
Predicting who will have a breakout season isn't a science, but it is important to look at what players have done when given increased playing time, and how the construction of rosters has changed, thereby giving previous bench players a larger role in the team's overall strategy.
With that being said here are 10 of the players to keep an eye on this year.
Begin Slideshow

»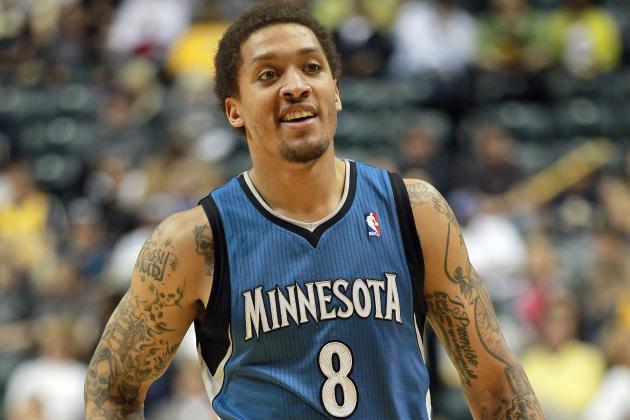 Andy Lyons/Getty Images

Michael Beasley is entering his fifth season in the NBA. He is also playing for his third team. There is no denying Beasley's talent. He was the second overall pick in the 2008 NBA draft after only one season at Kansas State.
Despite his talent, Beasley entered the league with controversy. Pat Riley and the Miami Heat wanted to draft Derrick Rose. After they lost the lottery to the Chicago Bulls, Riley spent a month trying to move the pick. The Heat ultimately selected Beasley and he spent two seasons in Miami.
Beasley put up solid numbers with the Heat, but was traded to the Minnesota Timberwolves for two second-round draft picks in July 2010 to create enough cap space to sign LeBron James and Chris Bosh.
In his first season in Minnesota, Beasley put up almost 19 points, six rebounds, two assists, one steal, one block and one three-pointer per game. He also shot 75 percent from the free-throw line and 45 percent from the field.
His numbers took a dip last season. However, expect them to return to those from closer to 2010-11.
The Phoenix Suns are a team in transition now that Steve Nash has moved on to Los Angeles. The Suns don't have much talent and will have difficulty putting the ball in the basket.
Beasley will likely start at small forward from day one and should also lead the team in scoring. It is time to prove that he deserved such a high draft position. And with no true No. 1 option, Beasley should be able to do just that.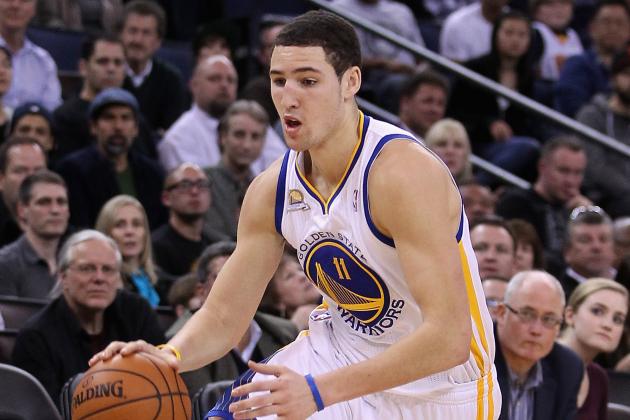 Ezra Shaw/Getty Images

Klay Thompson enters the season as the presumptive favorite to start in the backcourt, alongside Steph Curry for the Golden State Warriors.
The Warriors are an intriguing team. Coach Mark Jackson stated his team would make the playoffs last season. The team then stumbled to a 23-43 record, finishing with the third-worst record in the Western Conference.
Golden State looks poised for a much more productive year when the season tips off on Halloween. And Thompson is a big reason for that.
Thompson has good size at the two-spot, measuring 6'7". He is a more prototypical off-guard, unlike Monta Ellis, who is now in Milwaukee.
Thompson also came on strong last season after the Ellis trade. He averaged 18 points, three rebounds, three assists, one steal and two three-pointers in 29 games as a starter last season.
Expect those numbers to continue and maybe even improve slightly as Thompson continues to develop entering only his second NBA season.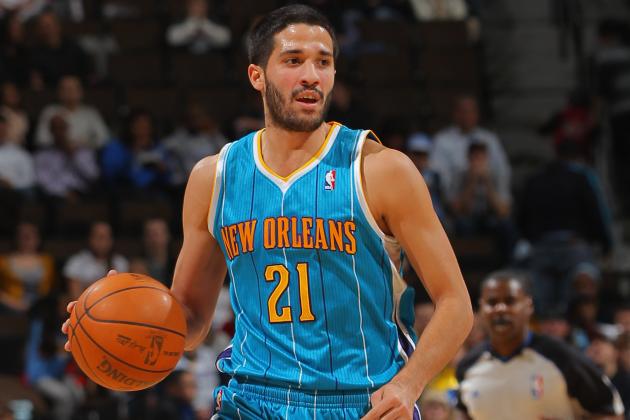 Doug Pensinger/Getty Images

Most casual NBA fans have no idea who Greivis Vasquez is. But everyone needs to take notice of him now. He is a 6'6" point guard, who had a stellar four-year career at the University of Maryland.
Vasquez was selected with the 28th overall pick in the 2010 NBA draft by the Memphis Grizzlies. His numbers were not very impressive in his one season in Memphis, playing behind the likes of Mike Conley Jr. and O.J. Mayo.
He was traded to the New Orleans Hornets right before the start of last season. Vasquez averaged a just under nine points and six assists for the season. However, in 26 games as a starter he put up 12 points, seven assists, three rebounds, one steal, almost one three-pointer, while shooting 85 percent from the line and 45 percent from the field.
The Hornets resigned Eric Gorden this summer and drafted Austin Rivers, but neither one is a true point guard. Vasquez is the only legitimate lead guard on the team and will likely be the starter at that position.
He isn't a flashy name, but he will likely be a solid fantasy option this coming season.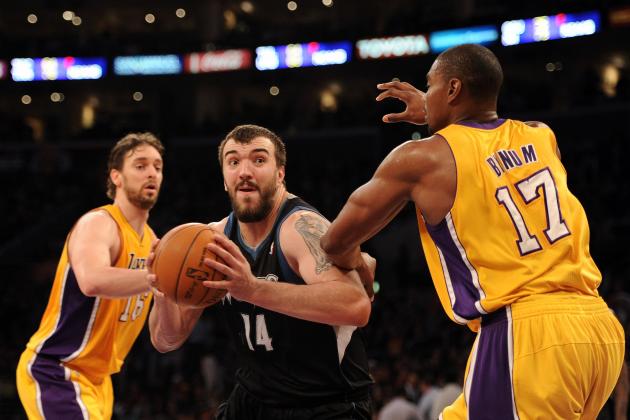 Harry How/Getty Images

The Minnesota Timberwolves were one of the feel good stories of the NBA's shortened season. They quickly became a must-watch on NBA's League Pass. Ricky Rubio is one of the most exciting young point guards in the league, and Kevin Love is quickly developing in the NBA's best power forward.
What may be lost in all the excitement is the solid play of Nikola Pekovic. He was drafted by the Timberwolves in 2008. However, he didn't make his NBA debut until the 2010-11 season.
Pekovic's numbers in his first season didn't jump off the page, despite an impressive Euroleague career since 2003. He entered the lockout season behind Darko Milicic on Minnesota's depth chart.
After Milicic went down with an injury halfway through the season Pekovic took over the team's starting job. He averaged 15.4 points, 8.5 rebounds, while shooting 55 percent from the field and 74 percent from the free-throw line in 35 games as a starter.
Pekovic doesn't block as many shots as you'd like for a center and won't be an eight-category player for fantasy purposes, but the stats he does provide will come cheaper than most big-name centers in the league.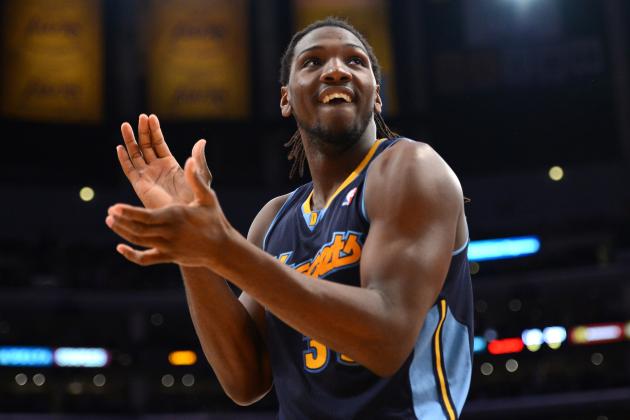 Harry How/Getty Images

Faried was seen as undersized to play power forward in the NBA at only 6'8". He had a terrific college career at Morehead State, averaging 14.5 rebounds per game his senior season. Faried also broke Tim Duncan's Division I record for career rebounds.
The Denver Nuggets selected Faried 22nd overall in last year's draft. As the season progressed, both his playing time and numbers continued to improve.
Faried ended up starting the final 39 games of the season. In just 24 minutes a game, he averaged 11 points, 8.2 rebounds and almost a block and steal per game.
Look for these numbers to continue to improve this season, with a full training camp and preseason under his belt. He will likely go into opening day at the team's starting power forward. And with the exception of Anthony Randolph, who hasn't seemed to be able to live up to his potential, Faried is the only true power forward on Denver's roster.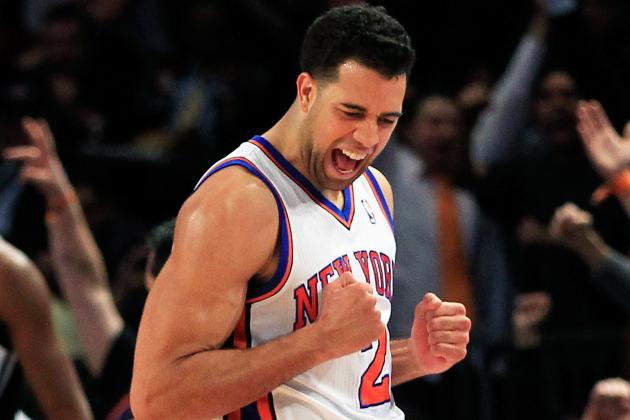 Chris Trotman/Getty Images

Landry Fields had an exciting summer, mostly as a result of his connection to Steve Nash.
On the first day of free agency, both the Toronto Raptors and New York Knicks began their courtship of Nash. The Knicks didn't have enough cap space to sign him outright and therefore could only be able to acquire him as part of a sign-and-trade. Fields was rumored to be one of the pieces New York was trying to send to Phoenix in exchange for Nash.
The Raptors decided to extend Fields a three-year offer sheet, with a third-year poison pill. His contract is worth approximately $5 million per season over the first two years, but jumps to about $9 million in year three.
New York decided not to match this offer and lets Fields walk, essentially ending their pursuit of Nash. However, at the last minute the Los Angeles Lakers were about to swoop in and lure Nash to LA. As a result, the Raptors lost out on Nash and were left with Fields and his nearly $20 million contract.
Despite the overpayment, Fields should regain his form from his rookie season. Before the Knicks acquired Carmelo Anthony, Fields was playing solid basketball in Mike D'Antoni's fast-paced style offence.
Fields will likely start at small forward for the Raptors this season and should see his number increase without a ball-stopper like Melo on the team. Toronto will have a more free flowing offense, without too many isolation plays. His numbers won't blow anybody away, but he contributes in every category and should be a good late-round pickup.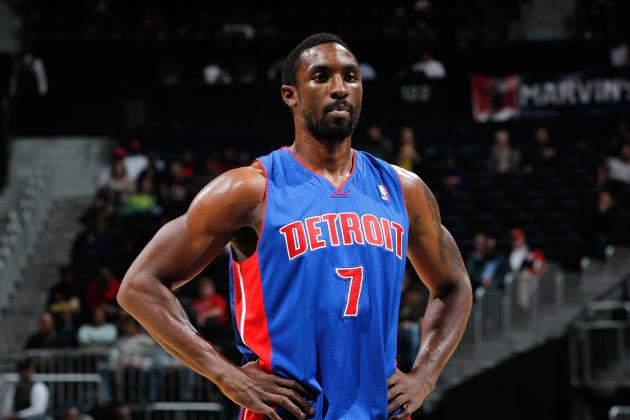 Kevin C. Cox/Getty Images

Ben Gordon might seem like a strange pick for a sleeper since he is entering his ninth year in the league. However, he has become a forgotten man since leaving Chicago.
Gordon has spent the last three seasons as a bench warmer on a bad Detroit Pistons team. With that being said, why should anyone expect an improvement with his move to the Charlotte Bobcats?
Bobcats coach Mike Dunlap told reporters that he wants Gordon to be his closer this season.
Ben Gordon will likely retain his role at sixth man, but his production should more resemble his time in Chicago, not Detroit. Both Kemba Walker and Gerald Henderson are talented young players, but not the scorer that Gordon is.
Gordon is currently averaging 15 points per game in the preseason, in only 25 minutes per game. Gordon should also add one to two three-pointers per game and shoot a high percentage from the line.
He will be a valuable addition if you need points, but he doesn't bring much else to the table. Gordon's a 43 percent shooter from the field for his career and has never averaged over one steal per game.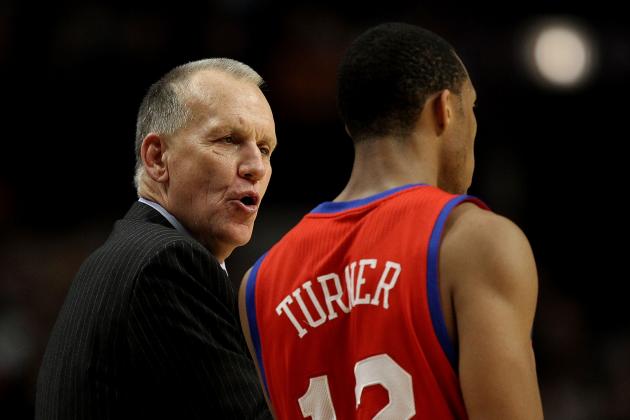 Jonathan Daniel/Getty Images

Turner was the second overall pick in 2010 ahead of Derrick Favors, DeMarcus Cousins and Greg Monroe. To date, he hasn't lived up to his draft status.
However, the Philadelphia 76ers enter the season with a new look. Gone are the team's leading scores from last season, Andre Iguodala and Lou Williams. The team now also features the second-best center in the NBA.
Iguodala's exit presents an opportunity for Turner. He is one of two players, along with Jrue Holiday, who are able to create their own shot on the team.
As a big man, Andrew Bynum needs guards to set him up for shots. And the other new additions are mostly catch-and-shoot players.
In 20 games as a starter last season Turner averaged 12.7 points, 6.7 rebounds, three assists and one steal per game, while shooting 71 percent from the line. Look for all of those numbers to go up across the board, except for his shooting percentage, with a larger role now in the team's starting lineup.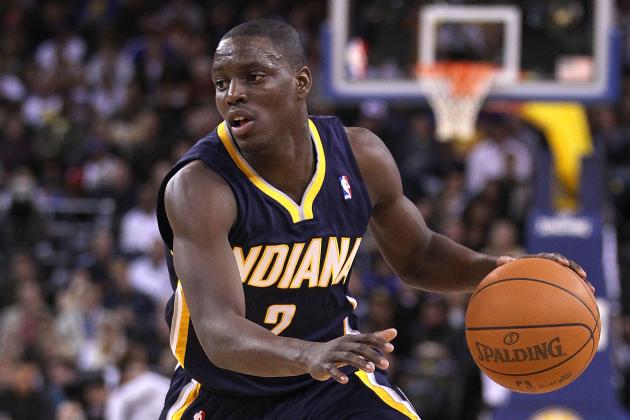 Ezra Shaw/Getty Images

Darren Collison is set to join his third team in only four years in his short NBA career. It isn't for a lack of talent, it is just bad luck.
Collison's first season was spent as a backup to the league premier point guard, Chris Paul. When Paul went down with an injury Collison emerged as a legitimate starter. Obviously, it didn't make sense to keep both players when the Hornets had so many other clear weaknesses. Therefore, he was moved to the Indiana Pacers.
Collison spent the last two seasons in Indiana starting 135 out of a possible 139 games. Unfortunately, he lost his starting job at the end of the season and into the playoffs as the result of an injury and the play of George Hill.
Hill got rewarded with a new contract this summer and Collison was shipped to the Mavericks.
Dallas is sporting an almost entirely new team this year. This includes the team's backcourt, which features Collison and O.J. Mayo. Collision has big shoes to fill with the departure of Jason Kidd and Jason Terry, but is a more than capable starting lead guard.
He averaged almost 11 points, five assists and one steal per game last season as a starter, with only 1.8 turnovers. It is rare for a starting point guard to average such a low turnover rate. This is something that must always be taken into account when building your fantasy team.
Point guards generally add assists and steals, but since they have the ball in their hands most of the game, they also have a high turnover rate. Collison is very good at protecting the ball and should be a good late-round pickup.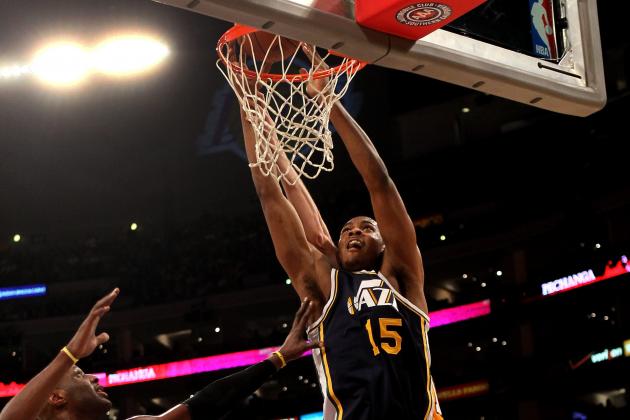 Stephen Dunn/Getty Images

Kevin O'Connor and the rest of the Utah Jazz's front office have done an incredible job building for the future, while staying competitive in the present.
A few years ago he pre-emptively traded Deron Williams to avoid the drama that teams like Cleveland, Denver and Orlando went through. The Jazz acquired multiple first-round picks and one of the most promising young big men in the league in Derrick Favors.
The question becomes: When is it time for the young guys to step in? Utah has one of the best frontcourt rotations in the league with Al Jefferson, Paul Milsap, Derrick Favors and Enes Kanter.
However, Favors has far too much talent to continue to come off the bench. He will take one of the starting spots at some point this season.
It is a small sample size, but in nine games as a starter last season he averaged 12.2 points and 9.3 rebounds in 28 minutes per game. There are few players in the league that can average a double-double, but Favors is one of them. He may quickly become one of the best big men in the league.