8 NBA Players Who Will Shine in 2012-13 After Flying Under the Radar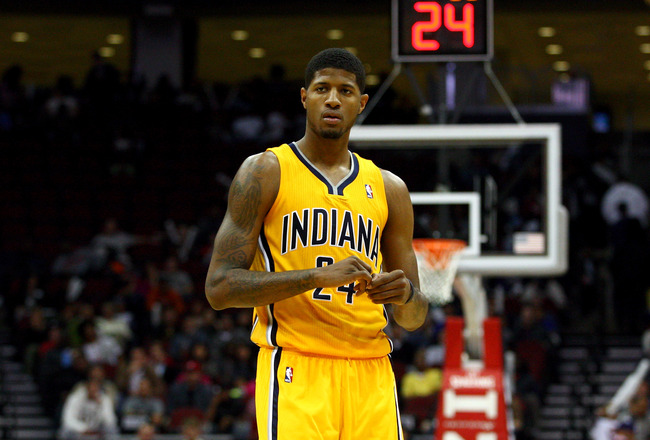 Chris Chambers/Getty Images
The NBA is a land of great opportunity. For every superstar who was selected first overall is a player who worked their way up the ranks after facing lackluster expectations upon their first arrival.
The key, of course, is persistence.
Every player dreams of leading their team to a championship. Many even have the aspiration to be a global superstar that is recognizable by their first or nicknames alone. The Kobe's, LeBron's, Shaq's and MJ's can all attest to this.
Even a little Linsanity can offer insight into what some players are in store for.
For some, however, even their greatest contributions go unnoticed. The "under-the-radar" players are often the most undervalued in the league but continue to produce at a level that will one day bring them to stardom.
For the following eight players, that definition is as fitting as any. Fortunately for them, the 2012-13 NBA season will bring them out of obscurity and present them with the opportunity to shine in the spotlight.
Mike Conley Jr., Memphis Grizzlies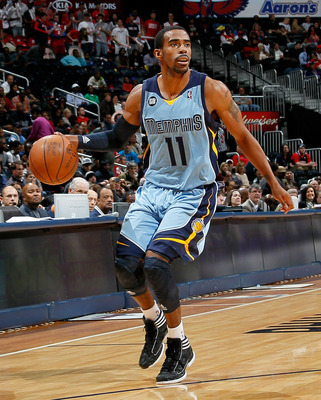 Kevin C. Cox/Getty Images
Position: Point Guard
Age: 24
Experience: Fve Seasons
The Memphis Grizzlies are as balanced a roster as you'll find in the NBA. They're between great and elite at every position in their starting lineup and have the necessary depth to make a run through the postseason.
Unfortunately for the individuals involved in this process, their contributions are often lost amongst the masses.
Never has that been more true than with point guard Mike Conley Jr. Despite posting an outstanding statistical season and pacing the Grizzlies to a 41-25 record, Conley was an afterthought in the minds of NBA fans worldwide.
As for his opponents, he was more of a thorn in their side.
Conley finished second in the league by averaging 2.2 steals per game. Only Chris Paul finished with a higher mark than he, which set up a showdown between the two in the first round of the 2012 NBA Playoffs.
It was there that Conley forced CP3 into an average of 3.6 turnovers per game. It was also in that series that Conley averaged 14.1 points and 7.1 assists per game while shooting 50.0 percent from beyond the arc.
Let the breakout begin.
For the year, Conley Jr. finished with season averages of 12.7 points, 6.5 assists and 2.2 steals per contest on 37.7 percent shooting from distance. With O.J. Mayo no longer demanding the ball and taking time as a lead facilitator, expect those numbers to improve accordingly.
Also expect Mike Conley Jr. to receive All-Defensive Team honors for the first time in his promising young career.
2011-12 Season Averages
16.79 PER, 12.7 PPG, 6.5 APG, 2.5 RPG, 2.2 SPG, 37.7% 3PT
Paul George, Indiana Pacers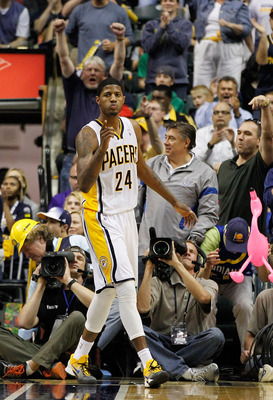 Gregory Shamus/Getty Images
Position: Shooting Guard
Age: 22
Experience: Two Seasons
At 6'10", Paul George is a matchup nightmare for anyone at the shooting guard position. Even Joe Johnson, who stands at 6'8", would struggle with George's height advantage.
Why? Because the kid can leap out of the gym and is absolutely lethal from beyond the arc.
After shooting just 29.7 percent from distance as a rookie, George bounced back in 2012 by draining 38.5 percent of his threes. This came by virtue of his improved form, which includes a more stable balance and an in-line elbow.
When he's not shooting the ball, George is a threat to throw down as pretty or vicious a dunk as you've ever seen.
Despite possessing the upside to one day compete for a scoring title, Paul George's greatest progression has nothing to do with offense. Instead, it is the former Fresno State Bulldog's defensive ability that has scouts buzzing.
With great size and a phenomenal wingspan, George is a menace before moving a muscle. What he's improved the most on, however, is reading passing lanes and knowing when he should and should not attempt a steal.
His mark of 1.6 swipes per game placed him at ninth in the league. Frank Vogel's approval comes with George's improving fundamentals.
There is still room to grow for the youngster. He must limit his turnovers and select his shots with more precision. Once he has done so, however, Paul George could be an All-NBA caliber talent for the Indiana Pacers.
That progression takes a giant leap in 2012-13.
2011-12 Season Averages
16.55 PER, 12.1 PPG, 5.6 RPG, 2.4 APG, 1.6 SPG, 38.5% 3PT
Al Horford, Atlanta Hawks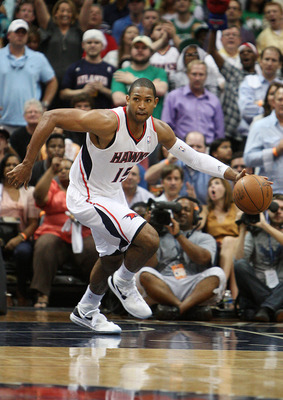 Mike Zarrilli/Getty Images
Position: Center
Age: 26
Experience: Five Seasons
Oftentimes, a star player will fall victim to injury and return to great expectations. In the case of Al Horford of the Atlanta Hawks, however, the big man disappeared into obscurity upon suffering what was thought to be a season-ending pectoral injury.
With Joe Johnson out of town, a clean bill of health and a surplus of opportunities headed his way, expect Al Horford to make waves.
The smooth-shooting big man is one of the most polished players at his position. This is rather significant considering he is a true stretch power forward that has been delegated to playing the paint on both ends of the floor.
Even out of position, Horford reaches elite status.
As for what skills the big man from the Dominican Republic possesses, they're countless. He's one of the best mid-range shooters in the game, regardless of position. Aside from being automatic from that range, he's also developing a back-to-the-basket game which includes improving his left hand.
Horford is athletic enough to run the floor and finish in the open court. He's also savvy enough to facilitate out of the post and from the top of the key.
His average of 3.5 assists per game during the 2010-11 season offers proof for such a claim.
On the offensive end, there really isn't much Horford can't do. On defense, there isn't much of a disparity.
Horford is an outstanding rebounder who, despite playing out of position, manages to excel as an interior defender. Although he's not a proficient shot blocker, he stays in front of his man and alters shots with his effort and leaping ability.
What sets Horford apart, however, is his mind for the game. He's an intelligent player who almost always makes the right decision and excels in rotational defense.
With all of these factors weighed, it is safe to say that a healthy Al Horford is in for a re-emergence as one of the game's top stars.
2010-11 Season Averages
20.79 PER, 15.3 PPG, 9.4 RPG, 3.5 APG, 1.0 BPG, 0.8 SPG
Jonas Jerebko, Detroit Pistons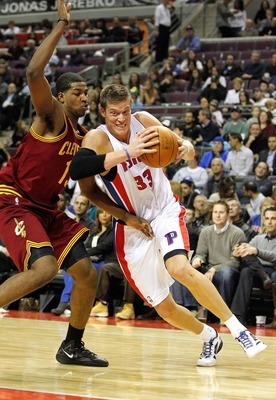 Gregory Shamus/Getty Images
Position: Power Forward
Age: 25
Experience: Two Seasons
At times, Jonas Jerebko was magnificent. Other times, he was a victim of his inexperience. In 2012-13, expect there to be a balance shifted more in the direction of the former.
During games in which Jerebko saw at least 30 minutes of action, the Swede averaged 13.0 points, 6.2 rebounds and 0.9 steals per game. This came as a second-year player who was coming off of surgery on his torn Achilles tendon.
Consider the progress to be marginal and promising.
LeBron James once called Jerebko a "shining star" to a Swedish reporter at the London Olympics. Although Jerebko has yet to live up to that billing, he's proven capable of putting up solid numbers and producing quality minutes.
Although he will be in danger of losing his starting spot to either Greg Monroe or Andre Drummond, depending on which player is shifted to power forward, Jerebko is safe. He will receive a good deal of playing time and can be expected to perform up to a respectable standard.
He won't be the star LeBron said he would be, but Jerebko is an energy guy with developing skills to boot. As long as his work ethic remains as admirable as it is right now, Jerebko will put on a show for Pistons fans in 2013.
At this pace, Jerebko could be anywhere from a quality starter to a potential Sixth Man of the Year candidate.
2011-12 Season Averages
14.25 PER, 22.9 MPG, 8.7 PPG, 4.8 RPG, 0.6 SPG
Courtney Lee, Boston Celtics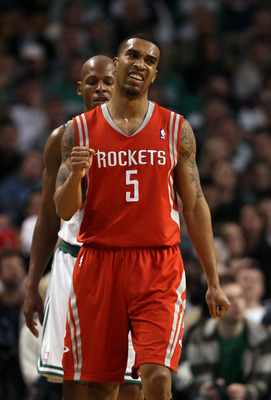 Elsa/Getty Images
Position: Guard/Forward
Age: 27
Experience: Four Seasons
We should address the elephant in the room before things get out of hand. The main reason that Courtney Lee has discovered this newfound level of internet fan stardom is because of the team he signed with.
Fortunately, he'll prove worthy of the praise with his performance during the 2012-13 NBA season.
Lee is your quintessential role playing wingman. He is more than capable of contributing at a higher level than he produces but somehow seems to hold himself back with each performance.
A not-so-happy trigger finger mixed with mediocre ball skills create an average offensive threat who has far more to offer than he puts forth.
Lee hit 40.1 percent of his three-point attempts during the 2011-12 regular season and averaged 11.4 points per game. Despite playing on a team that lacked perimeter talent, as Kevin Martin began to disappear for extended periods of time, Lee never seemed to find his groove as a go-to scorer.
Fortunately, he's an excellent perimeter defender.
Lee keeps a solid base and utilizes his footwork to remain in front of his opponents. Although his steal numbers are solid, he does not often play the passing lanes and reaps the benefits of that approach.
Stopping your opponent from getting to the basket is your job. Not gambling on crisp passes.
Courtney Lee is a defensive stud and will prove that on a grand stage in Boston.
2011-12 Season Averages
12.61 PER, 11.4 PPG, 2.7 RPG, 1.5 APG, 1.2 SPG, 40.1% 3PT
Joakim Noah, Chicago Bulls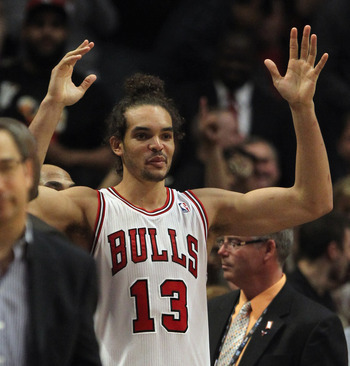 Jonathan Daniel/Getty Images
Position: Center
Age: 27
Experience: Five Seasons
Joakim Noah is one of the most unconventional players in the history of the NBA. He lacks any sort of form on either of the floor and can certainly be referred to as fundamentally flawed.
But have you ever seen a player with so much passion and energy as the two-time NCAA champion?
That's what Noah is all about, and love it or hate it, it works. Noah ranked 10th in the league by averaging 9.8 rebounds and finished in the Top 20 with 1.4 blocks per game.
Believe it or not, he also finished tied for 12th in the league with 24 double-doubles.
It may come as a surprise to some, but Noah was ranked second amongst all centers in terms of assists per game. That had him ranked higher than Roy Hibbert of the Indiana Pacers and Andrew Bynum, who was then of the Los Angeles Lakers, both of whom are referred to as two of the most skilled big men in the game.
For that reason, one can expect more of the same from Joakim Noah during the 2012-13 regular season. The main difference will be the absence of Derrick Rose and heavier reliance upon Noah's budding offensive game.
Although his jump shot makes Shawn Marion's look gorgeous, it falls. Expect 15 and 10 a night from Joakim Noah, as well as his first All-Star Game appearance.
A well-deserved selection.
2011-12 Season Averages
19.59 PER, 10.2 PPG, 9.8 RPG, 2.5 APG, 1.4 BPG
Nikola Pekovic, Minnesota Timberwolves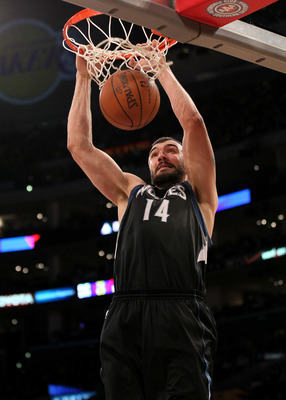 Stephen Dunn/Getty Images
Position: Center
Age: 26
Experience: Two Seasons
If we based our "best player in the NBA rankings" based off Player Efficiency Ratings, Nikola Pekovic would rank 24th in the league. For some, that comes as a surprise by virtue of your not expecting him to be so high.
For others, you're asking, "who in the world is Nikola Pekovic?"
Although Kevin Love garners the headlines, the Minnesota Timberwolves 21-19 start was just as much a source of Pekovic's play. Prior to suffering an injury in mid-March, Pekovic was on a tear in which the NBA appeared to have discovered a star on the rise.
From January 27 to his final game without injury on March 16, Pekovic averaged 17.2 points and 9.6 rebounds over a 22-game span. When Pekovic returned from injury on April 2, he closed out the season with averages of 14.8 points and 7.2 rebounds in a fluctuating 28.4 minutes per contest.
His approach to elite is rapid and seemingly inevitable. During the 2012-13 season, the big man from Montenegro will solidify his status in that category.
The big, bruising center will have a clean bill of health and the support of his coach, teammates and fan base. His physical style of play will make his name known across the league, while his statistics will make him a fantasy basketball sleeper.
Nikola Pekovic will make his name known in 2013.
2011-12 Season Averages
21.47 PER, 26.9 MPG, 13.9 PPG, 7.4 RPG, 0.7 BPG, 56.4% FG
Kevin Seraphin, Washington Wizards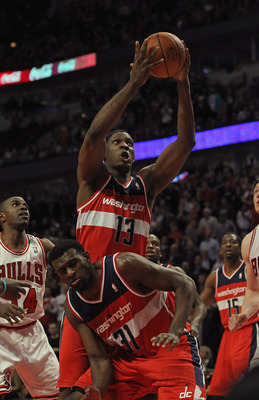 Jonathan Daniel/Getty Images
Position: Power Forward
Age: 22
Experience: Two Seasons
After being relatively dormant through three months of the 2011-12 NBA regular season, Kevin Seraphin awoke during the month of April. As a result, the Washington Wizards won eight of their final 10 games.
Seraphin, however, remained an under the radar player with no following outside of Washington and his native country of France.
During that extraordinary month, Seraphin averaged 15.5 points, 7.0 rebounds and 1.7 blocks per game on 52.7 percent shooting. He reached double-figure scoring in each of the final 15 games and posted three double-doubles in that time frame.
That included 24 points, 13 rebounds and four blocks against the Orlando Magic. It also included 21 points, 13 rebounds and five swats against the team that drafted Seraphin in 2010, the Chicago Bulls.
Finding playing time behind Emeka Okafor and Nene could be a tall task, but Seraphin will achieve the feat. Head coach Randy Wittman has a great deal of faith in the Frenchman's abilities and proved to be open to his receiving a larger role in the rotation.
Fantasy basketball players will fall in love with Seraphin's scoring, rebounding and shot blocking numbers. Wizards fans will further adore their big man of the future. As for the rest of the NBA, they'll learn to fear a once weak frontcourt.
Kevin Seraphin is a legitimate star on the rise, ladies and gentlemen.
2011-12 Season Averages
15.83 PER, 20.6 MPG, 7.9 PPG, 4.9 RPG, 1.3 BPG
Keep Reading