Stock Up, Stock Down for Every NBA Team's Improvement Efforts in 2012-13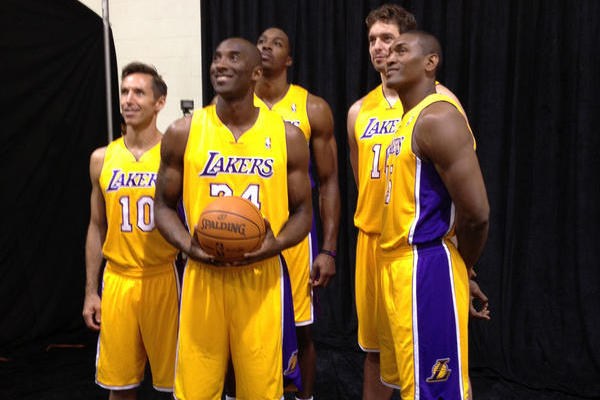 Photo Credit: Twitter.com/Lakers
The NBA is a league of change. However, that change does not come easy.
Only two teams broke into the 2011-12 postseason who were not also participants in the 2010-11 tournament. The entire Eastern Conference playoff picture, disregarding seeding, was identical to that of a year before.
Offseason moves and changes in philosophy are the major contributors to a team's improvement. They are the reason that the Los Angeles Clippers and Utah Jazz were able to break into the postseason party this past spring in the West. They will also be the reasons why a few new teams will find themselves playing after the regular season in 2012-13.
An exciting offseason has come to a close. It is now time to rate everyone's summer moves to see where their stock is and what they will be improving upon in hopes of either returning to the postseason or breaking through their previous barriers.
Begin Slideshow

»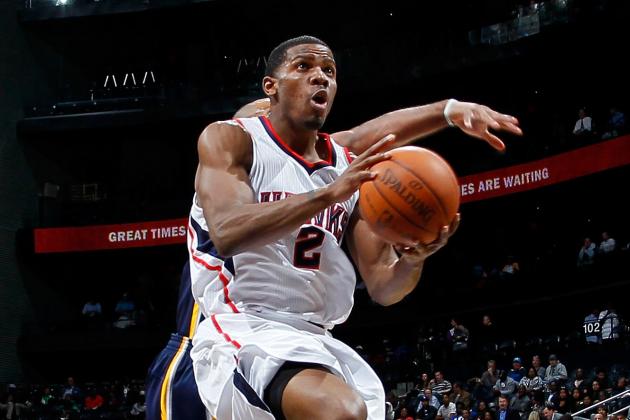 Kevin C. Cox/Getty Images

Stock Down
The Hawks found themselves in a lose-lose situation at the end of the 2011-12 season. They were really spinning their wheels with Joe Johnson's contract, consistently earning middle seeds and never breaking out of the postseason's second round.
At the same time, you know they were always going to be playing after the regular season when Johnson was there. Now without him, they could be in danger of missing the postseason for the first time since 2006-07. Along with starting forward Marvin Williams, Johnson is no longer with the team, leaving a big offensive hole to fill.
Enter Lou Williams and what amounts to loose change. Williams had a very good year in Philadelphia last season, but was he just a product of that system? With the 76ers, there wasn't a whole lot of pressure on him, while in Atlanta he is going to be a heavy part of the offense. Taking Marvin Williams' spot looks to be Kyle Korver, who hasn't started consistently since 2006.
The Hawks took a big risk in trading away their identity this offseason, but in a way it had to be done. They may still have enough to squeak into the playoffs, but they need to figure out who they are as soon as possible.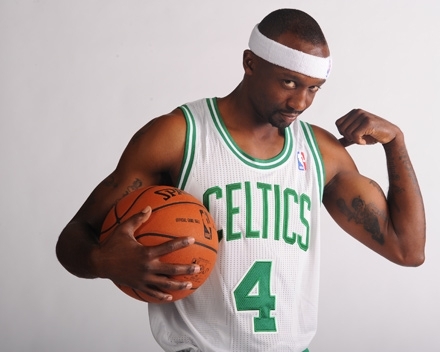 Photo Credit: NBA.com
Stock Up
A deceptively good offseason comes to a close in Boston with the acquisition of free-agent center Darko Milicic. The 7-footer signed on to a one-year deal and will be competing for minutes at backup center.
The latest signing was in no way the greatest of the Celtics summer, as they also brought in talented players like Jason Terry and Courtney Lee, and utilized two first-round picks in a very good 2012 NBA draft.
They waved goodbye to Ray Allen and cut ties with some other loose ends, but what is returning should more than make up for that. The Celtics also get Jeff Green and Chris Wilcox back from injury, both of whom will bolster the second unit. Over the course of the summer, Boston has transformed into one of the deeper teams in the league.
With Avery Bradley out, Lee can play big minutes at shooting guard, and Terry is there to back up both him and Rajon Rondo. Green returns just as Paul Pierce is letting up a bit on his playing time, and Jared Sullinger may even have the opportunity to beat out Brandon Bass as the starting power forward as the season goes on.
Boston fell victim to a short bench last season when injuries left them very thin. This offseason was spent adding a lot more than what was subtracted and come spring 2013, it will be felt.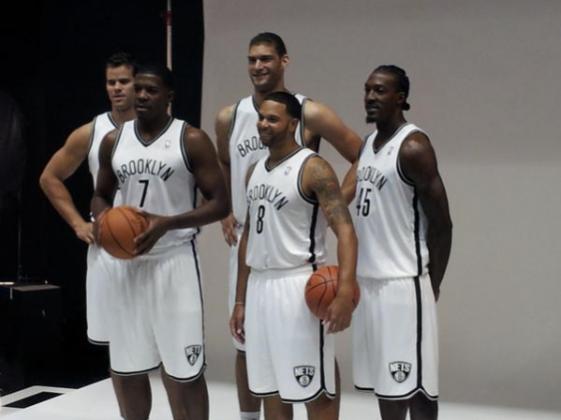 Photo Credit: forums.realgm.com
Stock Up
Tough not to go stock up when a team is entering into a great situation by changing venues and creating so much buzz. I'm not totally sold on the Nets being as good as a lot of fans may hope, but at the same time, things are going in the right direction.
Brooklyn gave Deron Williams the top-caliber peer he was looking to play with in Joe Johnson. Despite the price tag, a team moving to a new city needed another big name. Come opening night, the Nets will trot out a black-and-white starting five that is as good as any in the league, aside from maybe the one in purple and gold.
They were also able to get Johnson without totally sacrificing their team. MarShon Brooks, last season's most surprising rookie, is still on the team, and 27-year-old Bosnian Mirza Teletovic will finally make an NBA appearance.
Noticing the weakness of their reserves, Brooklyn took a couple of big hit-or-miss stabs by signing Andray Blatche and Josh Childress to one-year deals.
Whether the Nets are the first newcomer to the Eastern Conference playoffs in two years or not, things are going to be exciting in Brooklyn.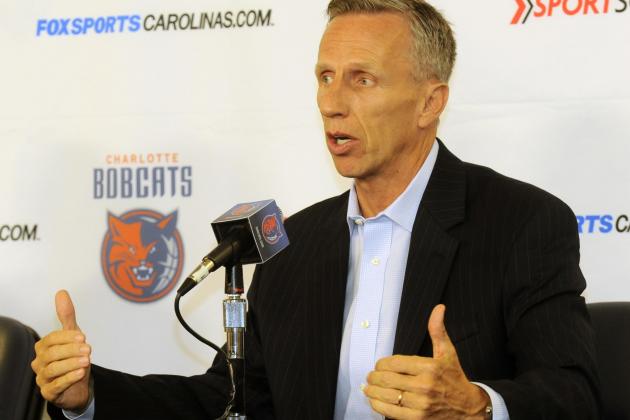 Sam Sharpe-US PRESSWIRE

Stock Up
Yes, their stock is up, but considering where they're starting from, this isn't a vastly impressive accomplishment.
It would have been tough to screw up the No. 2 overall pick in a draft as talented as 2012's, and the Bobcats did not do it. Michael Kidd-Gilchrist was the right choice, and he instantly makes Charlotte a better team.
That said, disregarding the draft, the Bobcats' offseason moves were shaky at best. They made a lateral move in swapping Corey Maggette for Ben Gordon and opted to let their starting point guard, D.J. Augustin, walk. This makes sense if you are turning the offense over to Kemba Walker for a sink/swim season, but not if you were just bringing in Ramon Sessions to see how mediocre you can make your team.
The new head coach isn't going to turn any heads, but that may be for the best. Bringing in a bigger name won't work with a team trying to fight its way back to competency. The Bobcats need someone who, like them, has never been anywhere and will feel what they are feeling when they struggle. Mike Dunlap should be able to resonate with his new team.
The stock is up because of Charlotte's incredibly athletic and talented young core. However, it is teetering because of the Bobcats' insistence on bringing in thoroughly average veterans to soak up playing time.
Rob Grabowski-US PRESSWIRE

Stock Down
One major issue with being at the top: it is easy to slip and slide back down.
With the Chicago Bulls already hurting from Derrick Rose's absence, they haven't had a very inspiring offseason. They brought in Nate Robinson and Kirk Hinrich to help in Rose's absence, but let go of perfectly serviceable point guards C.J. Watson and John Lucas III.
Also now missing from the roster are quality role players Ronnie Brewer and Omer Asik. The Bulls other acquisitions, Vladimir Radmanovic and Marco Belinelli, aren't getting the motor running either. Thus it has proved to be a fairly stagnant offseason for Chicago.
Normally the No. 1 seed in the postseason wouldn't figure to need a whole lot of changes, but the Bulls showed themselves to be very vulnerable without Rose. Philadelphia was able to knock them out in Round 1 of the playoffs because they simply could not score enough. After Rose's injury, Chicago managed just 80.6 points over its final five games.
None of the new additions are going to help the Bulls score as a team, which is what they desperately need.
One bonus for the team that nearly turned this in an upward direction is the extension of Tom Thibodeau. Even that felt like pulling teeth, though. The Bulls held off seemingly forever before finally awarding the man who has led them to back-to-back No. 1 seeds in the Eastern Conference.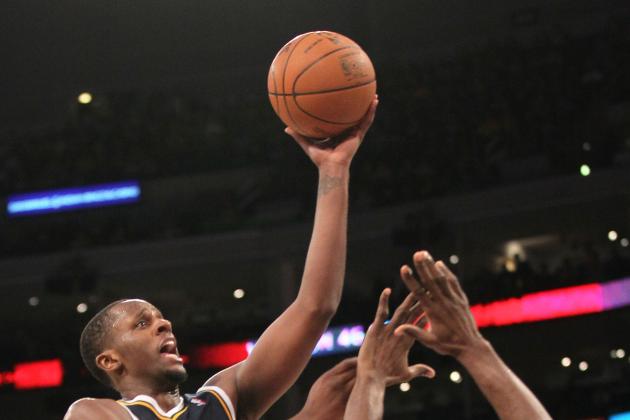 Stephen Dunn/Getty Images

Stock Up
The Cavaliers' offseason wasn't anything special, but it was solid enough to lead fans to believe they will continue improving.
After bottoming out two years ago and drafting Kyrie Irving, it has been a slow ascent. That ascent continues this season with two more first-round picks, Dion Waiters and Tyler Zeller. Both have the potential to be very good NBA players, but it will take time.
In Irving's first season, there was more defensive emphasis, and the team gave up four less points per game. If this can continue and Waiters is able to score right away, Cleveland will see marked improvements.
Other signings to like are C.J. Miles for his versatility and Kelenna Azubuike for the unknowns. Miles can play either shooting guard or small forward, and did so with success in Utah. Should the Cavaliers wish to start Waiters at some point, he can easily shift up to the forward spot.
Azubuike has played in just 12 NBA games since the 2008-09 season. However, back then he had two promising seasons in Golden State. If he can return to form after a long injury absence, then Cleveland may have the steal of free agency.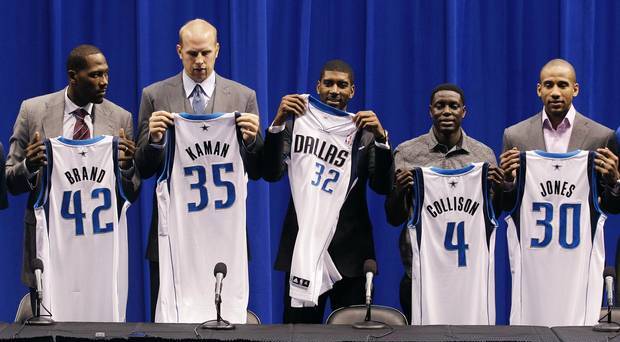 Photo Credit: DallasNews.com
Stock Up
I was very impressed with how quickly the Mavericks seemed to rebuild their roster.
The departure of both Jason Terry and Jason Kidd made it seem as though they were on their way out of the Western Conference conversation. Just like that, the Mavericks have signed three new starters and bolstered their bench with three draft picks and a key reserve.
The new starters are obvious, with Darren Collison and O.J. Mayo taking over the backcourt and Chris Kaman becoming the center. The Mavericks also picked up Elton Brand to come off the bench on the cheap. The draft picks all represent great value, as they were late first-rounders or early second-rounders who will fight to make the team in camp.
Dallas' ability to get younger and better in a relatively short time span is impressive. If Collison and Mayo can mesh on the fly, then this has the potential to be a very good team. With this new personnel the Mavs will be able to do some different things that they were unable to do with an aging core and very little production from the middle.
No one will be more pleased with the team's new versatility than Dirk Nowitzki and Shawn Marion. Nowitzki gains two great offensive weapons in Mayo and Kaman, while Marion will be able to utilize his athleticism more with Collison running the show instead of Kidd.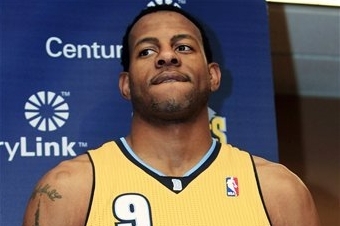 Photo Credit: Rivals.Yahoo.com
Stock Up
The Denver Nuggets were late players in the offseason game this summer, holding off on any big moves until the Dwight Howard saga came to a head. At that point, the Nuggets got a piece of the pie in the form of All-Star Andre Iguodala.
A team as well-rounded and talented as Denver didn't have any major needs entering the offseason. The No. 6 seed in the 2012 playoffs, the Nuggets took Los Angeles to seven games before succumbing to the superior Lakers. The major flaw with the Nuggets was their team defense. Denver allowed more than 101 points per game last season and was not able to get key stops in the playoff series.
The Nuggets' stock rises because their big acquisition happens to be one of the league's premier defenders. Iguodala has parlayed his defensive prowess into an All-Star nod, as well as an important spot on Team USA. His play from the shooting guard or small forward spot will help Denver tremendously on the defensive end. In Philadelphia he was the leader of one of the league's top defenses, and that is the mentality he brings out west.
Other notable newcomers include Anthony Randolph, as well as rookies Evan Fournier and Quincy Miller.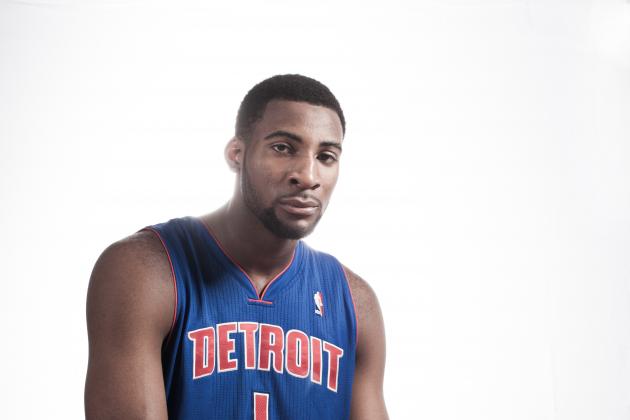 Nick Laham/Getty Images

Stock Down
The Pistons didn't have a whole lot going on this offseason. Outside of the draft, the only major move made by Detroit was to deal Ben Gordon for Corey Maggette. This move doesn't push the meter either way for me, but the Pistons' lack of improvement elsewhere leads them in a considerably negative direction.
The big move did occur in the draft, when they selected Andre Drummond ninth overall. According to Yahoo! analysts Jeff Eisenberg and Mike Huguenin, Drummond is one of the higher risk players in the 2012 draft class. His motor was often in question in the days leading up to the draft, and it wasn't as if he lit the NCAA on fire during his year at Connecticut.
Ten points and eight rebounds are solid stats, but in a top-ten pick they are not all that typical. In addition to this, he was only able to lead the Huskies to an 8-10 record in the Big East, 20-14 overall.
The Pistons won just 25 games in the shortened season a year ago, and it is unclear as to where they have improved. They need big performances from a questionable rookie, and that isn't the type of need you see among "stock up" teams.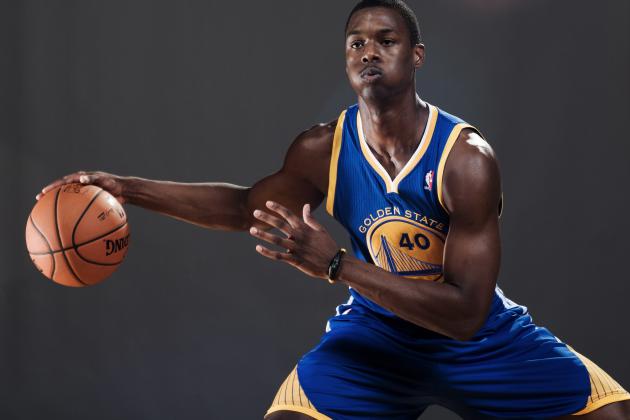 Nick Laham/Getty Images

Stock Up
A lot of Golden State's upward-trending stock is a result of things that occurred prior to the offseason. Therefore we will rule out the acquisitions of Andrew Bogut and Richard Jefferson, as they don't play into this.
However, the Warriors did make some very promising moves this summer that are worth noting. The first was drafting Harrison Barnes with the seventh pick in June's draft. The North Carolina standout filled a big void for the Warriors at small forward. He should be able to start right away, allowing Jefferson to slide into a reserve role. Barnes has experience, as he held off on entering the NBA until after his sophomore year. He also has the athleticism and shooting ability to run-and-gun with the Warriors.
The other major offseason acquisition was at one point the best free agent on the market. Carl Landry signed a two-year deal with the team and will backup David Lee at power forward. Landry is a valuable piece coming off the bench and could possibly start if either Bogut or Lee should miss games. He played an integral part on the New Orleans playoff team of 2010-11 and is a great scorer coming off the bench.
The Warriors sputtered to a 23-43 record last season while dealing with mid-season trades and injuries. In 2012-13 with a better balanced team, Golden State should make some late-season noise.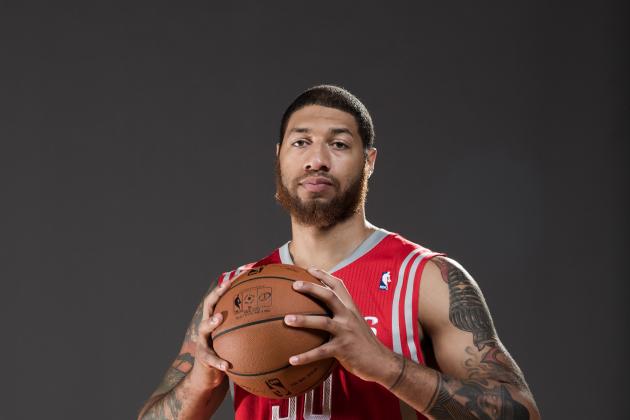 Nick Laham/Getty Images

Stock Down
Though it is very, very close, the Rockets stock is tipping slightly downward. While it is tough not to like what they did through the NBA draft, their free-agent acquisitions are questionable.
First, the good. The Rockets used all three of their first-round picks this summer and walked away from the draft with Jeremy Lamb (14th), Royce White (16th) and Terrence Jones (18th). All three have the potential to become starters at the NBA level. They have their work cut out for them at training camp, though. White has to battle through two other talented young players for minutes, while Lamb will be contending with a veteran in Kevin Martin and Jones will fight last year's darling, Chandler Parsons.
The issue with the Rockets is both what they lost and what they brought in through free agency. They have two big question marks as their premier additions, both of whom figure to be in the starting lineup: Jeremy Lin at point guard and Omer Asik at center. Neither player has done enough in his career to warrant the contracts that Houston awarded them, and now the Rockets are stuck with them.
The Rockets said goodbye to five of their top six scorers from last season, as well as their top four rebounders. Obviously, both starting point guards, Kyle Lowry and Goran Dragic, are gone, so Lin has big shoes to fill. In the end, I don't see this team working right away, and thus its stock is down.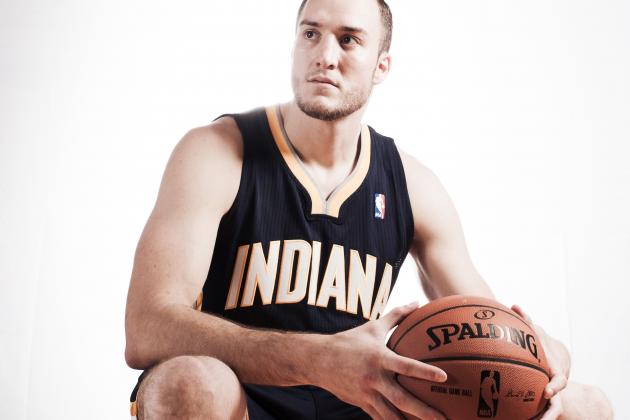 Nick Laham/Getty Images

Stock Up
It was an underrated and largely unnoticed offseason for the Indiana Pacers. What they did do was small, but from where they have been, it will only take small improvements to get them to the next level.
Everything the Pacers do now has to be aimed at getting a shot at the Eastern Conference Finals. After finishing sub-.500, but earning an the eighth seed, Indiana blasted off last season for 42 wins and the No. 3 seed in the East.
The Pacers could've used a second quality center in 2011-12, so during the offseason they traded for Ian Mahinmi and drafted Miles Plumlee, two young center prospects who will "learn by doing" while backing up Roy Hibbert.
In acquiring Mahinmi, they had to part with Darren Collison. So they re-signed George Hill and also picked up D.J. Augustin, another very serviceable point guard.
Also, to give the team a jolt off the bench, Gerald Green was brought in. Green proved some things in New Jersey last season, but still will have to work for his minutes.
The Pacers know what they need to do and they are on their way to accomplishing their next goal.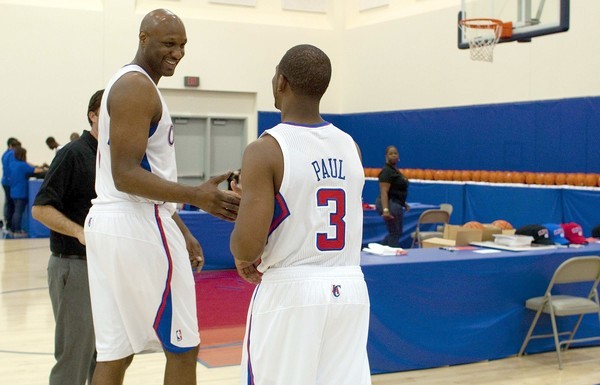 Photo Credit: LATimes.com
Stock Up
There isn't much to dislike about the Los Angeles Clippers' offseason. They weren't as flashy as their Staples Center housemates, but they made some effective moves.
The Clippers essentially started off the NBA offseason by dealing away Mo Williams to bring in Lamar Odom. Despite his recent performance issues, Odom still has some game left and will be in a much more pleasing situation with the Clippers.
He appears to be enjoying his time there thus far and will have far less pressure on him to start the season. Odom gives Los Angeles a much more versatile frontcourt, as he can score a lot easier than either Kenyon Martin or Reggie Evans.
A lot of other small moves were made to bolster what was a thin Clipper team at the end of 2011-12. Jamal Crawford and Willie Green were brought in as Chauncey Billups insurance. Matt Barnes will help immensely with the second unit's defensive capabilities.
Grant Hill, Ronny Turiaf and Ryan Hollins are all serviceable depth additions as well.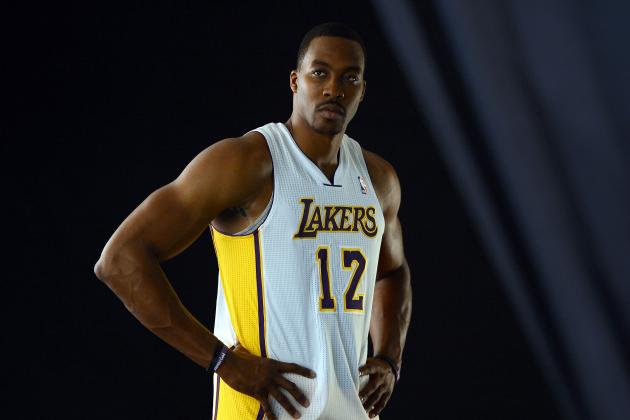 Harry How/Getty Images

Stock Up
No real shocker here, as the Los Angeles Lakers have had one of the most successful offseasons of all time.
Bringing in Steve Nash brought their stock up, but the Dwight Howard trade is what makes it skyrocket. Once healthy, a frontcourt of he and Pau Gasol is incredible, and probably the only possible frontline better than the Gasol-Andrew Bynum pairing.
Besides the obvious improvements brought on by their two new stars, the Lakers made some other quality adds.
They signed Antawn Jamison to essentially play the old Lamar Odom role, while Jodie Meeks has come in to provide bench scoring.
The Lakers made all the right moves this offseason and should reap the benefits in 2012-13.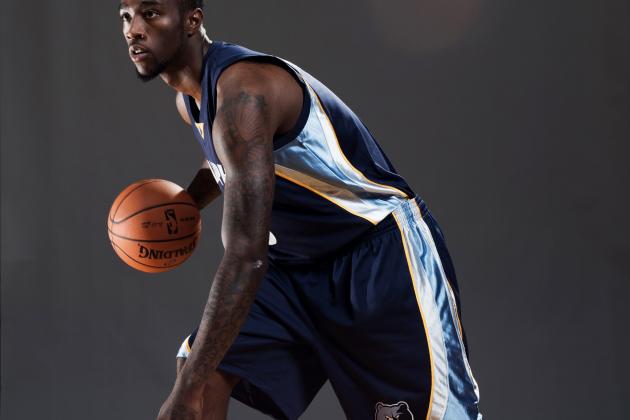 Nick Laham/Getty Images

Stock Down
The addition by subtraction was at work during the offseason for Memphis. With the O.J. Mayo headache finally out of their hair, the Grizzlies can move on in any direction they choose.
Unfortunately, I'm not sure what that direction is. Outside of Mayo's departure, it was another slow offseason in Memphis for a team that has largely had its core together for a couple seasons now. I'm afraid the Grizzlies may be turning into the Atlanta of the Western Conference.
The Grizzlies are a good team, but I don't think they are as good as they think they are. It may be too soon to say, after just two postseason appearances, but it has to be a concern.
The one thing that is for certain is that Memphis hasn't improved at all from 2011-12 to now. Mayo leaving does produce a hole that has not totally been addressed. Outside of the Jerryd Bayless acquisition, this offseason was too slow for my taste.
With the Western Conference getting better, I don't think the Grizzlies can afford to stand idly by. It could hurt them in the form of missing out on the postseason come next spring.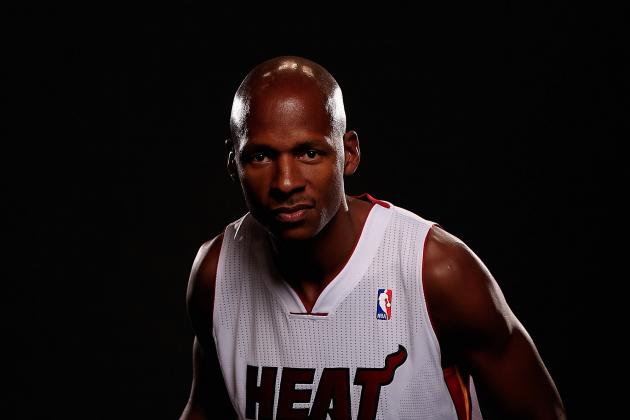 Chris Trotman/Getty Images

Stock Up
The rich get richer, as Miami had a solid offseason acquiring some much-needed depth for their championship defense.
Things start with the signing of Ray Allen away from their rival, Boston. While Allen was largely a shell of his former self last season while struggling through injuries, he does provide a scary end-of-game decision for defenders to make. Nobody wants to double-team LeBron James or Dwyane Wade, and by virtue of doing so Allen would be left open on the perimeter.
Rashard Lewis is the other name of note heading to Miami this summer. Like Allen, Lewis currently pales in comparison to himself in years past. Also like Allen, Lewis can still play in spurts, and that is all Miami is asking. The Heat are stockpiling long-range shooters to open up the paint for their stars. If one isn't hitting shots, then out he goes and in comes the next one.
For what they set out to do, the Heat were successful, and you have to see their stock only going up.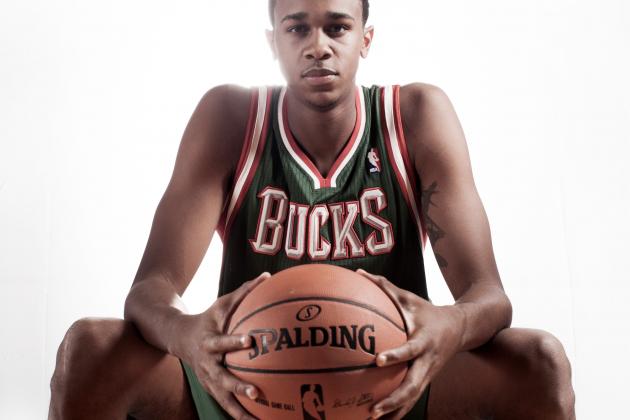 Nick Laham/Getty Images

Stock Down
I hate to say it, but I just don't think the Bucks have it. Even scarier, they may have missed their window.
Fans keep waiting for Milwaukee to sneak into the postseason and make some noise, a la Philadelphia. The problem is, the Bucks keep falling short. Now the rest of the league has improved, particularly the top teams, and the Bucks are treading water.
The jury will still be out on last season's Monta Ellis trade, but since then the Bucks haven't done much to inspire confidence. The biggest offseason move was the drafting of John Henson at the tail-end of the lottery.
Henson, a three-year player at North Carolina, is currently buried on the depth chart by a heaping pile of mediocre players in the Milwaukee frontcourt.
Other than him and maybe second-rounder Doron Lamb, there isn't much to get excited about here. Ellis and Brandon Jennings are going to score, but I doubt that will be enough to get this team over the hump.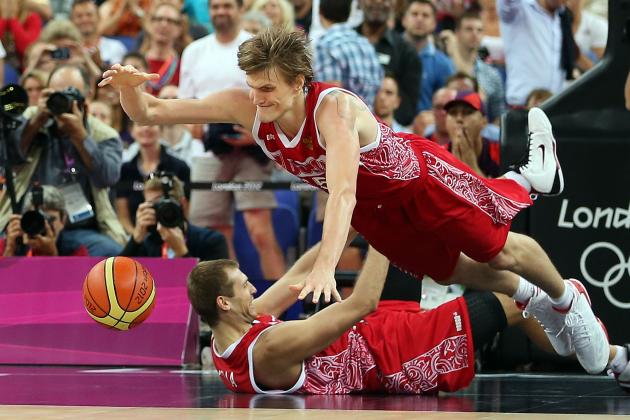 Christian Petersen/Getty Images

Stock Up
The Minnesota Timberwolves made some very wise moves this summer and also took some calculated risks. All in all, it was a very successful offseason up north.
The Timberwolves went after a few players aggressively and were rewarded by signing some pretty good talent. They hit Andrei Kirilenko harder than anyone and convinced him to move back to the states after an MVP season in Europe. Greg Stiemsma is another player they were relentless with, as they were able to pry away the young shot-blocker from the Celtics.
They also took a risk by signing Brandon Roy, as he attempts a comeback from early retirement. Another risk was assumed in giving shooting guard Alexey Shved his first opportunity in the NBA. Minnesota also added depth with Chase Budinger.
The Timberwolves are a playoff team when fully healthy, and these new improvements will help them get there.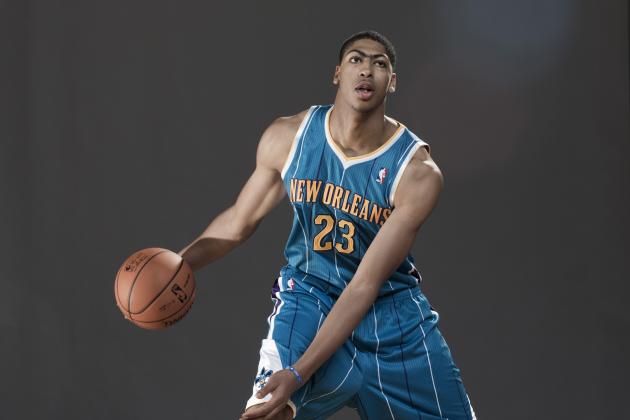 Nick Laham/Getty Images

Stock Up
By virtue of nothing more than winning the NBA lottery, the New Orleans Hornets saw their stock rise this offseason. However, they did not stop there.
The Hornets also utilized the 10th-overall pick and made some savvy moves in free agency.
The rookies, Anthony Davis (first) and Austin Rivers (10th), are obviously the biggest story with the Hornets, and they give them the best chance for drastic improvement immediately.
Other moves contributing to their stock increase are the plucking of Ryan Anderson from Orlando and the addition of Robin Lopez. Anderson more so, but both of these players are going to be big contributors to this team.
Perhaps even bigger than all of these new players is the re-signing of Eric Gordon. Despite being courted elsewhere, New Orleans was able to retain the young star's services. Gordon will need to assume more leadership duties this season, but his team is on the right track.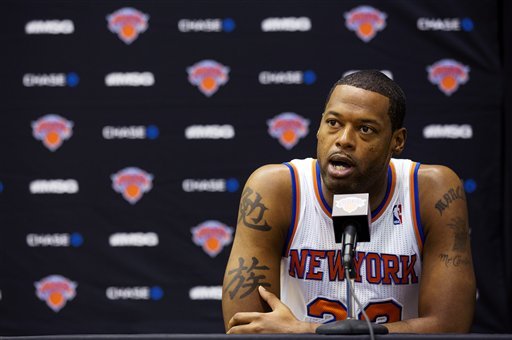 Photo Credit: bigstory.ap.org
Stock Down
The Knicks are taking a lot of heat of late for their offseason struggles. I'm not here to pile on, because I don't believe the summer has been as awful as it seems.
Their stock, however, is still on a downward path. There is no way around their recent failures, and their affinity for signing aging players is bordering on the comical. Rasheed Wallace is coming out of retirement to possibly make the Knicks roster, and the 38-year-old is in good company. Jason Kidd (39), Marcus Camby (38) and Kurt Thomas (39) are already on the roster, making the Knicks one of the oldest teams in the league.
The bigger issue here is what the Knicks may have had in Jeremy Lin, a young and talented point guard who was instantly beloved and responsible for a lot of winning when he was healthy. They let him walk without ever really knowing what he could become, never a wise decision. In his place they have Kidd on his last legs, and Raymond Felton, who is coming off a subpar season out in Portland.
Things aren't as bad as they sound. The Knicks will still be competitive and should be able to sneak into the playoffs, but they are no closer to winning anything meaningful.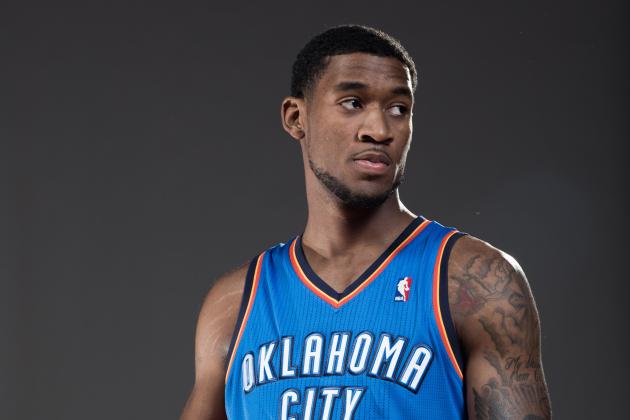 Nick Laham/Getty Images

Stock Up
The Oklahoma City Thunder found themselves in a very enviable position this offseason. They were able to take some risks on players that could pay off big time, because if they bust it's no sweat. The Thunder are still an elite team and definite championship contender.
One of those chances is with Hasheem Thabeet. The former No. 2 pick hasn't done much in his three professional years. However, the Thunder assume no risk in giving him a shot both in camp and the regular season.
They also took what many think will be the steal of the draft in Perry Jones III.
The Thunder made no bad decisions this summer and were fortunate to retain Serge Ibaka with a nice four-year extension. The only obstacle in the way of their repeat bid in the West is other teams' improvements.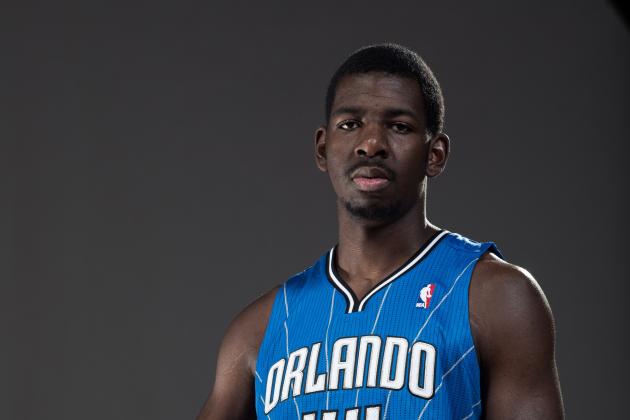 Nick Laham/Getty Images

Stock Down
Things may work out for the best in the future, but right now the Orlando Magic are not a good basketball team. When you are in danger of submitting a very poor season on the heels of a playoff appearance, your stock is trending way down.
The circumstances for the above consequence can't come into play, so there is no sympathy. The Dwight Howard trade decimates their chances of contending this season. The pieces and future picks they received in return for the game's top center will be enough to rebuild, but it will take time.
They did well with their draft, and if that continues over the next two seasons, the Magic can return to form quicker than you would think.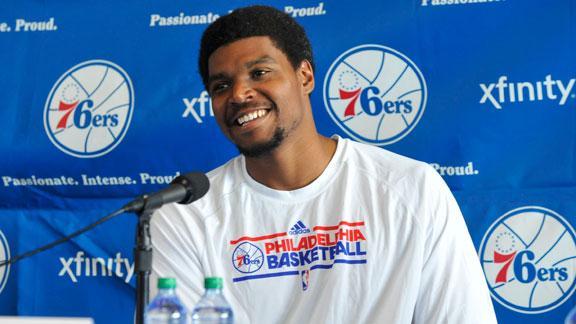 Photo Credit: ESPN.com
Stock Up
Philadelphia could have had a poor summer with all the talent that has left their team this offseason. However, what they have brought in to replace those departed more than makes up for it.
Lou Williams was the first to go, and the 76ers had to replace their leading scorer. The additions of both Jason Richardson and Nick Young will make up for Williams' scoring, and then some.
Philadelphia also lost a lot of depth with Elton Brand, Jodie Meeks and others heading out of town. Through the draft they got Arnett Moultrie to bolster the front line, along with Kwame Brown.
The big bopper of the summer for Philadelphia was obviously Andrew Bynum, who came over as a part of the Dwight Howard trade in exchange for Andre Iguodala. Iguodala's leadership is something that must be compensated for, and I'm not sure Bynum is the man to do that.
Still Bynum's talent improves the 76ers across the board and possibly gives them their first legitimate superstar since Allen Iverson.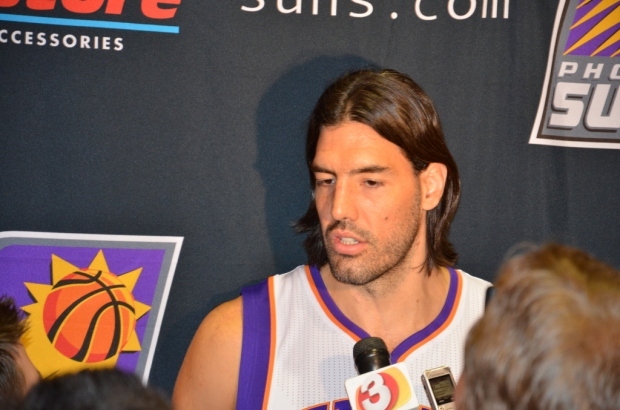 Photo Credit: KMLE1079.cbslocal.com
Stock Up
Sometimes you just like the look of a team. For little conceivable reason, the Suns look really good. Chemistry is sure to be an obstacle, but these are some talented players.
Losing a star like Steve Nash would make it seemingly difficult for a team to maintain a positive stock, but that is just what Phoenix has done. Through some savvy free-agent moves, like the acquisition of Goran Dragic and Luis Scola, the Suns had quite the summer. With the addition of Wesley Johnson and Michael Beasley as well, the Suns may have signed three or four new starters over the offseason.
Dragic proved that he can successfully run an offense as a starter last season in Houston, and Scola has always been a steady contributor in the interior. Johnson may respond well to the change of scenery he has needed and Beasley is looking to get back to his former self.
Phoenix was also able to draft Kendall Marshall, who will pair nicely as Dragic's understudy.
This team has a lot of potential. It is just a matter of leadership and chemistry coming together within the team.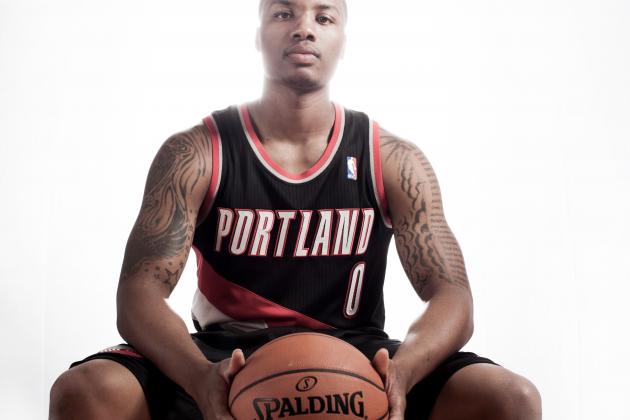 Nick Laham/Getty Images

Stock Up
The Trail Blazers were a disappointment last season and were one of just two teams to miss the postseason after making it in 2010-11 (New Orleans).
There was a benefit to their struggles though, as they wound up with some nice draft picks this summer. They have apparently hit solidly on both Damian Lillard (sixth) and Meyers Leonard (11th). Coming off a 28-38 season, Portland has two new and talented rookies to pair with a solid core.
Keeping in mind that this team won 48 or more games three straight seasons before the 2011-12 debacle, the Trail Blazers have a chance to immediately leap back into the postseason. Joining the two lottery picks is Victor Claver, a first round selection back in 2009, who will be making his first NBA appearance.
If the Blazers are going to be successful, they will need both rookies to contribute right away, and I think they've got two capable of doing so.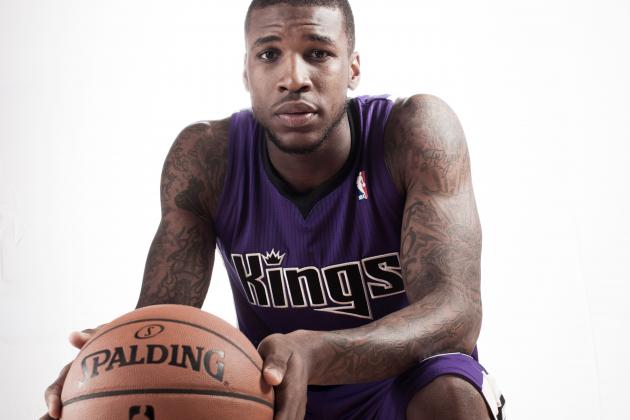 Nick Laham/Getty Images

Stock Down
The Kings couldn't afford to do nothing this offseason. I'm not blaming them fully, because you can't fabricate moves that aren't there. Still, they are putting an awful lot of faith in a group that went 22-44 last season.
Yes, everyone expects these young players to improve as their careers get going, but how much with so little help? The move to draft Thomas Robinson was a great one, but that is not enough to get the needle trending upward.
The only other significant addition to the team is Aaron Brooks, who will be the backup point guard.
It is so tough to say, because no one can be sure what they should or could have done differently, but it sure seems like it won't be enough, yet again.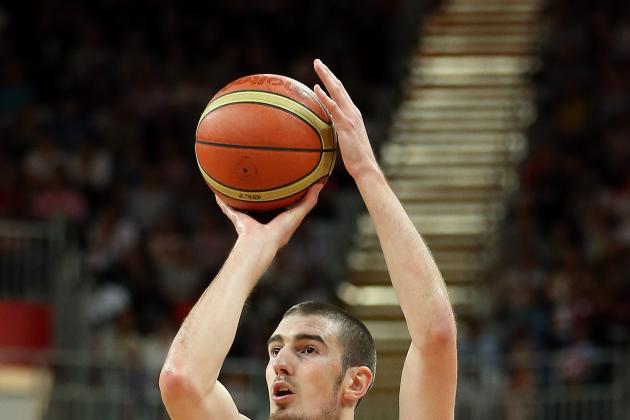 Christian Petersen/Getty Images

Stock Even
Tough to sway one way or the other when your offseason was nearly silent.
The Spurs have only one definite new addition in Nando de Colo coming over from France. The 2009 second-round pick played on the French Olympic team with new San Antonio teammates Tony Parker and Boris Diaw.
There was also word recently from the Spurs website stating that both Eddy Curry and Sherron Collins would be invited to training camp.
None of this is enough to bend the needle either way, and since the Spurs are already a championship contender, their offseason improvements have neither helped nor hindered them.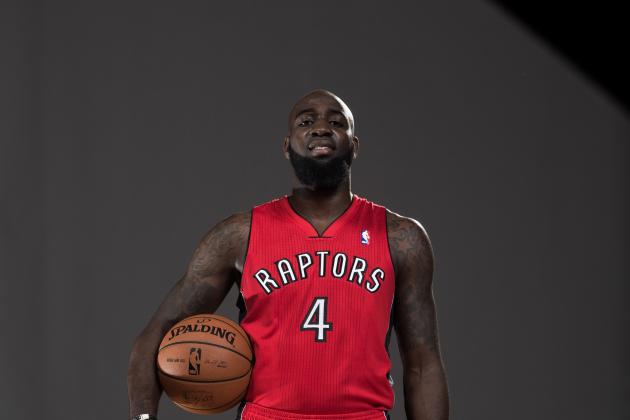 Nick Laham/Getty Images

Stock Up
The Atlantic Division continues to impress, as Toronto's stock has risen steadily over the summer.
The Raptors have a decent amount of talent returning, including Andrea Bargnani after an injury plagued 2011-12. This couples with a decent-sized group of newcomers whose versatility is impressive.
First, the NBA draft granted the Raptors the No. 8 overall pick, which they used on Terrence Ross. He was a 16 point-per-game scorer at Washington and should translate nicely to the NBA. Meanwhile, second-rounder Quincy Acy will be duking it out in training camp for a spot on the roster.
Also of note, Jonas Valanciunas will finally be making his first appearance stateside for Toronto. The Lithuanian center spent an extra year overseas after being selected in the lottery of the 2011 NBA draft.
Where the Raptors really hit it off was in free agency. For my money, Toronto signed the best free-agent point guard on the market in Kyle Lowry. They backed him up with former Derrick Rose reserve, John Lucas III. Joining them is Landry Fields, previously a solid role player from New York.
All these new faces will be forced to mesh quickly up north. Their in-division competition is improving, but so are the Raptors.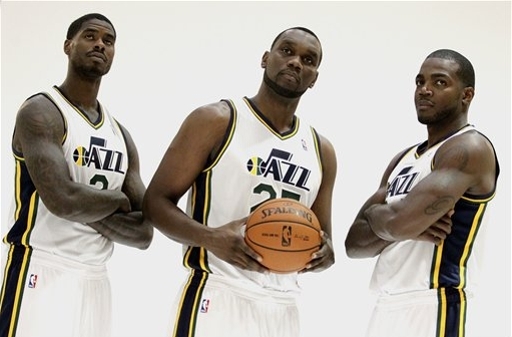 Photo Credit: Yahoo.com
Stock Down
I'm never a fan of a great offensive team dealing its point guard, especially after a playoff appearance. Unfortunately that is what Utah did with Devin Harris.
The Jazz dealt their starting point guard to Atlanta for Marvin Williams. Williams will take over the small forward position. They will pay Williams nearly $16 million over the next two seasons. On the other hand, Utah let C.J. Miles walk, and he signed a contract paying him just over $4 million over the same time period. Is Williams $12 million better than Miles, especially when it comes to sacrificing the point guard of the fourth-best offense in the NBA?
The new point guard on the block is Mo Williams. He will attempt to take over Harris' role after spending a year as a backup combo guard in Los Angeles.
I'm not super comfortable with any of these decisions. Utah was the eighth seed last season in the West, and all that means is that they were on the verge of missing out. A couple of bad decisions could land them on the wrong side of the playoff picture this season.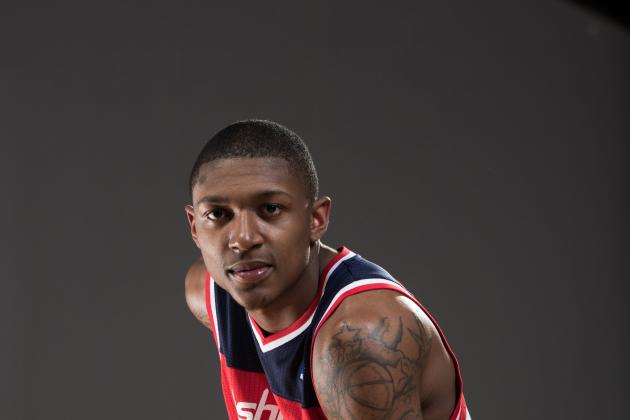 Nick Laham/Getty Images

Stock Up
The No. 3 overall pick in June's draft certainly helped the Wizards raise their stock effortlessly. Bradley Beal was the consensus pick at that spot, and pairing him with John Wall is the perfect storm for Washington.
In addition to getting Beal, there are some other new additions who will play meaningful roles in the success of the Wizards in 2012-13. Washington dealt Rashard Lewis to the Hornets in exchange for both Emeka Okafor and Trevor Ariza.
There is a lot to like with this move, as Okafor gives the team a legitimate NBA center to play with burgeoning star Kevin Seraphin. Also, Ariza brings great experience on the wing to a Wizards group with very little reps across the board.
Other than these guys, the Wizards added some loose depth to the roster as well. As long as Beal and Wall play well together, the stock will continue to rise in Washington.