Who Should Be on the NBA's Best 'Not Quite All-Stars' Roster?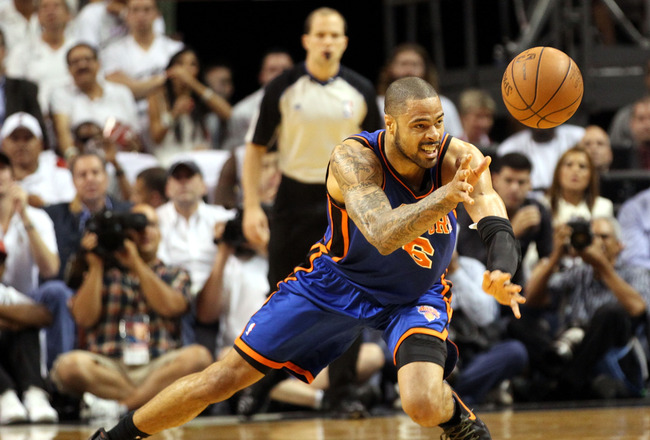 Marc Serota/Getty Images
Who is the best of the not quite good enough? Which NBA players have been appreciated but overlooked at the same time?
That is the question I asked myself when I had to make up a roster made of the 12 best players in the league who have never been All-Stars.
When we think of the NBA, we tend to pinpoint the best of the best—players like Kobe Bryant, LeBron James, Kevin Durant and others that make the league what it is.
However, what makes the best basketball league in the world so fun to watch nowadays is that, for as much talk there is about the formation of "super teams," there is plenty of talent to go around.
Before we get to the slideshow, here are some guidelines for the criteria to form this roster. A qualifying player must fulfill three of the four requisites outlined below.
Balance. This isn't necessarily a roster made to play in an All-Star game. That is why maybe a deserving point guard or two got left out of the list.
Impact. Numbers can only take you so far. The players on this roster must have proven that their team wouldn't be the same without them.
Ceiling. Are you on your way to being an All-Star?
Clutch gene. Can I count on you to make a key basket or a big stop on defense in the final minutes?
Here ere are the 12 players of the "Not Quite All-Stars" team, along with their average per-game stats.
1. Starting Point Guard: Kyrie Irving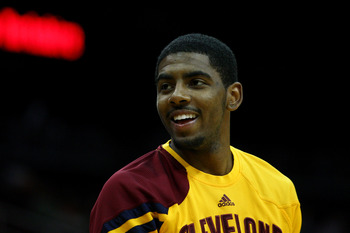 Chris Chambers/Getty Images
2011-12 stats: 18.5 points, 5.4 assists, 46.9 FG %, 87.2 FT %
Kyrie Irving is exactly what Cleveland needed a year after this.
Irving arrived like a breath of fresh air to a town that felt hopeless about its basketball future before everyone in Ohio fell in love with him.
Yes, he turns the ball over more often than most, but look which point guards are even worse than him in that category: Deron Williams, John Wall and Steve Nash.
Two of those three are considered cornerstones of their respective franchises.
What makes Irving the starting point guard is that he represents unlimited potential and all-out fearlessness.
Notice that those two shots in the last few seconds came not only on the road, but in two notoriously difficult venues like Boston and Denver.
Irving is clutch, and Cleveland is in good hands with its new point guard. Don't be surprised if he is an All-Star in 2013.
2. Starting Shooting Guard: Kevin Martin
Ezra Shaw/Getty Images
2011-12 stats: 17.1 points, 34.7 3-point %, 89.4 FT %
The "Not Quite All-Stars" have a second-year player at point guard, so he could use an eight-year veteran like Kevin Martin by his side
Martin has played for the Houston Rockets the last two seasons after playing most of his eight-year career in Sacramento.
Martin's absence from the All-Star ranks has been so mystifying that it has its own Yahoo Answer.
There have been plenty of theories as to why that is, but the "Not Quite All-Stars" will be happy to have a fearless scorer that averaged 20 or more points in a season five times in his career.
Martin also has a spotless career free-throw percentage that is in the top 30 of all time.
3. Starting Small Forward: Josh Smith
Kevin C. Cox/Getty Images
2011-12 Reg. season stats: 18.8 points, 45.4 FG %, 9.6 rebounds, 1.7 blocks
Perhaps one of the most egregious snubs of last year's All-Star game, Josh Smith is perfect to provide balance for the "Not Quite All-Stars" starting lineup.
The 26-year-old veteran can score at will from 18 feet in, his ability to block shots comes naturally and he can also rebound better than some starting centers too.
Granted, his 25-percent effectiveness shooting threes and his 63 percent free-throw shooting leave something to be desired, but when Smith is on his game, he can be simply unstoppable.
The Hawks would not be the same without him, too much of the onus would fall on Al Horford, and he hasn't reached his true ceiling yet.
4. Starting Power Forward: Danilo Gallinari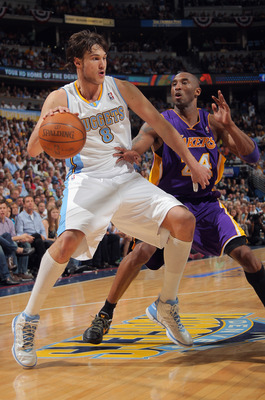 Doug Pensinger/Getty Images
2011-12 Reg. season stats: 14.6 points, 41.4 FG%, 32.8 3-point %, 87.1 FT %
I wonder how many Knicks fans wonder what life might have been like if Danilo Gallinari had stayed in New York and Carmelo Anthony had never arrived to the Knicks.
Carmelo has continued his career trend of not getting past the first round of the playoffs. Meanwhile, the Denver Nuggets aren't exactly gaga for Gallo.
However, Gallinari is about to start his fifth NBA season and he is still just 24.
The Italian forward has the potential to regain the form he had as a rookie with the Knicks, when he shot 44 percent from beyond the arc.
Gallinari needs to get his head right before he does anything else. Once the thoughts and feelings fall into place, the baskets will start falling for him once again.
5. Starting Center: Tyson Chandler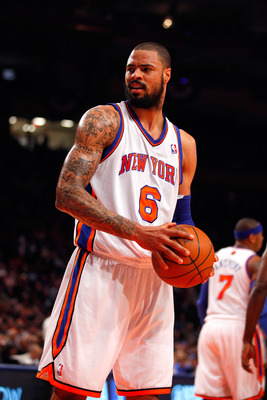 Jeff Zelevansky/Getty Images
2011-12 Reg. season stats: 11.3 points, 57.8 FG %, 9.9 rebounds, 1.4 blocks
One of the five best centers in the league right now. NBA champion in 2011. Defensive Player of The Year and Olympic gold medalist in 2012. Still no All-Star game selection for Tyson Chandler.
That doesn't seem fair, does it? I'm sure he is not mad about it. The fact that Chandler has never been an All-Star in his 11-year career is nothing short of perplexing.
The 29-year-old center may never be a natural scorer like Shaq, but keep the following stats in mind:
The Knicks were 28th in the league in points allowed (105.7) in 2011 without their current starting center.
One year later, they rose all the way up to 11th and allowed 10 fewer points per game thanks in large part to Chandler.
The "Not Quite All-Stars" would have the rim well protected with Chandler as its defensive anchor, just like the Knicks did last season.
6. Sixth Man: Kyle Lowry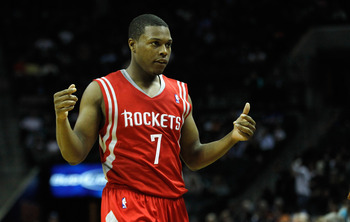 Streeter Lecka/Getty Images
2011-12 stats: 14.9 points, 40.9 FG %, 6.6 assists, 37.4 3-point %
If we are talking All-Star snubs, Kyle Lowry is right up there at the top of the list. Lowry is so underrated that he somehow becomes overrated for being underrated.
The Villanova product has proven he can play at an elite level and was even mentioned in the MVP conversation at times last season, but that didn't translate to an All-Star berth.
The Rockets became my League Pass team thanks to Lowry.
When I saw him play against the Portland Trail Blazers last season in January, I was impressed by his composure and awareness as a 25-year-old. Then I realized he was already in his sixth NBA season.
I expect Lowry to reach a new level in 2013 and that should allow Houston fans to see him up close and in person in an All-Star uniform when mid-February rolls around.
7. Reserve SG: Eric Gordon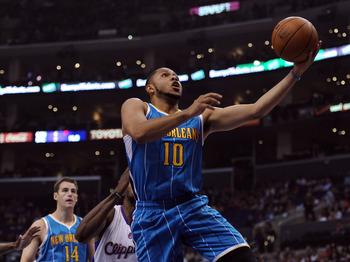 Harry How/Getty Images
2011-12 stats: 9 games played, 20.6 points, 25.0 3-point %, 75.4 FT %
The toughest position to decide in the roster was this one, by far. Eric Gordon could certainly be the starter over Kevin Martin.
The tiebreaker between them came down to durability.
Gordon played in just nine games out of 66 last year with the New Orleans Hornets and missed 26 more the previous season with the Los Angeles Clippers.
The 23-year-old point guard certainly proved he is clutch in his limited opportunities with the Hornets.
New Orleans certainly missed him. The Hornets finished with the worst record in the Western Conference after all.
It is going to be very interesting to see him play alongside Ryan Anderson and Anthony Davis this season.
At the very least, if Gordon stays healthy, the Hornets should score way more than 89.6 points per game, which was good for next to last in the NBA.
8. Reserve PF: Paul Millsap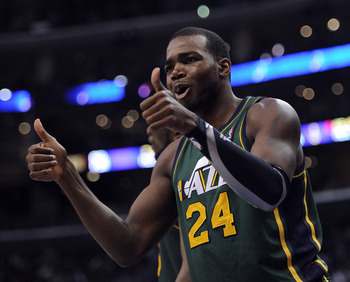 Harry How/Getty Images
2011-12 stats: 12.0 points, 11.0 rebounds, 2.5 blocks
Paul Millsap was one of the pillars of the Utah Jazz's playoff push last season, and there is no doubt in my mind that he will be one this year as well.
Let's keep in mind that Millsap led the Jazz in rebounds and blocks in the 2011-12 campaign.
The Facebook page promoting him for the 2013 All-Star Game is still lacking support, but the advanced stats people certainly make a case for him to make it there.
The 27-year-old veteran might not be flashy, but he is fundamentally strong and durable for a big man, having played in 64 games during the last lockout-shortened season.
9. Reserve PG: Ricky Rubio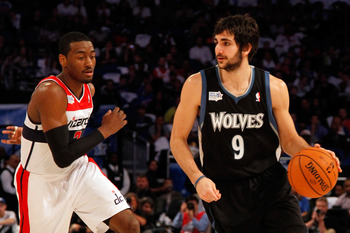 Mike Ehrmann/Getty Images
2011-12 stats: 41 games, 10.6 points, 8.2 assists, 35.7 FG %
I initially leaned towards going with Ty Lawson for this slot.
Lawson is a better scorer (16.4 points per game compared to Ricky Rubio's 10.6) and has a better shooting percentage than the Spaniard.
The Nuggets' point guard also turns the ball over less with his 2.4 turnovers per game, compared to the 3.2 committed by Rubio.
Rubio, however, has the edge in assists (8.2 to 6.6) and his impact on the Timberwolves' playoff aspirations was far greater than Lawson's with the Nuggets.
Minnesota went 21-20 with the Spanish phenom on the court and then slid all the way out of the postseason picture with a 5-20 breakdown in the latter part of the season.
Those who doubted Rubio's NBA readiness had to eat their words as they watched the alley-oops that took the league by storm.
Those same alley-oops might take him and Kevin Love all the way to the All-Star game next year.
10. Reserve SF/PF: Ryan Anderson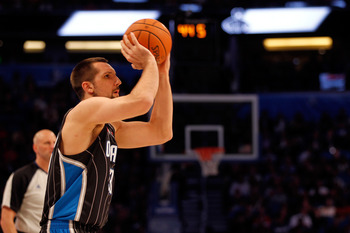 Mike Ehrmann/Getty Images
2011-12 Reg. season stats: 16.1 points, 39.3 3-point %, 6.6 assists, 3.7 rebounds
Ryan Anderson was on fire from long distance last season, leading the NBA with 166 three-pointers made.
His closest competitor was Jason Terry, with 138.
Being with a new team will be interesting for Anderson, since we will find out if his shooting prowess in Orlando was a direct result of benefiting from the commanding presence of Dwight Howard in the middle.
If Anderson can step up his rebounding this season, he would be a great weapon to complement Anthony Davis in New Orleans.
11. Reserve PF/C: Luis Scola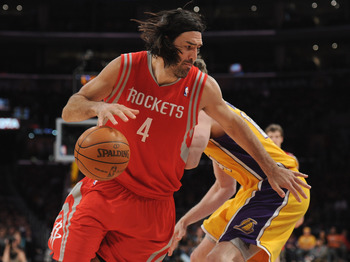 Harry How/Getty Images
2011-12 stats: 15.5 points, 6.5 rebounds, 49.1 FG %
Full disclosure, I was born and raised in Argentina, just like Luis Scola. However, Scola is not on the roster as a mere home-country pick.
The 32-year-old power forward has not averaged fewer than 15 points in the past three seasons.
Also, even though he is not overpowering by any means, Scola has proven time and time again he has an uncanny knack to position himself for baskets and rebounds in the paint.
He can also knock down 12- to 18-foot jumpers with relative ease.
If you ask the Phoenix Suns, who picked him up after the Houston Rockets foolishly let him go during their pursuit of Dwight Howard using the amnesty clause, they value his leadership most of all.
The lesson that the NBA has learned about players like Scola is that sometimes the value of a player simply goes beyond his numbers.
12. Reserve Center: Greg Monroe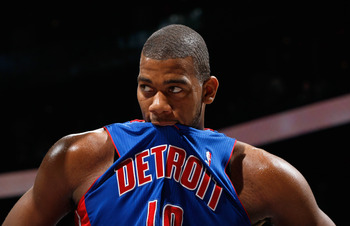 Kevin C. Cox/Getty Images
2011-12 stats: 15.4 points, 9.4 rebounds, 52.1 FG %, 73.9 FT %
Greg Monroe made a quality leap in his second year in the league with the Detroit Pistons.
The 21-year-old center improved his scoring by six points and collected almost two more rebounds per game compared to his rookie year.
Monroe's improvement also extended to the line, as he increased his free-throw percentage by 11 percent.
Monroe will continue to develop in Year 3 and will lead the renaissance of a Detroit Pistons team that could use something to be optimistic about after going 25-41 last season.
Keep Reading