Battle for New York: Who Is the Better Center, Tyson Chandler or Brook Lopez?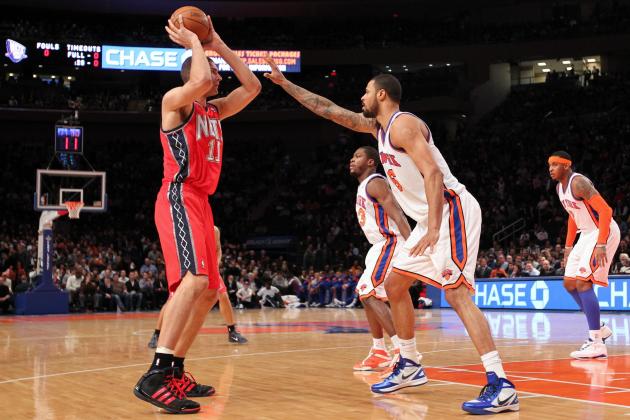 Anthony Gruppuso-US PRESSWIRE
Knicks center Tyson Chandler guards Nets center Brook Lopez in a 2011 preseason matchup
The Nets are moving to Brooklyn, and the state of New York now has a pair of centers, in Tyson Chandler and Brook Lopez, that figure to offer years of entertainment.
Two completely differing styles of play present a challenging comparison, however, both seven-footers will play an instrumental role in their team's success in 2012-2013.
For Lopez, youth and inexperience have limited his great potential through four years. Though his offensive skills rank second to few in the NBA, Brooklyn's center still has some work to do in terms of defensive presence and rebounding abilities.
The veteran, Tyson Chandler, has 11 years of experience in the association, but unlike his counterpart in Brooklyn, Chandler has made a name for himself clogging up the lane and blocking shots.
The 2012 NBA Defensive Player of the Year, Chandler cemented his status as a starting center in the league and proved his worth in a star-studded Knicks lineup.
For the first time in seemingly forever, both the Nets and Knicks have relevant and competitive teams. But with such talent comes high expectations.
So which post player will rule New York?
Here is a breakdown of the two seven-footers playing in the Empire State.
Begin Slideshow

»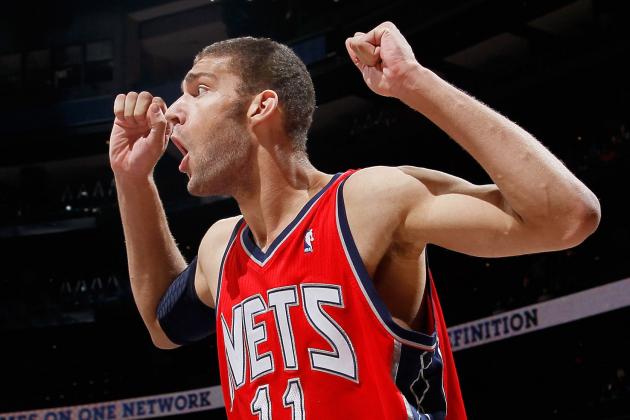 Kevin C. Cox/Getty Images
Nets center Brook Lopez argues a call in a Dec. 7 game against the Atlanta Hawks back in 2010
Chandler's Career Stats: .578 FG%, .633 FT%, 8.6 PPG
Lopez's Career Stats: .504 FG%, .796 FT%, 17.4 PPG
A comparison between New York's two seven-footers offers two very contrasting styles of play. Though both Brook Lopez and Tyson Chandler have the ability to impact games each and every night, they do so in different ways.
For Lopez, the offensive side of the ball elicits his strengths. His superior moves and flawless fundamentals have made the former Stanford standout one of the game's premier post scorers.
His average of 16 shot attempts per game led all centers in Lopez's last full season of play (2010-2011). And even with the recent additions of Deron Williams and Joe Johnson, I wouldn't expect too much of a drop off from his 13.4 career average.
Shifting focus to the other team from New York, Tyson Chandler is an entirely different story. The 11-year veteran has made a name for himself across the NBA for reasons other than scoring.
While his field goal percentage consistently ranks among some of the league's best, Chandler's post game doesn't warrant a double-team under any circumstances.
His 5.5 shot attempts per game is a clear indicator of Chandler's offensive prowess, and the center's .633 free-throw percentage makes him an easy target for strategic late-game fouls.
Advantage: Lopez (Nets)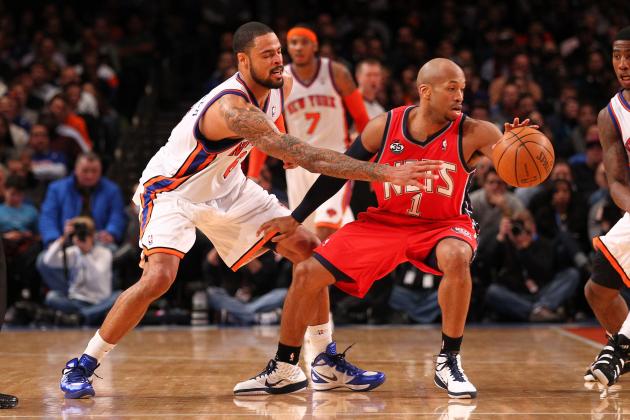 Al Bello/Getty Images
Tyson Chandler goes for the steal during a game against the New Jersey Nets on Dec. 21, 2011
Tyson Chandler Career Stats: 1.5 BPG, 0.5 SPG, 5.9 DR
Brook Lopez Career Stats: 1.6 BPG, 0.6 SPG, 4.7 DR
The numbers don't do it justice, but the difference between the defensive abilities of Tyson Chandler and Brook Lopez is night and day.
With a much larger sample size to drag the numbers down, Chandler has earned a living in the NBA for his defensive presence alone. Standing 7'1" tall, the Knicks' center clogs up the lane like few others in the league.
His commonly undervalued skills were finally recognized last season when Chandler won the 2012 NBA Defensive Player of the Year award with New York.
Advantage: Chandler (Knicks)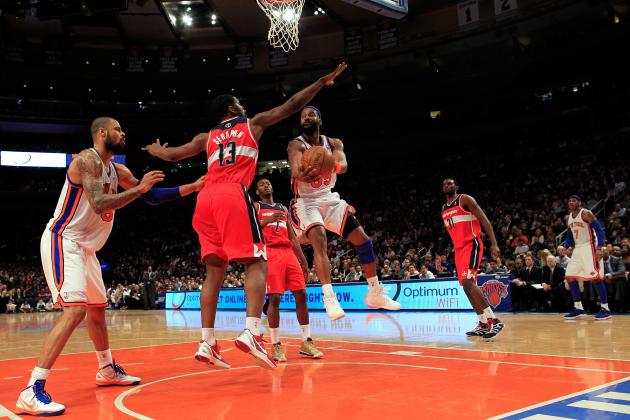 Chris Trotman/Getty Images
Tyson Chandler gets in position for a rebound against the Washington Wizards at Madison Square Garden
Tyson Chandler Career Stats: 3.1 OR, 5.9 DR, 9.0 RPG
Brook Lopez Career Stats: 2.8 OR, 4.7 DR, 7.5 RPG
It might not be the most glorified statistic out there, but rebounding is one of the most invaluable aspects of a center's game.
The commonly undervalued art has seemingly gone by the wayside in modern youth leagues; however, professional players like Tyson Chandler still remind us how important the skill can be.
Dwight Howard unquestionably leads the way among active players, as his 14.5 RPG last season were nearly three boards more than the next best center.
But New York's center wasn't too far behind.
Tyson Chandler ranked fourth in the NBA among centers with 9.9 RPG. He may not possess the raw athleticism that accompanies the new Laker, but his strong fundamentals allow Chandler to bang with the best of them down low.
Brook Lopez, on the other hand, still has some work to do.
A heavy focus on his offensive skills have paid dividends in New Jersey, but Lopez is not yet the all-around player he has the potential to be.
His career average of 7.5 RPG wouldn't be considered ideal for a center in the modern NBA. But if Lopez can get back to the basics, box-out his opposition effectively and increase the rebound totals, we may see his stock sky rocket.
Advantage: Tyson Chandler (Knicks)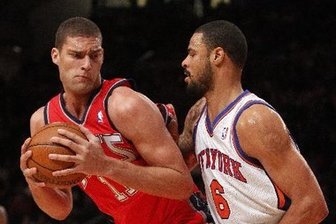 William Perlman/The Star-Ledger—www.NJ.com
Tyson Chandler Head-to-Head Stats: 5-2, 8.3 PPG, 8.0 RPG, 1.1 BPG
Brook Lopez Head-to-Head Stats: 2-5, 19.6 PPG, 8.0 RPG, 2.1 BPG
When comparing two players of the same position, obviously it is important to consider the head-to-head matchup. Because stats don't enable us to gain an accurate perspective of each player's abilities, sometimes in-game action can best determine who has the overall edge.
As is the case with Brook Lopez and Tyson Chandler.
New York's pair of starting centers will be playing mere miles from one another this upcoming season, but their styles of play could not be much more contrasting.
Lopez, the offensive-minded post player, holds the edge in terms of head-to-head play and by a considerable margin. With nearly 20 points per game against Chandler and his New York teammates, the Nets center has quickly become an enemy in Madison Square Garden upon his arrival in the NBA.
But as always, numbers don't really tell the tale.
While Lopez has undoubtedly posted the better numbers in head-to-head play, it is important to note that Chandler's Knicks are 5-2 in the seven games played between the two.
Lopez has often been the first or second scoring option in New Jersey. Meanwhile, Tyson Chandler serves as the fifth and final option in New York.
As a defensive-minded role player, Chandler simply is not going to get the touches that Lopez did for the Nets. Therefore, Brooklyn's center is inevitably going to post the better offensive statistics.
But even Lopez's defensive numbers and rebound totals match up with Chandler's in head-to-head play. The sample size isn't great, but in limited action, there's no denying the fact that Brook Lopez has held the edge.
Advantage: Brook Lopez (Nets)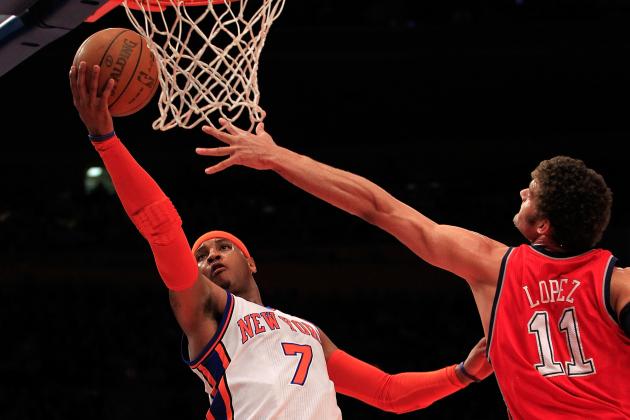 Chris Trotman/Getty Images

As the Nets move into Brooklyn, New York figures to have a pair of two promising centers in Brook Lopez and Tyson Chandler.
Though their styles of play differ drastically, each will play a large factor in their team's success during the upcoming season.
Brook Lopez possesses the offensive skills few modern centers can claim. His ability to score with his back to the basket ranks second to few in the NBA, and only inexperience might stand between Brooklyn's center and superstar status.
On the other side of the coin is the supremely talented defensive-minded Tyson Chandler. The NBA's 2012 Defensive Player of the Year has earned a reputation league-wide for clogging the lane with his large frame and altering shots in the paint.
Though New York's center isn't going to score heaps of points within the Knicks potent offense, he still manages to impact the game in more ways than one.
Altogether, it's tough to compare such different players. Each has their positives, and both have their flaws.
But taking into consideration all of the factors that go into a successful modern center, we must also look at age and experience.
If I were putting it all on the line for an NBA championship this year, I would likely side with the veteran. But if I am looking towards the future, I would probably take Brook Lopez as the centerpiece of my franchise because of his potential.
Final Advantage: Brook Lopez