NBA Training Camp: Predicting the Biggest Surprises of 2012-13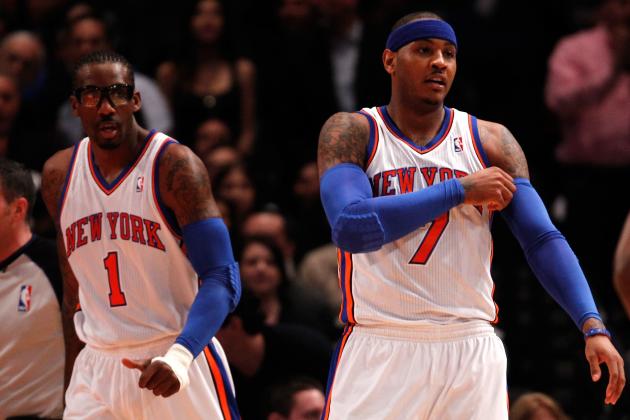 Jeff Zelevansky/Getty Images

It's only been about a month since we saw the USA Olympic men's basketball team win gold in London, but believe it or not, the 2012-13 NBA season is right around the corner.
NBA teams will be kicking off training camp starting October 2, and suffice it to say, the league looks just a little different than how we last left it in June.
The Miami Heat will kick off their title defense with new toys named Ray Allen and Rashard Lewis, while the Los Angeles Lakers will have two-time MVP Steve Nash and Dwight Howard at their disposal.
Meanwhile, the Orlando Magic will likely join the Charlotte Bobcats as one of the league's two biggest punching bags.
Before the doors officially open on 2012-13 training camp, let's take a look at some of the biggest surprises you should expect to see in the coming weeks.
Begin Slideshow

»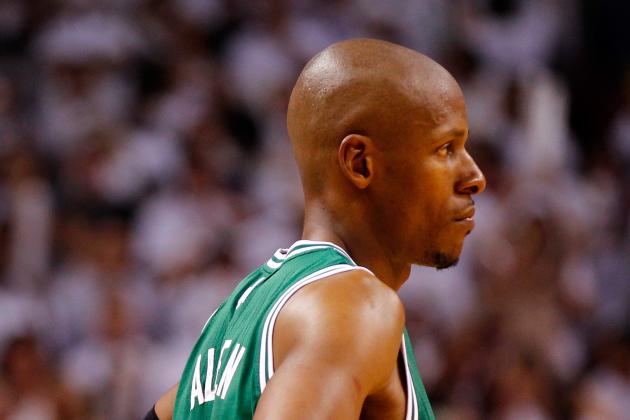 Mike Ehrmann/Getty Images

Ray Allen may be known as "Benedict" in Boston this year after taking his talents to South Beach, but here's the Celtics' dirty little secret: Losing that one-third of their Big Three won't cripple them.
The 37-year-old Allen toughed out an ankle injury in the 2012 playoffs, helping bring the Celtics within one game of the NBA Finals, but there's no guarantee his body will hold up through a full 82-game season in 2012-13.
Instead, the Celtics will replace Allen with the two-headed monster of Jason Terry, the 2009 Sixth Man of the Year, and Courtney Lee, who started at the 2 for Orlando in the 2009 NBA Finals.
The 35-year-old Terry isn't much younger than Allen, but he's much better at creating his own shot. Over 35 percent of Allen's plays in 2011-12 featured him coming off screens, according to mySynergySports, compared to only 7.7 percent of Terry's.
Terry, instead, was the ball-handler in a pick-and-roll three times as much as Allen in 2011-12, according to mySynergySports. The Celtics, who often stagnated offensively, can use all of the competent ball-handlers that they can get.
Throw in a healthy Jeff Green and Chris Wilcox, plus the Terry-Lee duo, and there's reason to believe that the 2012-13 Celtics may even be better than last year's iteration, despite losing Allen.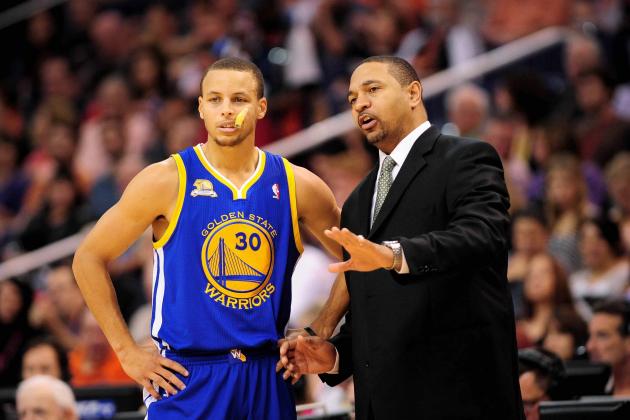 Jennifer Stewart-US PRESSWIRE

Over the past few seasons, the Golden State Warriors have played one of the most exciting brands of basketball in the NBA.
Unfortunately for Golden State fans, that's largely a result of the Dubs' inconsistent efforts on defense, to put it kindly.
In 2012-13, expect to see a whole new strategy out of the Bay Area. Second-year coach Mark Jackson now has a legitimate rim protector in Andrew Bogut at his disposal, which should give the Warriors a shiny new foundation on defense.
Gone are the days when the Warriors were starting an undersized backcourt featuring Monta Ellis. Instead, in steps the 6'7" Klay Thompson to start at the 2 alongside 6'3" point guard Stephen Curry.
Assuming Bogut can steer clear of another freak injury, he'll fortify the Warriors' once-porous defense, making the Dubs a legitimate sleeper playoff contender in the Western Conference.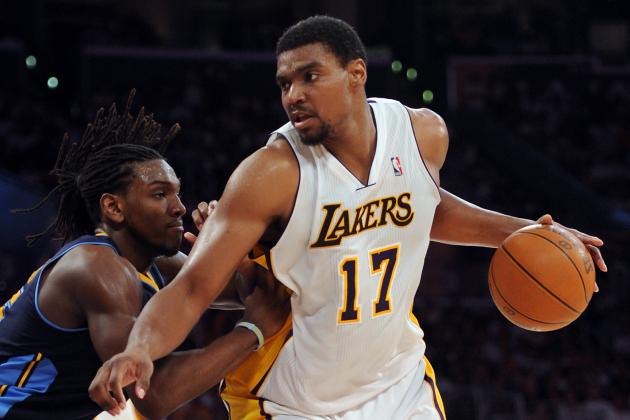 Jayne Kamin-Oncea-US PRESSWIRE

Now that Andrew Bynum has been traded away from the Los Angeles Lakers, this will finally be the year that he emerges from the shadow of Kobe Bryant and establishes himself as one of the top players in the league.
Bynum averaged a career-high 18.7 points and 11.8 rebounds per game for the Lakers in 2011-12 despite Bryant chucking up 23 shots per game. Bynum's new team, the Philadelphia 76ers, lacks a Bryant-esque wing player who will average 20-25 shots per game on a nightly basis.
Instead, Sixers coach Doug Collins has openly admitted that the offense will run through the seven-foot Bynum in 2012-13, as the Sixers move from their perimeter-oriented offense to an inside-outside game.
If the Regenokine knee treatment Bynum underwent in September does for him what it did for Bryant in 2011-12, Bynum should be averaging at least 20-22 points and 11-13 rebounds per game at a bare minimum this upcoming season.
While the Miami Heat, Boston Celtics and Indiana Pacers all appear en route to a top-three seed in the Eastern Conference, if Bynum can average somewhere around 25 points and 13-15 rebounds per game while earning the Sixers the No. 4 seed, he'll be receiving strong MVP buzz at the end of the season.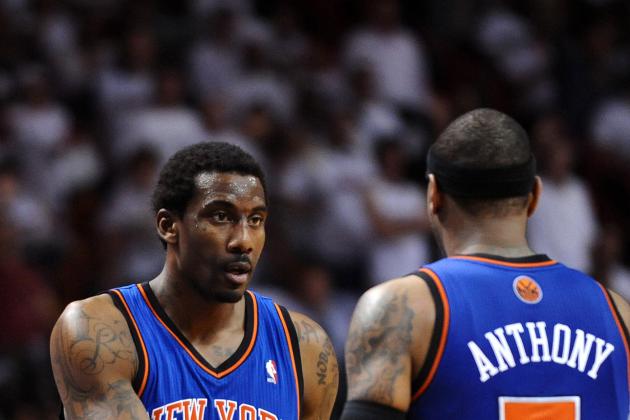 Steve Mitchell-US PRESSWIRE

New York Knicks fans are assuredly sick of hearing this statistic, but it's worth mentioning again: In the year-and-a-half since Carmelo Anthony made his way to Madison Square Garden, the Knicks have a losing record when both Anthony and Amar'e Stoudemire start.
Recently, none other than Stephon Marbury came out and said that Anthony and Stoudemire can't fit together well on offense due to Anthony's preference to run isolation plays for himself.
Count me as one who believes Marbury's sour grapes aren't cause for concern for the 2012-13 Knicks.
Jeremy Lin may be gone, but Raymond Felton now returns to the city where he exploded with career-high averages of 17.1 points and nine assists per game in the 2010-11 season.
Felton's former Knicks coach, Mike D'Antoni, has since been replaced by the isolation-loving Mike Woodson, but at only 28 years of age, Felton could surprise yet again this season.
More importantly, Anthony and Stoudemire will get to go through an entire training camp in 2012-13, unlike the lockout-abbreviated training camps of 2011-12.
With Woodson at the helm, isolation plays for Melo aren't going anywhere, but Stoudemire, Felton and the rest of the Knicks will have more of a chance to adapt their playing styles around said strategy this time around.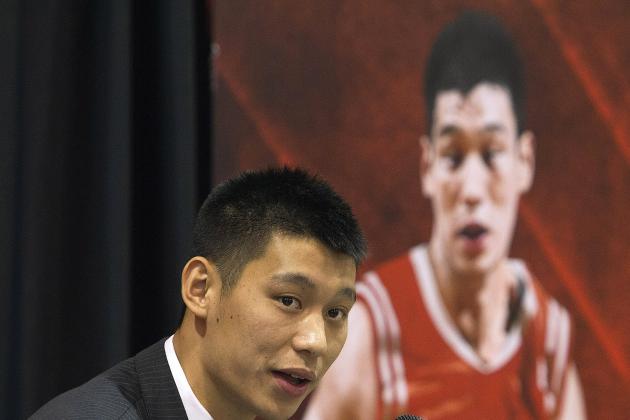 Bob Levey/Getty Images

The New York Knicks shocked everyone this summer by not matching the Houston Rockets' three-year, $25.1 million offer sheet for point guard Jeremy Lin, allowing Linsanity to leave New York without so much as a parting gift.
When Lin headed to Houston, the New York media was quick to dismiss him as a flash in the pan, an unsustainable phenomenon. In other words, they all fell victim to revisionist history.
Will Lin be the 20-point, 10-assist-per-game player that he was during that magical 10-game run with the Knicks this upcoming season? If he's given the green light, it's possible, but not entirely likely.
Still, even if Lin can finish with somewhere around 14-16 points and 6-8 assists per game, that will be well worth the $8 million per year he earned this summer.
Expect to see Lin take the first step toward those averages (at a bare minimum) starting in training camp.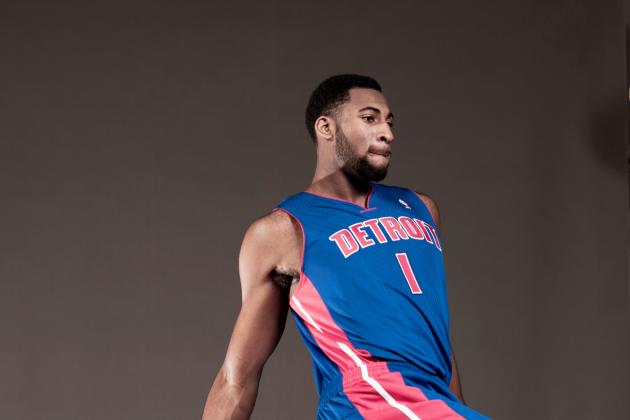 Nick Laham/Getty Images

Besides Jared Sullinger and Perry Jones, rookie Andre Drummond experienced one of the largest draft-night falls during the 2012 NBA draft, slipping to the Detroit Pistons at No. 9 overall.
With Greg Monroe by his side, expect Drummond to make a healthy chunk of those eight teams immediately regret not selecting him.
The 6'10", 270-pound Drummond may still need to work on his fundamentals, but he comes into the league with quite possibly the most NBA-ready body of any rookie. He's got the height and mass to throw himself down into the post and already guard the league's elite big men, even if he'll be taken to school by said centers every so often.
Monroe, Brandon Knight and Rodney Stuckey should be the Pistons' three offensive focal points, allowing Drummond to largely hone his attention on the defensive side of the floor.
If and when the Pistons unleash the Monroe-Drummond frontcourt, the size, speed and skill of the duo could put Drummond firmly in the NBA Rookie of the Year conversation by year's end.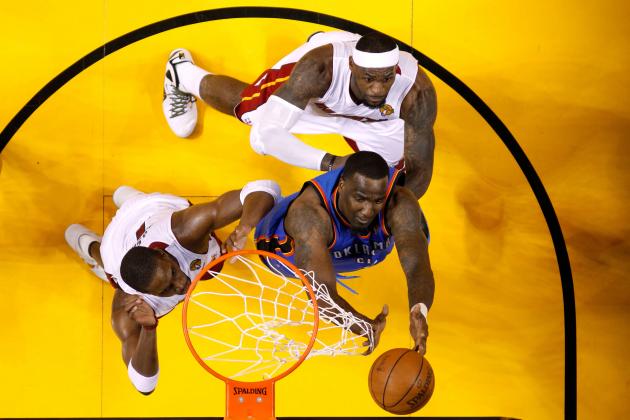 Pool/Getty Images

Now that the Miami Heat won the 2012 NBA championship by primarily playing LeBron James at the 4 and Chris Bosh at the 5, it'll be no surprise to see copycat teams attempt to emulate the small-ball strategy in 2012-13.
Unless all 29 other NBA teams find a way to clone James and put him on their teams, too, here's guessing that small ball won't be the new secret sauce to winning an NBA title.
It might appear as though stretch 4s and undersized 5s are the way of the NBA world these days, but keep in mind, it's only been two years since the Los Angeles Lakers won a championship with the twin 7-foot towers of Pau Gasol and Andrew Bynum.
Bosh's ability to pick-and-pop at the 5 proved virtually impossible to guard in the 2012 playoffs, but now, teams have a full season to prepare for said strategy before facing off against Miami in the playoffs.
Teams may follow Miami's model in acquiring positionally diverse players and creating unconventional lineups, but here's guessing that we see a big-man renaissance in 2012-13, too.