Fantasy Basketball Sleepers: Buying or Selling the Trendy Names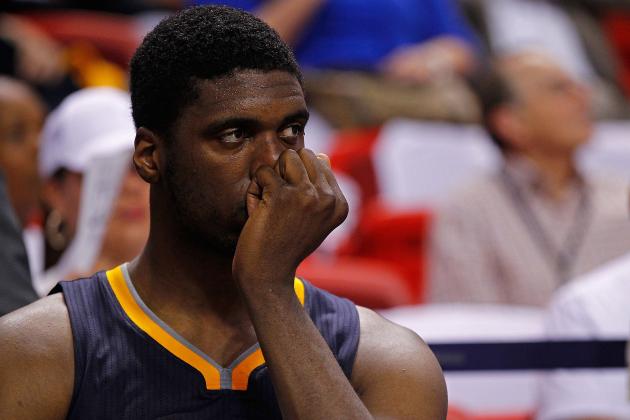 Mike Ehrmann/Getty Images

Fantasy basketball draft time is fast approaching and at this point, all of you should have a general idea of which players are and aren't right to draft. Still, chances are that many potential fantasy owners out there are unfamiliar with some of the sleepers and/or value picks and when playing this game, having just one of these guys on your roster can make the difference between winning or losing one particular week. In other cases, it could mean the league championship.
Long story short, having a good fantasy team doesn't at all mean that every roster spot must be occupied by a perennial All-Star or league leader. In a game where lineup adjustments may be key, this practice leads to favoritism and, ultimately, a team suffering in the standings. Rather, a small portion of roster spots should be devoted to players who, while not necessarily household names, are a lock to play consistently night after night and put up decent numbers.
That being said, it's time for a lesson in Fantasy Sleepers 101. This year's NBA season is chock full of players who will fly under the radar on draft day and similarly, there are some players who may seem attractive, but should ultimately be passed on when your turn comes around. Let's take a look at some of the men who fit this role and determine who does and doesn't belong on a fantasy roster.
Begin Slideshow

»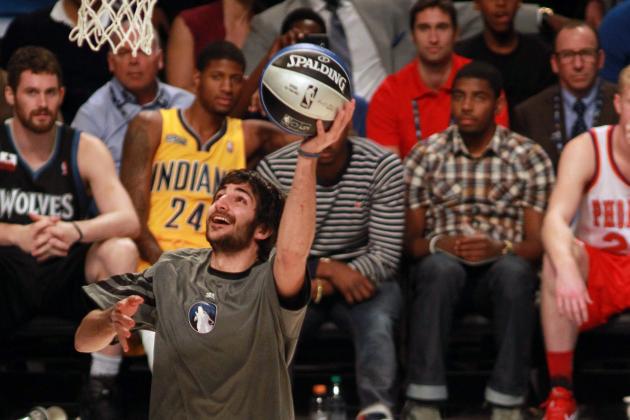 Ronald Martinez/Getty Images

2011-2012 Stats: 10.6 PPG, 8.2 APG, 2.2 SPG, .340 3P%
Though a torn ACL limited him to just 41 games in his rookie season, Rubio managed to impress his teammates, his coach Rick Adelman and all NBA fans. It was disappointing when he did get injured, as the Timberwolves may very well have clinched a playoff spot were he healthy. Yet, in terms of fantasy value, Rubio wasn't really anything to write home about.
Sure, Rubio's overall numbers may look pretty, but he has a lot to learn in terms of shot selection. He shot just 36 percent from the field, appearing almost TOO determined to do well in the NBA.
Yet, a new season is upon him and given how much the Minnesota fans have embraced him, Rubio will only be cheating himself if he keeps on playing the way he does, but minus so many field goal attempts. As a result, he is definitely worth gambling on in a fantasy draft not as a starting point guard, but maybe as a utility guy.
Worst case scenario, if you're that skeptical about his production, he can sit on your bench for a couple of weeks before slowly working his way into the rotation.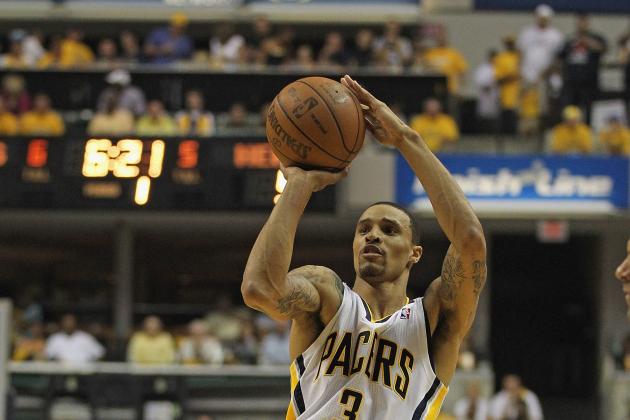 Jonathan Daniel/Getty Images

2011-2012 Stats: 9.6 PPG, 2.9 APG, .367 3P%
A lot of people seem to like George Hill, and I really don't know why. Though he is built like a point guard at 6'2", 180 pounds, he plays more like a pure shooter. His stats from last season won't dispute that, as he prefers to shoot from long range rather than be a proper floor general and distributor.
Yes, drafting for three-point percentage or three-pointers made is important, but it is important for the players who do help in that department to be able to balance their scoring. Last year, almost half of Hill's field goal attempts were from downtown. Seeing as how he may very well be the starting point guard at the start of the season, having Hill at any roster spot is going to be a waste of space. On top of his one-sided offensive game, he plays no defense whatsoever and in fantasy basketball, that is reason enough to pass on him.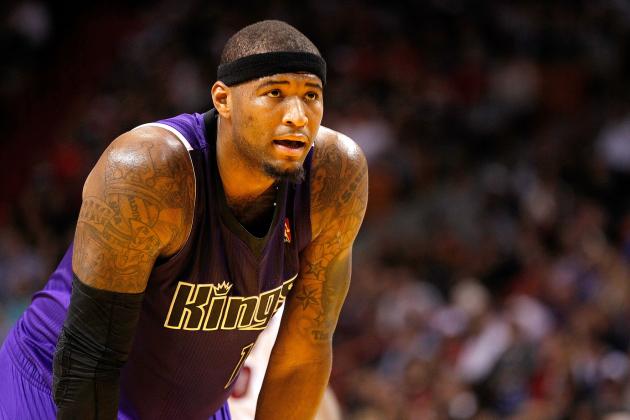 Mike Ehrmann/Getty Images

2011-2012 Stats: 18.1 PPG, 11 RPG, 1.2 BPG
Though his attitude tends to be an issue, Cousins has proven that he is a dominant center in the making. Since he has responded well to coach Keith Smart, the former Kentucky Wildcat is due to completely break out in his third NBA season.
Sure, Cousins' attitude may flare up every now and again, but his talent is undeniable. He is slowly turning into an under-the-basket center who works the inside and less like one who takes low-percentage shots. More importantly, he has been using his 6'11", 270 pound frame to stand and bang in the key on both ends of the court, thus resulting in amazing rebounding totals.
Simply put, if you want to draft for size, be sure to pick Cousins up at your first opportunity, maybe even in the second or third round.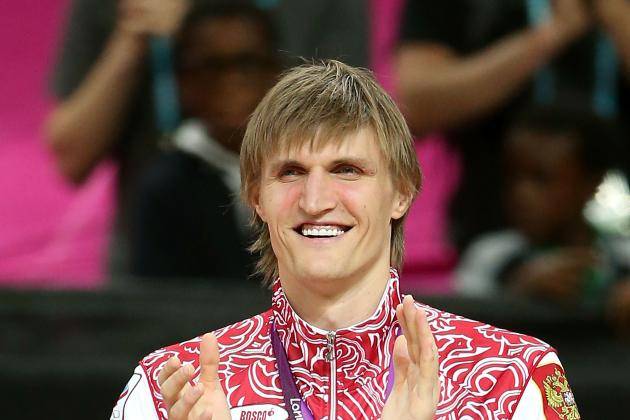 Streeter Lecka/Getty Images

2011-2012 Euroleague Stats: 14.1 PPG, 7.5 RPG, .417 3P%
After a year away from the NBA, Kirilenko is back, this time on a two-year deal with Minnesota. Though he has great versatility and has good size at 6'9", 225, we can determine this much from the 10 years he spent with the Utah Jazz: Kirilenko prefers to be a shooter rather than a forward who can be good on both ends of the floor.
Thus far, his NBA career averages are 12.4 points and 5.6 rebounds per game, while shooting just 31 percent from long range. Seeing as how Minnesota head coach Rick Adelman's system calls for the small forward to be a high-octane scorer who can make his shots consistently and also play some defense, Kirilenko is nowhere near the best available option at that position or even at a utility spot.
Simply put, if you must draft him, immediately put him on the trade block.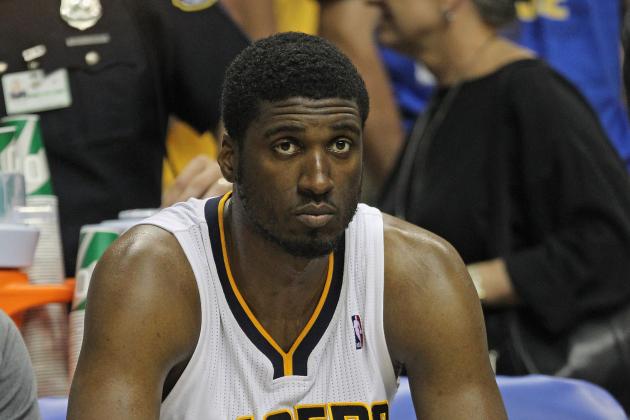 Jonathan Daniel/Getty Images

2011-2012 Stats: 12.8 PPG, 8.8 RPG, 2.0 BPG, .497 FG%
Roy Hibbert has great size for a center at 7'2", 260 pounds and last year, he finally started using it to his advantage. His tough defense was instrumental in the Pacers rocketing up the Eastern Conference standings, all the way to the No. 3 seed come playoff time.
Long story short, Hibbert is a prime candidate for a 20-10 season in 2013. He chooses his shots wisely, goes after every rebound and is an absolute monster when blocking shots. Most important of all, he is durable and uses his tremendous size to create mismatches on both sides of the floor.
In terms of fantasy value, don't be surprised if he is still around come the middle rounds. His numbers from last year seem low for someone his size but with a new year on the horizon, he is going to be a key contributor in the following categories: field goal percentage, points scored, rebounds and blocked shots.
That just screams Fantasy MVP.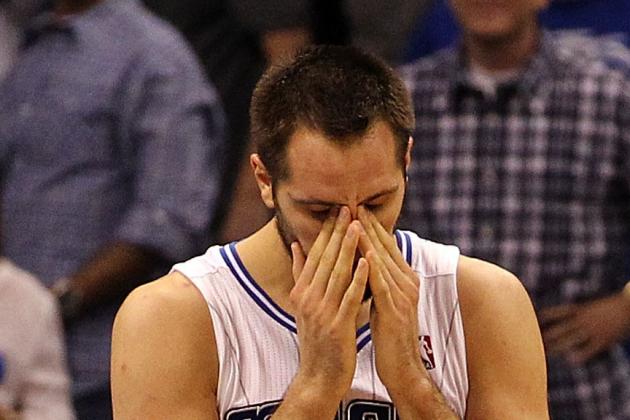 Sam Greenwood/Getty Images

2011-2012 Stats: 16.1 PPG, 7.7 RPG, .393 3P%
It's hard to include Anderson as a player to sell, particularly because he is the reigning NBA Most Improved Player. Still, though he looked great last year, it's just hard to believe that he can be the flashy power forward that the Hornets want him to be.
Sure, Anderson may seem like he has good fantasy value because after last season, there are surely some people who think he's on his way to becoming the high-scoring, tough-defending Amar'e Stoudemire-type. After all, he does have the size for it at 6'10", 240 pounds.
Unfortunately, the size is just a front. When push comes to shove, Anderson is a shooter first. For his career, more than half of his shots come from long range.
In fantasy terms, that means taking a huge hit at field goal percentage and on defense. If he does wind up on your team, sell him to an owner who values offense.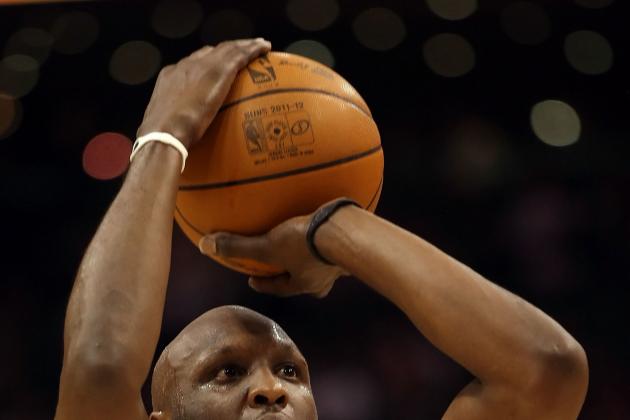 Christian Petersen/Getty Images

2011-2012 Stats: 6.6 PPG, 4.2 RPG, .352 FG%, .252 3P%
To put it bluntly, Lamar Odom's 2011-2012 season was a failure. He averaged career lows in all major categories and never really seemed to gel with the tough and competitive culture Dallas Mavericks owner Mark Cuban had created. Sure enough, during the summer, Odom was traded to the team with whom he began his career, the Los Angeles Clippers.
Now, here's the kicker. Based off of last season alone, it's completely possible that Odom may not be drafted at all. Still, towards the end of your draft, you should definitely pick him if he's still on the board.
Sure, last year was bad, but Odom is just two years removed from being named Sixth Man of the Year. He can be a force on both offense and defense and as his two championship rings with the Los Angeles Lakers prove, he can be a major difference maker.
Also, let's not forget two key factors. Not only does Odom have one of the best point guards in NBA history, Chris Paul, feeding him the basketball, but he also knows the Clippers fans well. With the team actually contending now, their cheers will surely motivate him to get back to his old form.
Should he find it, he could very well be the sleeper of the year.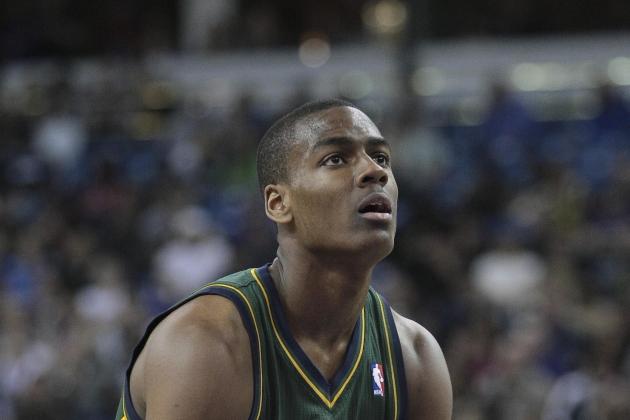 Kelley L Cox-US PRESSWIRE

2011-2012 Stats: 7.2 PPG, .429 FG%, 15.2 MPG
When the Jazz selected Burks with the 12th pick in 2011, it looked as though he would be the team's scorer of the future. After all, in two years at Colorado, Burks averaged 18.8 points while shooting 50 percent from the floor. Thus, with more minutes potentially coming this season, one would think that the man would be a solid player to keep on the bench and maybe put in the rotation later, right?
Wrong. Yes, Burks definitely has talent, but his long range shooting isn't what it should be. He only shot 32 percent from three-point land in college and in the NBA, being a shooting guard without a solid long-range game simply isn't allowed. Fans love three-pointers, and owners want a player who can deliver those at the 2.
For all we know, Burks could prove everyone wrong in 2013. Yet, when it comes to drafting a fantasy team, it's best to back away from him.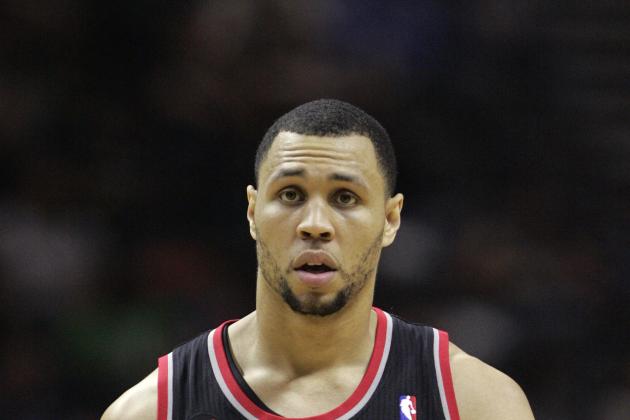 Soobum Im-US PRESSWIRE

2010-2011 Stats: 12.2 PPG, .400 FG%, .333 3P%
Much like his new teammate Andrei Kirilenko, Roy is returning to the NBA after a year-long absence. After the 2011 lockout ended, the All-Star shooting guard retired due to his balky knees, at just 27 years old.
Yet, a year later, Roy is making a comeback and is with the Minnesota Timberwolves on a two year deal. His role with the team is unclear but if he's healthy, he could do some great work. For his career, he has averaged 19 points per game while shooting 46 percent from the field and 35 percent from downtown.
Of course, come draft time, picking Roy is going to be like taking a half-court shot on the playground. It's either going to be a great shot or one that's just plain laughable. If Roy's knees do prove to be an issue, then it's no big loss. He probably won't be picked until the final rounds of the draft (depending on his preseason performance) and as a bench player, he is easily expendable.
Yet, if he impresses immediately and it is as though he never left the NBA, he could very well be the surprise of the season.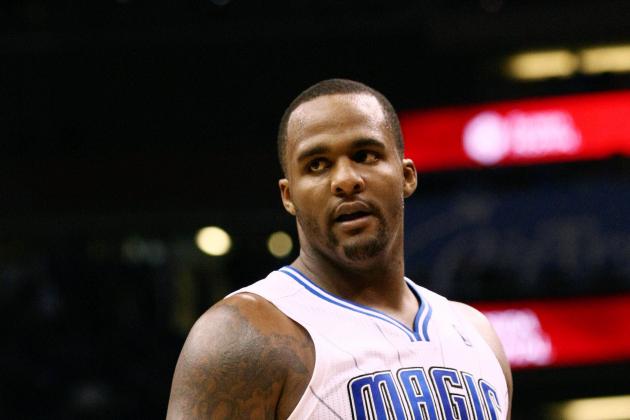 Douglas Jones-US PRESSWIRE

2011-2012 Stats: 9.3 PPG, 5.4 RPG, .421 FG%
Glen "Big Baby" Davis has the body of someone who could be a great enforcer under the basket. At 6'9", 289 pounds, he certainly looks intimidating and like someone who could toss some people around on defense.
Unfortunately, the image is all a facade. Despite his great size, Davis is soft and slow on his feet. For someone who averaged 16.6 points, 9.6 rebounds and a block per game in three years at LSU, he has not translated well to the NBA at all.
In terms of fantasy value, Davis really only has one suitable purpose: he's someone you'd maybe pick up off the waiver wire if you were playing a team that was great defensively and you needed an extra set of hands in the rebounding apartment.
Now, keep in mind, Davis' numbers could undergo a complete transformation in 2013. With Dwight Howard and Ryan Anderson both gone, he could very well be the starting power forward and get significant minutes, which could result in an increase in production.
Yet, given his history in the league thus far, there is just one piece of advice when it comes to drafting Davis: don't.