Los Angeles Lakers: Will D12 Bring Kobe and the Lake Show Another Championship?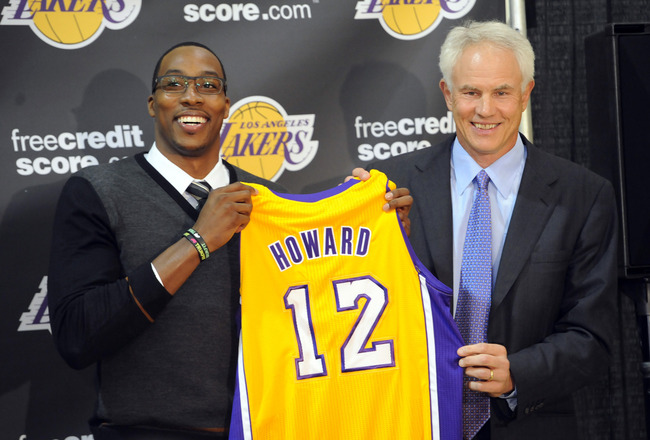 Jayne Kamin-Oncea-US PRESSWIRE
NBA Finals predictions come up earlier and earlier every year.
But with the trades the Lakers made during this offseason, it should be no surprise that they are in the conversation.
Whether they will or won't win a championship this season is debatable, but they have definitely improved their chances with their current squad.
Specifically, the Dwight Howard trade may have tipped the scales in the Lakers' favor.
Steve Nash Factor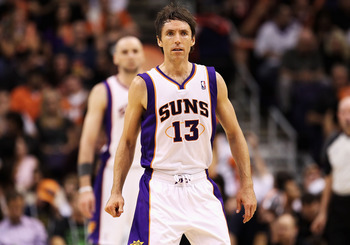 Christian Petersen/Getty Images
Somehow, the trade that brought Steve Nash to Los Angeles is overlooked now with the Howard trade.
Steve Nash will surely remind Laker fans of his incredible productivity, especially at his age throughout the course of the season.
According to NBA.com, Nash has averaged 8.6 assists per game throughout his career which is something the Lakers have never had in the Kobe Bryant era.
His assists, as well as his speed, can definitely revitalize the team's offense.
The newfound facilitation will surely open up scoring opportunities for every Laker playing alongside Nash, which in turn will leave Howard with possibly even more scoring opportunities than he had in Orlando.
Dominant Defense in the Paint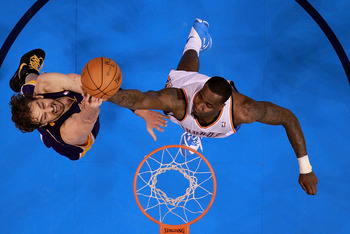 Ronald Martinez/Getty Images
The Dwight Howard trade marginally improved the Lakers' center position on offense. The true focus, however, is on Howard's defensive presence.
Dwight Howard has already won the NBA's Defensive Player of the Year award three times in his career, trailing only Ben Wallace and Hakeem Olajuwon who have four.
He may get his shot at a fourth with all the talent surrounding him.
Not to mention, Pau Gasol is the same height as Howard, which will be a problem for most power forwards in the league.
This, in turn, will make Gasol more productive now that teams are focused on Howard.
Western Conference Competition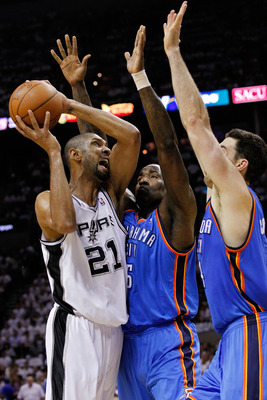 Tom Pennington/Getty Images
In order to bring raise another banner at Staples Center, the Lakers must first go through the Western Conference.
Notably, the Oklahoma City Thunder, who went to the finals against the Miami Heat, are their toughest opponents.
And while the Thunder do have formidable size in the paint, the Howard-Gasol tandem is sure to give them a run for their money.
The San Antonio Spurs are likely to fall under the radar no matter how impressive they are, as they usually do every season, but will still be a threat. The team has had an impressive 13-season streak of winning 50 or more games, but they lack size.
The Potential Laker-Heat NBA Finals?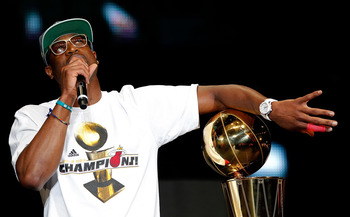 Mike Ehrmann/Getty Images
As soon as the Dwight Howard trade was executed, talk of an NBA Finals matchup between the Lakers and defending NBA Champions Miami Heat surfaced, and deservedly so.
Both teams have the star power that would make this matchup entertaining, but also highly likely to happen.
But how do these two teams' starters matchup against each other?
The Lakers have an advantage at point guard, even with an aging Steve Nash. The shooting guard position isn't so clear, as Dwyane Wade is matched up with Kobe Bryant. According to NBA.com, Wade averaged 22.8 points in last year's playoffs. Kobe averaged 30.
Miami can dominate at small forward with LeBron James.
But the post presence clearly belongs to the Lakers. While Miami has a former All-Star in Chris Bosh, the combination of seven-footers Pau Gasol and Dwight Howard may be too much for the defending champions.
Howard seems to be the team's determining factor in winning a championship.
Time will only tell if this matchup will happen in the upcoming season.
Keep Reading

Los Angeles Lakers: Like this team?