10 Biggest Storylines of the NBA Season to Watch Heading into Training Camp
Dilip Vishwanat/Getty Images
There was no shortage of drama defining 2011-12, and don't expect the upcoming NBA season to be any less eventful.
The Miami Heat and Los Angeles Lakers reloaded this summer and would be on a sure-fire collision course for the NBA Finals were it not for a pesky pool of contenders, including the likes of the Oklahoma City Thunder, San Antonio Spurs, Boston Celtics and Chicago Bulls.
The New York Knicks enter the season attempting to join that group, and the neighboring Brooklyn Nets look to do the same.
Meanwhile, there are more than a few teams that will be lucky to snag a playoff spot, much less a trip to the NBA Finals. That doesn't mean their fans won't have their own storylines to follow as they track the development of up-and-coming stars and rebuilding rosters.
From the NBA's best to all the rest, here's a look at the 10 stories that will dominate the early season.
Dwight Howard's Short-Term Future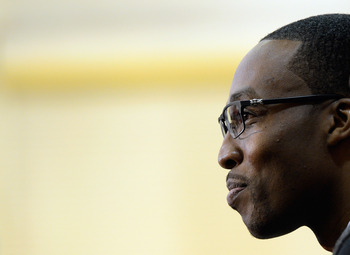 Kevork Djansezian/Getty Images
There's little doubt Dwight Howard will eventually settle in and transform the Los Angeles Lakers from a very good team into a top-shelf contender. When and to what extent that happens remain relatively open questions.
Howard's ongoing recovery from back surgery may keep him off the court for an as yet undetermined amount of time, and it will almost certainly take him some time to acclimate himself to a new role on a new team.
Adjustment periods aside, it almost remains unclear just how much better Howard makes the Lakers.
It's easy to make hyperbolic assertions about how his world-class defense will do things that Andrew Bynum's couldn't. It's easy to treat his track record as the best player on a marginally above-average team as some kind of scientific proof for the damage Los Angeles will inflict upon the league.
But the fact remains that we haven't seen the man do anything for the Lakers just yet. Holding one's breath may be unnecessary, but you better believe all eyes will be on Howard as he returns to action.
Howard's status in the court of public opinion will remain a far more open question than his status on the court itself. Will his fans around the league forgive his drawn-out trade drama as business as usual, or will they take umbrage with his audacious treatment of the Orlando Magic?
The Best in the West?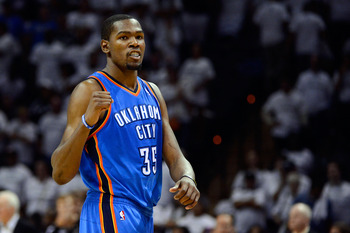 Ronald Martinez/Getty Images
Unless the Los Angeles Clippers or Memphis Grizzlies take a significant step forward this season, the track to the NBA Finals appears to be a three-horse race.
The Oklahoma City Thunder and San Antonio Spurs will remain serious threats, but you wouldn't know it based on this summer's distribution of media attention.
While the two small-market contenders were quiet during the offseason, the Los Angeles Lakers went out and added Steve Nash, Dwight Howard and Antawn Jamison to a mix that already included Kobe Bryant, Pau Gasol and Metta World Peace.
Beyond the obvious "tortoise and hare" undertones, watching these teams go at it should also be a lot of fun to watch. The Thunder and Spurs both featured absolutely dominant offensive systems last season, and the Lakers reason to do the same now that Nash is running the show.
The best in the West will appropriately be determined by some epic shootouts.
Who Got the Better of Ray Allen Leaving Boston?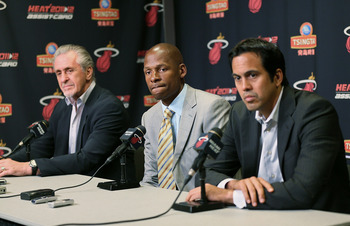 Mike Ehrmann/Getty Images
Losing Ray Allen hurt for all of five minutes, and then the Boston Celtics remembered there were indeed other fish in the sea.
Younger and all-around better fish to boot.
Though it's hard to compete with Allen's career numbers and legendary contributions, it's a lot less hard to compete with what he's producing on the court these days.
To that end, the Celtics acquired sixth-man extraordinaire Jason Terry on the free-agent market and the Houston Rockets' Courtney Lee via sign-and-trade. Terry is a little more than two years younger than Allen, and he was certainly the healthier of the two last season.
At this stage in their respective careers, Terry is better suited to create his own shot, which makes him an invaluable presence on the bench.
Meanwhile, Lee is a significant defensive upgrade over Allen and no slouch of a scorer.
On the other hand, Allen is the one going to the defending champions. The Miami Heat and Boston Celtics were already in store for a thrilling rematch of the seven-game Eastern Conference finals, but the subtext just got a whole lot more interesting.
Snob City?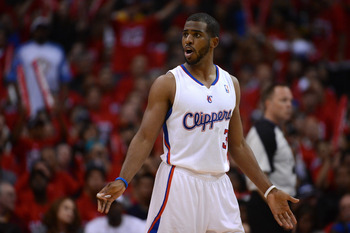 Harry How/Getty Images
We already knew Chris Paul was too good for the New Orleans Hornets, but will he turn his nose up at the Los Angeles Clippers too?
That question will be hanging over the organization this season after Paul decided he will test the free-agent market next summer.
Of course, that decision doesn't mean he's leaving...necessarily. Given his ability to make significantly more money inking a new deal rather than signing an early extension, the only reason Paul wouldn't test free agency would be to guard against the risk of an injury tanking his value.
While there's no guarantee Paul will leave, there's also no guarantee he'll stay.
Yes, the Clippers have a couple of impressive young athletes in Blake Griffin and DeAndre Jordan, but the rest of the roster is really built to win this season, and this season alone. Jamal Crawford (32), Caron Butler (32), Chauncey Billups (35) and Grant Hill (39) are all approaching the end of their primes or already well past it.
If the Clippers improve upon last season's performance, Paul may decide it's still in his best interest to stay. If not, the franchise may learn what it feels like to be on the other end of a fickle superstar's ever-changing mind.
Who's Gonna Run This Town?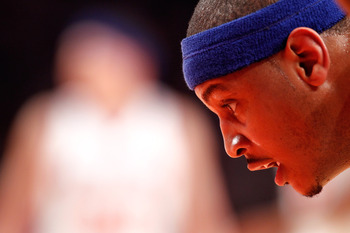 Jeff Zelevansky/Getty Images
The Knicks aren't the only bourgeois contenders in New York anymore.
The Brooklyn Nets found a few overpaid, second-rate stars of their own, and the greatest city on earth can now claim the two most overrated rosters on earth as its very own.
Sure, both of these clubs have a legitimate chance to enter the NBA Finals conversation. They also have a lot of holes, though. Amar'e Stoudemire and Brook Lopez are both dangerous scorers, but the question is whether they'll remain healthy, rebound and play defense.
The Knicks spent most of the summer tweaking their roster, adding defensive specialists like Marcus Camby and Ronnie Brewer to the bench and getting a hold of Raymond Felton and Jason Kidd to replace the departed Jeremy Lin.
Meanwhile, the Nets traded for All-Star shooting guard Joe Johnson and his monstrosity of a contract in a bid to keep Deron Williams around.
The gamble paid off, at least so far. But the Nets will suffer from a thin second unit and a defense that will depend on Gerald Wallace to be everywhere at once.
Which of these clubs is closer to giving the Miami Heat and Boston Celtics a run for their money is anyone's guess.
The Ultimate Rebuild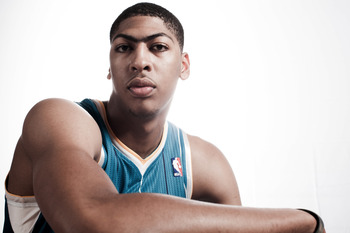 Nick Laham/Getty Images
While New Orleans suffered a blow in the Chris Paul trade, the Hornets will ultimately be better off for having lost him to the Los Angeles Clippers. After all, Paul wasn't going anywhere with the roster as it had been constructed, and he quite obviously knew it.
However, the organization has undergone a significant facelift, and it's done so in relatively short order.
The Hornets now boast a young core including star shooting guard Eric Gordon, reigning Most Improved Player Ryan Anderson and rookies Anthony Davis and Austin Rivers. General manager Dell Demps has positioned the franchise to continue improving via free agency by moving veterans Emeka Okafor and Trevor Ariza.
We may not see an immediate turnaround in New Orleans, but neither will we have to wait for more than another season or two before seeing some impressive results.
Will the Chicago Bulls Contend?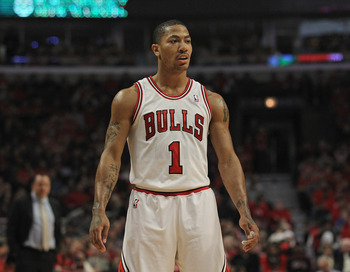 Jonathan Daniel/Getty Images
Questions surrounding the Chicago Bulls are really twofold.
How will the team hold up while Derrick Rose is recovering from knee surgery, and will it be a legitimate contender once he returns?
While the Miami Heat and Boston Celtics improved upon already formidable rosters, the Bulls did their best to simply keep pace. General manager Gar Forman did a nice job restocking the bench despite losing key pieces like Omer Asik, Kyle Korver, Ronnie Brewer and C.J. Watson.
But did he do a good enough job for this club to go head to head with the titans of the East? Did he even do enough for the Bulls to remain ahead of the up-and-coming New York Knicks and Brooklyn Nets?
We won't be able to answer that question until Rose is back on the floor, but early signs from November and December will still be somewhat telling.
Remember, this team actually played pretty well during lengthy stretches without Rose last season. If it fails to do the same this time around, though, Bulls fans may start looking forward to 2013-14.
Are the Bobcats Still the League's Worst Team?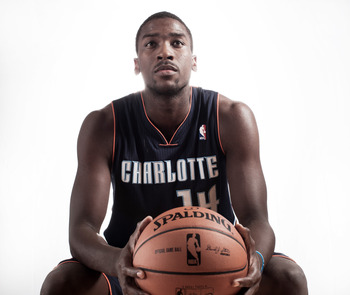 Nick Laham/Getty Images
The Charlotte Bobcats got better, but by how much?
Michael Kidd-Gilchrist should be key to a transformation both on and off the court, but his help is essentially comprised of the exact same crew that stunk up the NBA last season at a historic pace.
But for exchanging Corey Maggette for Ben Gordon, replacing D.J. Augustin with Ramon Sessions and hiring head coach Mike Dunlap, the only difference between this iteration of the Bobcats and last season's is that they're a year older.
That should be a good thing for Kemba Walker and Bismack Biyombo, but it may not be good enough for this young roster to extricate itself from the bottom of the standings.
If Charlotte doesn't begin showing some signs of life, you have to wonder how much patience its fans will show Michael Jordan and his frugality.
Can the Thunder Afford James Harden?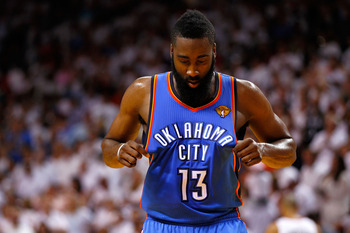 Mike Ehrmann/Getty Images
Fresh off signing power forward Serge Ibaka to a four-year extension, Oklahoma City Thunder general manager Sam Presti is already trying to figure out how the organization will afford to keep reigning Sixth Man of the Year James Harden in the fold too.
Keeping Harden without entering into prohibitively expensive luxury tax territory may require Presti to part ways with center Kendrick Perkins or otherwise shed salary from the team's books. One way or the other, it's hard to imagine the Thunder doing anything less than it takes to keep Harden.
But until he's officially locked up, the franchise's ostensibly bright future will be ever so murky.
A window of championship opportunity that could last nearly a decade would be beset by uncertainty in the event Harden departs via free agency.
Are the Mavericks Back?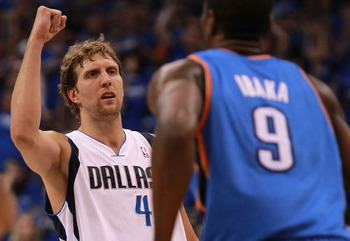 Ronald Martinez/Getty Images
The Dallas Mavericks were nothing short of heroic during their 2011 title run, but the encore performance was nothing short of disappointing.
This season will be different.
But will it be different in a good way?
Gone are Jason Kidd, Jason Terry, Brendan Haywood and Ian Mahinmi, and in their stead are Darren Collison, O.J. Mayo, Chris Kaman and Elton Brand. On paper, the Mavs got younger and almost certainly better.
With head coach Rick Carlisle at the helm and Dirk Nowitzki doing what he always does, Mark Cuban has to be pretty happy with his Plan B after missing out on Deron Williams. Just how happy he is about it will depend on whether this team can reprise what its 2011 predecessor was able to accomplish.
Keep Reading