Fantasy Basketball Sleepers: 15 Names You Need to Know on Draft Day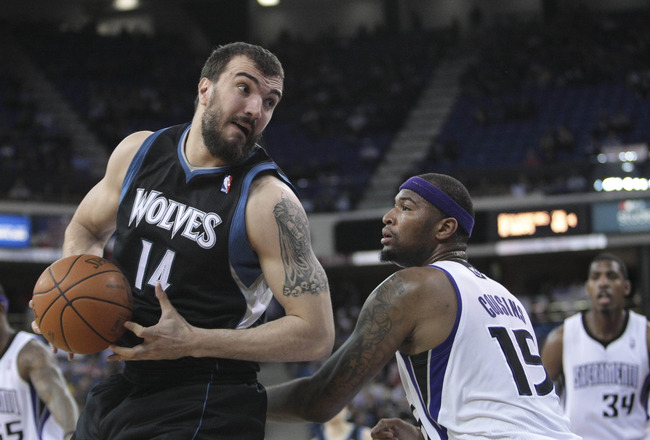 Take a wild guess at which one of these two is the sleeper.
Kelley L Cox-US PRESSWIRE
Any competent sports fan can tell you that drafting LeBron James, Kevin Durant, Kobe Bryant and the other stars of the NBA is a good idea during your draft. However, these 15 fantasy basketball sleepers are the ones who will help give you the slight edge necessary to take home a virtual trophy.
These aren't even sleepers on the Ryan Anderson or Wesley Matthews level. Led by Nikola Pekovic—easily the best player in this article—these are truly deep sleepers.
They're the ones who can put you over the top in a single category or provide the well-rounded contributions you're looking for in the last few rounds of your draft.
And of course, they're the ones who will allow you to gloat at the end of the season when your basketball mind seems sharper than everyone else's in your league.
Read on to find out who they are.
Aaron Brooks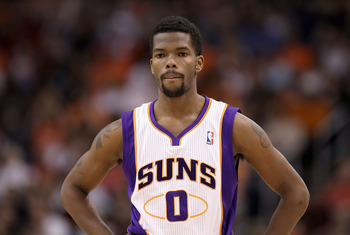 Could Aaron Brooks win MIP twice?
Christian Petersen/Getty Images
Team: Sacramento Kings
Position: PG
Age: 27
2010-11 Per-Game Stats: 9.6 points, 1.1 rebounds, 4.2 assists, 0.0 blocks, 0.5 steals (for Phoenix Suns)
Aaron Brooks may have spent a year in China with the Guangdong Southern Tigers during the lockout, but he's back in the NBA now and ready to pick up where he left off a few seasons ago.
The 2010 Most Improved Player saw his per-game numbers drop dramatically after winning the award as he lost his hold on the starting point guard with the Houston Rockets and was shipped off to a backup role for the Phoenix Suns.
However, his per-36 minutes remained relatively constant from his breakout campaign to his lackluster follow-up efforts, except for a massive drop-off in shooting efficiency:
| | | | | | |
| --- | --- | --- | --- | --- | --- |
| | PP36 | RP36 | AP36 | SP36 | BP36 |
| 2009-10 (HOU) | 19.8 | 2.7 | 5.4 | 0.9 | 0.2 |
| 2010-11 (HOU/PHO) | 17.8 | 2.2 | 6.5 | 1.0 | 0.1 |
If Brooks is given playing time, then the speedy gunner will still put up the stats that are so vital for fantasy success. As impressive as Isaiah Thomas was during his rookie season out of Washington, Brooks is the best point guard on the Sacramento Kings roster.
He may not start the season in the starting five, but he'll take over the bulk of the playing time before too long.
Alec Burks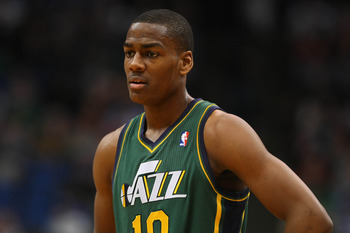 Alec Burks is much bigger than he appears here.
Brace Hemmelgarn-US PRESSWIRE
Team: Utah Jazz
Position: SG
Age: 21
2011-12 Per-Game Stats: 7.2 points, 2.3 rebounds, 0.9 assists, 0.1 blocks, 0.5 steals
After playing only 15.9 minutes per game during his rookie season with the Utah Jazz, this former Colorado Buffalo is set to make a big impact at shooting guard during the 2012-13 campaign.
Of course, bigger numbers usually follow a bigger role in the rotation rather closely. The Jazz aren't going to take too long to use Burks and Gordon Hayward in the starting lineup while pushing new acquisition Marvin Williams to a sixth-man role.
Burks averaged 17 points per game during the Orlando Summer League, showing off an improved jumper and the same deadly slashing abilities that helped make him a lottery pick in the 2011 NBA draft. However, you aren't going to be drafting Burks for his scoring.
Points are the most over-glamorized stat in fantasy. You can pick up a double-digit scorer off the waiver wire at any point during the season if you look hard enough.
Burks brings something more rare to the table—rebounds from the shooting guard slot. The 6'6" 2-guard averaged 5.1 rebounds per 36 minutes last season and 6.5 per game during his sophomore year in Boulder.
Whether in a rotisserie, points or head-to-head format, statistical production from a position that doesn't typically rack up numbers/points/wins in that category is quite valuable.
Danny Green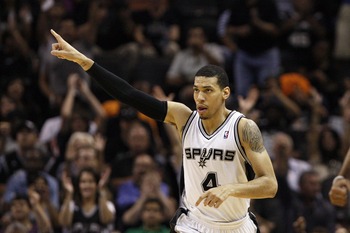 Don't overlook Danny Green when searching for three-pointers.
Soobum Im-US PRESSWIRE
Team: San Antonio Spurs
Position: SG
Age: 25
2011-12 Per-Game Stats: 9.1 points, 3.4 rebounds, 1.3 assists, 0.7 blocks, 0.9 steals
Danny Green is the latest beneficiary of the Gregg Popovich system that Tony Parker runs to perfection, and fantasy owners should act accordingly.
The shooting guard is an incredible three-point shooter, coupling a quick release with some nice form. He might not be the greatest athlete in the NBA—not even close—but he doesn't need to be when he can just spot up on the perimeter and wait for the ball to work its way into his hands.
Green shot 43.6 percent from downtown last season, and there are no indications that he's going to be suffering any sort of decline in 2012-13. After all, the same pieces are in place in San Antonio and Green will continue to be one of the primary beneficiaries of the extra passes the team loves to make.
In his first 38 games as a starter—all of which came last year—Green averaged 10.3 points, 3.5 rebounds and 1.8 three-pointers per contest.
Despite coming off the board markedly later than the more glamorous options, he'll provide some nice three-point and rebounding value deep in fantasy drafts this year.
And of course, as the Spurs have proved year after year, you don't need glamor to win championships.
J.J. Hickson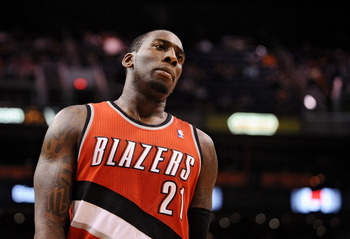 This is the year J.J. Hickson makes good on his potential.
Jennifer Stewart-US PRESSWIRE
Team: Portland Trail Blazers
Position: PF/C
Age: 23
2011-12 Per-Game Stats: 8.4 points, 6.2 rebounds, 0.8 assists, 0.6 blocks, 0.6 steals (for Sacramento Kings and Portland Trail Blazers)
The promising flicker that was once J.J. Hickson's potential appeared to finally flame out during his fourth season in the NBA. However, it was reignited when after a midseason move to the Portland Trail Blazers gave him a fresh start.
Hickson averaged 15.1 points, 8.3 rebounds, 1.2 assists, 0.9 blocks and 0.6 steals per game after his move to the North. Perhaps more impressively, he nearly doubled his scoring output per 36 minutes after he was waived by the Sacramento Kings.
Don't expect these numbers to decline at all during his first full season with the Blazers. Now that he's more familiar with the system, he'll have an even bigger role in the offense, especially since inexperienced rookie point guard Damian Lillard will be running the show.
With Meyers Leonard serving as the primary threat to Lillard's spot atop the depth chart at center, significant playing time is all but certain. Leonard may have a high ceiling, but he's just about as raw as they come and shouldn't be leaned upon heavily during his first season out of Illinois.
Andrei Kirilenko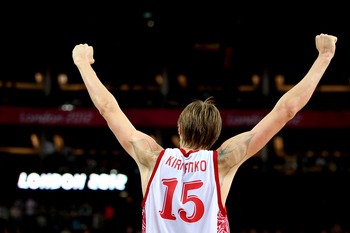 Andrei Kirilenko lit it up at the Olympics.
Christian Petersen/Getty Images
Team: Minnesota Timberwolves
Position: SF/PF
Age: 31
2011-12 Per-Game Stats: 14.9 points, 6.1 rebounds, 2.3 assists, 0.7 blocks, 2.6 steals (for CSKA Moscow)
If anyone out there still doubts that Andrei Kirilenko can fill up a stat sheet, then you should go take a look at his numbers for Russia during the London Olympics. After all, AK47 averaged 17.5 points, 7.5 rebounds, 1.4 assists, 1.8 blocks and 1.9 steals per game for his country.
You'd be crazy to expect similar scoring output during his return to the NBA. Kirilenko will hover just under 10 points per game while playing alongside Ricky Bubuio, Brandon Roy, Kevin Love and Nikola Pekovic.
Even if Chase Budinger steals a number of minutes from his older teammate, the Russian forward will still be able to contribute to each and every category in a positive way. He's always been viewed as one of the more versatile players in the Association, and that hasn't changed now that he's on the wrong side of 30.
Kirilenko might not be a sexy pick, but he's the kind of late-round selection that can push a team over the top.
Byron Mullens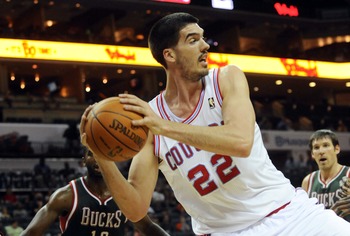 Yes, Byron Mullens is a Bobcat. Yes, you can still draft him.
Sam Sharpe-US PRESSWIRE
Team: Charlotte Bobcats
Position: C
Age: 23
2011-12 Per-Game Stats: 9.3 points, 5.0 rebounds, 0.9 assists 0.8 blocks, 0.3 steals
While it may seem nonsensical to entrust your fantasy season to a member of the Charlotte Bobcats, you could do far worse than invest in the services of Byron Mullens. The big man will labor away in obscurity throughout the season and provide solid numbers the entire team.
After all, points and rebounds have to come from somewhere on last season's bottom-feeding squad.
The No. 24 pick of the 2009 NBA draft, Mullens finally got an opportunity to play significant minutes after leaving the Oklahoma City Thunder for the Bobcats via trade. As a starter, he averaged 11.4 points and 6.4 rebounds per game.
Mullens is going to fill that same role during the 2012-13 season and should put up numbers slightly better than those. He's still only 23 years old and has plenty of potential left to be realized.
The former Ohio State Buckeye will get you the same production as other bigger names in the league, but he comes with the Bobcat discount.
Just make sure you can withstand the inevitable field goal percentage hit that comes with him.
Lamar Odom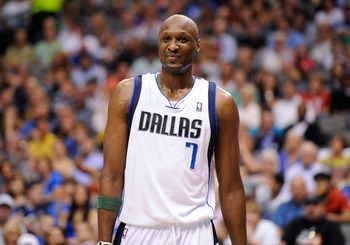 Lamar Odom should be a bit happier back in L.A.
Jerome Miron-US PRESSWIRE
Team: Los Angeles Clippers
Position: SF/PF
Age: 32
2011-12 Per-Game Stats: 6.6 points, 4.2 rebounds, 1.7 assists, 0.4 blocks, 0.4 steals (for Dallas Mavericks)
While it's not always a good idea to bet on players coming off career-worst years, it is when the skills that made the players special are still present.
Lamar Odom didn't struggle to make a positive impact for the Dallas Mavericks because he lost his basketball talent. He was so awful because he simply didn't want to be on the Mavs and refused to put forth any effort.
Now that he's back in L.A. on a team that he agreed to terms with, Odom should resume his quest to provide fantasy owners with well-rounded numbers. He'll join a talented Los Angeles Clippers bench and have a reduced role, but he'll still be able to make an impact in a number of categories.
Expect a boost in every category if you draft Odom. You'll also be especially thankful for the bounties of assists that he provides from a forward slot in your lineup.
Chandler Parsons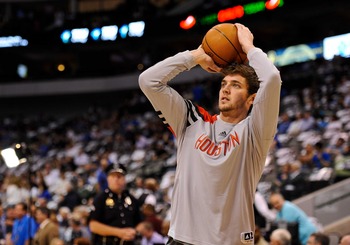 Chandler Parsons can help you win the winks category.
Jerome Miron-US PRESSWIRE
Team: Houston Rockets
Position: SF
Age: 23
2011-12 Per-Game Stats: 9.5 points, 4.8 rebounds, 2.1 assists, 0.5 blocks, 1.2 steals
Amazingly enough, Chandler Parsons is one of the most experienced players on the Houston Rockets even though he's only played one season in the NBA.
The former Florida Gator started 57 games during his rookie season, more than Jeremy Lin (25), Omer Asik (2) and all of the five rookies expected to contribute have in their combined NBA careers.
I can't even tell you how many times I used the phrase "good at everything, great at nothing" to describe the floppy-haired forward during the 2011 NBA draft process. That hasn't changed.
Parsons is going to contribute across the board for any fantasy team, and he'll do more as he gets more playing time. Despite the insane depth of the directionless Rockets squad, Parsons will earn his fair share of minutes.
Once the minutes are present, so too are the bigger numbers.
Nikola Pekovic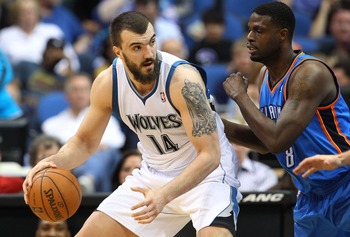 It's time for Nikola Pekovic to get some well-deserved recognition.
Jesse Johnson-US PRESSWIRE
Team: Minnesota Timberwolves
Position: C
Age: 26
2011-12 Per-Game Stats: 13.9 points, 7.4 rebounds, 0.7 assists, 0.7 blocks, 0.6 steals
Nikola Pekovic is the best player in this article by a sizable margin and the least likely to be considered a true "deep sleeper." However, he's so massively underrated that he still merits inclusion.
I recently drafted Pekovic in the third round of the official B/R NBA Re-Draft, and here's my justification for doing so:
The single most underrated player in the league, Nikola Pekovic gives my team the rebounding and toughness it needs next to Millsap in the paint.

According to 82games.com, Pekovic posted a 21.9 PER while holding opposing centers to just 13.4.

Only seven centers produced a plus-21 PER last season while playing more than 25 minutes per game, and just Tim Duncan (22.8 for, 14.0 against), Andrew Bynum (23.5 for, 14.2 against), Dwight Howard (25.2 for, 14.0 against) and Pekovic also held their opponents below 15.
Obviously, the PERs are irrelevant for fantasy purposes, but they do show just how underrated Pekovic is. In fantasy basketball, underrated-ness typically correlates with the ability to be stolen in a later round.
If you want a center who can post a ridiculously high field goal percentage, score effectively, steal rebounds from Kevin Love, limit the turnovers and avoid tanking your free throw percentage, look no further than The Godfather.
Josh Selby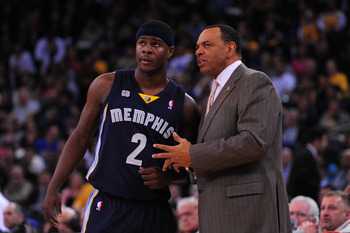 I don't approve of Josh Selby's attitude, but his game is a different story.
Kyle Terada-US PRESSWIRE
Team: Memphis Grizzlies
Position: SG
Age: 21
2011-12 Per-Game Stats: 2.3 points, 0.5 rebounds, 1.1 assists, 0.0 blocks, 0.3 steals
If Summer League statistics really meant something, then Josh Selby would be an MVP candidate. However, plenty of players have lit up the scoreboards during the hottest months of the year and then flopped once the real games start back up.
Selby still looked impressive enough that it's hard not to forecast a bit of a breakout for him in his second season out of Kansas. The 2-guard was named Co-MVP alongside Damian Lillard after averaging 24.2 points, 2.4 rebounds, 3.2 assists and 2.4 steals per game.
At the very least, he'll provide you with some cheap steals once the regular season begins.
The young shooting guard will be competing with Tony Allen for playing time, and he's bound to get a lot more of it now that the Grizzlies can't turn to O.J. Mayo for an instant dose of offense off the bench. Points have to come from somewhere and Selby will be one of the main producers off the Memphis bench.
Plus, who doesn't enjoy having a high-flying and highlight-producing player on their bench?
Mirza Teletovic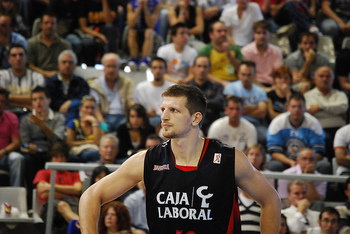 Photo credit to Boroughhallball.com
Team: Brooklyn Nets
Position: PF
Age: 26
2011-12 Per-Game Stats: 17.0 points, 6.2 rebounds, 1.2 assists, 0.6 blocks, 0.5 steals (for Caja Laboral)
While I've tried to keep this article free from rookies—those recently-drafted players aren't generally sleepers because they're still so fresh on the mind after the NBA draft—Mirza Teletovic isn't a typical rookie.
He wasn't drafted after he made himself eligible in 2007, but instead joined the ranks of the Association by signing a contract with the Brooklyn Nets over the summer.
Teletovic won't earn too much playing time during his first season stateside, but he will make the most of his opportunities. The power forward is a deadly shooter from the perimeter and a decent enough athlete that he can hold his own on the boards.
Between his quick release and the pick-and-roll prowess of Deron Williams, it isn't unreasonable to expect a sizable contribution to the three-pointers category from this Bosnian sharpshooter.
Teletovic will go undrafted in most standard leagues, but keep him on the radar if you're playing in a deep league with bigger rosters than normal.
Ekpe Udoh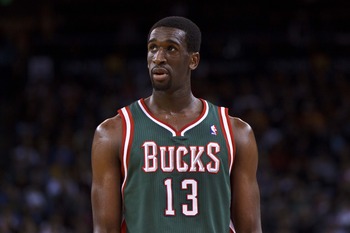 Ekpe Udoh will look pretty good in green and red.
Jason O. Watson-US PRESSWIRE
Team: Milwaukee Bucks
Position: PF/C
Age: 25
2011-12 Per-Game Stats: 5.6 points, 4.2 rebounds, 0.9 assists, 1.7 blocks, 0.7 steals (for Golden State Warriors and Milwaukee Bucks)
Ekpe Udoh put up solid per-36 numbers during his time with the Milwaukee Bucks last season, averaging 10.1 points, 8.3 rebounds, 2.0 assists, 1.2 steals and 2.9 blocks.
Always a plus/minus wizard, Udoh will see more minutes than ever now that he's spending a full season with the Bucks. Eventually, the team will have to make the transition from Samuel Dalembert to Udoh at center, and the sky will be the limit at that point.
Udoh has the tools necessary to be a shot-blocking stud, and he can hit his midrange jumpers with quite a bit of consistency. Last season, the former Baylor Bears big man hit 50 percent of his attempts from 10-15 feet for the Bucks, according to Hoopdata.com.
He'll never be a big scorer, but the athletic defender has enough skill on the less-glamorous end of the court to be a fantasy contributor.
Greivis Vasquez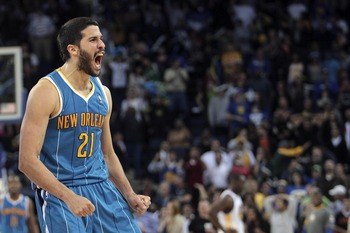 Greivis Vasquez is screaming at those people who didn't draft him.
Kelley L Cox-US PRESSWIRE
Team: New Orleans Hornets
Position: PG
Age: 25
2011-12 Per-Game Stats: 8.9 points, 2.6 rebounds, 5.4 assists, 0.1 blocks, 0.9 steals
Take a second and look at Greivis Vasquez's per-game stats from last year. Waiting with Jeopardy music playing. Okay.
Those numbers are quite impressive for a second-year point guard playing just over 25 minutes per game. Imagine what he could do with the starting job, a job he might have as Austin Rivers cuts his teeth at the NBA level.
Even if Vasquez is serving as a backup for the majority of the season, he's still a nice source of dimes. The former Maryland Terrapin has passing skills beyond his years and now has more offensive weapons to work with, thanks to the presences of Ryan Anderson and a healthy Eric Gordon.
Additionally, his porous defense won't affect your fantasy team. Otherwise I'd recommend leaving him untouched and on the waiver wire for some other poor sap to claim.
Jan Vesely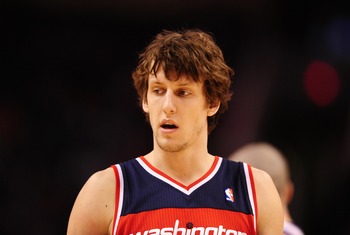 A healthy Jan Vesely is better than an injured one.
Mark J. Rebilas-US PRESSWIRE
Team: Washington Wizards
Position: SF/PF
Age: 22
2011-12 Per-Game Stats: 4.7 points, 4.4 rebounds, 0.8 assists, 0.6 blocks, 0.7 steals
Heralded as the "Dunking Ninja" or the "European Blake Griffin" before he stepped foot onto the hardcourt in the NBA, Jan Vesely suffered through a major letdown of a rookie campaign. Don't be fooled into thinking that his lackluster numbers resulted from a lack of skill though.
Vesely injured his hip before the 2011-12 season began and never fully recovered. By the time he was healthy enough to make a positive impact for the Washington Wizards, it was too late and the rotations had been fairly well established.
Now that he can use both legs and his insane athleticism, the oversized forward is ready to make his mark on the league in his sophomore season.
Vesely might hurt your free throw percentage, but he'll balance that out with contributions in every other category that takes place inside the three-point arc.
Nikola Vucevic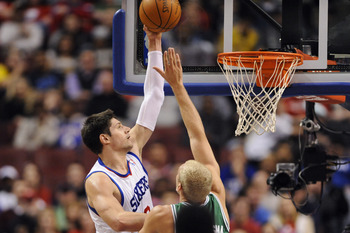 Nikola Vucevic should thrive on the Orlando Magic.
Howard Smith-US PRESSWIRE
Team: Orlando Magic
Position: PF/C
Age: 21
2011-12 Per-Game Stats: 5.5 points, 4.8 rebounds, 0.6 assists, 0.7 blocks, 0.4 steals (for Philadelphia 76ers)
Nikola Vucevic wasn't the centerpiece of the Orlando Magic's haul from the Dwight Howard trade, but he's a close second to Arron Afflalo.
Now that Superman is no longer patrolling Floridian paint, Vucevic will be the man in charge of holding down the fort at center for the NBA's newest contender for the league's worst record. As long as you don't expect Vucevic to change his number and become No. 12, you won't be disappointed by his game.
Vucevic might miss free throws at the same rate, but that's about the only similarity between the two. The former USC Trojan relies on his smarts, footwork and offensive range to succeed.
He's capable of putting up 15 points and eight rebounds per night with the Magic, assuming that Gustavo Ayon and Glen Davis don't take up too many of the minutes.
You could do far worse in the later rounds of your draft.
Keep Reading