LeBron James and the 6 Most Explosive Stars in the NBA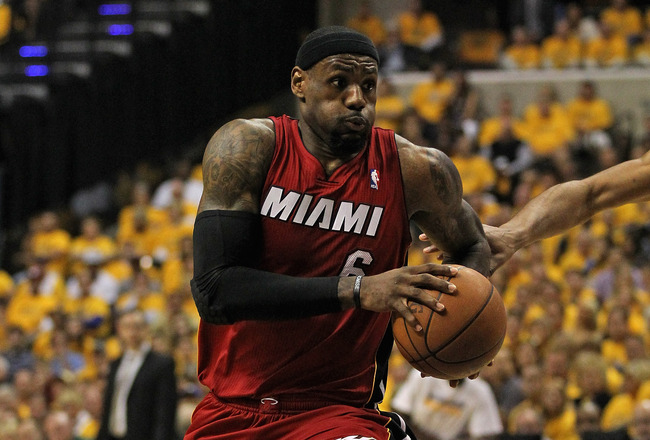 Jonathan Daniel/Getty Images
"Explosive" is a unique trait, usually god-given and only for a select few. LeBron James doesn't just move toward the rim—he explodes.
Explosions in basketball are more numerous than at first glance. There is the explosion towards the rim when a baller takes flight, or when a player goes off on a scoring tangent without batting an eyelash.
And let's not forget when all hell breaks loose on the basketball court and structure goes by the wayside: the fast break. That's when the most explosive show their true selves.
Safe to say, it's an elite class of athletes. They are no doubt the National Basketball Association's most exciting to watch.
7. Josh Smith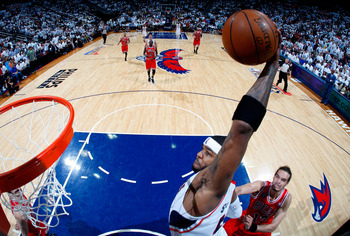 Kevin C. Cox/Getty Images
He may call himself "J-Smoove" but Josh Smith is nothing short of an athletic dynamo.
Standing at 6'9" with the ability to jump through the roof, Smith is always a threat to explode at the rim.
Not to mention he's on the short list for "basketball players who hold your glance." Yes, even when he's in standard definition.
Smith has now expanded him game to use his jumping ability for not merely close-range scoring. He averaged 9.6 rebounds per game last season, highlighted when Al Horford went down with a season-ending injury.
He only skims to the No. 7 spot on the list because of his middling outside shooting. The Atlanta crowd still groans when Smith sets up for a jump shot, which is a statement to his reputation as such.
Until he acquires a more consistent stroke, he won't be filling it up as much as the others listed.
The sky has always been the limit for Smith. He is just beginning to climb the ladder.
6. Ty Lawson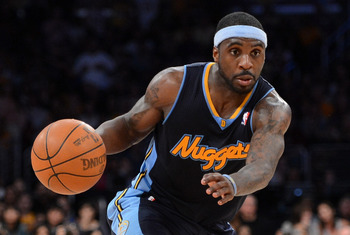 Harry How/Getty Images
Lawson has relied on his quickness to push him toward the top echelon of NBA point guards.
The Nuggets floor general may be the fastest player in the league from baseline to baseline. Check out when he put on the jets against a unsuspecting Lakers defense in last year's playoffs.
That's some quick-twitch fibers right there.
The third-year guard can also fill it up when he wants to. In the same game as that video clip, Lawson hit five three-pointers, all in the first half.
Denver's triggerman is a bit underrated offensively—but not for long.
5. Dwyane Wade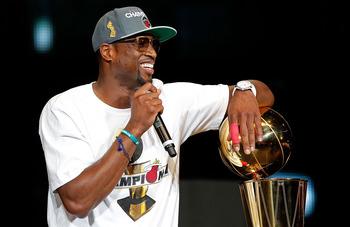 Mike Ehrmann/Getty Images
Before LeBron James came to town, Wade was known as the best finisher on Miami's roster. He'll have to settle for No. 2, but second in the league isn't too shabby.
The dynamic scorer has been well-regarded for his exploits around the rim. Likely the game's best penetrator, early in his career Wade was simply known as "Flash."
If that's not the definition of explosive, I don't know what is.
Among his many tricks to get to the rim, Wade's remake of the Eurostep is one of his most memorable. In one move, Wade made Kevin Garnett, one of the league's best defenders mind you, go one way, then in one fell swoop lay it in the other way.
A special move from a special player.
Young ballers take note: pure explosiveness.
4. Rajon Rondo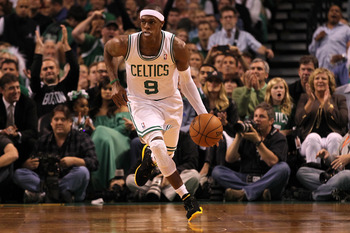 Jim Rogash/Getty Images
A ball-handling maestro with ginormous hands, Rondo is one of the NBA's most exciting facilitators.
The Celtics point guard can get to the rim at will with his quickness and ball-handling ability. The rest is up to those hands.
He penetrates for the better of others, which results in some exciting plays for not only his teammates, but the fans as well.
The most underrated part of Rondo's explosiveness, though, is the way he uses his body to make his opponent's night a long one. His hands are exceptionally quick for steals; one quick jab and the ball goes free in an instance.
If explosiveness can be attained in all aspects of the point guard position, Rondo has got it all.
3. Blake Griffin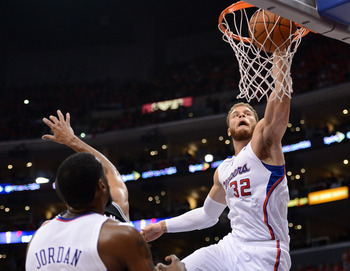 Harry How/Getty Images
While watching a Clippers game broadcast, you're bound to hear the terms "Blake Griffin" and "explosive" paired together several times.
That's because the Los Angeles Clipper is the most explosive leaper in the game today. Viewers sit at their televisions waiting for No. 32 to make his move towards the hoops and launch himself towards the rim.
Blake Griffin doesn't just jump, he soars. And he usually posterizes his defender for emphasis.
Why isn't Griffin higher on this list, you ask?
Injuries, for one. He suffered his second major leg injury this summer in Team USA Basketball camp.
Whether Griffin will return to his high-flying form is up in the air, keeping him out of the top two.
2. Russell Westbrook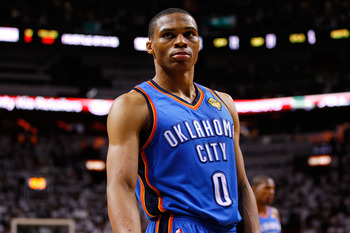 Mike Ehrmann/Getty Images
These top two exemplify the term "explosive" in the NBA. Westbrook, though, has the best "burst" of them all.
You can call it acceleration or quick-twitch, Westbrook has it; when he makes his first move to the basketball hoop, good luck getting in his way.
He can all take it to the rack with ferocity, but when it comes to all-around scoring, Westbrook has stretched his game outside faster than most. His mid-range jumper has become a reliable part of Oklahoma City's attack.
Now the fourth-year guard can do more than attack the rim, as he has a whole arsenal of tricks from outside the paint.
Speed bursts and scoring bursts, that's all Westbrook.
1. LeBron James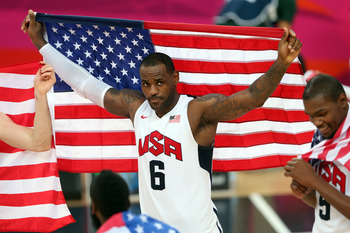 Streeter Lecka/Getty Images
The best basketball player in the world is the league's most explosive. Go figure.
Blessed with uncanny ability, James has exhibited fine form on the hardwood. You'd be hard-pressed to find better agility.
There's nobody better in the open court, nobody better inside five feet. When you think you've gotten around him for an easy bucket, he explodes into third gear to block your shot into the cheap seats.
In the past year, LeBron has put on a scoring clinic against the NBA and the world. He's certainly quieted the doubters who said he could be beat by letting him shoot outside jumpers. Now he ices teams with three-point barrages in the final minutes.
His game has evolved to a place where defensive schemes are null and void.
Easy to forget James looks like he came from straight out of a video game. Even in America's most explosive sport, football, their GMs think LeBron could make it at tight end or safety.
Nothing comes easy because the League MVP is that good.
Simply, the dude is beastly.
Keep Reading