5 Dynamic Young NBA Stars Who Will Catapult Their Team to New Heights in 2012-13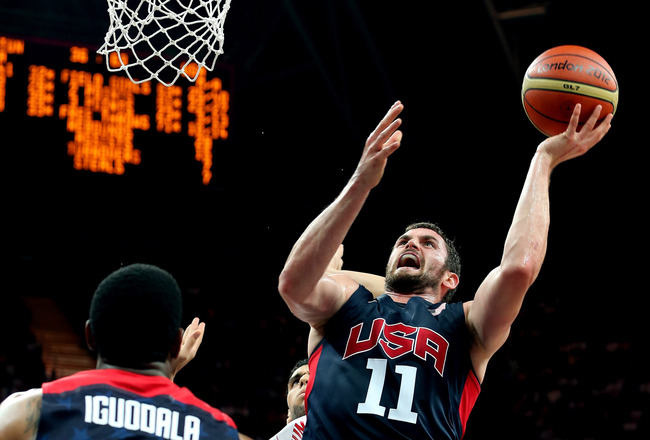 Christian Petersen/Getty Images
The 2012-13 NBA Season is just over a month away. In that month-and-a-half of time, teams will enter training camp, weigh their rotational options and search for the player who will lead them to the promised land.
For those down-in-the-dumps franchises whose fans are in need of an uplifting, there are five players who are currently capable and poised to do just that.
From the expected players who are establishing their stardom to the rookies who might have been overlooked, it won't be long before we've found ourselves with new contenders. As for who those teams and players may be, the following slides will answer just that.
The question is, how far will they go?
Alec Burks, Utah Jazz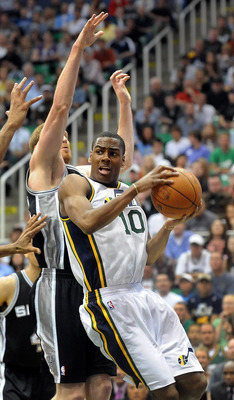 Steve Dykes/Getty Images
Position: Shooting Guard
Age: 21
Experience: One Year
After a dismal rookie season, many have prepared the label of "draft bust" for Alec Burks of the Utah Jazz. With a full year and a heartbreaking postseason under his belt, however, Burks has adjusted to the NBA pace adequately and prepared himself for a breakout season.
Just in time for the Utah Jazz to make the leap from a stellar frontcourt with very little else to offer to a well-rounded attack that could take down any team in the NBA.
Although Burks' was as distant from the Rookie of the Year voting as one could possibly be, he proved a lot during his first season. For one, he proved that his jump shot needs serious improvement. Burks also proved some positives, however, and those are what should be focused on.
Although he was inconsistent with his ability to finish, Alec Burks proved to be one of the better young slashers in the game. His ability to get to the basket with or without the ball in his hands should lead to a solid 2012-13 campaign alongside sharpshooting point guard Mo Williams.
It could also lead to Burks emerging as one of the faces of the Utah Jazz's franchise. Between he, Williams, Al Jefferson, Paul Millsap and Derrick Favors, this Utah Jazz team could be better than we expected.
They could also make noise come the postseason with Burks at the heart of the progression.
2012 Season Averages
14.01 PER, 15.9 MPG, 7.2 PPG, 2.2 RPG, 42.9% FG
John Henson, Milwaukee Bucks
Nick Laham/Getty Images
Position: Power Forward/Center
Age: 21
Experience: Rookie
Want a dark-horse contender for Rookie of the Year? Look no further than explosive big man John Henson of the Milwaukee Bucks.
With Andrew Bogut on the roster, the Milwaukee Bucks were a dominant defensive force. Unfortunately, the team lacked the necessary athleticism and offensive firepower to truly compliment their young franchise cornerstone, Brandon Jennings.
With Andrew Bogut gone and Monta Ellis arriving, the Bucks have taken a complete 180 as they've lacked the necessary defensive prowess but suddenly found athleticism and perimeter explosiveness.
With the arrival of rookie John Henson, the team has suddenly found the middle-man that could change it all. From Henson's elite shot-blocking ability to his uncanny ability to finish in the paint, the two-way threat with purely brilliant leaping and mobility has arrived.
As a result, the Milwaukee Bucks have become one of the best paper teams in the Eastern Conference. From two 20 point per game threats on the perimeter in Brandon Jennings and Monta Ellis to a nightly threat for 15 and 10, Ersan Ilyasova, they're ready for big things.
Adding John Henson only sweetens an already promising lineup. In fact, the arrival of the North Carolina alum will do nothing short of turn this team into a postseason contender.
Rookie of the Year could be a stretch, but it remains a possibility. John Henson could be this year's Kenneth Faried.
2012 Season Averages
N/A
Ty Lawson, Denver Nuggets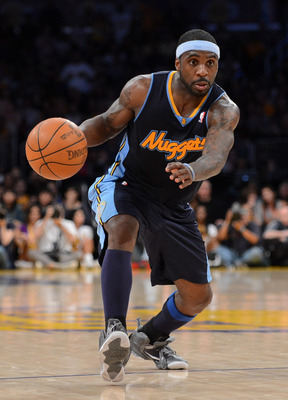 Harry How/Getty Images
Position: Point Guard
Age: 24
Experience: 3 Seasons
During the 2011-12 NBA regular season, Ty Lawson emerged as one of the promising young faces of the NBA. His averages of 16.4 points and 6.6 assists per game were stellar when you consider the fact that Andre Miller took on near starter's minutes.
And then we came to the postseason.
It's safe to say that, after Ty Lawson carved up Pau Gasol, Andrew Bynum and the touted Los Angeles Lakers defense, he has officially arrived. His series average of 19.0 points per game came on 51.4 percent shooting from the floor.
They also came after a slow start in Game 1, which Lawson followed with 25 in Game 2, 25 in Game 3, 32 in Game 6 and 24 in Game 7. All of this came at the expense of everything the Lakers had, as Lawson was the only true threat in the half court.
For instance, Lawson was 13-of-18 from the floor in his 32 point performance that kept the Nuggets alive in the series. While Corey Brewer showed up in a major way, the rest of the team shot a combined 42.6 percent from the floor.
This included 5-of-13 shooting from Danilo Gallinari and 1-of-8 shooting from Al Harrington. The two players who have proven to be the most effective half-court scorers on the team outside of Lawson himself.
In 2012-13, expect more of the same from Ty Lawson. By "the same," of course, we're speaking of marginal improvements that will lead to a tremendous return for the Denver Nuggets.
Lawson will lead this franchise past the first round for the first time since 2008-09.
2012 Season Averages
16.4 PPG, 6.6 APG, 3.7 RPG, 1.3 SPG, 48.8% FG
Kevin Love, Minnesota Timberwolves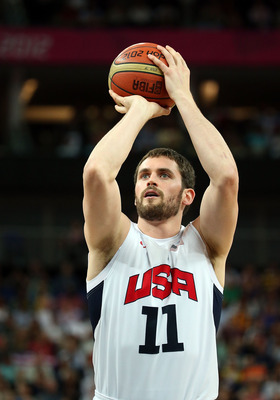 This will be the year Kevin Love lifts the Minnesota Timberwolves to playoff contention.
Christian Petersen/Getty Images
Position: Power Forward
Age: 23
Experience: 4 Seasons
Say what you want about Kevin Love's production, but he just hadn't figured out how to lead a team to victory through four seasons. With that being noted, Love had also never once been surrounded by players who know how to win.
As of this summer, all of that has changed.
Kevin Love spent this scorching season alongside the NBA's elite, combining with players such as Kobe Bryant and LeBron James to win a gold medal for Team USA during the 2012 London Olympics. As a result, Love has found his first taste of success at the professional level.
As one of the game's fiercest competitors, don't expect that taste to do anything but create a craving for the former UCLA Bruins star.
As Minnesota Timberwolves fans vividly remember, the 2011-12 season saw Kevin Love and company get off to a 21-19 start. Unfortunately, the team lost star rookie point guard Ricky Rubio to a season-ending knee injury on March 9th and the season crashed from there.
This time around, Love will understand how to overcome an injury to a key player. He will also know how to positively influence his teammates and maximize the talent surrounding him.
As a result, the Minnesota Timberwolves will be a surprise eight-seed in the 2013 NBA Playoffs.
2012 Season Averages
25.41 PER, 26.0 PPG, 13.3 RPG, 2.0 APG, 37.2% 3PT
John Wall, Washington Wizards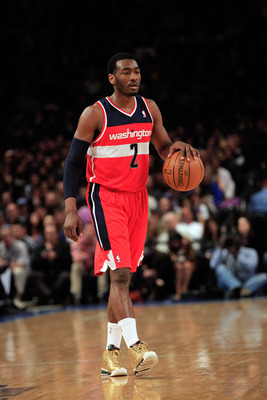 Chris Trotman/Getty Images
Position: Point Guard
Age: 21
Experience: 2 Seasons
For those statistical fiends out there, take this in.
John Wall was one of three point guards in the NBA to average at least 16.0 points and 8.0 assists per game.The other two? Chris Paul and Deron Williams.
While it may be premature to compere Wall with such elite company, it may also be right on time. Wall happens to be the only player in the NBA to average at least 16.0 points, 8.0 assists and 4.5 rebounds, which proves how versatile he can be.
His 1.4 steals and 0.9 blocks only pad that claim of two-way versatility.
What may have gone even more unnoticed than Wall's individual brilliance was how well he led the Washington Wizards down the stretch. The team won their final six games and eight of their final 10, including victories over the Miami Heat, Chicago Bulls and Orlando Magic.
Three postseason teams, regardless of what injuries may have transpired.
As we enter the 2012-13 NBA season, don't expect the Washington Wizards to tail off in any way. The team had just begun to hit their groove with their new additions, including big man Nene, and have added solid starting role players in Emeka Okafor and Trevor Ariza
They've also drafted Bradley Beal, who has drawn comparisons to both Ray Allen and Eric Gordon.
The key to the Washington Wizards' success, however, remains point guard John Wall. The team goes as their explosive playmaker goes, which proved to be far when he's playing with a clear head. As long as Wall can continue to block out the referee reactions and keep the turnovers down, Wall could be a quiet MVP contender.
After all, who wouldn't consider voting for a guy who has the Washington Wizards in postseason contention? Don't forget, we did it for Derrick Rose and the Chicago Bulls.
2012 Season Averages
17.77 PER, 16.3 PPG, 8.0 APG, 4.5 RPG, 1.4 SPG, 0.9 BPG
Keep Reading