NBA: Ranking Every Team's Best Option to Stop LeBron James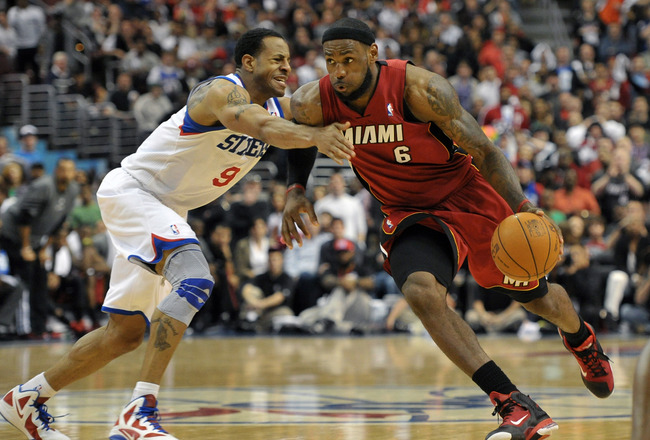 Drew Hallowell/Getty Images
Life can't get much better for LeBron James right now.
In the past eight months, the NBA superstar has successfully proposed to his girlfriend, won his third MVP award, claimed his first NBA Finals victory and along with it the NBA Finals MVP and helped Team USA win its second-straight gold medal.
Only Michael Jordan has completed the latter four achievements all in the same year.
If any team is going to dethrone the defending champion Miami Heat in next year's playoffs, they will have to at least slow LeBron down and prevent him from single-handedly winning every game.
The following is my list of each team's best option to do so.
I put each player in a group ranging from 1 to 4, with each group representing how good of a chance the player has at stopping LeBron:
Group 1: Only guarding him because someone on the team has to.
Group 2: Not the best option, but not awful.
Group 3: Good defenders. Should put up a fight.
Group 4: The best defenders. LeBron will have to work hard to put up his numbers.
(All stats credit to www.basketball-reference.com)
29. Linas Kleiza, Toronto Raptors (Group 1)
Chris Chambers/Getty Images
The only above-average defender from Toronto who would be capable of maybe taking on LeBron would be Landry Fields, but he's a shooting guard and would be best suited to stop Dwyane Wade.
I almost went with DeMar Derozan, but he and Kleiza will likely start together, which would put Kleiza on King James. Kleiza had a strong Olympic performance in London, but he's not doing anything to slow down LeBron.
28. Omri Casspi, Cleveland Cavaliers (Group 1)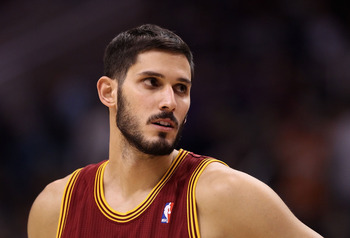 Christian Petersen/Getty Images
Poor Casspi. Not only will he have to try to guard the best player in the world, but he'll have to do so when James has the extra motivation of destroying his former team.
Luckily for him, LeBron's first return to Cleveland might have fed his hunger enough to not totally wreak havoc every time.
27. Michael Beasley, Phoenix Suns (Group 1)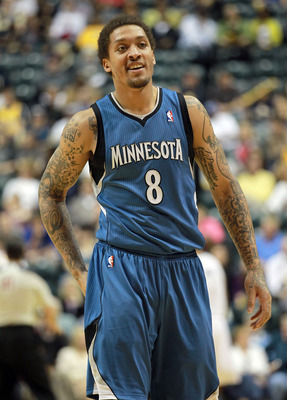 Andy Lyons/Getty Images
This situation is similar to that of Toronto's. Jared Dudley and Wesley Johnson could be solid options, but Johnson won't play very much, and Dudley is better suited to take on Wade.
I'm not convinced Beasley knows what defense is, but his size and strength give him at least something to work with.
26. Al-Farouq Aminu, New Orleans Hornets (Group 1)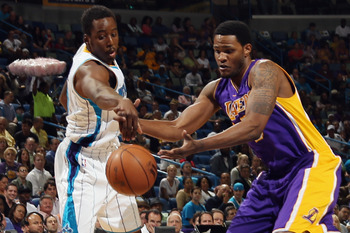 Chris Graythen/Getty Images
Truth be told, these first four selections are pretty much just the starting small forwards for each of their teams. No one on the team can guard LeBron anyway, so you might as well put a small forward on him to keep team continuity.
Aminu lacks the strength to stop LeBron in the post, but his athleticism and height are good building blocks to keep up with LeBron. Still, Aminu will only be 22 when the season starts. He still needs to mature and learn tricks of the trade if he wants to become a better defender.
25. Tyreke Evans, Sacramento Kings (Group 1)
Mike Ehrmann/Getty Images
The Kings possess a serious height disadvantage in their backcourt, which puts 6'6" Evans at the starting small forward position. The height advantage LeBron owns over Evans would be a serious concern.
However, Evans has the best chance of those I placed in group one to slow down LeBron because of his strength. LeBron would have a tougher time backing down Evans deep into the paint.
24. Terrence Jones, Houston Rockets (Group 2)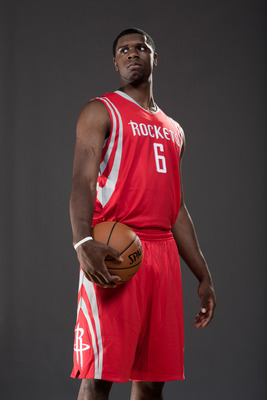 Nick Laham/Getty Images
Jones has both the ideal size and strength to match up with LeBron, and he's fairly athletic. He and Chandler Parson are really the only viable options for the Rockets, and Jones is a better natural defender.
23. Rudy Gay, Memphis Grizzlies (Group 2)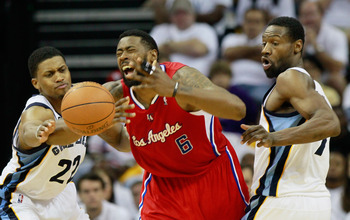 Kevin C. Cox/Getty Images
Gay pretty much has to guard LeBron by default. The Grizzlies' only lockdown defender is Tony Allen, but he's another suited best to shut down Wade. Darrell Arthur could be a solid choice, but he's a little lacking mobility-wise.
Gay is 6'8" and incredibly long. His gangly arms given him a rare advantage not many others possess, but his lack of strength would do him in.
22. Paul Millsap, Utah Jazz (Group 2)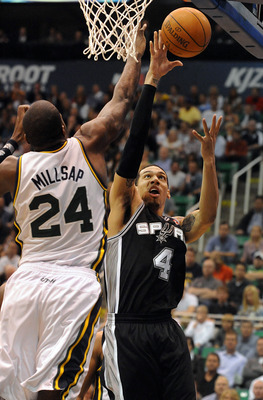 Steve Dykes/Getty Images
Millsap is the starting power forward for Utah, but his overall size strength and size match up with James better than starting small forward Marvin Williams.
Williams still hasn't lived up to the potential of a second-overall draft pick, and that includes his defense. Millsap isn't a great defender either, but he is the best option the Jazz have.
21. Carmelo Anthony, New York Knicks (Group 2)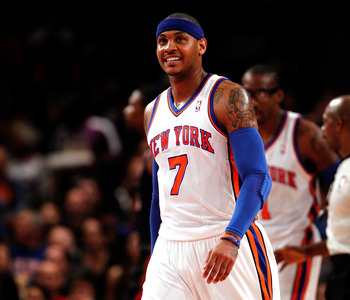 Jeff Zelevansky/Getty Images
Yeah, I know, Carmelo gets killed all the time for not playing any defense. But his size and strength are really underrated.
He can get pretty physical with LeBron down in the post and hold his own. If Carmelo would fully commit, he could actually be a decent defender. But that's a big if.
20. Thaddeus Young, Philadelphia 76ers (Group 2)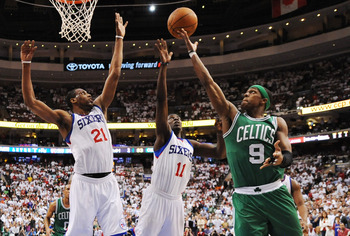 Drew Hallowell/Getty Images
Young is one of the best nonstarters in the NBA because of his ability to come off the bench and provide an offensive spark.
He's also not a bad defender, while his athleticism is underrated. Like Jones, Gay, Millsap and Anthony, Young is a hybrid between small forward and power forward, which is the ideal type of person to guard LeBron, since he himself is truly somewhere in between those two positions.
19. Moe Harkless, Orlando Magic (Group 2)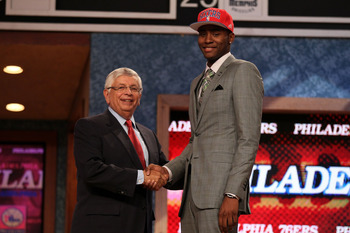 Elsa/Getty Images
This one might be a bit of a stretch, because Harkless may not see very much playing time, even though Orlando is clearly in rebuilding mode.
But when the other options include Hedo Turkoglu, Quentin Richardson and Glen Davis, Harkless is clearly the way to go. He's very raw, but still incredibly athletic and a natural defender.
18. Michael Kidd-Gilchrist, Charlotte Bobcats (Group 2)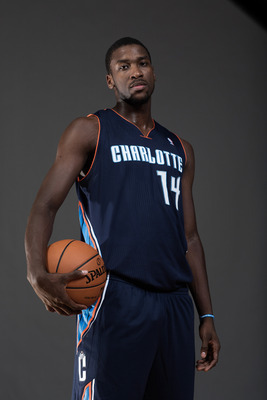 Nick Laham/Getty Images
This choice is very similar to that of Moe Harkless. Kidd-Gilchrist is another athletic rookie that is a natural defender, and he works incredibly hard.
Unlike Harkless, however, Kidd-Gilchrist will see a lot of playing time for the lowly Bobcats.
And given his competitiveness, he probably won't be afraid of taking on LeBron; he'll relish it. Sometimes you need that extra confidence to accomplish a great task, like shutting down the world's greatest athlete.
17. Caron Butler, Los Angeles Clippers (Group 3)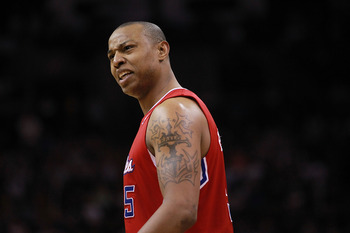 Ronald Martinez/Getty Images
If he was still in his prime, Butler would be higher up on this list. But father time is catching up with the 32-year-old.
With Chris Paul running the show for Los Angeles, Butler has been able to stand over in the corner and wait for open threes. The energy he saves on offense from standing around surely helps him defensively.
16. Paul George, Indiana Pacers (Group 3)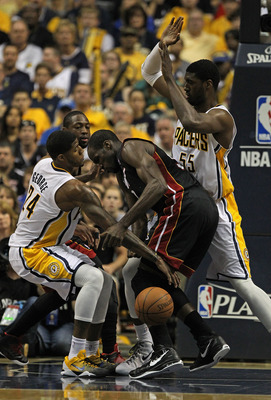 Jonathan Daniel/Getty Images
George is actually a shooting guard, but after what LeBron did to Danny Granger in the 2012 Eastern Conference semifinals, I think George deserves a shot at him.
Yeah, he got toasted by Wade a couple times himself, but he's much more athletic than the jump shooting Granger, and should be a much improved defender this coming year.
15. Luc Richard Mbah a Moute, Milwaukee Bucks (Group 3)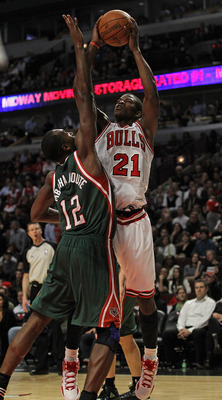 Jonathan Daniel/Getty Images
Moute is the clear choice here over stiffs like Mike Dunleavy and Ersan Ilyasova, but he wouldn't guard LeBron necessarily just because he has to.
Moute is one of the most underrated defenders in the league. He's also another of those small forward/power forward hybrids, which is a plus.
14. Brandon Rush, Golden State Warriors (Group 3)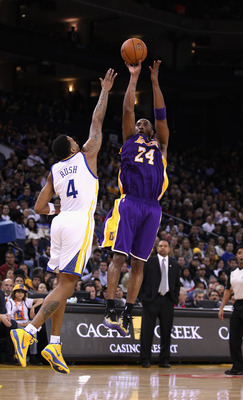 Ezra Shaw/Getty Images
The Warriors certainly aren't known for their defense. Rush is one of the few bright spots for the team on that side of the ball.
Although Golden State just drafted Harrison Barnes, Rush should still see a little more playing time this year with Dorell Wright now in Philadelphia. Look for him to display his solid defense in full force as his minutes increase.
13. Trevor Ariza, Washington Wizards (Group 3)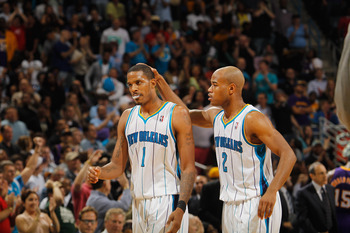 Chris Graythen/Getty Images
He's been kind of lost in the nothingness of New Orleans the past couple years, but Ariza is another really good defender.
He was a starter on the Lakers in the 2008 and 2009 seasons, going to two NBA Finals and winning one. Along the way, he played a vital role in slowing down multiple perimeter scorers, such as Carmelo Anthony, Paul Pierce and Manu Ginobili.
12. Andrei Kirilenko, Minnesota Timberwolves (Group 3)
Kevin C. Cox/Getty Images
Kirilenko sure could use a blast from the past when he has to eventually face LeBron James.
He was always in Defensive Player of the Year Award talks in the mid-2000's and made a few NBA All-Defensive teams.
But he hasn't totally lost his defensive prowess. Kirilenko's streak of averaging over one block and one steal per game each season is still intact, thanks to those long arms of his.
11. Paul Pierce, Boston Celtics (Group 3)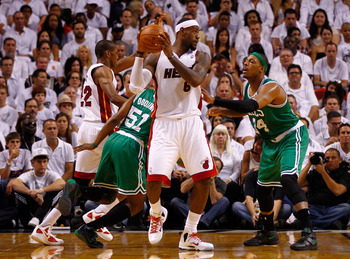 Mike Ehrmann/Getty Images
The upside is that Pierce has faced off with LeBron so many times now, he knows all his tricks. The downside is that he still couldn't stop the King from single-handedly carrying the Heat to an Eastern Conference Finals victory over the Celtics.
As Pierce continues to age, it becomes harder for him to keep up with the youth and athleticism LeBron owns. He's got to work harder for both offense and defense, and it caught up with him in last year's playoffs.
10. Kawhi Leonard, Sant Antonio Spurs (Group 3)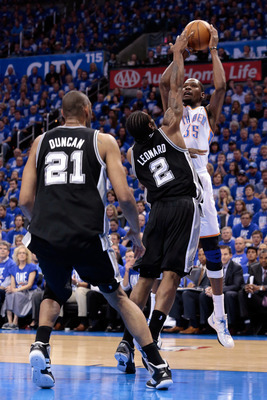 Brett Deering/Getty Images
This was actually a tough decision, because Stephen Jackson is also a solid defender when put in the right situation.
But after watching Leonard take on some of the NBA's top perimeter scorers in the 2012 postseason, I think he'll be ready to take on someone of LeBron's caliber this coming season. Not only is he physically gifted, he's a smart player too.
9. Tayshaun Prince, Detroit Pistons (Group 3)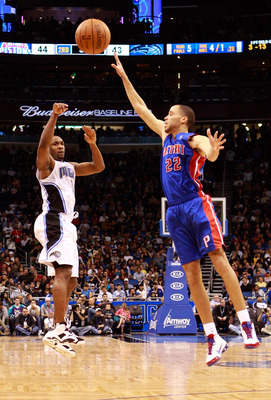 Sam Greenwood/Getty Images
This is an obvious selection for Detroit, because Prince is one of the best defenders in the league, and no one else would have a shot of keeping up with James.
Prince isn't a flashy defender. He's never averaged over one block or steal for a season in his career. But he made four straight NBA All-Defensive teams and the 2008 Olympic team as a defensive specialist for a reason.
8. Nicolas Batum, Portland Trail Blazers (Group 3)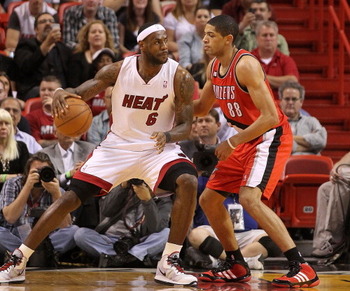 Mike Ehrmann/Getty Images
The Blazers were smart to keep the Timberwolves from prying Batum away from Portland, because he is one of the premier shut-down defenders in the game.
When Batum goes to the bench, the Blazers can use journeyman Jared Jeffries as a backup defender, who is actually pretty good at defense, even though it seems no team wants him.
Batum's slim frame could cause a problem while guarding LeBron, but overall, he would do a terrific job.
7. Thabo Sefolosha, Oklahoma City Thunder (Group 3)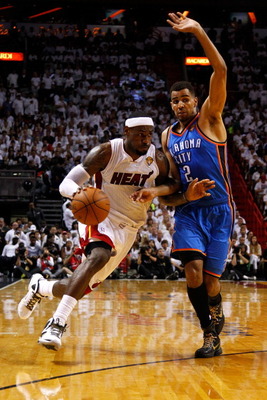 Mike Ehrmann/Getty Images
Kevin Durant seems to be the natural answer here, since both he and LeBron start at small forward, and they're the two biggest stars of the NBA.
But remember what happened in the Finals? LeBron went after Durant early and often, which consistently put Durant in foul trouble.
The better option is to put Sefolosha on LeBron, who is a great defender. Durant then could guard Wade, who doesn't get the same calls he used to. This way, OKC has the better defender on the better player, and Durant is less likely to rack up fouls.
6. Metta World Peace, Los Angeles Lakers (Group 3)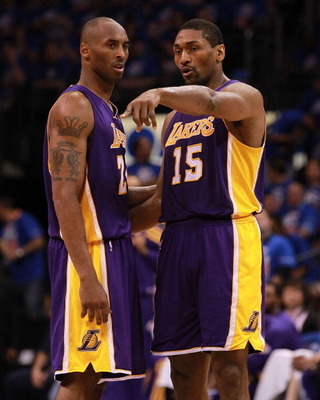 Ronald Martinez/Getty Images
Metta World Peace certainly isn't the defender Ron Artest was, but he's now underrated at defense because everyone keeps saying he's too old.
Peace's greatest asset is his strength, which will allow him to hold up very well against James. LeBron can barrel through just about anyone in the league, but Peace is not one of them.
5. Shawn Marion, Dallas Mavericks (Group 4)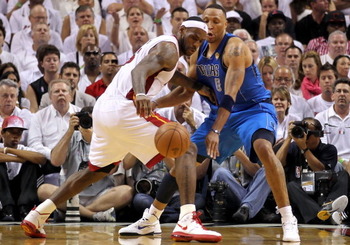 Mike Ehrmann/Getty Images
Marion probably isn't the fifth-best defender on this list, but I had to put him in the top group because of how well he played LeBron in the 2011 Finals.
After James tore through Boston and Chicago in the two previous rounds, Marion held him to only 17.8 points per game in the Finals. Some of that was due to LeBron's unusual timidness, but credit must be given where credit is due.
4. Luol Deng, Chicago Bulls (Group 4)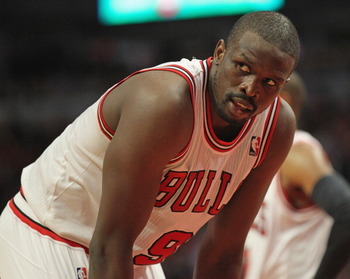 Jonathan Daniel/Getty Images
As I just mentioned, LeBron James dominated the Bulls in the 2011 Eastern Conference Finals. But that was not Deng's fault.
LeBron had an unusually hot jump shooting performance. After a forgettable game one performance, James went on to shoot 40 percent from three point range and shot 86.4 percent from the free throw line in the whole series.
Still, Deng held him to 44.7 percent shooting overall, which shows how well Deng guarded him down low, considering LeBron shot 51 percent from the floor in the regular season.
The Bulls have the best defense in the NBA, and Deng is the best defender on the team.
3. Gerald Wallace, Brooklyn Nets (Group 4)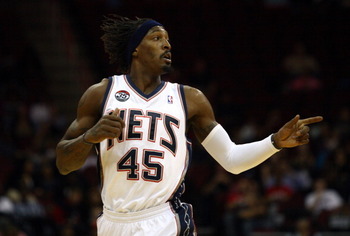 Chris Chambers/Getty Images
He's only made one NBA All-Defensive first team (2010), but Wallace is still a premier defender in the NBA. His size is slightly below what you want to guard the beast that is LeBron James, but Wallace would still do an excellent job.
He's a terrific athlete, and his rebounding ability could somewhat nullify LeBron's ability to crash the boards. After James continually grabbed offensive rebounds in the 2012 Finals until an easy layup would present itself, keeping him off the glass is a key factor.
2. Josh Smith, Atlanta Hawks (Group 4)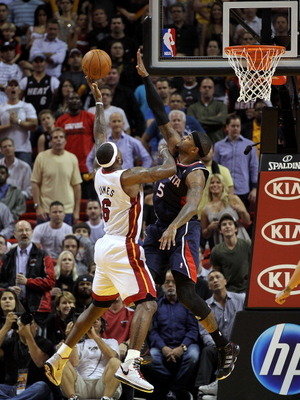 Mike Ehrmann/Getty Images
Physically, Josh Smith is just about the perfect guy to defend LeBron James.
At 6'9", he's got a slight height advantage over LeBron, he's very strong, he's an athletic freak and he's got super-long arms.
He creates steals, he blocks shots and he's another small forward/power forward hybrid molded just right to guard LeBron.
The one thing to detract from Smith is his head. Quite simply, he does some things that leave you scratching your own head. Otherwise, he might have won my number one spot.
1. Andre Iguodala, Denver Nuggets (Group 4)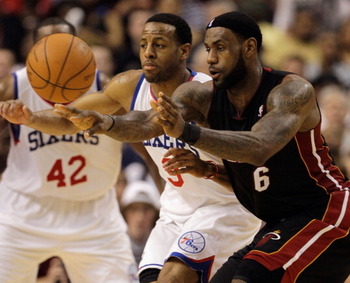 Rob Carr/Getty Images
He lacks the ideal size, but Andre Iguodala may be the best perimeter defender in the world right now.
In Philadelphia this past year, he led a team that had no offensive fire power to a near Eastern Conference Finals birth, and the thing that contributed most to the 76ers wins was Iguodala's incredible defense.
He also made the 2012 Olympic team just for defense and athleticism, and he saw a decent amount of playing time.
In LeBron's playoff career when facing an Andre Iguodala team, LeBron has averaged 24.2 points per game on 46.9 percent shooting.
And now that he's spent a summer playing with him, I'm sure Iguodala knows a few more of LeBron's tricks and tendencies.
Keep Reading

Miami Heat: Like this team?