5 Teams with the Best Young Talent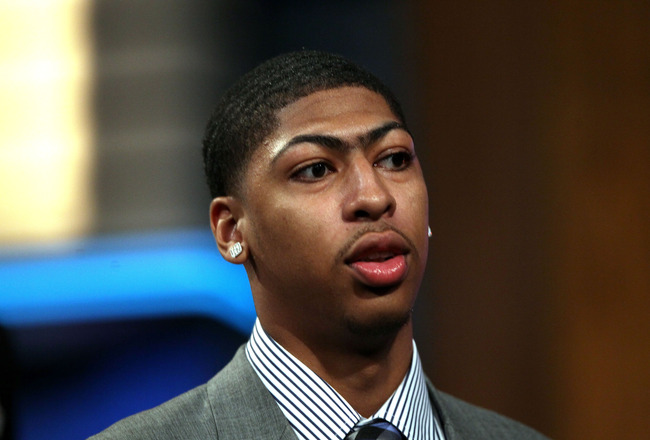 Elsa/Getty Images
When the New Orleans Hornets drafted 19-year-old Anthony Davis, it instantly claimed one of the best young lineups in the league.
Drafts have a funny way of doing that for clubs who've spent a year or two bottom-feeding.
The Hornets aren't the only ones with a bright future though. A number of teams are well into rebuilding projects that have involved the steady acquisition of young talent over the last few years. Whether making the most of prospects acquired via trade or collecting draft picks, some of these up-and-coming clubs are closer to reaching their potential than others.
Some, like the Oklahoma City Thunder, have clearly begun to reach it already.
Other, like the Sacramento Kings, have a long way to go.
Here's a look at the five teams with the very best young units.
Honorable Mentions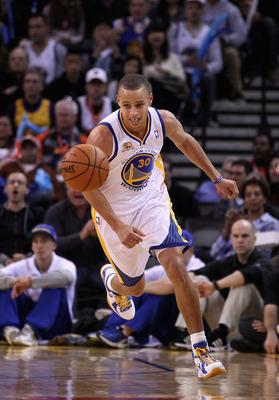 Ezra Shaw/Getty Images
Golden State Warriors
The Warriors have some solid veterans on the roster, so they're more likely to make the playoffs than they are to spend another season rebuilding. Nevertheless, they also have some exceptional young talent who will help now and long into the future.
That talent is headlined by guards Stephen Curry (24) and Klay Thompson (22). Both will start, and both have already proven capable shooters with bright futures. In June, Golden State added to that mix by drafting 20-year-old Harrison Barnes out of UNC.
He also might find himself in the starting lineup, in which case the Warriors would feel even younger than they already are.
Cleveland Cavaliers
Rookie of the Year Kyrie Irving single-handedly gives Cleveland something to get excited about. He's not the only reason for hope, though.
His fellow 2011 draftee Tristan Thompson is on track to become a solid power forward at the very least, and 2011 fourth-overall pick Dion Waiters could follow suit at the shooting guard spot. It's still too soon to know what to expect from Waiters, and that's the only reason the Cavs didn't make this top-5 list outright.
Minnesota Timberwolves
More than any other team not in this top-5, Minnesota makes a strong case for inclusion. If for no other reason 23-year-old Kevin Love and 21-year-old Ricky Rubio are already one of the most dangerous guard-forward combinations in the league.
Second-year forward Derrick Williams (21) could also prove his worth this season as he moves to the small forward spot and continues to develop his game. The only reason the Timberwolves don't make the list is that the rest of the roster's core really isn't especially young (though it's certainly not old either).
5. Sacramento Kings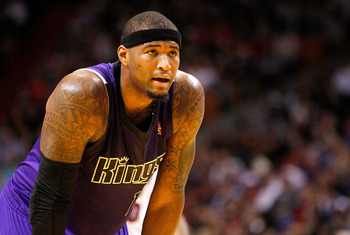 Mike Ehrmann/Getty Images
The Sacramento Kings still have a lot of work to do, especially on the defensive end. These guys haven't figured out how to play with one another, and they've yet to prove capable of much more than scoring.
Nevertheless, this young core is extremely promising.
Budding stars Tyreke Evans and DeMarcus Cousins are 22, while guards Isaiah Thomas and Marcus Thornton are just 23 and 25, respectively. June draftee Thomas Robinson is 21, and he should be NBA-ready sooner rather than later.
The only players on the roster over 30 years old are John Salmons and Francisco Garcia.
Don't expect the Kings to turn things around immediately, but they've positioned themselves to develop this talent over time. With a little patience, these Kings could restore the franchise to the prominence it experienced in the early 2000s under head coach Rick Adelman.
4. Philadelphia 76ers
Harry How/Getty Images
The Philadelphia 76ers already had a solid young core before acquiring 24-year-old Andrew Bynum.
Up-and-coming center Spencer Hawes is also 24, and the club's stars of the future Jrue Holiday (22) and Evan Turner (23) are even younger. Holiday and Turner could form one of the league's best backcourts in a couple of years. The former has already begun to prove himself, and the latter remains a somewhat raw but promising shooting guard.
Though less heralded, forwards Thaddeus Young (24), Lavoy Allen (23) and Arnett Moultrie should also beef up a front line that lost veteran Elton Brand via the amnesty clause.
The 76ers should be competitive once again this season, but their best years are almost certainly ahead of them.
3. New Orleans Hornets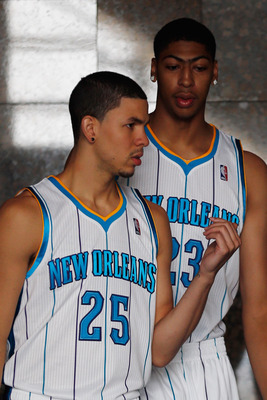 Chris Graythen/Getty Images
Rookies Anthony Davis and Austin Rivers obviously gave the New Orleans Hornets the most compelling haul of this June's draft.
But, they're not the only young guys with which this club has to work.
The team's best player is still 23-year-old Eric Gordon, the prolific scorer acquired from the Los Angeles Clippers in the deal for Chris Paul. Al-Farouq Aminu joined Gordon in that exchange, and he's just 21. Aminu is still raw, but he's a versatile forward with good defensive ability and plenty of upside.
New Orleans also acquired 2012 Most Improved Player Ryan Anderson, who's just 24.
In three or four years, this lineup could be absolutely phenomenal if everything goes according to plan. It could even surprise everyone with an improbably postseason appearance this season if everyone starts clicking sooner than expected.
When the defensively dominant Davis is in the picture, don't rule such an eventuality out just yet.
2. Denver Nuggets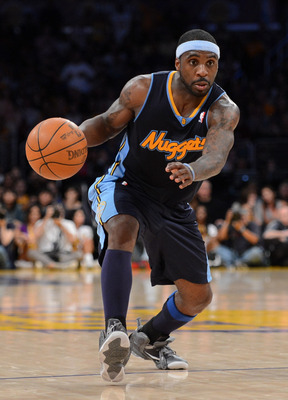 Harry How/Getty Images
The only players over 25 on the Denver Nuggets roster are Andre Iguodala, Andre Miller, Timofey Mozgov and Corey Brewer.
The rest of this team's core is collection of young talent that's already proven quite capable: Ty Lawson (24), JaVale McGee (24), Danilo Gallinari (24), Wilson Chandler (25) and Kenneth Faried (22).
When you factor in even younger prospects like Anthony Randolph (23), Jordan Hamilton (21), Evan Fournier (19), and Quincy Miller (19), you get a sense of just how good this club could be for a very long time to come.
Lawson has quickly become one of the most exciting point guards in the league, and this rotations versatile collection of young forwards is on its way to doing good things.
The most promising piece of the bunch, though, may be athletic seven-footer JaVale McGee. He showed impressive signs of life against the Los Angeles Lakers in the first round of last season's playoffs could become one of the most dominant big men in the game as he improves his post repertoire.
1. Oklahoma City Thunder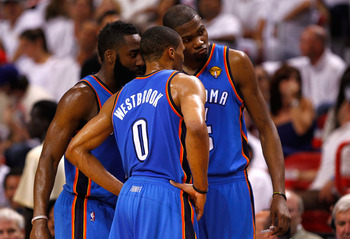 Mike Ehrmann/Getty Images
It almost doesn't seem fair for the Oklahoma City Thunder to be on this list.
Can a trio of guys who have already made it to the NBA Finals and played for Team USA in the Summer Olympics really still qualify as "young talent"? When they're this young, absolutely.
Kevin Durant and Russell Westbrook are both just 23 years old, while 2012 Sixth Man of the Year James Harden is 22. So is starting power forward Serge Ibaka.
This four-man core ranks as one of the league's very best, rivaling the Miami Heat and Los Angeles Lakers in terms of elite talent. The fact that all four of these guys are 23 or younger is absolutely mind-boggling when you attempt to find another instance of such a nascent squad having so much success.
Durant is already the game's best scorer, and Westbrook is almost certainly one of its most dynamic. The two form a one-two punch that stormed through the Western Conference last season, ultimately ending the San Antonio Spurs' epic 20-game winning streak in the Conference Finals.
Meanwhile, Harden has become a reliable spark-plug off the bench who finishes games with the starting unit, and Ibaka's ability to move around the floor and block shots has gained him instant notoriety.
There may never again be a group of youngsters quite this good.
Keep Reading