Los Angeles Clippers and the 7 Biggest Losers in the Dwight Howard Trade
Kevork Djansezian/Getty Images
Dwight Howard finally got his wish and is now the newest Los Angeles Laker.
The four-team trade that sent D12 to Los Angeles sent shock waves around the league, creating many direct and indirect losers in the process.
The biggest loser is the Orlando Magic, who will be facing constant losing streaks and years of lottery picks. The Los Angeles Clippers also lose, as the up-and-coming team appears to be headed for second place in the division now that the Lakers got their man.
Here are the seven other losers as a result of the Dwight Howard deal.
The Dallas Mavericks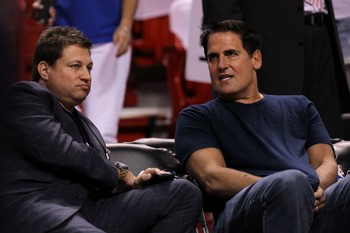 Ronald Martinez/Getty Images
The Dallas Mavericks' recent offseason signings may have been in vain.
The team has been occupied with signing one-year deals, with the hopes of signing Dwight Howard and possibly another superstar in the 2013-2014 offseason.
During this offseason, the team has acquired Chris Kaman via free agency for only a year. The Dallas Morning News reports that Kaman had hopes to sign a multi-year deal, but settled for a one-year contract.
Similarly, the team picked up power forward Elton Brand in the final year of his lucrative deal.
But now that the Lakers acquired the former Orlando Magic center, the Mavericks are forced to change their long term plans. They still have an opportunity to sign big-name free agents in the 2013-2014 offseason, but Dwight Howard may no longer be an option if he chooses to sign a long-term deal with the Lakers.
Vinny Del Negro, Los Angeles Clippers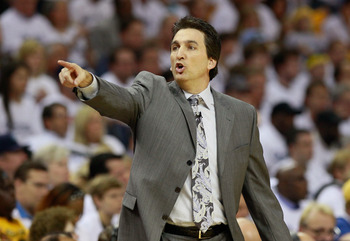 Kevin C. Cox/Getty Images
The Lakers' blockbuster trade dampens any ambitions of a Clipper-dominated Pacific Division. Not only that, but it may prove to be the end of Clippers coach Vinny Del Negro's stint in Los Angeles.
Despite the recent success the Clippers have experienced, reports that Del Negro lost the locker room surfaced during last season. According to ESPN, players began tuning him out during after losing 11 out of 18 games.
Now with the acquisition of Howard, the Lakers may once again dominate the division, possibly leaving Los Angeles' other team in an unfavorable position come playoff time—if they even qualify.
The Clippers brass was quick to put Del Negro on the hot seat during their losing streak, so any new difficulties brought on by a dominant Laker team can simply be another reason to part ways with the young head coach.
Brook Lopez, Brooklyn Nets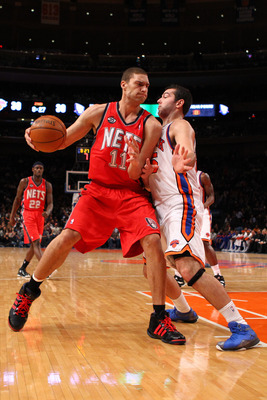 Al Bello/Getty Images
Brooklyn Nets starting center Brook Lopez is probably one of the biggest losers in the Dwight Howard trade, even after signing the most lucrative contract of his young career. The young center was recently awarded a four-year max deal, worth $60 million, according to ESPN.
This wouldn't be a problem if Howard didn't openly announce that one of his preferred destinations was Brooklyn.
Nets fans everywhere must be thinking about what would have been if Lopez was traded for Howard.
Not to mention, Lopez has been unable to stay healthy. Last year was an injury-plagued season for Lopez, having only played five games and later being shut down for the remainder of the season, as reported by NBA.com.
Lopez must play with these expectations, which may follow him throughout the duration of his contract, and that may be too daunting of a task to overcome.
Blake Griffin, Los Angeles Clippers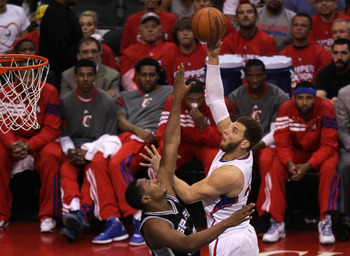 Jeff Gross/Getty Images
Blake Griffin has traditionally matched up with Pau Gasol when facing the Los Angeles Lakers, which is a favorable matchup considering Gasol's reputation as a soft player. But the addition of Howard to the Lakers might make Griffin's job increasingly difficult against his fellow Staples Center tenants.
The Lakers big men are virtually interchangeable, as Gasol is 7'0" in height and Howard is 6'10". This height advantage could pit Griffin against Howard, who can convincingly best the power forward in a one-on-one matchup.
As explosive as Blake Griffin is, he can be one-dimensional at times. The constant slam dunk highlights are, at times, a reminder that he lacks a mid-range game. Howard's defensive prowess may prove to be too much against the young Clipper.
Andrew Bynum, Philadelphia 76ers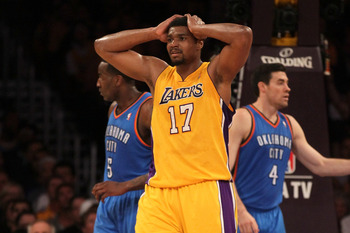 Stephen Dunn/Getty Images
Something tells me that the sophomoric attitude from the Dwight Howard trade is not going to end; it's just going to transfer to Philadelphia 76er Andrew Bynum.
The similarities between Howard and Bynum are eerie: they're both centers drafted out of high school that need to mature with an upcoming contract dispute. The only difference is that Howard landed at his preferred destination.
Andrew Bynum, on the contrary, is basically displaced from a legitimate championship opportunity. He will undoubtedly be the best center in the Eastern Conference, but is looking for a max contract at the end of the 2012-2013 season. According to The Los Angeles Times, giving Andrew Bynum a max contract was not imminent when he was in Los Angeles. He may get his opportunity in Philadelphia.
But Bynum genuinely loves pushing buttons, and the upcoming contract issue may be the reason he needs to continue his sophomoric antics in Philadelphia.
Chris Paul, Los Angeles Clippers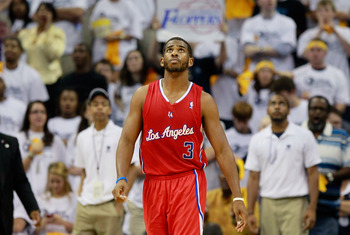 Kevin C. Cox/Getty Images
Chris Paul is the most pensive man in Los Angeles right now. He was almost sent to the Lakers last offseason in the infamous vetoed trade. That three-team trade, according to ESPN.com, would have sent Lamar Odom to New Orleans and Pau Gasol to Houston.
Considering that the Lakers traded Odom for practically nothing and that Gasol is still on the team, one has to wonder how close to reality the rumored super team of Dwight Howard, Kobe Bryant, and Chris Paul actually was. The combination of Howard, Bryant, and Nash could have definitely been improved if you replaced the 38-year old point guard with Paul.
That's not to say Chris Paul lacks a legitimate star—he does have a stellar, albeit young, teammate in Blake Griffin—but the grass is definitely greener on the other side, even if it does happen to be in same arena.
Small Market Teams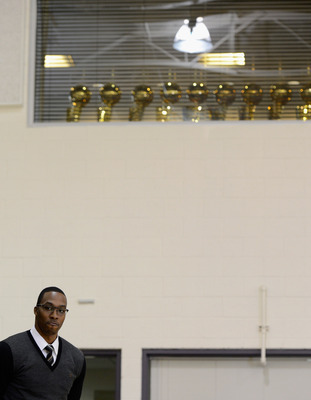 Kevork Djansezian/Getty Images
The Dwight Howard trade is just a sign of things to come; while a big-market team acquires a new superstar from a small market, the latter will suffer for years.
Every season will have a mid-season story on the latest worst team in NBA history. The direct beneficiary, of course, is NBA commissioner David Stern, who gains record ratings for the league. The magic of the NBA Finals will only leave the paltry lottery teams as a mere afterthought.
Some small markets have proven to break the mold. The Oklahoma City Thunder and San Antonio Spurs have been dominant, but these teams are exceptions to the rule. Realistically, the likelihood that these smaller markets will continue their success in the long run is grim.
The question has to be asked: how long until the big market teams acquire all the superstars from small markets, creating decade-long droughts?
Keep Reading