NBA Trade Rumors: How Dwight Howard Can Win Back Fans When He's Finally Traded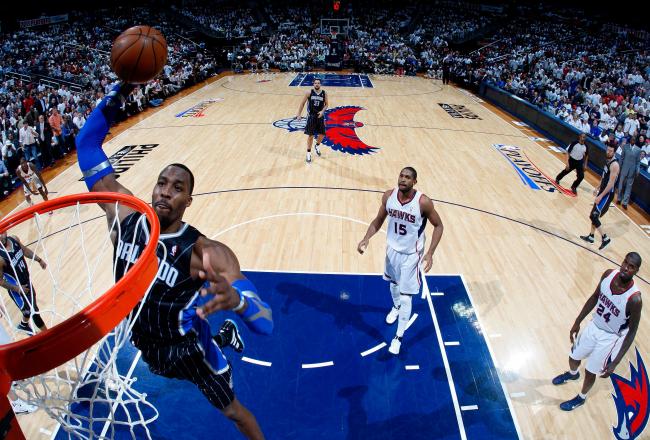 Kevin C. Cox/Getty Images
As the NBA's former most-hated man LeBron James continues reputation reconstruction as the superstar of Team USA in the London Olympics, new NBA supervillain Dwight Howard's name continues its incessant presence in the trade rumor mill.
At a point where most thought the D12 rumors were hitting a dormancy period and the chances of D12 heading to the Los Angeles Lakers were nil, Yahoo! Sports' Adrian Wojnarowski has a report on a potential blockbuster four-team trade:
The Orlando Magic and Los Angeles Lakers are engaged with the Denver Nuggets and Philadelphia 76ers in a four-way blockbuster that could ultimately deliver superstar center Dwight Howard to the Lakers, league sources told Yahoo! Sports.

A deal is not considered imminent, but the talks have grown serious over the course of this week, sources said.
While Wojnarowski says the details of the trade are still being worked out, it seems we may have passed the red herring stage of Howard talks.
And when he finally is traded, many will wonder if D12's reputation will ever recover from this entire mess.
Probably not entirely. But he can win a ton of fans back if he follows the following steps:
Effusively Thank the City of Orlando and Magic Fans
When traded, Howard's first action above anything else should be taking out a full-page ad in the Orlando Sentinel thanking the city and fans that have cheered for him since he's been 18 years old.
If properly coached by a public relations firm, Howard could even open himself up to an interview with the paper to explain his side of things; to make it explicitly clear that Howard's problem is not with anyone other than the Magic and the team's management.
Sure, it will come off as disingenuous and look like nothing but a reputation-rebuilding public relations stunt.
But that's exactly what it would be.
A complete reputation overhaul isn't about making everyone love you again all at once. It's about slowly piecing away at their hatred one step at a time. Thanking Orlando is step one.
Make a Slam Dunk Contest Comeback
Howard's reputation and popularity was never higher than when the then 22-year-old Howard donned a Superman cape, leaped with two feet from the free-throw line and slammed home an alley-oop pass from Jameer Nelson.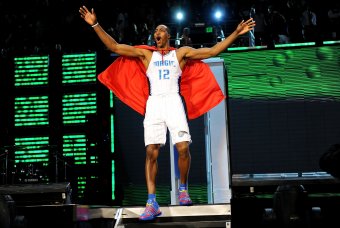 Ronald Martinez/Getty Images
With the Slam Dunk Contest on life support since Howard's "retirement" in 2009 and D12's reputation in the toilet, why not turn the Superman gimmick into a trilogy?
Howard will only be 27 years old next February and was still one of the NBA's elite leapers when he went down with a back injury last season.
If the center fully recovers from surgery and doesn't have to risk injury to take part, a slam dunk redux could make Howard the star of the 2013 All-Star Weekend.
Go the LeBron Route: Be Great, Win a Championship
As audience members in the 24-hour news cycle, we're fickle when it comes to professional athletes.
One moment we're basking in schadenfreude as the worlds of Tiger Woods and LeBron James come crashing down before our eyes. The next, we're begging Woods to recapture his former greatness and watching in awe as James puts together his best NBA season.
Truth be told, we simply want great players to do great things.
And James' virtuoso performances in the 2012 NBA Playoffs—especially his 46-point performance against the Boston Celtics in Game 6 of the Eastern Conference Finals—commanded respect from even the most staunch LeBron hater.
James' dominance en route to his first NBA Finals MVP only served to lessen the hate as most basketball fans realized how deserving this performance was of accolades.
Now, as James continues to extend one of the greatest individual summers in basketball history in London, nearly everybody stateside is rooting for a man most despised 12 months ago.
If Howard truly wants to make up for dragging us all through the rumor mill mud this past year and re-ingratiate himself to fans, it starts with one thing: winning a ring.
This article is
What is the duplicate article?
Why is this article offensive?
Where is this article plagiarized from?
Why is this article poorly edited?